George Washington University lost some of its bragging rights Tuesday when it not only lost its place on the Princeton Review's highly anticipated "Most Politically Active Students," a ranking that school touted proudly for four years, but also fell off the list completely.
And the school atop that list now? Ugh, American University.
The Tenleytown titan, which clocked in at No. 4 last year, tops this year's list, followed by Pitzer College in California and Reed College in Oregon. AU also clinched a spot on four other lists, including high marks on "Most Active Student Government," "Nobody Plays Intramural Sports," "Financial Aid Not So Great," and "College City Gets High Marks."
I'm not sure how much I'd personally brag about those poor financial aid numbers (and, full disclosure, I am a GWU grad) but still, by many accounts, AU stole the show. George Washington, which dropped from 1 to 10 on last year's list, did not place in any of Princeton Review's 62 other Top 20 rankings.  
That's despite the fact that, according to representatives from the Princeton Review, the methodology for these lists is not that deep. In fact, the Princeton Review compiles its lists from a survey sent off to university students across the country. For the Politically Active list, students were asked to respond: "My level of political awareness is: Very High, High, Average, Low, or Very Low."
David Soto, co-author of the Best Colleges book which houses the ranking lists, tells Washingtonian the data is compiled from a three-year queue in order to avoid survey fatigue. In 2018, 138,000 students from 384 schools offered their thoughts and feelings on everything from quality of life on campus to accessibility of faculty.
Both universities have been posturing for the top spot on the Politically Active list since 1994. Georgetown University reached No. 3 in 2014, but has never dethroned AU or GWU.
Looking ahead, how could GW students regain a spot in upcoming years?
Mike Smith, a spokesperson for the Princeton Review,  encourages individuals to "vote early and vote often when the Princeton Review college survey comes to your campus!" Smith called the ongoing rivalry between both organizations an exercise in good, clean, civic fun. "We see our wonderful GW and AU students are being true to their schools on social and battling for top honors on their respective lists," Smith adds. "Both are amazing institutions for public policy and students are politically astute and involved."
The deep-rooted rivalry between both schools, amplified by both universities' infrequent athletic achievements, continues elsewhere online. This year's Politically Active list marks the first time in a decade the Foggy Bottom university didn't appear on the list at all, and students have begun to react on GW's ever-popular meme page on Facebook.
"This is so sad Alexa play the fight song," Erica Eckes, a recent GW graduate and co-admin of the popular private page posted to the group's feed.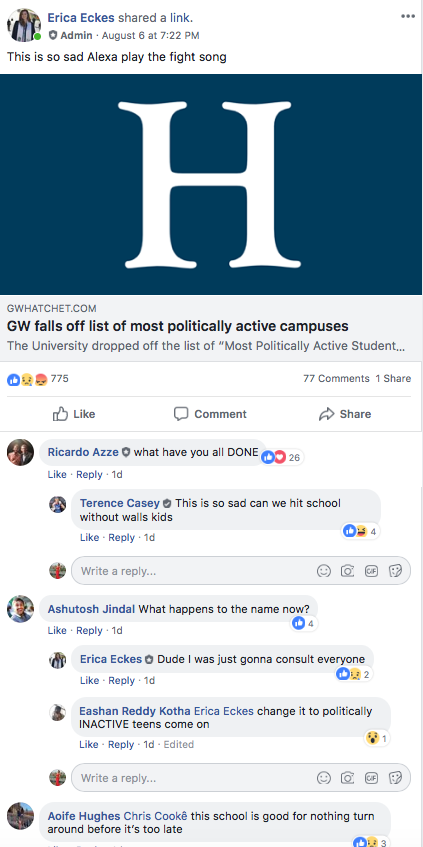 Responses from the community varied from general disappointment, anger, and levity.
"How do I mark myself safe in this disaster?" one user commented.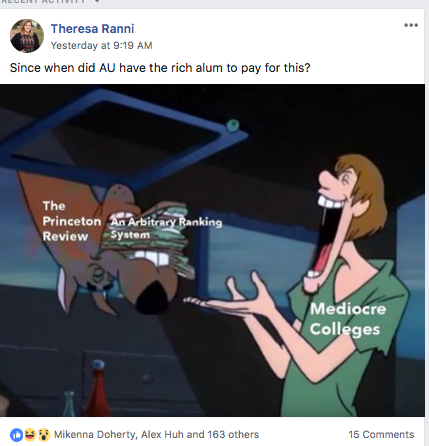 The GW meme page, originally known as "GW Memes for the Most Politically Active Teens," has rebranded as the university's ranking has wavered. Once the university dropped to the bottom of last year's list, the group–now with 12,989 members–changed its name to "GW Memes for the 10th most politically active teens." And with this last kick to the stomach, group admins have adopted a new moniker: "GW Memes for Thomas J. LeBlanc's STEM-Oriented Radical Centrist Teens." Thomas J. LeBlanc is the president of George Washington University.
The similarly private page for AU people is now called "AU Memes for the Most Politically Active Teens"—a painful reminder of GW's Caesar-like fall. To add insult to injury, the Tenleytown university page's cover image is a riff on the controversial Pepe meme:

Several of the group's 5000 or so members took to celebrating.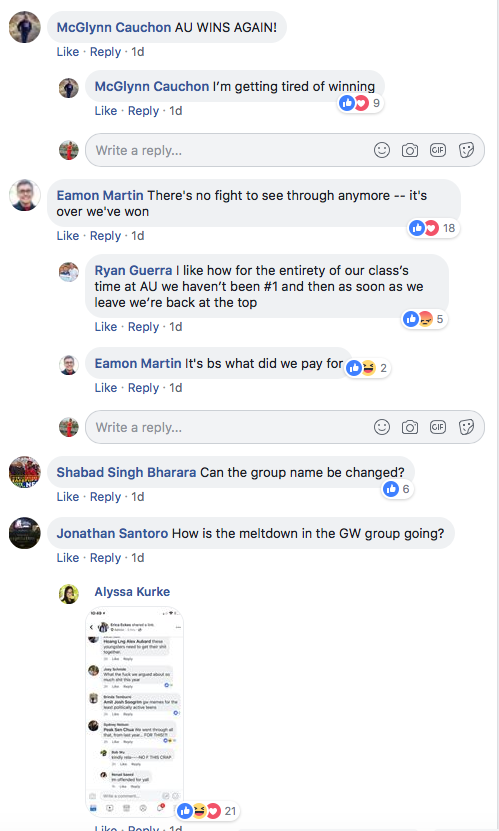 But Eckes doesn't feel threatened by rivaling community's move. She suggested that many of her former classmates agree, offering that "99% of GW doesn't really care about AU."
"If they're such a politically active school they'd know that the ADL added the Pepe meme to their hate symbols list in 2016," she tells Washingtonian.  "At the end of the day we are a more credible school that's not all the way in Tenleytown."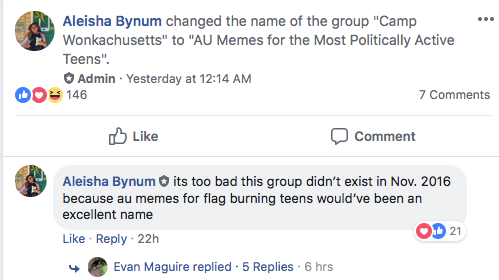 Administrators from AU's respective meme page argues that they're exceptionally inclusive. "We accept everyone to the meme page. Even former GWU students ;)" Aleisha Bynum, who changed the group's name, offered in response. She stresses that the feud, in her eyes, is all in jest.
"I always saw it as more of a lighthearted feud, simply because everyone likes to say that their school is the best," says Bynum. "I mean, both schools are located in the nation's capital. It's kind of impossible to NOT be involved in politics."
As far as the Pepe header is concerned, Bynum claims she "completely forgot that Pepe was declared as a hate symbol so it didn't occur to me at all when I was making the new header image." She adds that a mascot parody of the internet meme turned white supremacist icon existed in the community's ether for some time, but is willing to swap out the photo.