When you hear "Greek sandals," do the metallic knee-high gladiator sandals of the 2000s come to mind? You're not alone. But those fussy fashion relics are a far cry from what second-generation Greek immigrant Helene Theros remembers of the comfortable slides she and her siblings used to scoop up on their trips to Greece: simple, well-crafted shoes that had everyday wearability.
"As a teenager, one of the first things we would do when we arrived in Athens is go to the shops and buy sandals. I was always surprised when I came back home [by] how many people would comment on them," says Theros. "It opened my eyes to how beautiful and simple they were."
Theros is the founder of sandal line Laiik, a DC-based footwear line that aims to bring a modern, elevated approach toward the classic leather sandal. The line features a range of versatile, vegetable-dyed slides and sandals made with Italian leather and in timeless silhouettes. Based in DC and manufactured in Greece, Laiik is currently hosting a summer pop-up in downtown Georgetown at 1037 33rd Street NW, set to run through September 6. In addition to footwear, the pop-up will also highlight Holyday, a swimwear line that's also made in Greece.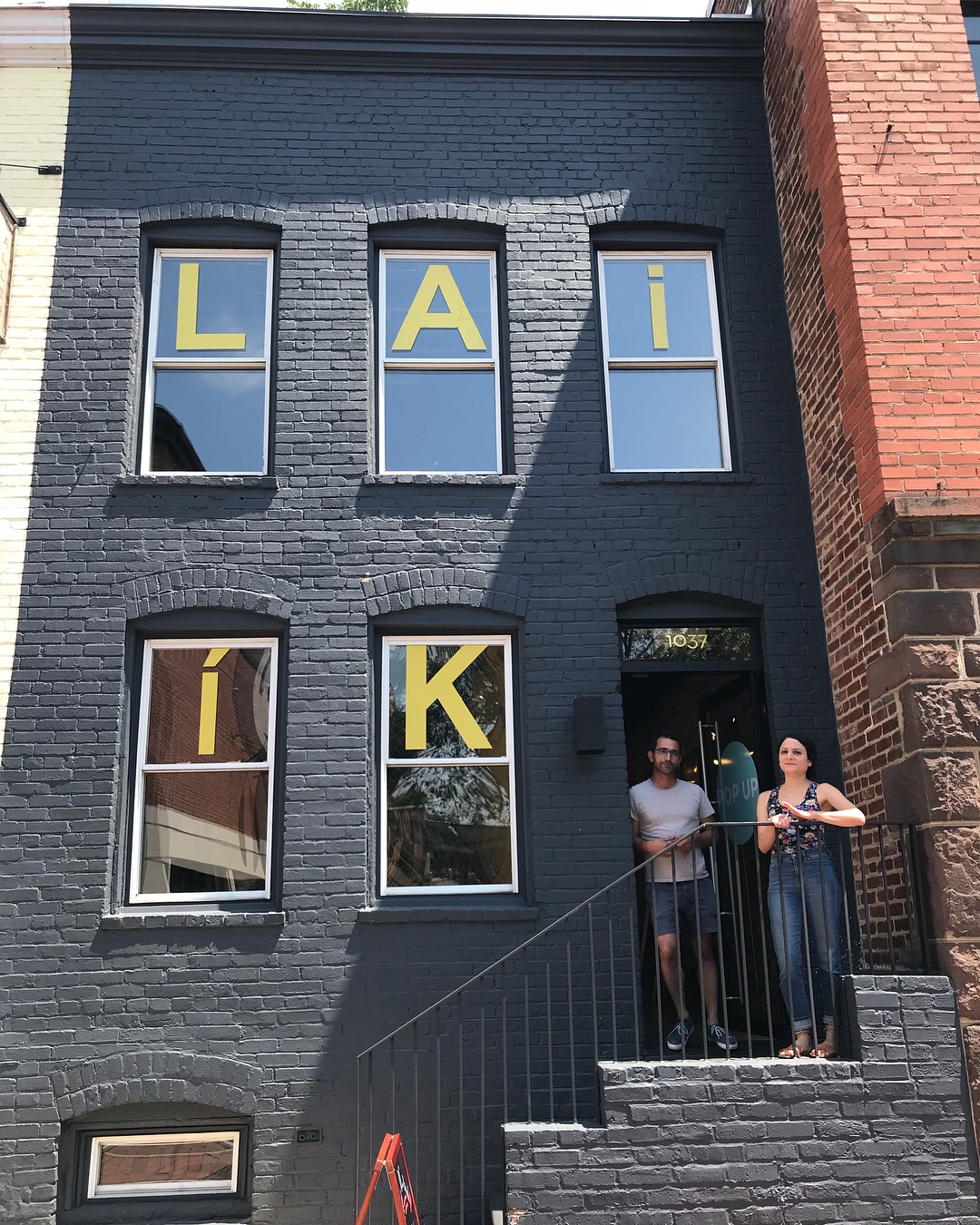 Laiik founder Helene Theros with her brother and co-founder Nikolas.
Having the pop-up land in Georgetown was a no-brainer for Theros, who grew up in DC and lived in Chevy Chase and Tenleytown. Her father was a Foreign Service Officer, so the family traveled often, but the District became their home base. Theros's mother immigrated to the US from Sparta in the 1960s, and her father's father was raised on the islands of Lefkas and Chios. She grew up making annual visits back to Greece with her family, and bringing Greek products to the States was something she and her siblings had discussed frequently over the years. So when Theros found herself in between jobs, she and her brother Nikolas finally decided to develop and launch Laiik.
"It was post-crisis Greece and we'd been going to Athens quite a bit—just lucky enough to have some family there and to go back and forth—and we've seen in the last few years this kind of generation of creativity in Athens. It is becoming more dynamic because it's not easy to find a job so they are creating their own jobs: freelancers, fashion designers, entrepreneurs. There is this vibrancy that we wanted to capture," says Theros. "I have a special place in my heart for Greece, and I've seen the way it was changing. I wanted to highlight that. I was living in London for a while and you'd always hear this bad press—the 'laziness' or whatever— and I just knew there was a different story out there."
Theros's husband, Andrew, also came onboard with Laiik ("it's a bit of a family affair" says Theros) and through friends they were able to help track down a factory in Athens run by a second generation family working with third generation Greek craftsmen. Another friend connected them with Jemima Janney, a footwear designer who had worked with Billy Reid, Topshop, and Rag & Bone. Before long, Janney had joined the team as well.
Laiik officially launched in June of 2018 with a collection of five women's styles in 18 different colors, priced between $135—$165, but Theros already plans to expand the collection to include men's shoes in the fall.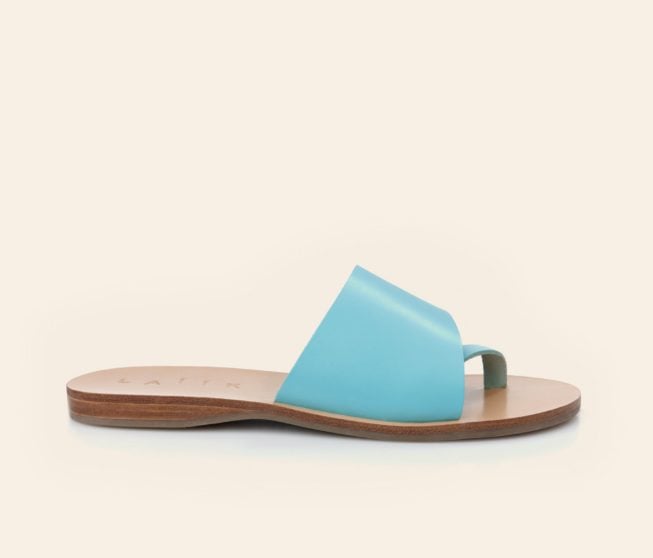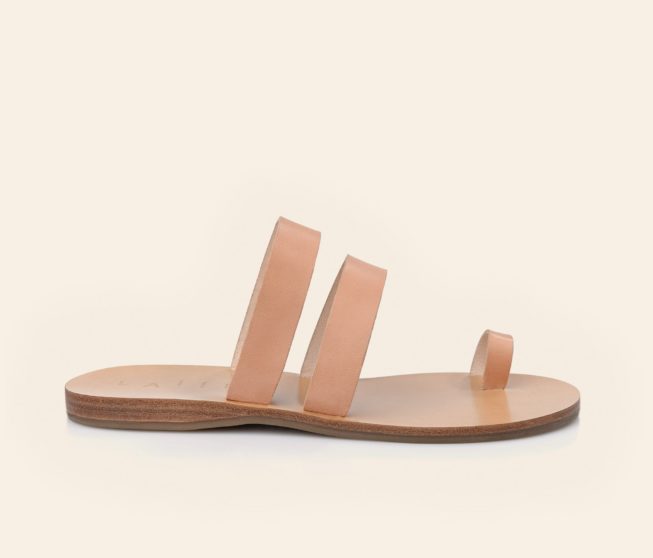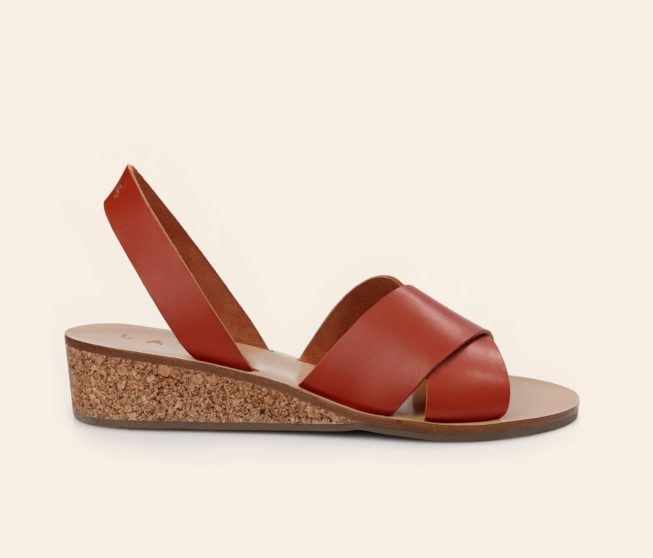 A range of Laiik sandals, clockwise from top left: the 'Ria,' $145; the 'Sofia,' $155; the 'Kiki' $135; the 'Desi,' $165.
"It's a very heritage product that many people have in their collections, but no one really defines," says Thelos of the line. "We wanted to take that classic Greek sandal and update it, and make it less fussy, and keep it clean: a geometric aesthetic but with bold colors."
After the Georgetown pop-up ends, Laiik is hitting the road and heading down the East Coast to Florida, followed by Texas in October, but the team eventually plans on setting up shop back in the District.
"Eventually we want to open a brick-and-mortar store, and we would hope to do it here in DC," explains Theros. "We always say they were made in Greece, but born in DC."