Sure, Washingtonian is known for recommending the best places to eat in DC, but what about the worst? I trolled Yelp to find spots that had a high number of reviews with low ratings (all either 1.5 or 2 stars out of 5). Then, with hand sanitizer, Pepto, and a growing sense of dread in-tow, I got to eating.
TGIFridays
2100 Pennsylvania Ave NW
Yelp rating: 1.5 stars
My rating: 0 stars
On the way, my phone begins fritzing as I try to navigate Google Maps and starts giving out wrong directions and losing service. That's when I know I'm truly entering the unknown—the Bermuda Triangle of chain restaurants.
When I finally enter the dim space, the smell of plastic vinyl and wet rags welcomes me. I inquire to the hostess about a table for one (side note: requesting a table for one at a TGIFridays at 3 PM on a Wednesday might be the most depressing thing I've ever done). She tells me there's a 20 to 25 minute wait. I look around and…it's empty. I'm no mathematician, but it looks like there are roughly one million tables open.
I ask about the bar. "Oh, yeah, just go seat yourself," she waves behind her.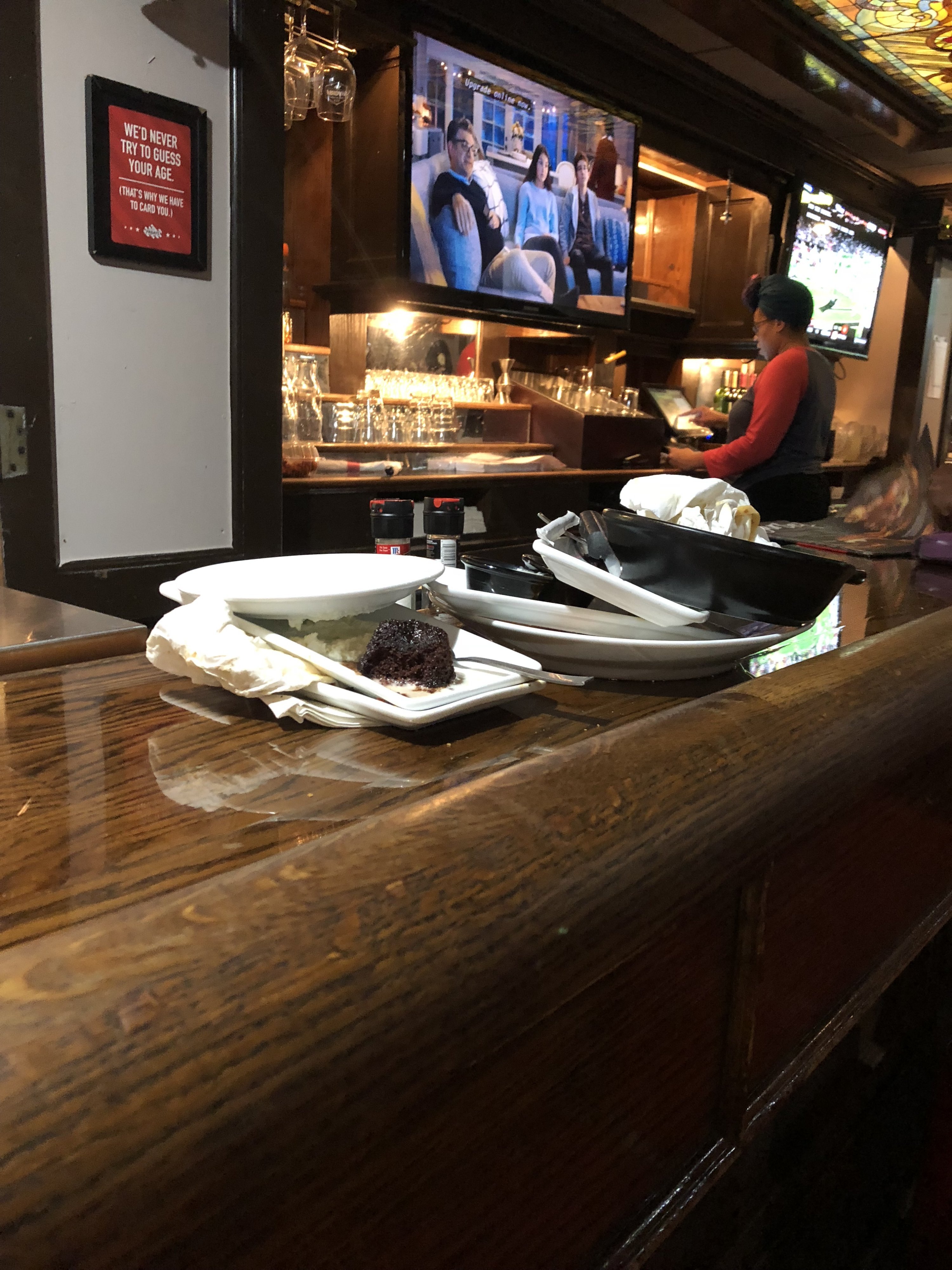 I sit down alone. Alone except for the huge pile of dirty dishes next to me, that is. Detritus seems to be a theme throughout the restaurant—tables are empty save for the dirty dishes of whoever sat there earlier. It reminds me of what a TGIFridays in Pompeii might have looked like before it became encased in lava, people leaving behind the scraps of mozzarella sticks and Fridays™ Signature Whiskey-Glazed Sesame Chicken Strips mid-bite as they ran for their lives.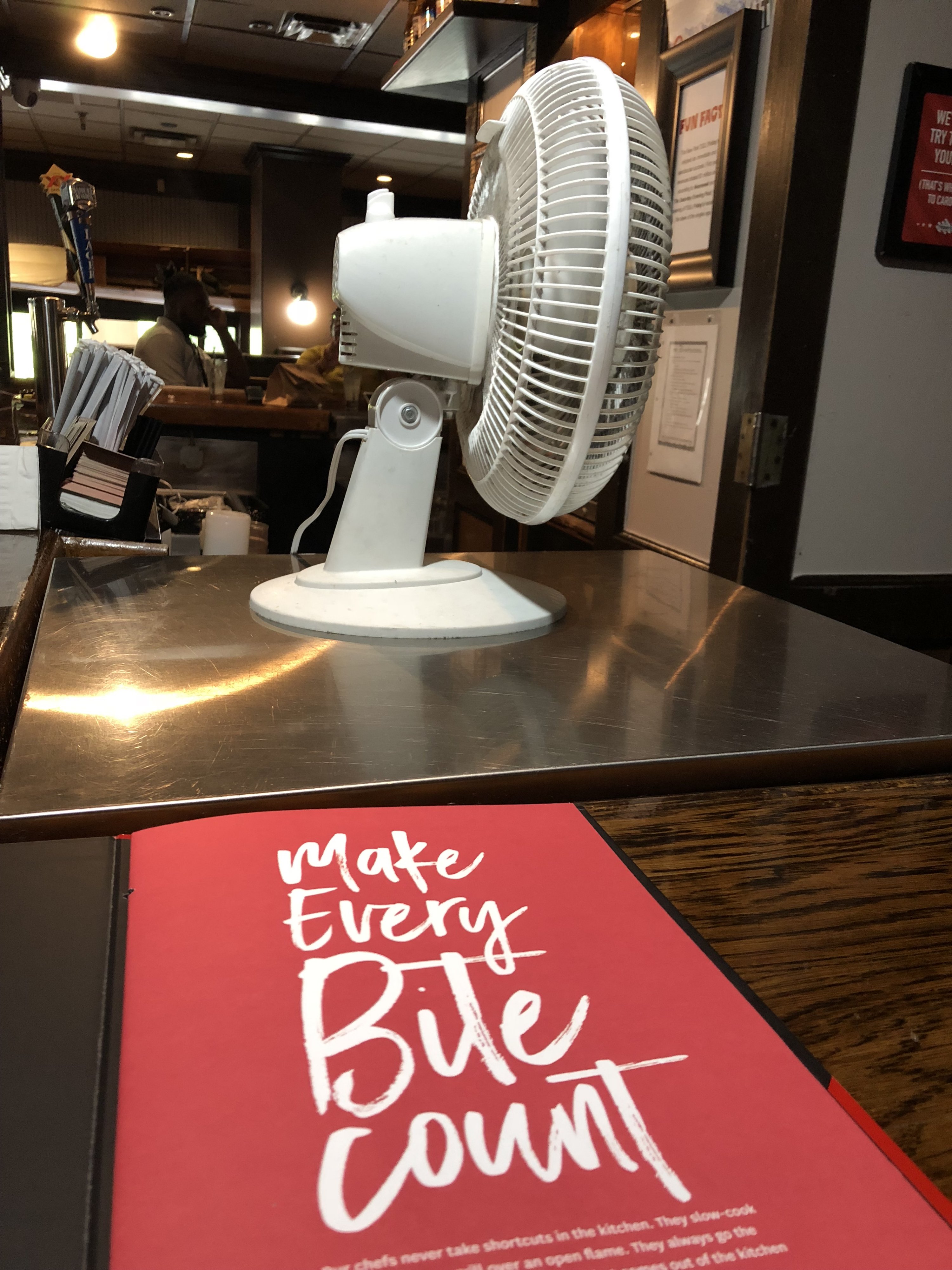 In front of me whirs a fan that looks like it was picked up from Walmart, bits of fuzz floating above its blades (definitely not FDA-regulated). I'm kind of thankful for it though, because I'll just be straight—it's hot AF in here.
This TGIFridays is nothing if not consistent—the interior is just as bizarre as the exterior. Its dim wood paneling makes you feel like you're in the rec room of a 1980s Russian cruise ship, and chairs are just haphazardly leaning against walls and spread across the floor. Next to me, a man sits alone eating a piece of birthday cake with huge candles out of a skillet; a woman sits down next to me and order a steak and a shot of Patrón; across the way, a man shoots back a thimble of Tito's. It's as if things like time, logic, and a general disdain for faux-wood paneling have ceased to exist.
Like most bar-food chains, the TGIFridays menu is a tome, with no real theme or mission other than smacking you in the face with an encyclopedic-sized list of things you can stuff in your mouth.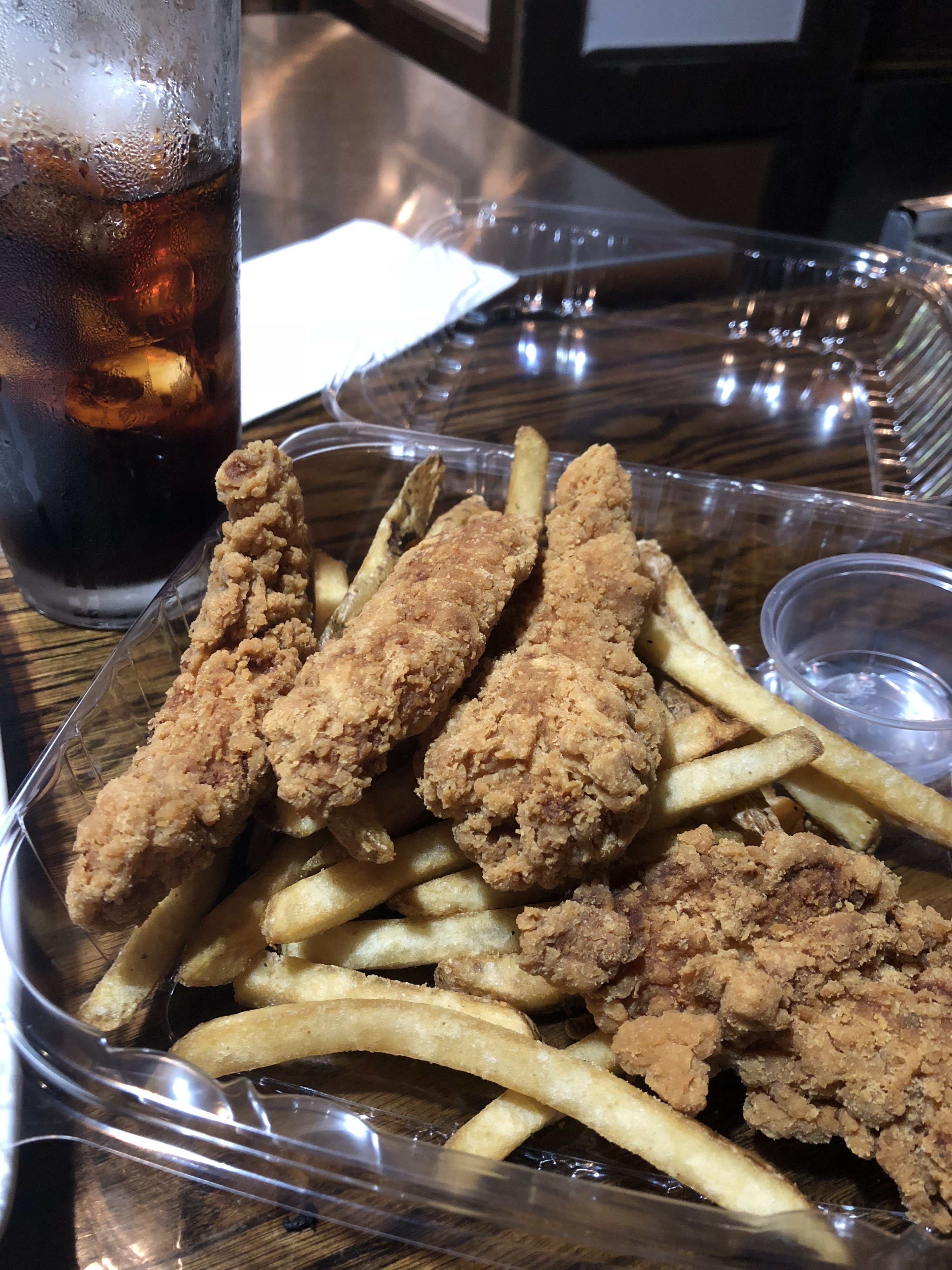 I decide to go for chicken tenders and French fries, because you can't really screw that one up, can you? My highly-scientific thought process is that maybe if the food is dipped in boiling oil, it'll sanitize it.
I order a Diet Coke because, yet again, it seems like chemicals might be the safest thing to ingest here. There are still crumbs on the bar, which I begin arranging into fun little lines as I wait for my food.
It only takes about 12 minutes to get my tenders, but my drink didn't come out until my food was set down. For what it's worth, it's not like the servers behind the bar were especially horrendous. It's just like…they didn't seem to care? Like, at all?
The tenders and fries were fine (like I said, pretty foolproof formula), and, to pass the time, my waitress and I went through a fun little song and dance. I'd ask for some utensils and a napkin, and then she'd come back with just a napkin, no utensils, at which point I'd ask for some utensils and ketchup, and she'd come back with utensils, no ketchup, at which point I'd ask for the check, and she'd come back with honey mustard.
As I finally signed the check, I watched as a piece of fuzz floated off one of the fan blades in front of me, drifting daintily through the air with enviable delicacy and landing dreamily on a lone tender—pure poetry. 
Hooters
825 7th St. NW
Yelp rating: 2 stars
My rating: 1 star
I've never been to a Hooters before, but as I pull open the door to the Chinatown outpost, something falls off the awning and lands around the vicinity of my head and yep, we're off to a good start. Was it water runoff? A rogue buffalo wing? 
The hostess groans as I ask for a table for one, please. She has no idea what's going on in the restaurant, she tells me, but she'll take me back anyway. Thank you…?
As she leads me through the restaurant, she complains to me about how disorganized this place is as well as all "the girls" who work there, taking me to a high-top table at the back of the restaurant.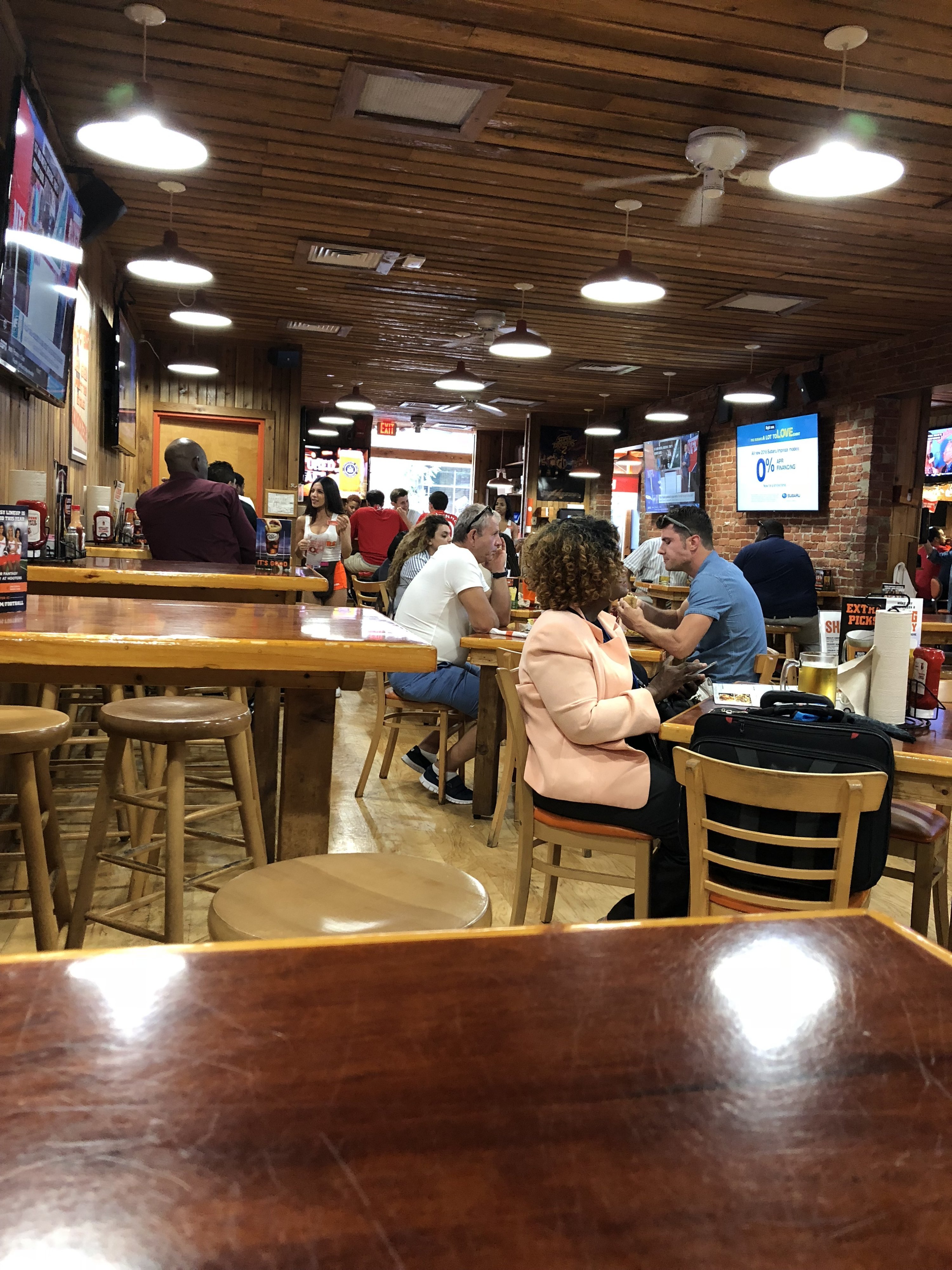 The space is filled with TVs tuned to sports and covered with what I assume is supposed to be a rustic, heart-of-America kind of wood paneling. You'd have no idea DC was beyond the front doors. I could be in an airport terminal in Tampa, or maybe Cleveland or Indianapolis, who's to say?
As I sit down, my waitress gets into an altercation with another one of "the girls," their matching bright orange Daisy Dukes standing at attention as they face off about who is supposed to seat whom in which section.
I politely avert my gaze to my menu, which informs me that I sadly just missed Wingsday, an all-you-can-eat meat bonanza with the tagline "There's no we in food; no sharing."
I've always found it interesting that people claim Hooters has great wings—it's kind of like saying you read Playboy for the articles. I briefly consider ordering some bacon-wrapped wings, because one should go hard when one finds oneself in a Hooters.
But alas, prudence and concern for my own mental well-being weigh out, and I settle on a taco salad and a Diet Coke (again, chemicals = safe). Around me, men in various jerseys are drinking beers out of buckets and steins. 
I sip my Diet Coke (which is really a Diet Pepsi that the waitress tried to pass off as Diet Coke, but, ahem, I wasn't born yesterday) and watch a montage of dudes and various balls fly across screens. It's not lost on me that it's probably kind of strange that I'm a woman just sitting at a Hooters on a late Thursday afternoon, but I'm not alone. There's another solo lady diner here with me.
I watch as she orders a huge plate of nachos and a stein of beer all to herself, settling in to watch some sports, and I'm immediately overtaken with a deep sense of kinship. What's that Aristotle quote? "Love is composed of a single soul inhabiting two bodies?" Yeah, that's how I felt when I saw this lady throw back a beer in a Hooters without fear. 
But there's clearly trouble in paradise: As I wait for my food, a frazzled-seeming manager comes over and asks if "the girls" have been with me yet. I assure her, yes, I'm fine, and wonder at what age a Hooters "girl" matures to a Hooters "woman?"  
A different waitress from the original comes over with a plate of chicken nachos, and I have to tell her I actually ordered the taco salad. A few minutes pass, and then my original waitress comes back over, holding the same plate of nachos.
"Here's your food," she says, and stares me straight in the eyes, daring me to have the audacity to question her judgment and suggest that these are in fact nachos, not a salad. And, like the meager little Hooter I am with no actual back bone, I take them.
I mean, is this a salad? I'm now doubting everything I know. It's a bowl of chips with some iceberg the consistency of wet pipe cleaners sprinkled on top, so maybe it is a salad. Maybe my whole life has been an illusion, and I've been sent to this Hooters to see the light.
I continue to pick at my food, the chicken rubbery, the cheese oozing down like melted linoleum, the guacamole sitting thick and tepid, like the smog laying over a radioactive lake. All in all, it's pretty par for the course.
I ask for the check, which my waitress brings to me with a tray of what she calls "dessert shooters," but to me just look like wimpy excuses for banana pudding. No thank you—I prefer to eat my calories, not shoot them.
I look down at the receipt, and oh my god! I freaking knew it—the not-salad was actually real-nachos the whole time! I think of all the ways I could get vindication—hurl my plate through the air like a Frisbee, throw a fit in the Hooters and get banned for life—but, no, I will not die on this buffalo-sauced hill.
As I leave, the woman eating the nachos looks up at me and smiles. "You know, most women can't do this," she says, gesturing to her plate of chips in front of her.
"Do what?," I ask her.
"Come eat by ourselves!" She smiles, raising her plastic stein to me as the TVs blare their rainbow pixels, the buffalo sauce coats fingers, and the short shorts strut on by. For a second, I'm proud of us.
Harriet's Family Restaurant
436 11th St. NW
Yelp rating: 2 stars
My rating: 1.5 stars
From what I can tell, this spot by Metro Center is basically a hotel cafeteria. It has the excitement level of a Comfort Suites continental breakfast, although a Comfort Suites looks like an Architectural Digest spread compared to Harriet's decor. A wooden wagon serves as the hostess stand, a faux-shingled roof juts overhead an empty row of buffet trays, and posters of Hawaii and France adorn the walls. Maybe the theme is anywhere but here?
I am the only person here on a Monday early evening, and I settle into a table with a direct view of one of the many aquariums, watching a neon fish swim around a fake coral reef over and over and over again into Sisyphean infinity. I feel ya, bud.
The menu is unremarkable, yet extensive, and I decide on a grilled chicken sandwich with potato chips and coleslaw.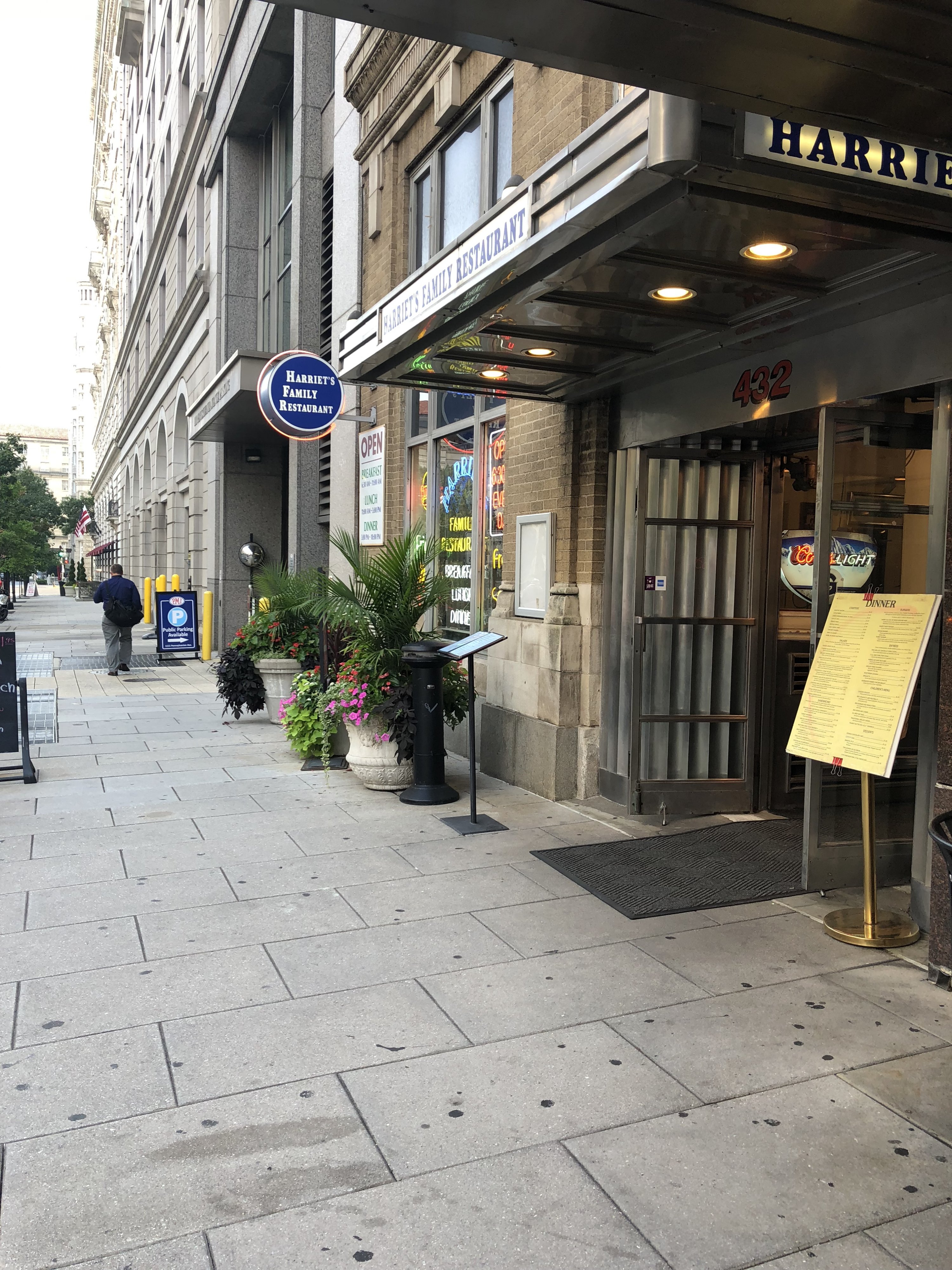 I am setting back into my seat to contemplate the truly staggering array of random crap on the walls when a large group walks in through the doors and ohmygodohmygodohmygodohmygod—it's an octogenarian tour group.
I'm overtaken by a tidal wave of Bermuda shorts, tie-dye shirts, straw hats, and tube socks. The gang shuffles in from their tour bus, and their cruise director steers them toward a long table in the back between cries of "Everybody fill in every seat!" before doing a quick head count, and yep, the whole crew is there.
My sandwich has come (quick service!), but honestly, I'm so distracted by what's unfolding in front of me that I ignore my food. The manager comes out and greets the group, letting them know their choice of beverages (water, juice, iced tea, soft drinks, Ensure nutrition shakes) before launching into the history of the Harrington Hotel, which the restaurant is connected to. According to him, it's been around since 1914 and is the longest-running hotel in DC.
"That's why I look the way I do," he leans forward, hands on his waist. "I haven't had a day off in 100 years!" The group loses their shit over this funny little man who runs this weird little place. 
He outlines the buffet options they have: salad, baked cod, babyback ribs, veggies, garlic bread, and—special treat for you guys!—double chocolate cake.
My sandwich, while perfectly mediocre, seems lame in comparison. Besides the chicken being a tad pink, it's the true definition of unremarkable. The slaw is slaw, the side pickle is a side pickle, and for some reason the potato chips taste like Herbal Essence shampoo, but there are worse flavors out there. After I sign the check and assure my waitress that, no, I really don't want to take the sandwich with me, it's time to head home.
I get on the Metro, thinking about all those seniors traveling the country by bus just to end up in a dimly lit cafeteria restaurant with sticky seats and carpet that looks like it should be in a bowling alley. As I sit down on the train, I catch a whiff of something. I wonder if it's perfume, a cup of coffee, my seat mate's musk, but then I realize, no, it's me—I smell like Harriet's grilled chicken.