Want to be featured in How I Got This Body? Whether you lost weight or gained it, got toned or put on some serious muscle, I want to hear from you! Email me at kolsen@washingtonian.com.
Who: Tyler C. Jensen, 36, settlement agent for a title company
Lives: McLean
Height: 6'1″
Start weight: 255 pounds
Current weight: 195 pounds
How long it took: 10 months
Turning point: I was inspired by an urgent need to correct my high blood pressure and pre-diabetic diagnosis. I also shopped at big-and-tall stores and they do NOT have the most fashionable selection. I got fed up of promising myself for more than ten years that I'd change, constantly making the excuse that I felt uncomfortable and judged because of my weight. Once I realized that people (for the most part) are supportive and not judgmental, it was easier to face my fears and find the inner confidence I needed.
Exercise: I started with personal training sessions with Matt twice a week at Sport&Health, where we focused on simple bodyweight exercises to increase core strength, balance, and flexibility. That means I barely used any weights in the beginning as I trained my body to move in ways I hadn't been accustomed to. In addition, I came in another two or three days per week and put in 30-45 minute cardio workouts on the various machines at Sport&Health. My favorites are the elliptical machine, the rowing machine, and the fan bike. I'm also a huge fan of using the Swiss bar for bench presses.
To maintain the weight loss, I joined Matt's small group training sessions two to three times per week, and I come in on my own at least one more time each week. I do a combination of strength and conditioning exercises involving tension bands, kettlebells, free weights, and bodyweight exercises interspersed with intervals on the stationary bike or elliptical machine.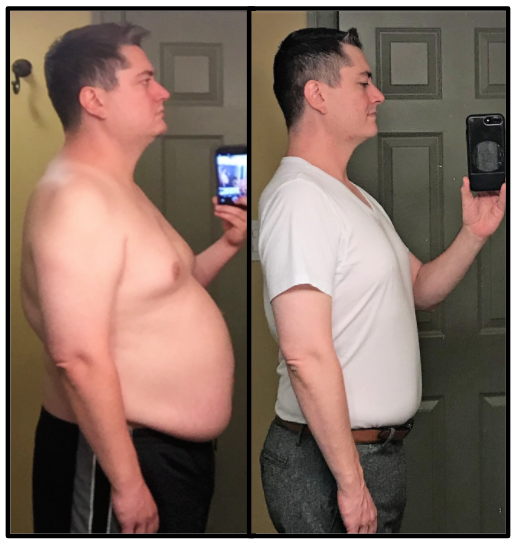 Diet: I started tracking my food intake and macronutrients using the MyFitnessPal app. I tried to stay very conservative with sodium and sugar, while loading up on protein and healthy carbs and fats. I would meal prep for the week and make sure I had snacks handy so that I was eating a little something at least every two to three hours.
Fave splurge: My all-time favorite splurge is a fresh and warm Krispy Kreme original glazed donut. Or two. Or three. Rocco's Italian Restaurant in McLean makes an insanely delicious and simple Fettuccine Alfredo that's my absolute favorite cheat meal. I swear it has at least a stick of butter and a pint of heavy cream. Incredibly rich and totally worth the cheat!
How he felt before he made the change: I wallowed in self-pity and shame for over ten years for never having the confidence to get to the gym or commit to a diet. I held resentment toward people who lived active and fit lifestyles, because I was so green with envy.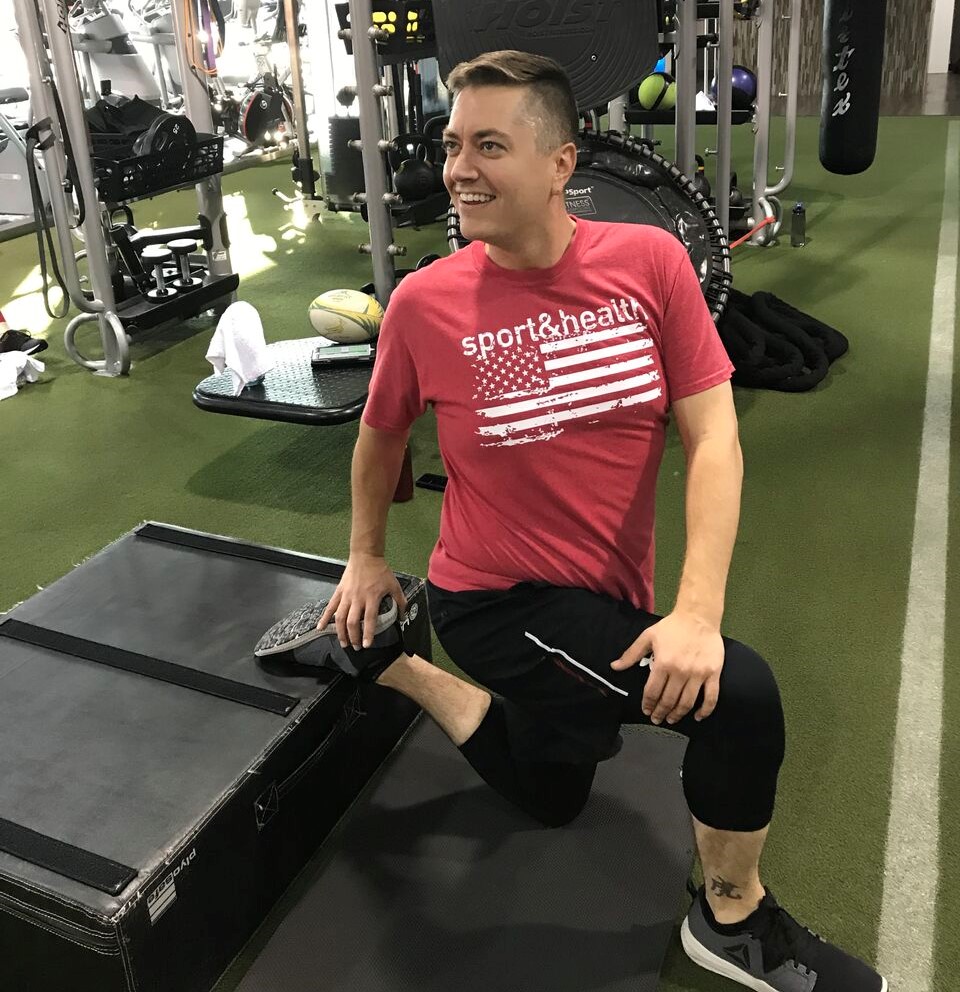 How he feels now: I feel as though I've hit "reset" on my body, and I'm finally doing the right things to take care of myself physically for the rest of my life. As I gained strength and coordination, I started to notice changes—both inside and outside. It's been amazingly encouraging for me to realize my progress through tiny victories along the way. For example, the first time I could do a full set of lunges without falling over, I was ecstatic. I wanted more of that feeling of accomplishment. It's also inspiring to see people of all ages and from all walks of life who are in much better—or much worse—shape than I'm in, but who are just as committed to showing up for themselves.
Newfound body love: I've found a new respect for my body and the fuel I put in it. I've been amazed at how much easier simple and mundane things have become for me physically, like tying my shoes, carrying groceries, going from sitting to standing without much effort, and even—yes—running!
Workout wisdom: You only have one body, so treat it right. You are absolutely worth the effort, time, and commitment that goes into being healthy and fit. It takes persistence, but think of it as a challenge instead of a huge daunting task, and you will begin to see results when you start with small accomplishments and build from there.
This interview has been edited and condensed. 
Want to be featured in How I Got This Body? Whether you lost weight or gained it, got toned or put on some serious muscle, I want to hear from you! Email me at kolsen@washingtonian.com.