Have you ever needed to get your makeup done in a pinch last-minute, but weren't sure where to go? This was the problem that Kristina Han, a Harvard graduate and former Olympic swimmer, faced again and again when she wanted to get a sharp look for meetings and interviews. Han, who spent her professional life as a banker, consultant, and lawyer, spent the much of her time speaking directly with clients. She had always disliked applying makeup herself, plus she often wished her look was more polished than the go-to 'BB-cream and eyeliner' application she was comfortable with. The dilemma intensified after she had children and felt the pressure of juggling career and childcare—she felt like she had even less time to take care of herself.
"I always thought: there's a hair or nail salon on every corner, why not makeup?" says Han. "It was exactly the service I wanted for myself—to have coffee and read my email while someone else did my makeup for me."
After an exhaustive search, Han discovered her options were limited. She could teach herself via YouTube tutorials, hire bridal-style and in-home freelance services, or go to a department store makeup counter where attendants seemed more focused on pushing product than executing the right look ("I had a string of horrible experiences at Sephora and beauty counters," Han recalls). None of those really provided what she was looking for—namely, fast and affordable makeup application that was as easy as dropping into the salon for a blow-out: makeup services à la Drybar.
Han approached Robin Izsak, an acquaintance with experience in business marketing who had just transplanted from Los Angeles to DC, about joining her to help launch the concept. Izsak came on board as the Creative Director, and Own Your Wonder was born, a beauty bar with a focus on walk-ins and à la carte services and prices that start at just $15.
"We wanted to service those looking to have their makeup done for big events or special occasion drop-ins, as well as the everyday clients who might want a touch-up for a business meeting or date," says Han.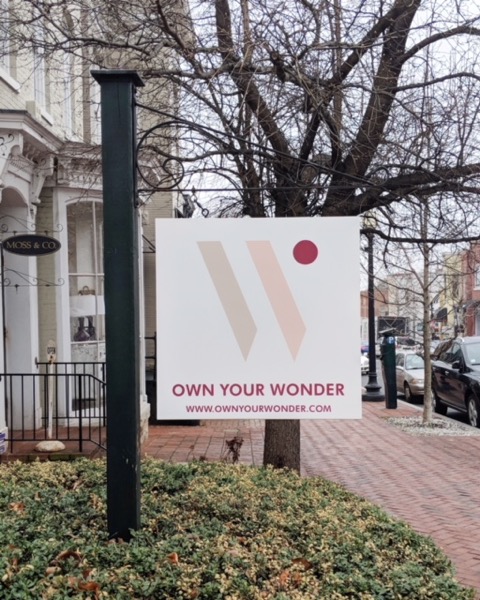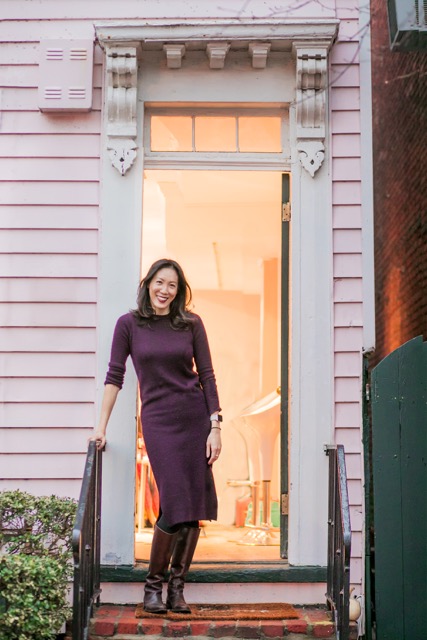 Photograph courtesy of Own Your Wonder.
The duo launched a pop-up shop in November of 2017 in Georgetown and quickly realized that the concept had legs. After a search for the perfect location, a brick-and-mortar iteration of Own Your Wonder opened at 1659 Wisconsin Ave., NW, a minimalist, clean-lined shop that's in sync with the company's tonal pink branding. The space isn't set up like a traditional beauty salon limited to fixed stations, but rather feels more fluid; while seven chairs line a 700-square foot space, patrons can also have their makeup done seated at one of the community tables or velvet couches while sipping espresso (or, yes, champagne) and catching up on email.
On the walls you'll find beauty inspiration from a range of icons—male and female— that have pushed beauty norms, including Naomi Campbell, Frida Kahlo, Halima Aden, Alice Ma, and David Bowie. Scroll the Instagram feed and you'll spot men and women of all ages and skin tones smiling into the camera with a new coat of eyeshadow or a glossy lip. The 'Drybar' business concept may read as familiar, but Own Your Wonder's boutique approach to inclusivity is still fresh in the beauty industry, even in a post-Fenty Beauty world where 40 shades of foundation feels like the new norm (designer after designer rolled out extended foundation shades following the buzz over Rihanna's Fenty Beauty line release last year).
The approach was something that resonated with customers Raven Troupe, a 38-year old artist with a dark complexion, and her husband, Robert, a fair-skinned engineer who shares her enthusiasm for makeup. The Arlington couple have become loyal customers of Own Your Wonder after being disappointed in other makeup classes.
"I went to a makeup artist—a licensed makeup artist mind you— at a three-hour course elsewhere, and mentioned that I had issues with eye shadow showing up on my skin," says Troupe. "Her reply was that I would look fantastic in gold. That was indicative of someone who was not paying attention or really listening."
She and her husband dropped into one of the cat-eye tutorial sessions at Own Your Wonder and were impressed not only with the space but with the staff's willingness to go over basics. "Many of the tutorials online are geared towards women, and the ones geared towards men lean towards high-glam and that is not what he is looking for," says Troupe of her husband.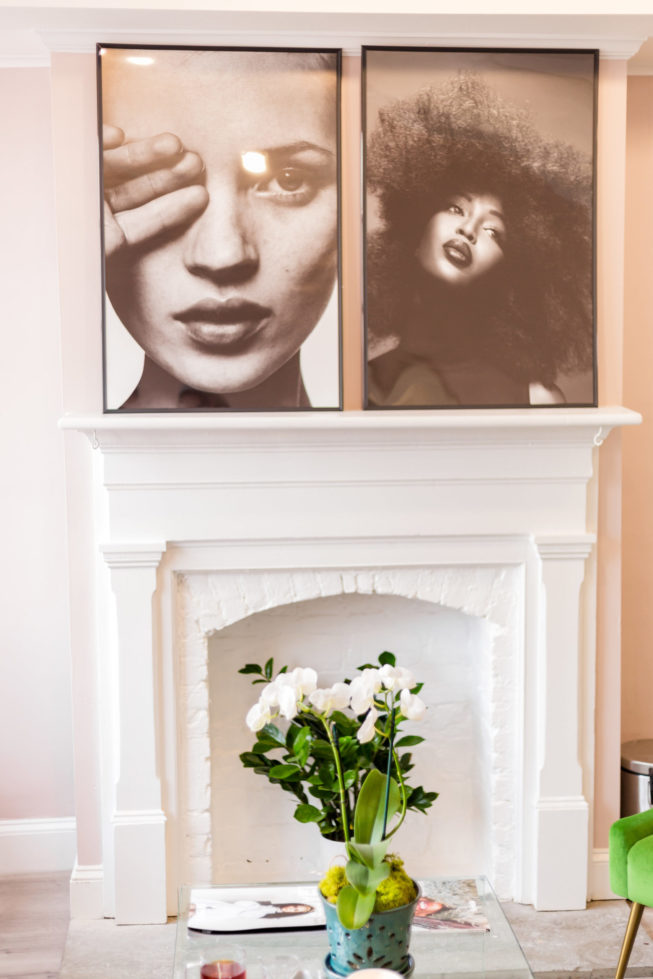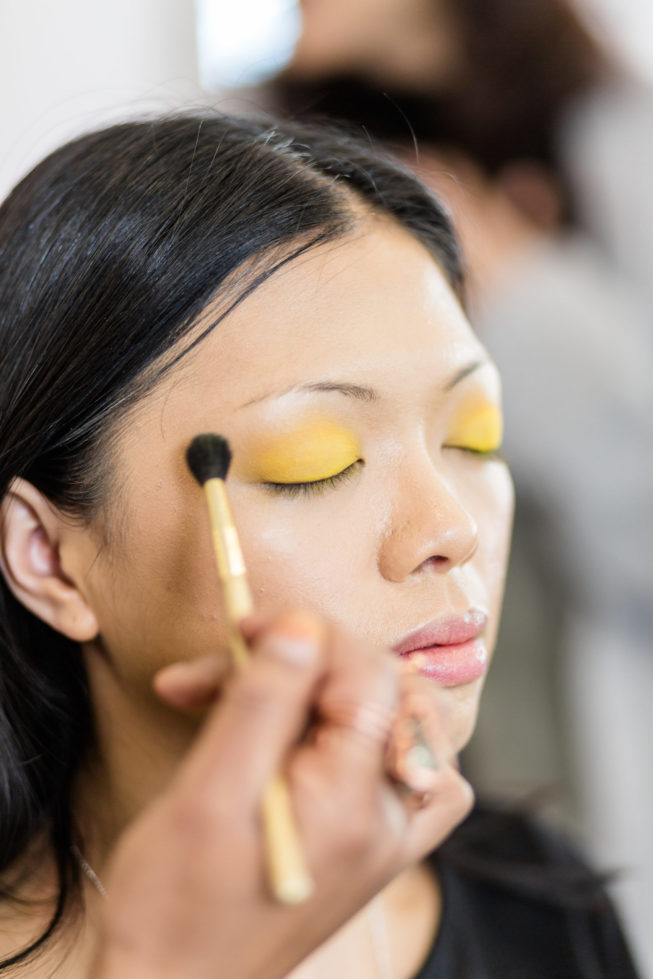 Photographs courtesy of Tenneal Mcnair.
Troupe also liked another aspect of the makeup bar: that it doesn't actually sell any makeup. In salon-speak, that means that corporate sponsors don't factor into which brands the makeup artists use, and no one is trying to up-sell. Makeup artists can also mix and layer product in ways that are controlled at salons. The non-retail environment helps foster a pressure-free experience that made clients feel comfortable, something that both Izsak and Han were interested in from the outset.
"A lot of makeup within the beauty industry has been so retail-driven. There has always been that mainstream 'look' that hasn't been very inclusive," says Han, so "women of color are pretty under-represented. DC is obviously so diverse and we knew very early on that we really wanted to serve that community and let people know that was a big part of our message."
Han and Izsak have developed their business accordingly, hiring makeup artists with a range of styles, experiences, and specialties—including artists who have trained in faraway locales such as Russia and Dubai. The salon also offers a private room for clients who, for instance, would prefer to remove their hijab for services or may not want to have their makeup done in sight of foot traffic on the street.
And while makeup shades that serve all skin tones is a given for Han and Izsak, they also press the importance of catering to all age groups and genders.
"We do see so much interest from kind of a millennial and even younger generation that has welcomed the idea of being gender-fluid," says Izsak. "We want to serve people who are transgender, people learning to put makeup on, younger generations, teenagers," emphasizes Han. "Makeup is ageless, it's genderless, it's for every skin tone."
Own Your Wonder is located at 1659 Wisconsin Ave., NW; 202-298-8000.