Ours is the age of the coach. The 21st-century service marketplace includes career coaches for the office, relationship coaches for home, running coaches for the weekend scamper through the park. So it's no surprise we're engaging them in growing numbers for an act as old as time: giving birth. Today there are six times more doulas coaching women through labor than there were in 2002, according to DONA International, the oldest and largest doula-certifying organization in the world, with more than 12,000 birth and postpartum doulas certified to date. According to the National Partnership for Women & Families, between 2006 and 2012, the number of women using doulas doubled, from 3 to 6 percent.
While the practice of women helping women through childbirth isn't new, the rise of non-medical assistance being welcomed in high-tech hospitals is. Look no further than money, that most bloodless aspect of modern medicine: While doulas remain a mostly out-of-pocket expense, Oregon and Minnesota now allow Medicaid reimbursements to cover their use, and in April, New York announced a pilot program to expand Medicaid coverage for doulas.
Jurisdictions in the Washington area haven't caught up, meaning that an experienced doula costs about $1,300. But you can find volunteer doulas through organizations including the Family Health and Birth Center, at MedStar Washington Hospital Center, while DC Birth Doulas offers doulas in training who charge less. Some doula organizations, including DC Birth, offer flex-payment options.
Doula fans say the cost is worth it. So does medical evidence: Numerous studies have shown that doulas decrease the chance of having a C-section, by anywhere from 28 to 56 percent.
In ancient Greek, doula means "a woman who serves." Here's the modern take: Doulas bring a level of expertise and structure to the age-old task of being in a mother's corner during a birth process that can still be deeply disorienting, if not as dangerous as in the old days.
"If you look at the history of all cultures, no woman was ever giving birth on her own," says Nicole Heidbreder, who lives in Adams Morgan and is a DONA International–approved doula trainer as well as a labor-and-delivery nurse at George Washington University Hospital. "There were always people surrounding her, putting a cold washcloth on her head, or holding her hand. Maybe those were her cousins or midwives in the community or her own mother.
"For most women, giving birth is the most intense physical and emotional experience of their life," says Heidbreder. "Doulas provide emotional support, informational support, and physical support."
They will, for example, brush the hair of the woman in labor to help calm her, take over so her partner can grab food from the cafeteria, or explain to a panicking mom what's happening to her body and why. Unlike a labor-and-delivery nurse, whom a woman might not meet until she's actually in labor, doulas establish a connection with the mom-to-be well before it's push time. They also stick around for the exhausting days to follow.
For Liz Palka Minukas, who is 32 and lives in DC's Navy Yard neighborhood, her doula took on the role of partner during labor. In July 2017, Minukas was 34 weeks along with her first child when her water broke five weeks early. It was 6:30 in the morning, and her husband was in Paris on assignment with the Navy. "I put on an adult-size diaper; packed a baby bag with two cute outfits, my glasses, and dry shampoo; and drove myself to the hospital," she says. It wasn't until she was in her room and in a hospital gown that she called her doula, Casey Runck, who arrived within a half hour. Runck proceeded to hang twinkle lights by the bed and made Minukas a Hamilton playlist, which is what she wanted to hear during labor but hadn't had time to prepare.
"I don't believe we are designed to do hard things by ourselves," says Runck, 29, who has attended the births of some 150 babies. She's all about creating a pleasant atmosphere in the room, and twinkle lights are her signature touch for many births. "Hospital lights are notoriously awful, right? It's fluorescent light. I can't imagine who would want to be under fluorescent lights as they're working to meet their baby."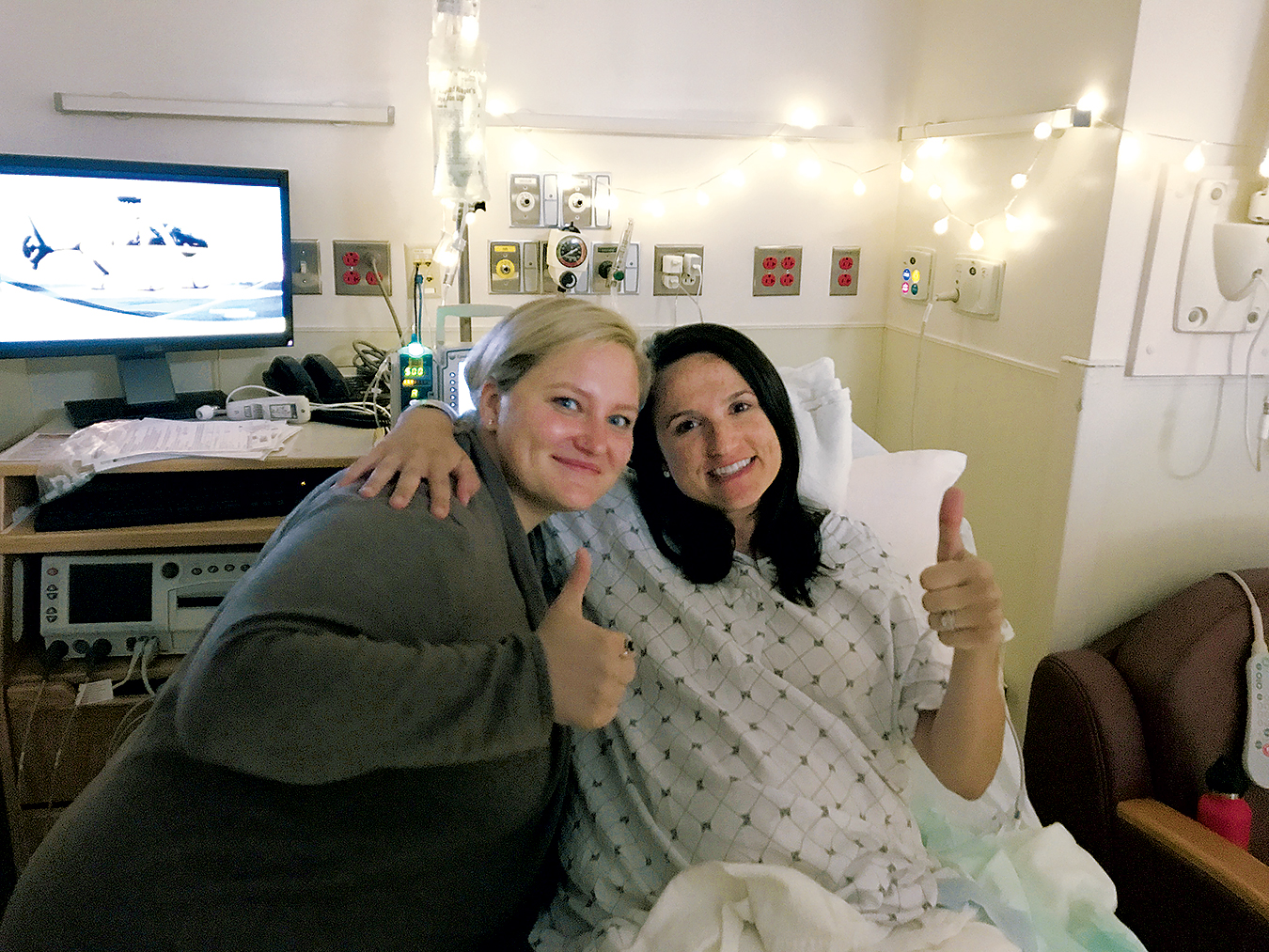 While the practice still evokes a natural vibe that's skeptical of some modern childbirth practices, it's a misperception to think doulas support only unmedicated births. In fact, there's some crucial work a doula can do—and others don't do—after a mom-to-be has taken an epidural. A doula will explain to her what her body is experiencing while her lower body is numbed and she's confined to bed, signal when to push, and help count breaths.
"I can't prevent a medical emergency from happening," says Runck. "That said, I am the person who has been in their house, talked to them, heard their fears. I'm hearing what the doctor is saying and interpreting it."
Minukas had wanted a natural childbirth, but her baby was positioned "sunny side up," meaning the hardest part of the head pushed on her lower back instead of on her belly. "When I started to realize I needed an epidural, Casey didn't try to talk me out of getting one," Minukas says. "She just made sure I knew all my options."
That was the experience of Drew Tye Ruby-Howe, another of Runck's clients who opted for an epidural, and her wife, Lex. "Casey was our advocate the whole time," says Ruby-Howe. "She was able to tell me the kinds of things that in the moment I couldn't hear from my wife." Which may explain why, as studies have shown, when women used doulas—who often coach partners on what to do during the intensity of childbirth—they later reported loving their partners more.
No one will ever confuse a doula's training with that of a doctor or nurse. To become a certified doula, organizations including DONA require that the person attend workshops, read seven books from a required-reading list, take breastfeeding training, audit a birth, and complete a business webinar course.
Many women find doulas online on sites such as DONA or Childbirth International. Besides that initial meeting before the baby is born, they then see the client again during the 18 to 20 hours, on average, of childbirth (often, like Runck, they arrive with short notice) as well as for a postpartum check-in. That visit is a crucial time to ask questions, frequently about breastfeeding, and get a debriefing about what happened in the hospital, because some women may have what Runck calls "birth amnesia" from being physically and mentally exhausted. If a woman is experiencing postpartum depression or anxiety, she might confide in her doula, who is trained to recommend where to get help. Others may even assist with things such as laundry and errands in the days after childbirth.
Runck was present for the delivery of Minukas's baby girl, who arrived at 10:20 pm the day Minukas went into labor. Because the infant was premature, she was taken to the neonatal intensive-care unit, and Runck stayed with Minukas to show her how to pump milk, which was more important than learning how to breastfeed, given that her baby would be in the NICU a week. Minukas's husband arrived at 2:45 the next morning. After she was discharged, Minukas kept in touch with Runck, texting and calling with questions. A year later, she invited her to her daughter's first birthday party.
---
It's a Party in the Hospital
Is that Beyoncé pouring into the hall­way? Birthing playlists are hugely popular these days, with digital services such as Spotify offering musical rosters devoted to having a baby. In 2016, the company partnered with a gynecologist to develop a "scientifically designed" birthing playlist, featuring songs such as Queen's "Under Pressure" and Iron & Wine's "Naked As We Came."
Just like when you crank up tunes while working out, the music serves to distract from both pain and drudgery. But the purported scientific value of this particular Spotify list is that it's designed to mimic labor: It starts slow and mellow and gets more upbeat when it's time to push.
Adding to the party feel, hospital rooms are larger than ever, allowing more loved ones to be present—which, according to Richard Beckerman, chair of obstetrics and gynecology at Sibley Hospital, is becoming more common. He says Sibley's recently renovated labor, delivery, and recovery suites can hold up to 20 people.
---
Not Taking It Lying Down
Another trend in having a baby: stirrup-free delivery.
Birthing Tubs
George Washington University Hospital has three birthing tubs where women can rest in water during labor to relax and soothe their muscles. "The buoyancy helps relieve 25 to 30 pounds they've been carrying around," says doula trainer and labor-and-delivery nurse Nicole Heidbreder. Being submerged in water, she explains, counters the effects of gravity and relieves the pull in the lower back, hips, hamstrings, and thighs.
Birthing "Toilets"
"One of the greatest places that a woman can at least start to push her baby out is actually on a toilet," says Heidbreder. Sitting on one activates muscle memory to help relax the pelvic floor so the mother can push. Before you think "gross!," know that birthing toilets are sanitary, just like everything else in a delivery room, and used only during labor.
Birthing Stools
A birthing stool allows a woman to get in positions—such as squatting or placing the stool between her legs and lying on her side—that open the pelvis to draw the baby down while taking pressure off the back. Some stools are wooden, and some, such as those from the birth company Kaya, are waterproof and can be used in birthing tubs.
---
These articles appear in the September 2018 issue of Washingtonian.