Following a well-balanced diet and participating in regular workouts can help men and women achieve many of their health and body goals. However, there are certain areas of the body, including the abdomen and buttocks, that can be difficult to sculpt through nutrition and exercise alone.
Fortunately, BTL Aesthetics has developed the only non-surgical body contouring treatment that can simultaneously destroy fat and build muscle. Emsculpt is a revolutionary procedure that tones the abdomen and lifts the buttocks without any incisions, discomfort, or downtime.
Emsculpt body contouring is available at a limited number of practices in the Washington DC area. Dr. Marilyn Berzin, Dr. Shlomit Halachmi and Dr. Dale Isaacson are three top dermatologists in DC that are proud to offer this new and groundbreaking treatment.
Interested in trying Emsculpt?  Here's what you need to know.
What Is Emsculpt?
Until now, body contouring devices targeted fat. However, a flat, tight abdomen (…or buttock or thighs) is about more than just fat – firm muscles are key to a flat belly.
Emsculpt is a completely non-surgical procedure that strengthens and firms muscle mass by causing the muscles to contract up to 20,000 times during the 30-minute treatment – far more than can be achieved by intense exercise. This rapid contraction rate has two benefits:
Since the muscle has little time to relax between contractions, it is forced to adapt by remodeling. This can increase the muscle mass, strength, and tone.
The muscle needs energy – and the fat cells nearby are storehouses of energy that can be unlocked, and can reduce the fat in the treatment area by nearly 20%.
Emsculpt targets excess fat and strengthens and increases muscle mass for a sculpted abdomen. It's also an excellent way for individuals that are already in shape to take their physique to the next level.
For patients seeking a firmer backside, Emsculpt can tone and firm the buttocks with zero recovery. It has also been used to strengthen the muscle weakness that occurs after pregnancy and shrink diastasis recti, the midline gap between muscles that many women encounter post-pregnancy.
How Does Emsculpt Simultaneously Target Fat and Muscle?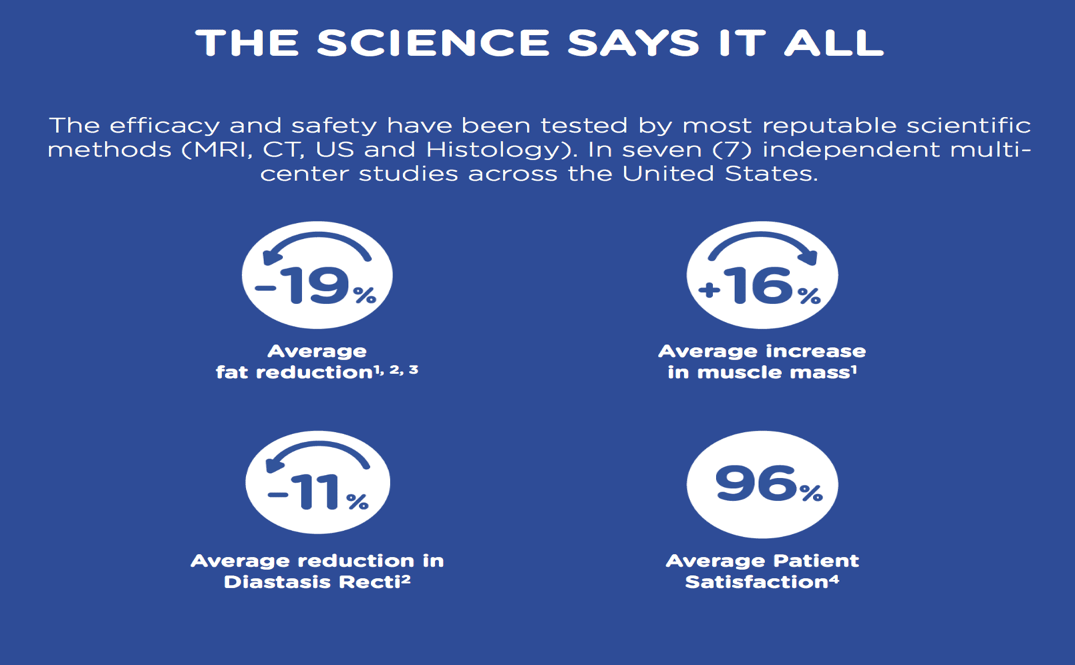 While other body contouring treatments reduce subcutaneous fat through freezing or heating, they do not act on muscle.
This is problematic because 35 percent of the body is comprised of muscle, and it's essential in order to provide true sculpting results.
Unlike the aforementioned devices, Emsculpt uses high intensity focused electromagnetic (HIFEM) energy to initiate 20,000 supramaximal muscle contractions during a single treatment session.
These forced muscle contractions are much more powerful than voluntary contractions that occur with exercise. As a result, they cause considerable fat breakdown and muscle reconstruction and growth.
Does It Really Work?
Yes. In five unique clinical studies that included evaluation by MRI, CT, and Ultrasound, Emsculpt delivered consistent and reliable results.
The findings revealed:
Increase in muscle mass: 16% at 4 weeks, and 21% at 6 months
Reduction in subcutaneous fat: 19% at 4 weeks, and 23% at 3 months
Patient satisfaction: 96%
What to Expect From an Emsculpt Treatment?
Each Emsculpt treatment takes 30 minutes, and patients are able to recline and relax for its duration. The procedure is very comfortable and feels similar to an intense workout session.
All usual activities can be resumed immediately after Emsculpt, and it requires zero downtime.
How Many Sessions Are Recommended?
Most men and women are able to feel a difference in their abdomen or buttocks immediately after the first treatment.
However, for optimal effects, a series of four treatments spaced two-to-three days apart is recommended.
When Will Emsculpt Results Be Visible?

Within two-to-four weeks after the last Emsculpt treatment, patients can begin to note a more toned abdomen, stronger core, and firmer backside.
Best results can be seen after three months and will continue to improve for up to six months.
To learn more about Emsculpt and finally achieve a toned abdomen and lifted buttocks without surgery, contact Dr. Berzin and Dr. Isaacson today to schedule a consultation.