We knew it would be bad.
Earlier this week, Washington braced itself for what was billed as an "insane" Thursday: the day both  Christine Blasey Ford and Brett Kavanaugh would testify as well as the day Deputy Attorney General Rod Rosenstein was likely to lose his job. But on Thursday morning there was no buzz of exhilaration or anticipation; instead, DC was, well, miserable.
I've lived in DC for six years, and I have never experienced such a broad-strokes sad day. Walking around the city in the early morning hours to stake out a spot at the hearing, I felt as if almost all the air had been sucked out of the the atmosphere. Grayed skies and sunken faces greeted me on my rainy morning commute through Capitol Hill, and once I arrived at the Hart Senate Office building just shy of 8 AM, a smattering of pro- and anti-Kavanaugh protestors stared wearily at their phones, at the wall, at anything but one another before things kicked into gear. Hours later, groups of the same protestors would be clutching their phones, watching the testimony and crying. It was a sort of anguish that permeated Washington like the day's thick, damp fog, coating whoever passed through it in dreary, dismal muck.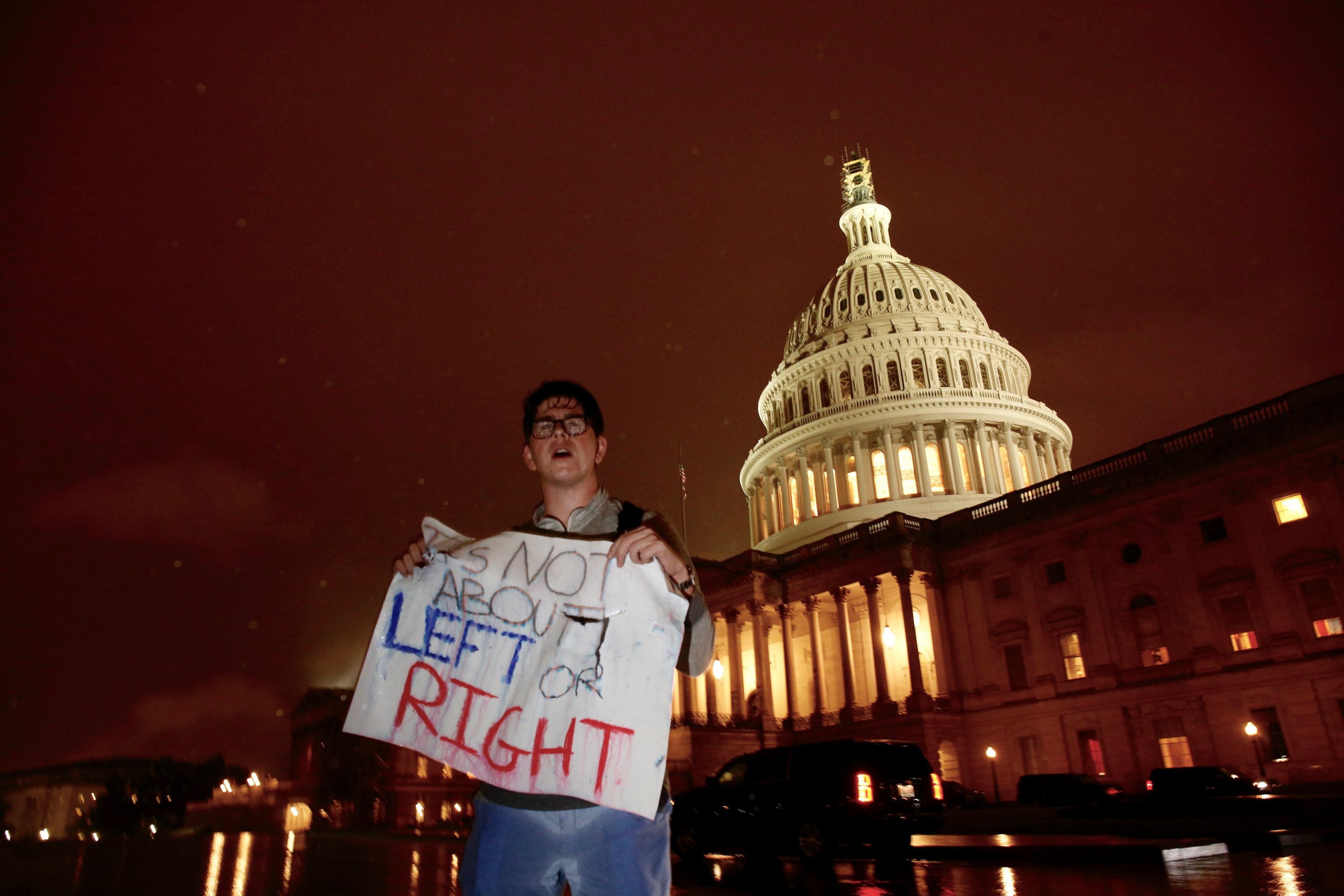 The mood was barely different in the Senate press filing quarters, a cold, tiled-lined series of rooms that looks out onto a long stretch of Pennsylvania Avenue. I chatted there with other reporters, who were banking on coffee and peer solidarity to get them through what was sure to be a taxing day.  There was a little crosstalk, a few reporter jokes before Ford's testimony began, but the whole room went silent when the hearing started. No one seemed to be passively watching, like I admittedly have to some Presidential pressers or Congressional votes; the mood was helpless at best.
We kept an eye on Twitter, which, as always, was ready to feed our despair.
I'm in a cab, trapped in traffic, it's raining and the driver put on Vivaldi's melancholic Larghetto e Spiritoso. In case we needed any more evidence the universe is weeping today.

— Dustin Volz (@dnvolz) September 27, 2018
Can we all agree this is one of the worst public days ever.

— Susan Glasser (@sbg1) September 27, 2018
Outside the hearing room, you almost could feel the testimony vibrating under your feet. At 1 PM there was a rally organized by the Women's March. People there told me that they felt a mix of pain and frustration, with a little dash of empowerment thrown in. Denise Starr, a DC resident, told me she was "disappointed that I have to do this. Proud and empowered that I am." Others said something similar: I'm tired, but because Dr. Ford will testify, I must participate.
It wasn't easy. "I'm just so damn tired," Susan Markham, also of the District, said. "It's an onslaught time and time again. It feels like a lot of us are trying to hit peaks when we need to."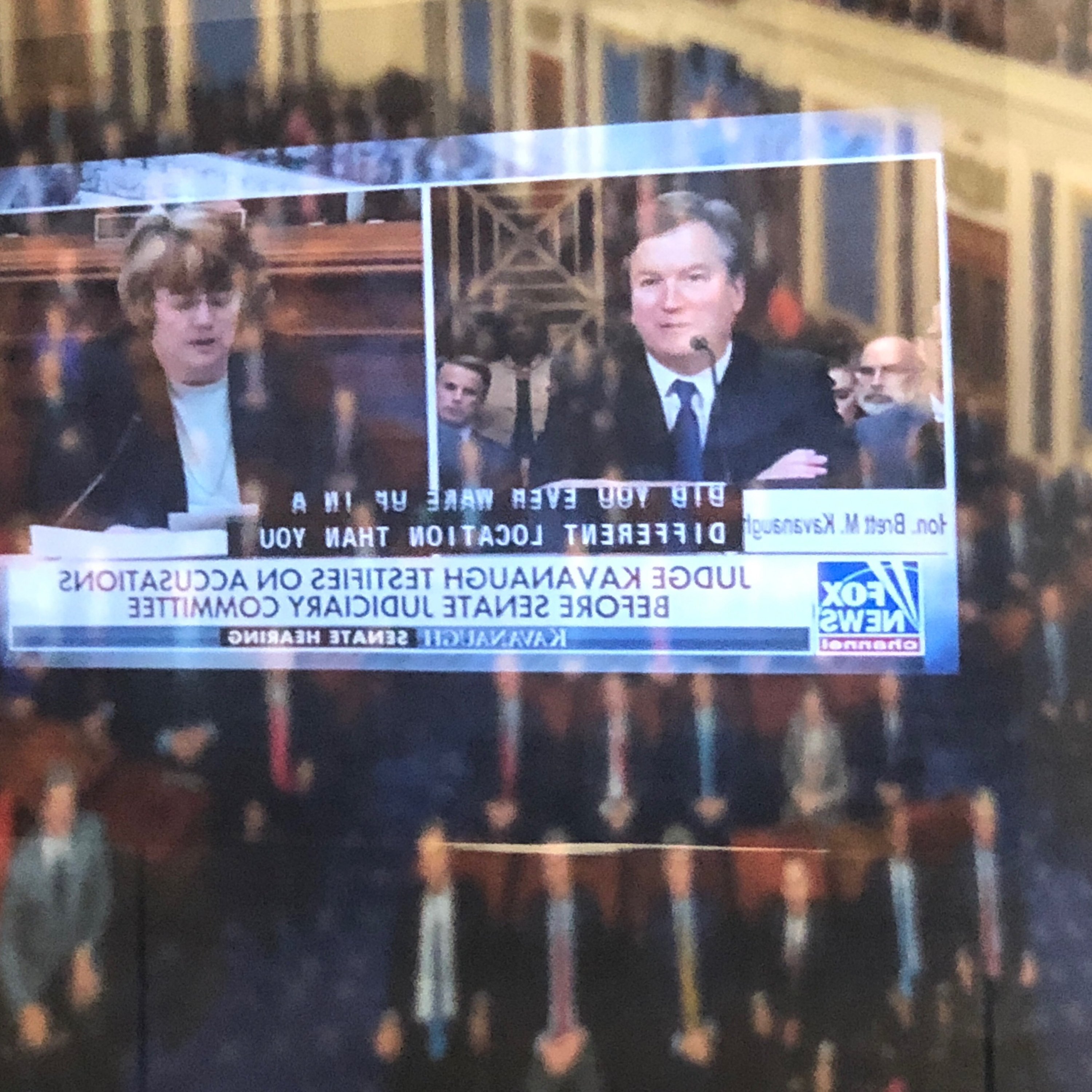 A senior GOP aide who spoke on the condition I didn't use his name said there was an emotional toll on staffers, too.
"This is the nastiest worst confirmation I've ever seen and I don't think this is gonna be the last of it," the staffer told me via text. How did he expect people to cope? Drinking. "I wouldn't want to try to get a spot at a bar tonight down there, no."
After I left Capitol Hill, I went back to my Navy Yard apartment building, where one of my fellow residents confirmed his theory: "Be social," she instructed her dog, Presley, who trotted over to my rain soaked, downtrodden self in the lobby,  "because mama needs a drink after today's hearings."