It had been a nasty week in Washington and a gloomy week for the Republic. But this past Saturday instead of hiding from the world I found myself heading toward the building that houses Fox News's and NBC News's DC operations–you see, upstairs there was a party celebrating soccer.
I like soccer enough to have written a book about it, but I don't exactly have a favorite team. I follow the English Premier League because its games are easy to find on TV, and each week it drops me in an alternate universe where none of the storylines involve Donald Trump. It works for me.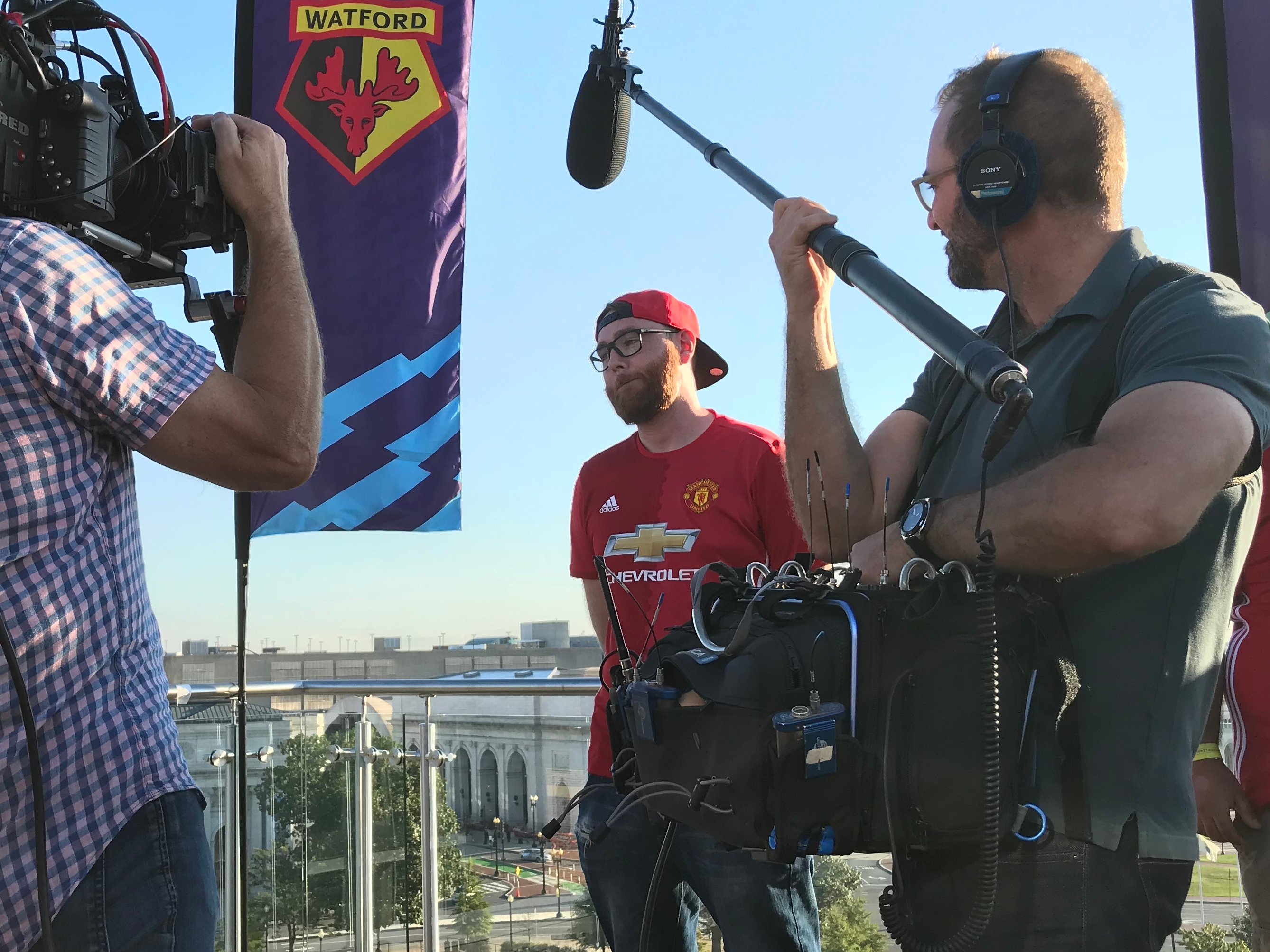 At 7:45 AM the noise from the roof deck of Capitol View at 400 was audible from a block away. DC was NBC Sports' first stop in its "Fan Fest" series this season. In marketing-speak such events are called "activations"–the kind of thing where brands deepen their connection to the people who use their products, in this case broadcasts of sports matches. Washington is one of NBC Sports' best markets for the Premier League games (it's tied for second with Richmond) and has a good number of supporters (fans) groups, with whom the clubs (teams) are usually in touch already*. Today's event would feature all the morning's games on big TVs, plus auxiliary activations, like a stand where fans could personalize their strips (jerseys) with any name they desired, take their photo with the Premier League trophy, and try to score goals on the mascots of some of the teams.
The Manchester United-West Ham United match (game) was showing on the roof deck when I arrived. West Ham was up 1-0 already, and the small number of West Ham supporters were quite activated when Man U's Victor Lindelof scored an own goal (accidentally put the ball into his own net) in the 43rd minute. One supporter doused himself with Coors Light, the only beer available from the bar, while his fellow fans roared. The Manchester United fans sang incessantly, but their bravado began to feel a bit forced.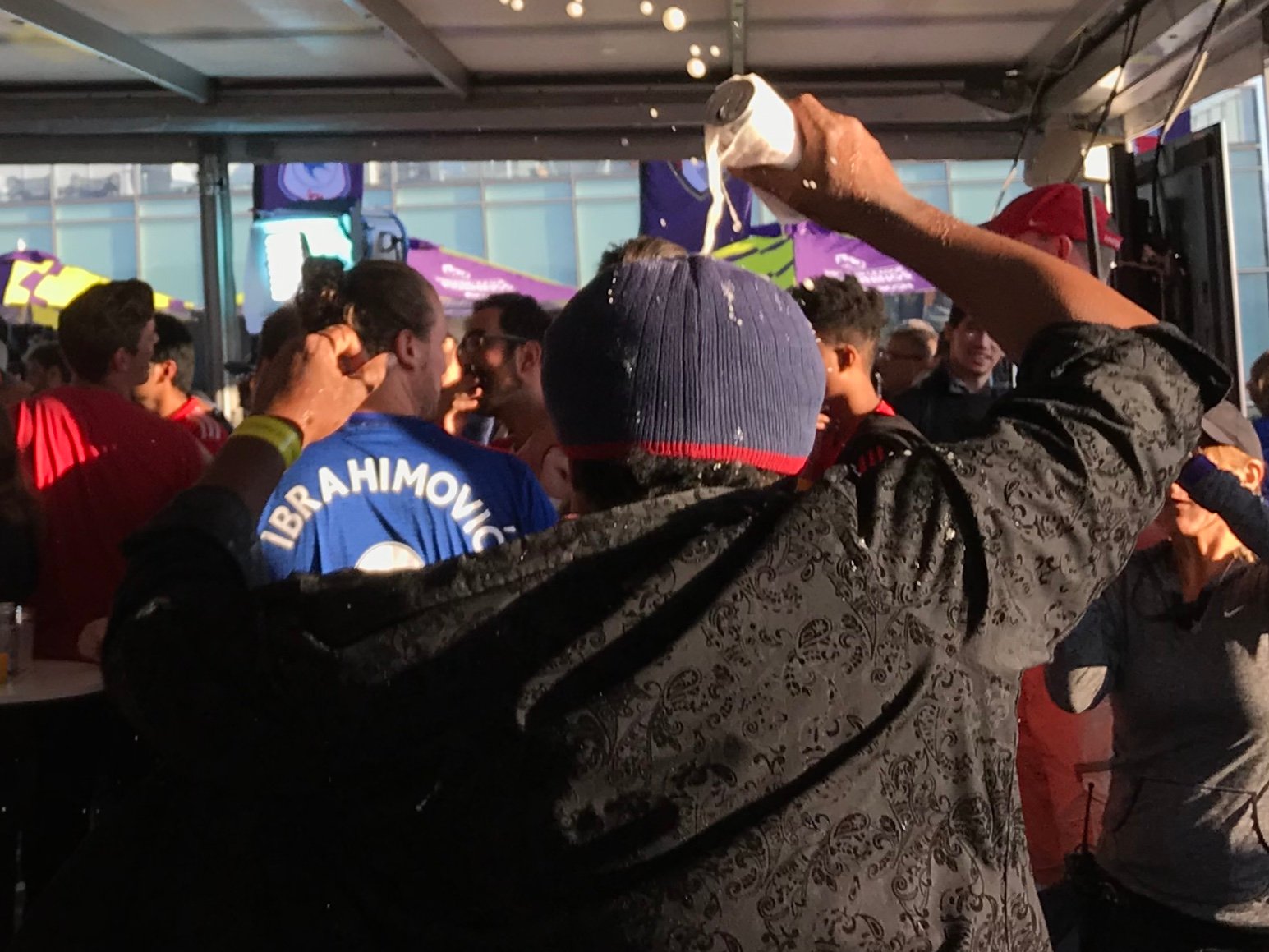 Soccer songs and chants tend to be constructed by taking tunes most people know and adding localized lyrics to them. For the Man U fans, that means songs like "United Are the Team for Me" ("This Old Man" + a suggestion of how Manchester City might find their way home), "We Knocked the Scousers Off Their Perch" ("She'll Be Comin' Round the Mountain" + taunting Liverpool fans), or "Georgie Best" ("Spirit in the Sky" + a tribute to one of the sport's most charismatic players).
Halftime was approaching, and some of the members of NBC Sports' Premier League team were gathering on the north side of the porch to present their analysis as the fan groups surrounded them with banners, singing at the top of their lungs. Robbie Mustoe, Rebecca Lowe, and Kyle Martino somehow talked over the din.
Nearby was a table serving on-brand snacks: "Martino Muffins," "Bend It Like Bacon, Egg and Cheese," and "Robbie Earle-y Morning Fruit Skewers." Earle, another analyst for the network, is a vegetarian. I had met him the day before with Alan Shearer at a hotel across the street. It was one of those funny media situations that makes words like "activation" seem perfectly normal. I came into a small room, sat with both men for a few minutes, and recorded an interview on my phone while publicists and other journalists waited for me to finish. Shearer, who still holds the record for most Premier League goals, told me about surprising a group of Newcastle United fans at a nearby bar the night before. We all agreed that the growth of the sport in the US was very promising.
Back at Capitol View I spoke with the guy who gave himself a beer shower. His name is Samuel Sams-Yeboah, and while he lives in Mount Pleasant now he moved here from Sittingbourne, Kent. He's a lifelong West Ham fan. Sams-Yeboah introduced me to Tariq Khan, another member of the DC West Ham supporters club who's originally from Trinidad and Tobago. "It's more than just a game, it's your identity, it's what you are," Khan tells me. He and the other supporters go out together regularly and socialize via a WhatsApp group.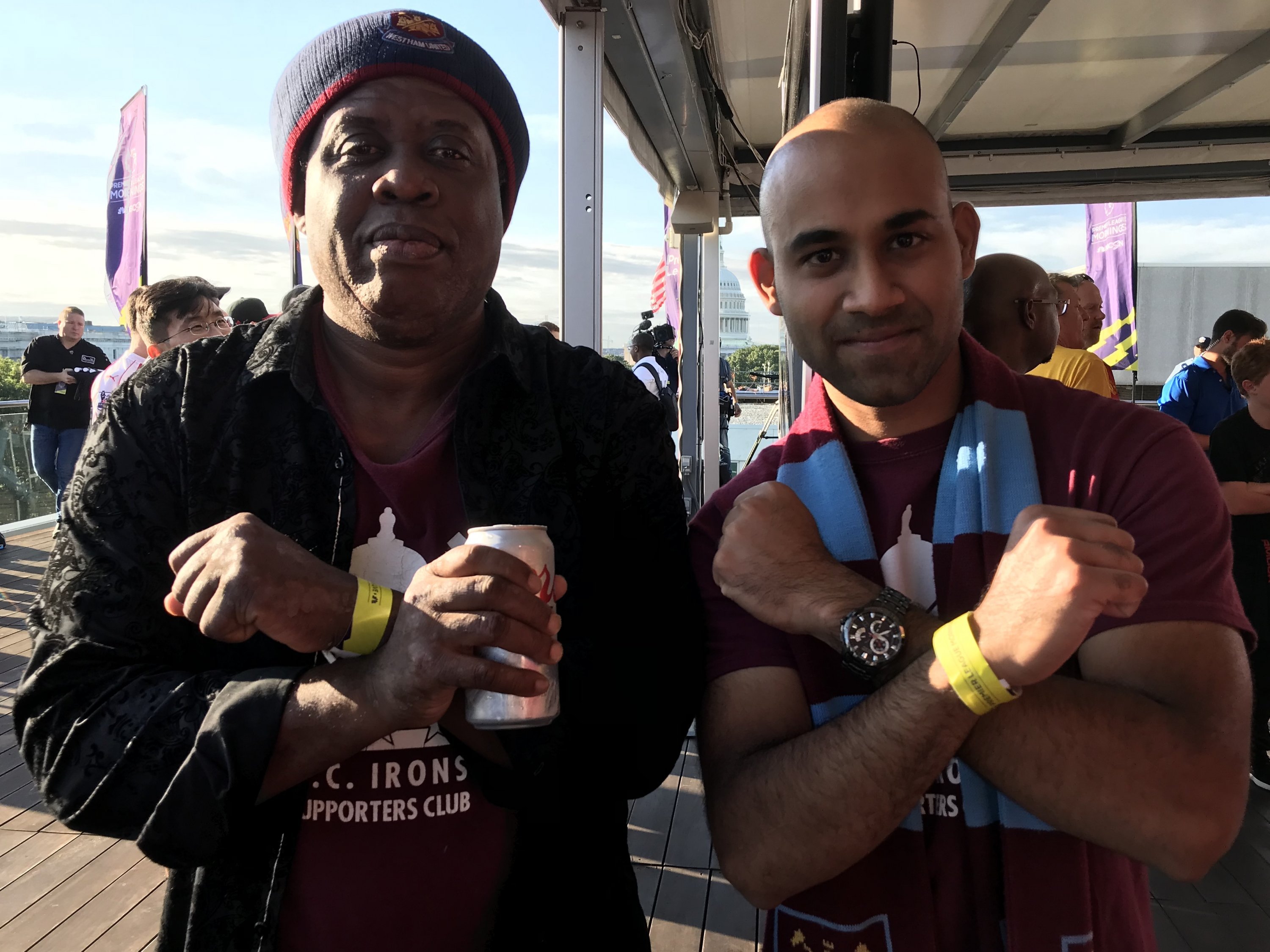 I wandered over to the guys with 106.7 The Fan microphones, who appeared to be taking a break. They were recording a podcast, Adam Epstein explained to me. It's called Play to Win and it covers DC sports and local athletes. Epstein, who's a producer for the Sports Junkies, follows Chelsea FC and had already interviewed Earle and Martino. "I really feel like it's bringing some energy to DC," he said about soccer culture.
The sun briefly came out for the the Manchester United fans in the 71st minute, when Marcus Rashford scored. They danced. They sang. And then Marko Arnautović scored for West Ham three minutes later, effectively putting the game away. One of the Man U fans waved "goodbye" to the team's embattled manager, José Mourinho when the cameras caught him glowering. "It's a pile of shit," said Dan Cumberland, a member of the DC Red Devils, a Man U supporters club with more than 200 members. "We don't put it on Manchester United, a lot of us," said Sam Jones, a native of Manchester who lives in Columbia Heights. "We put it on ownership." He and Cumberland, who has the Maryland flag tattooed on his calf, bantered easily about the team's travails.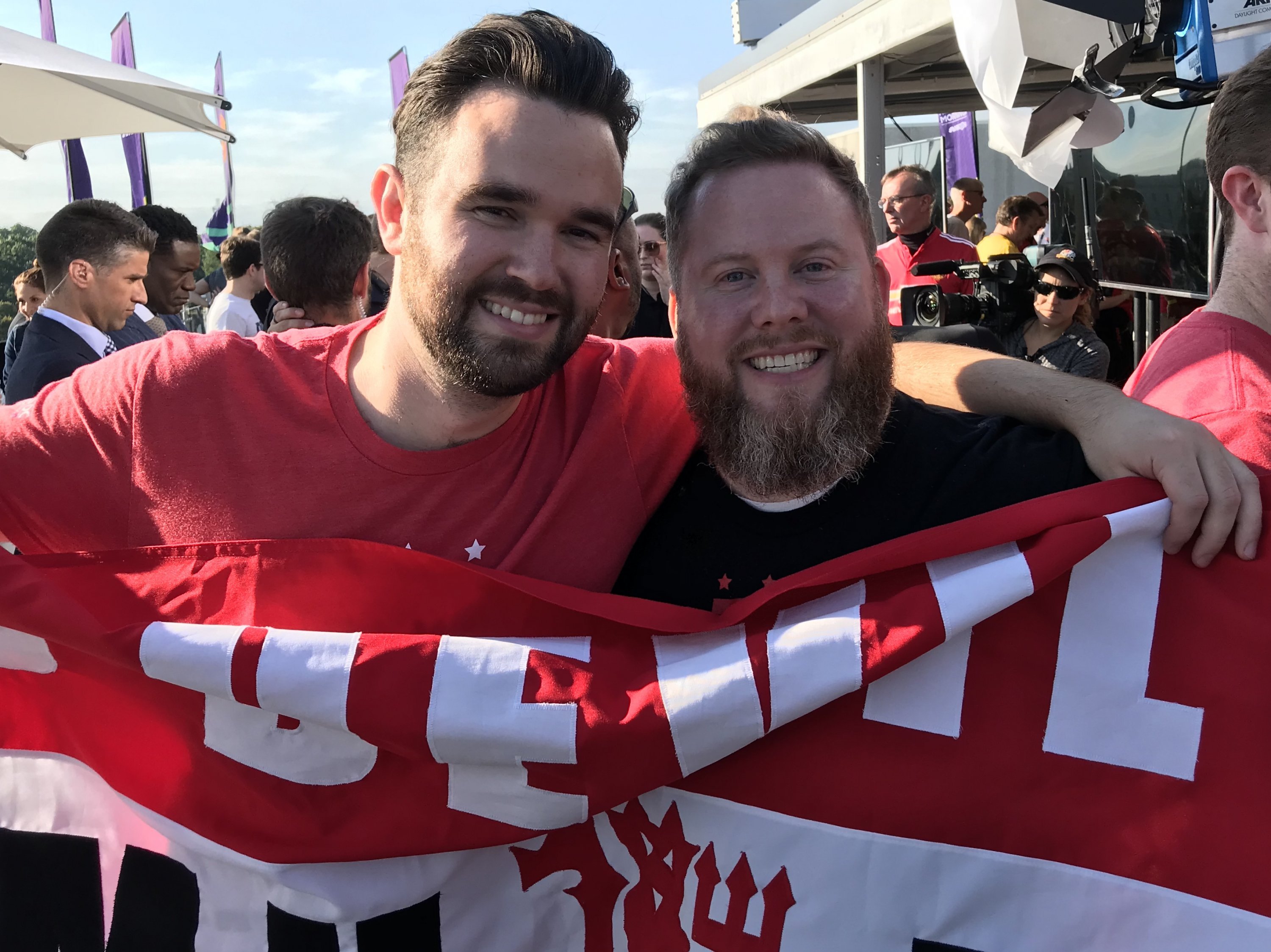 I talked about the rise of e-sports with a publicist and how odd it was to watch people play a video game without noticing we were watching fans watch soccer. I decided to wander down to the plaza. Brighton & Hove Albion's mascot, Gully the Seagull, passed me on the way. In the plaza Lowe, Shearer, and Robbie Mustoe were setting up for their postgame analysis. A group of Arsenal fans were making a lot of noise in the line to go upstairs. I decided to follow them and happened to be in an elevator with a few as the team's mascot, Gunnersaurus, got on, which for the loudly chanting fans was like several Christmas mornings coming at once. "We're on a lift/We're on a lift/We're on a lift with Gunnersaurus" they sang to the tune of "When the Saints Go Marching In." (They all appeared to be American; I cannot explain their swift adoption of this British term.)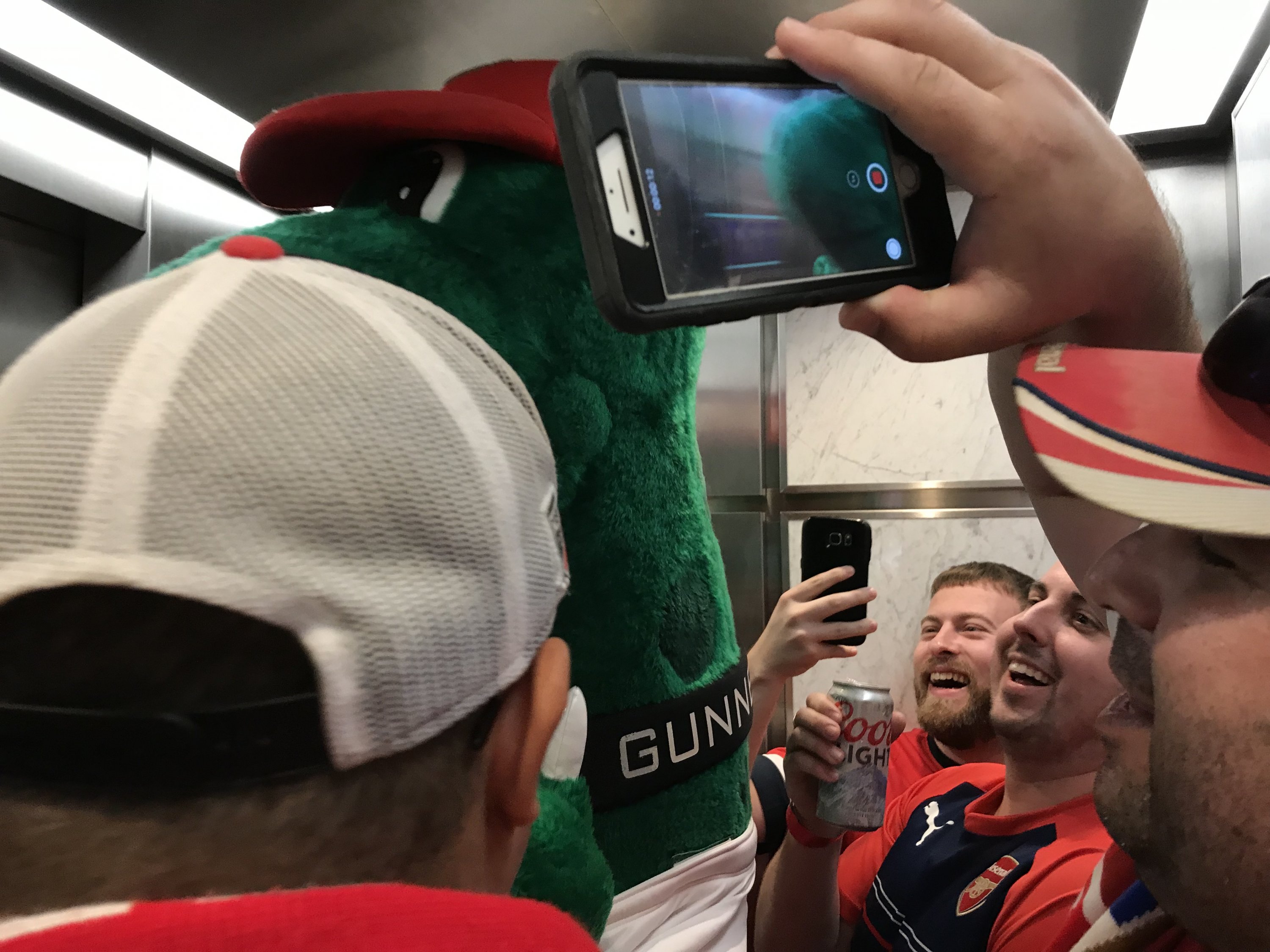 Every day for an Arsenal fan appears to be the best day ever. They chanted, jumped up and down, and sang. One was wearing pajamas covered in pictures of cats wearing Santa hats. When the screen on their level showed Mourinho, they sang, "You're getting sacked in the morning" and "We want you to staaaaaaay." Perhaps it was just refreshing for them to finally have someone else's manager be on thin ice. But honestly, it seemed like they would be having just as much fun if players had to worry about getting munched by tigers on the side of the pitch (field). They were loud and carefree. I didn't want to ever leave them.
But then I met the Brighton & Hove Albion fans. The English Premier League has six huge clubs and 14 others that, if they beat one of the big teams, someone might get canned. The matchups everyone talks about are when two prominent teams play one another. But the lopsided matches can offer bigger payoffs. I was once in Inverness, Scotland, when its tiny team knocked off Glasgow's mighty Celtic, and I had one of the most exhilarating nights of my life as the entire town went berserk (e.g., the cab driver who told me: "You'll have to excuse me; I'm a little drunk" while swinging wildly through the curvy streets toward my B&B). Eric Michael of Hershey, Pennsylvania, became a Brighton & Hove Albion fan while visiting his extended family in England and it stuck. He was joined by Paul Dorsey and Ben Sinaiko, who flew here from Chicago. Brighton & Hove Albion were scheduled to play Manchester City, which walloped the entire league last year. "They will win this game," Mustoe was saying on TV about the bigger club. Brighton & Hove Albion had contacted Michael, Dorsey, and Sinaiko directly about today's event, and they were determined that the Seagulls be represented.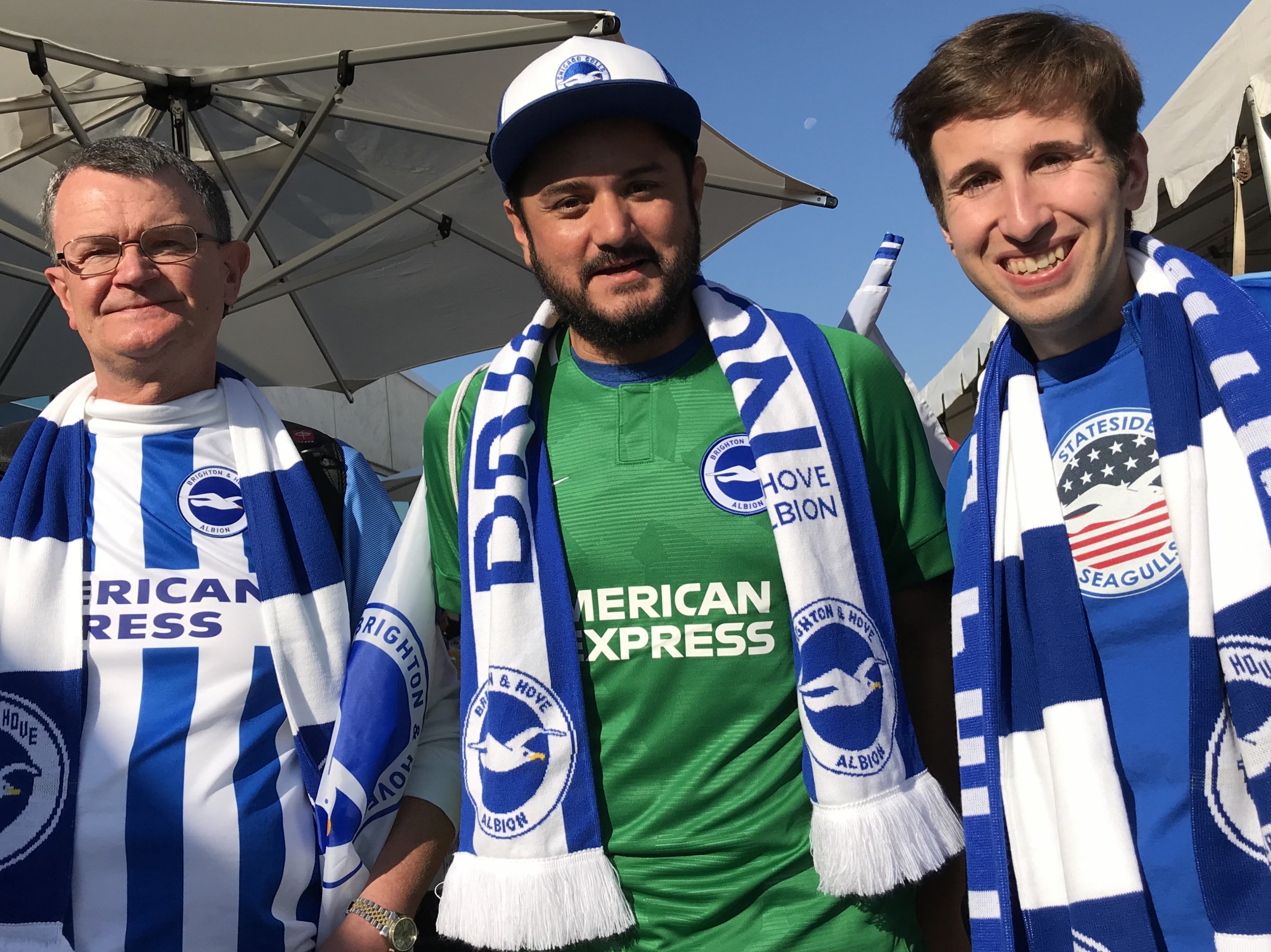 My son's soccer game was looming, so I couldn't wait around to see what happened there (Man City won 2-0). I did spend a little more time in the plaza, where what I thought was a merchandise stand turned out to be a place to get free memorabilia, courtesy the clubs. You were limited to one item each. By the time I arrived a lot of the big clubs' stuff was gone. No one had taken anything from Southampton FC, one of the clerks told me.
On the way out, I saw a woman in a Manchester City strip trying to get in while security tried to figure out how to handle the fact that she was carrying a five-foot-high mirror. Her name was Katherine Davey, and she explained to me that she'd bought it at Christ Lutheran's garage sale that morning. It was going to really liven up the mantle area in her English basement. The security folks said it couldn't go in, since it wasn't a sign. "I'm going to lean it against the building and hope that people who watch soccer are nice people," she said.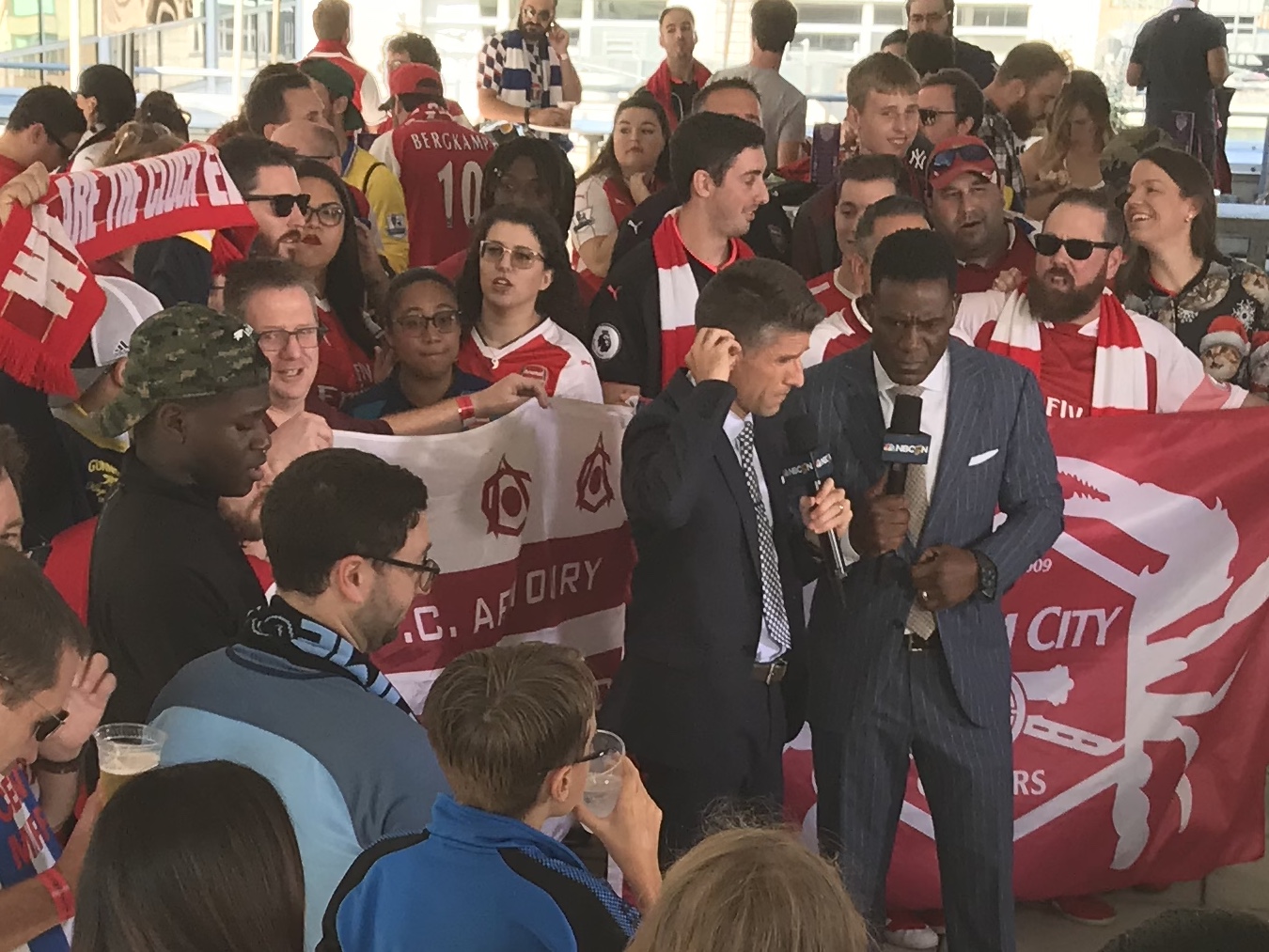 On the Metro platform I saw a man in a Southampton FC jersey and asked him whether he'd gotten a chance to ransack the free-merch counter. No, he said, he wasn't able to get in. (All in all, more than 2,000 people ended up attending, an NBC Sports rep told me later, and by 1 PM everyone in line had gotten in.) But that was okay–it wasn't even 11 AM yet, and he had to get to brunch.
*It can be difficult to avoid Britishisms while discussing soccer fandom. When the jargon was unavoidable I have inserted translations in parentheses.