Few DC food businesses have undergone more reinventions than buttermilk biscuit and fried chicken purveyor Mason Dixie Biscuit Co. Since launching in 2014, the eatery has run through a pop-up phase, a Union Market phase, and a successful (if also short-lived) drive-thru phase. Now, customers seeking Mason Dixie's Southern fare can head to its 43-seat permanent home in Shaw, which opens Saturday.
"We changed a lot about trying to get out of that drive-thru mindset," says CEO and co-founder Ayeshah Abuelhiga. "We've changed to a more diner-y feel, a more catered to, service feel. In the drive-thru, it was hard to combat the image of being a fast food place, and that was never what we really wanted. The new space lets us get back to our roots."
This also means bringing back some of their most popular dishes from the Union Market days. The "O.G. favorites" include sandwiches like the Trainwreck (fried chicken topped with an egg and sausage gravy), and the Hot Mess with bacon, egg, and cheese smothered in sausage gravy. There'll be room for innovation as well. A new test kitchen will experiment with biscuit flavors.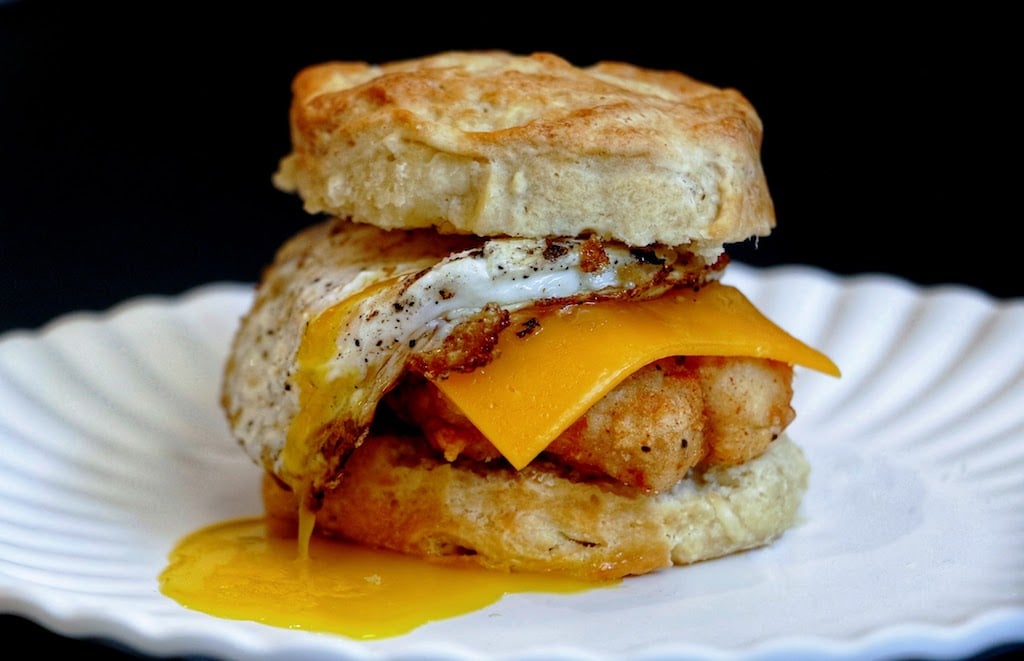 While buttermilk-brined fried chicken continues to rule the roost, an expanded menu means there's more room for other types of protein as well. Look for ham platters in the morning, and for pulled pork sandwiches  in the afternoon. The team taste-tested their way through the South, and added new sides like creamed corn, green beans, and mashed potatoes with gravy. 
"Most places you go to the sides are the after-thoughts," says Abuelhiga. "We kind of want sides to be the first thing you want to order."
Mason Dixie's new location (in the former home of Drift on 7th space) pays homage to the traditional American diner aesthetic with a retro-looking counter, small booths, and vintage vinyl seats. Part of the "modernized Americana" vision means fun pops of pink and teal, and a  mural courtesy of the artists at No Kings Collective. The decorative pièce de résistance: BUTTER, spelled out in huge letters on the ceiling. 
"[Butter] is the quintessential key that has caused us all of this success," says Abuelhiga with a laugh. "The [amount of] butter we go through is insane. It's kinda been the thing that has bonded us together. So it's up there as a constant reminder."
When Mason Dixie's drive-thru opened last year, the restaurant had a two-mile long opening line, which Abuelhiga says she's still a bit scarred by. If you're thinking of visiting the new location on opening day, you should expect a crowd, too. The first 100 customers in line will get a punch card for five free chicken biscuits.
Mason Dixie Biscuit Co. 1819 Seventh St., NW. Monday to Friday, 8 AM to 8 PM; Saturday and Sunday 8 AM to 4 PM.