Even if you're not directly familiar with the Outrage, you've probably seen some of its activist-oriented apparel around town. The Adams Morgan outpost sold "Nasty Woman" and "Nevertheless, She Persisted" T-shirts, and it created apparel for every major movement in DC since the 2016 election, from the Women's March to the Climate Change March, says CEO and founder Rebecca Lee Funk.
And now, it's behind something else: A 3,200-square-foot community space on 14th Street, Northwest, that it plans to open in December or January.
The Outrage's retail component has already moved to the front of this new location, replacing its old spot on 18th Street, Northwest. Its soft opening is this week, with its full storefront officially open next week. The industrial-chic spot is filled with the activist-oriented gear its known for, and a soon there'll be a phone booth with instructions on how to call your senator and a neon sign with the Dr. Seuss quote, "Unless someone like you cares a whole awful lot, nothing is going to get better. It's not."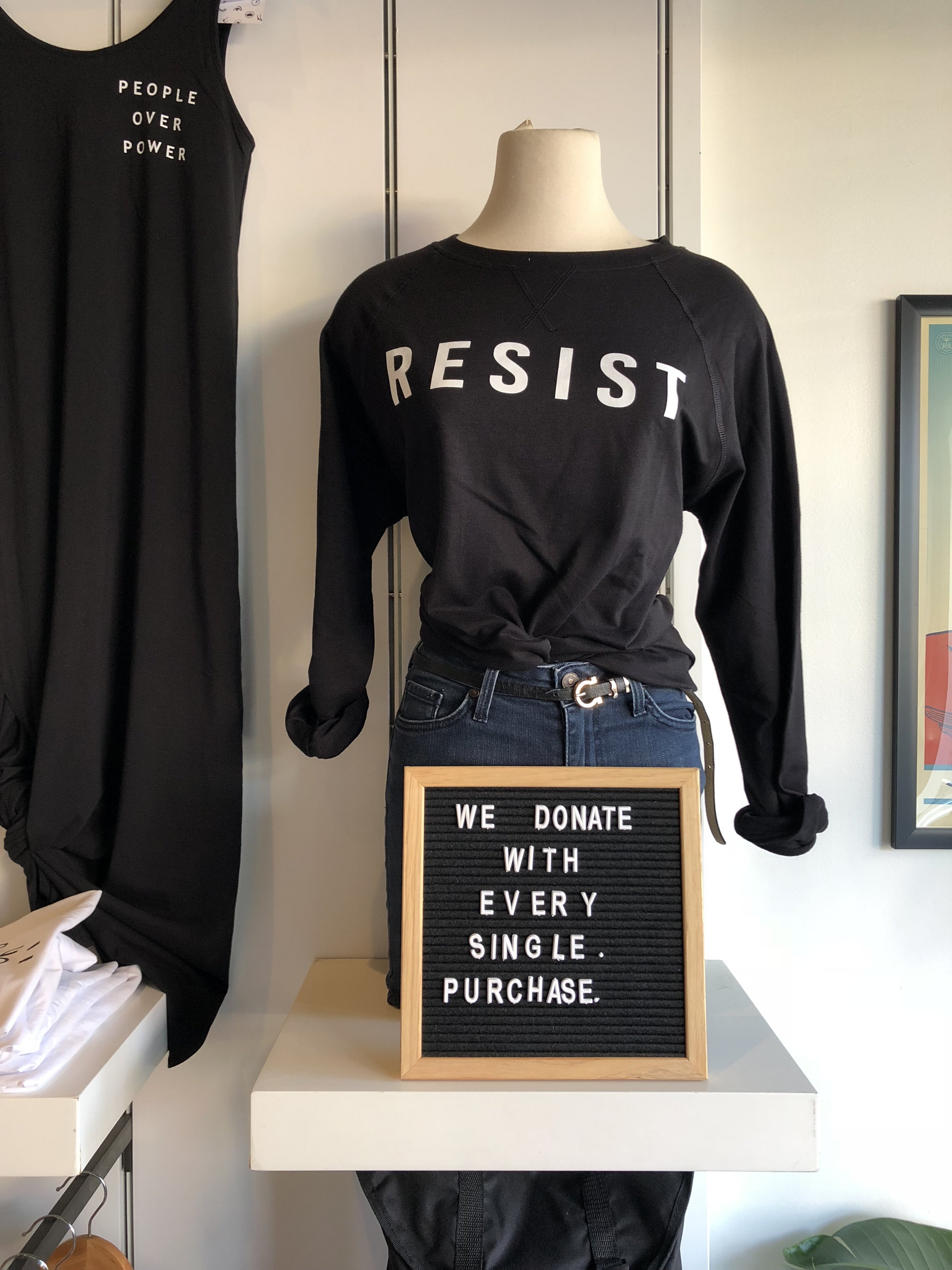 The community space, which will be located in the back of the building (formerly a CrossFit gym), is still under construction. Once completed, it will be a membership-only spot for the feminist, progressive crowd.
"People came in saying, 'Yes, I want to purchase this shirt and contribute to the cause and wear my values,'" says Funk of the original location, which opened in 2016 "but also, 'Can I sit on this couch?' or 'Can I host my feminist book club here?' or 'Can I do my poster-making party [here]?'"
Soon, they can. Once it's open, the spot will be a site for progressive activists and politicians to come talk on its stage or for members to gather and hold voter registration drives or call their representatives (so far, the group has registered over 1,000 people to vote and sent over 2,000 letters to politicians, says Funk).
It can also be a spot for folks to just come and hang out. "The goal is channeling outrage and channeling it into something positive," Funk says. In other words, a comforting, warm oasis.
There will be plants hanging from the ceiling courtesy of nearby store Little Leaf, and the sofas, armchairs, and bean bags throughout will be perfect for the feminist movie screenings Funk anticipates (and can all be moved aside for dance parties).
The Outrage worked with local feminist artist Georgia Saxelby to create the entrance to the space, which will be covered in memorabilia from the Civil Rights Movement, and a bar will serve coffee, snacks, and beer and wine. One dollar from each purchase will go toward a progressive nonprofit of your choice (think Planned Parenthood or the ACLU). And while it's not billed as a co-working spot, per se, Funk says members are more than welcome to bring their laptops and camp out.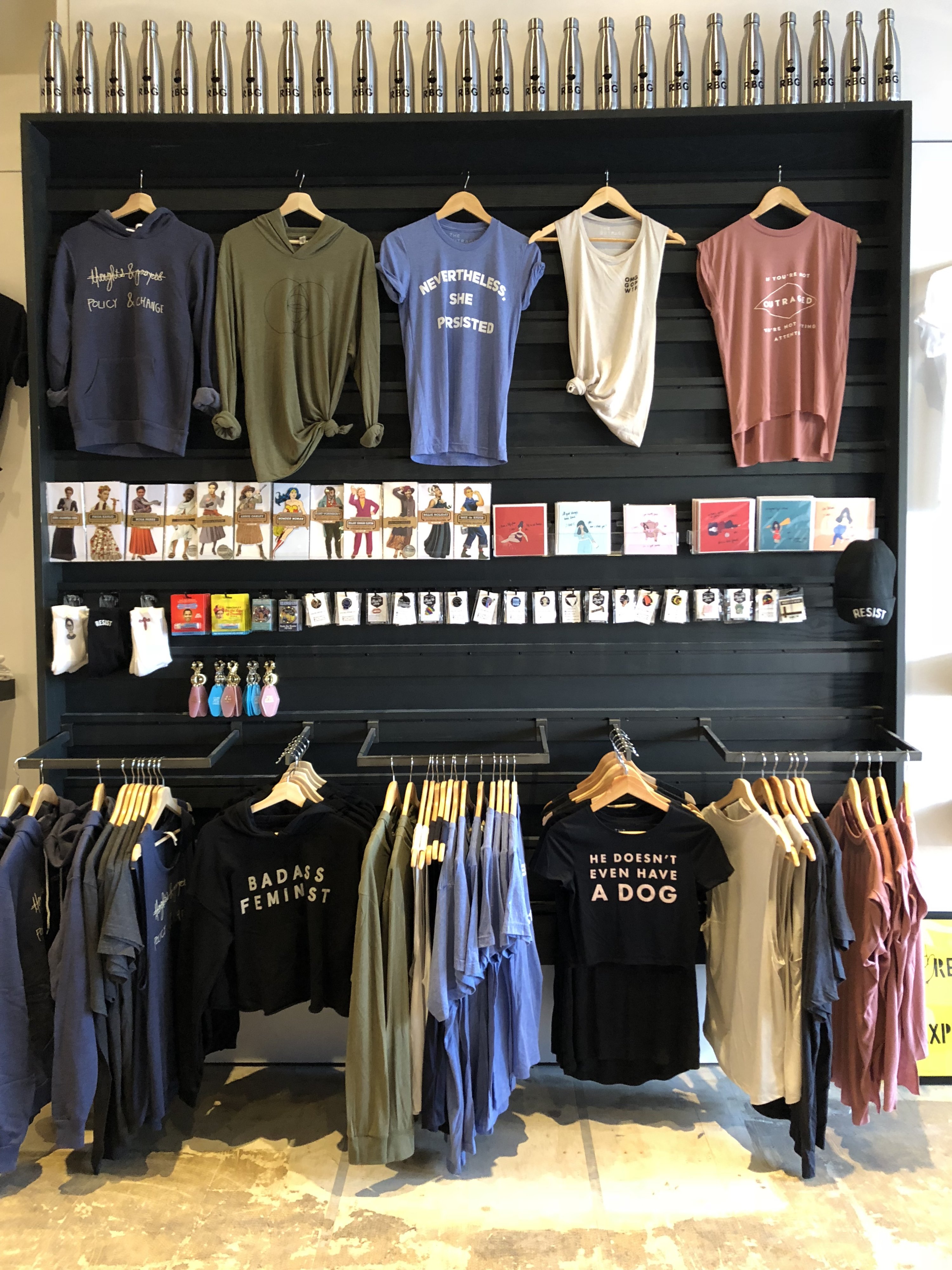 Consider it a grittier, co-ed, more action-oriented version of the Wing, says Funk. "We're not going to have Chanel products in the bathroom," she says. "Where we want to invest our energy and resources is really activating people and meeting them wherever they are in their activist journey."
And it'll cost less than the Wing, says Funk. The prices aren't nailed down yet, but she estimates it'll be a tenth of the Georgetown co-working spot's membership fee ($215 monthly for a single-spot membership), and they want to ensure the Outrage is accessible to all. "If someone wants to be a part of this community, they'll be a part of this community," she says. "We will find a way to make that happen. People won't be rejected on inability to pay."
While the Outrage wasn't started in direct response to the Trump administration, says Funk, it's evolved into a space where resistance to the administration's policies is fostered. "People ask me, 'Do you think the Outrage would be as successful as it is had Hillary won?,'" she says. "And the answer is absolutely not."
Yet despite its resistance roots and progressive leaning, Funk insists it's a place open to all. She had an 18-year-old guy who was pro-gun rights come into the Adams Morgan spot, and she says they had a great conversation. While neither of them changed the other's mind, it was an important example of what healthy dialogue can look like, says Funk.
"We'll never be a hostile environment to people who don't agree with us. I think if anything, our country needs to be having that communication," she says. "In our humanity, we share so much more in common than the other stuff."
The Outrage; 1722 14th St. NW