Regardless of whether you plan to shell out the $215 monthly membership fee for DC's newest—and perhaps buzziest—coworking space, The Wing, you have to admit the place has style. The female-only social club and coworking space imported from New York opens its doors this Thursday, April 12th in a quiet corner of Georgetown next to Baked and Wired at 1056 Thomas Jefferson St., NW, and the interior does not disappoint. Though this is the company's first location outside of New York, plans are already underway for six other new locations, including San Fransisco, Seattle, West Hollywood, Toronto and London. The immaculate space, awash in a range of chic candy-colored pastels and outfitted with cushions, tassels, and some artwork, is every bit as glamorous as its New York locations.
Take a walk through of the airy, 10,000 square-foot Georgetown space below.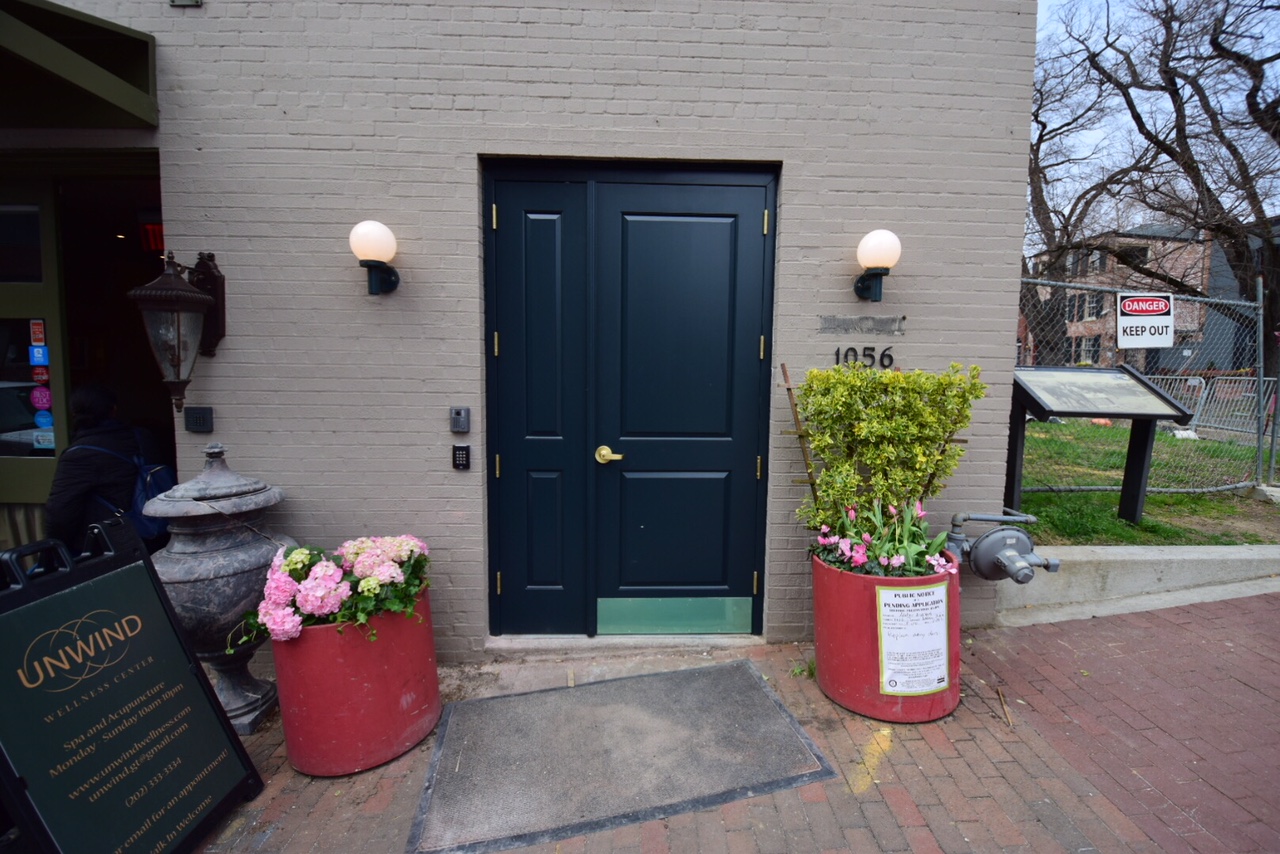 The discreet entrance to The Wing at 1056 Thomas Jefferson St., NW in Georgetown.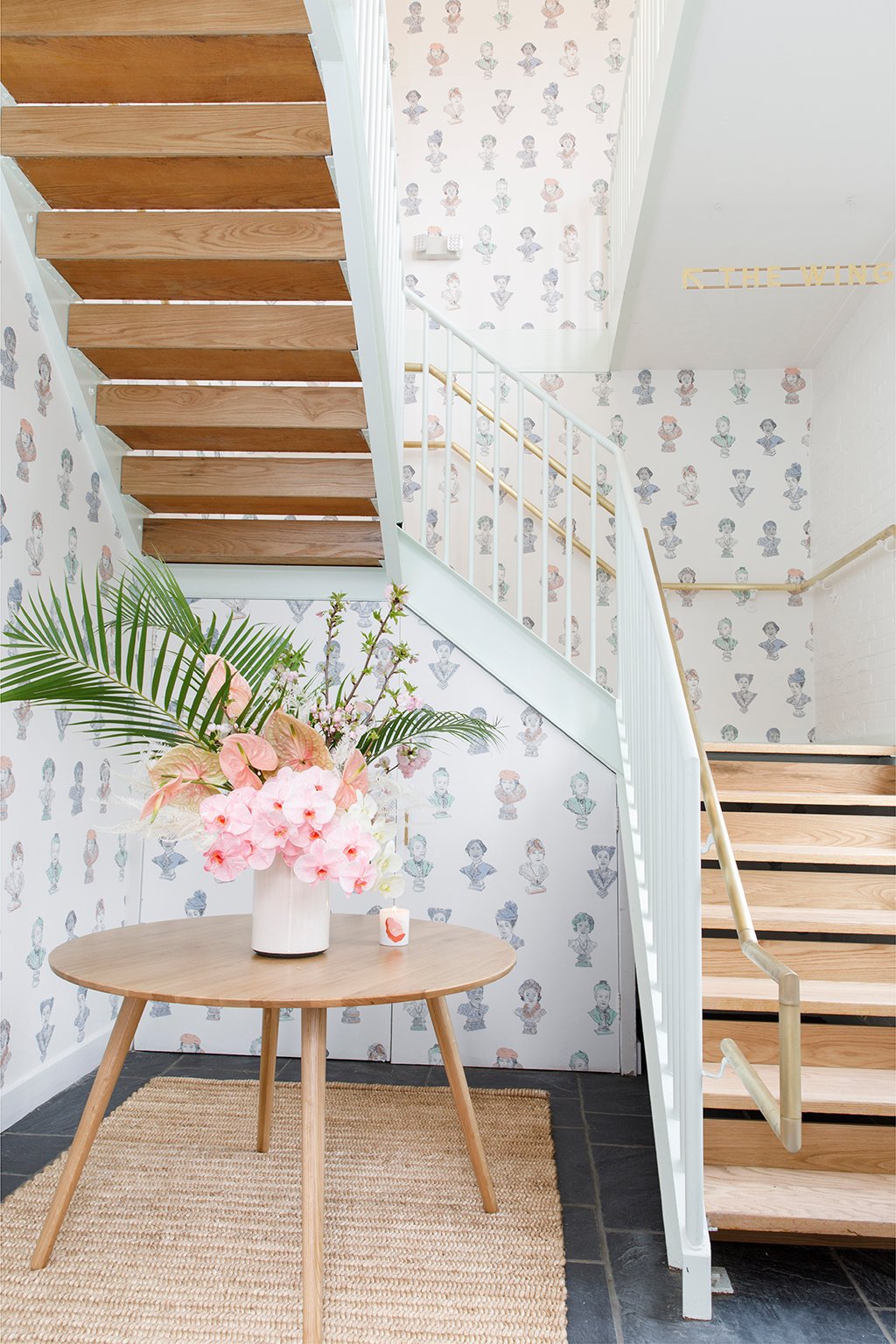 The scene upon entry. The location itself has a fitting history: The rowhouse once housed the city's first all-female architecture firm, led by Chloethiel Woodard Smith, which was responsible for notable projects such as the Capitol Park Apartments and the restoration of the historic Pension Building (which now houses the National Building Museum).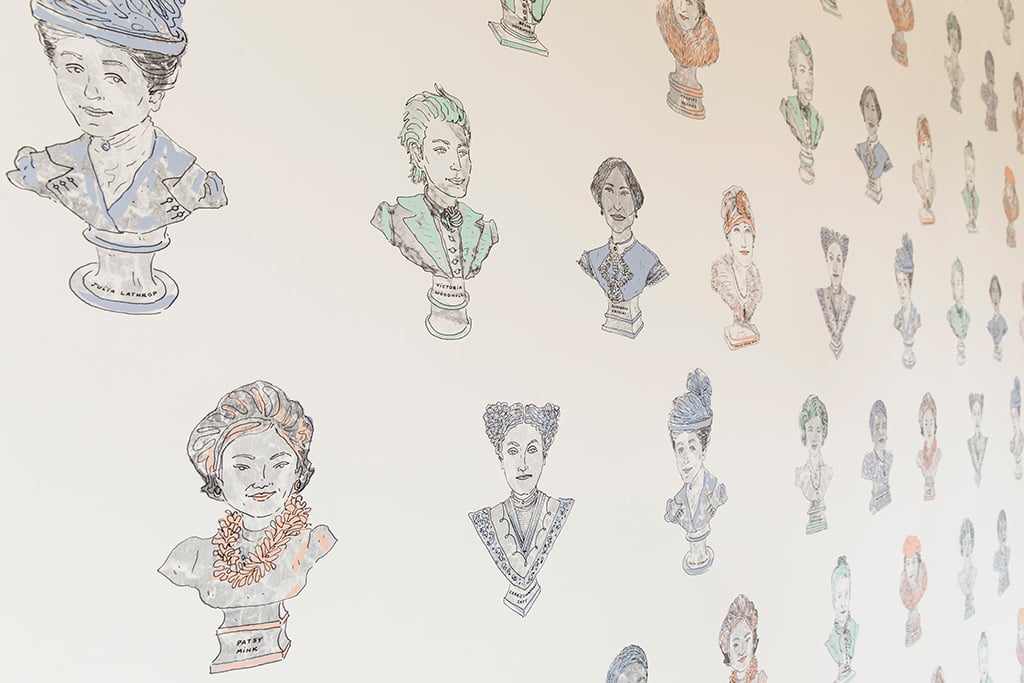 Custom wallpaper in the entryway also pays homage to fierce ladies. The design, by Joana Avillez and Payton Turner, features illustrated busts of female groundbreakers including Mary McLeod Bethune, Frances Perkins, Victoria Woodhull, Belva Lockwood, Elizabeth Keckley, Carrie Chapman Catt, Julia Lathrop, Nellie Tayloe Ross, Patricia Roberts Harris, and Patsy Mink.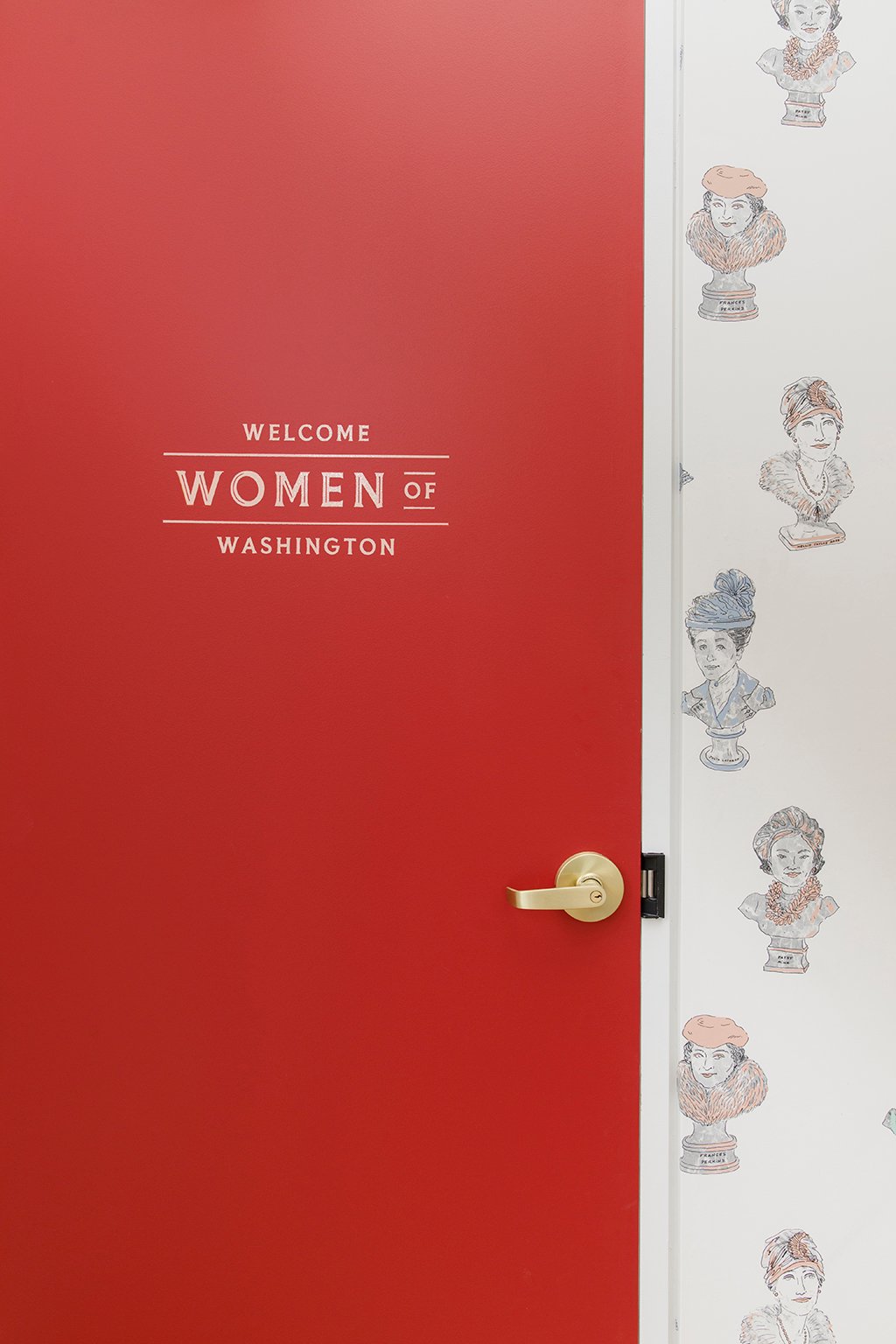 The door to The Wing—outfitted in executive red—gives a powerful welcome to the women of Washington DC.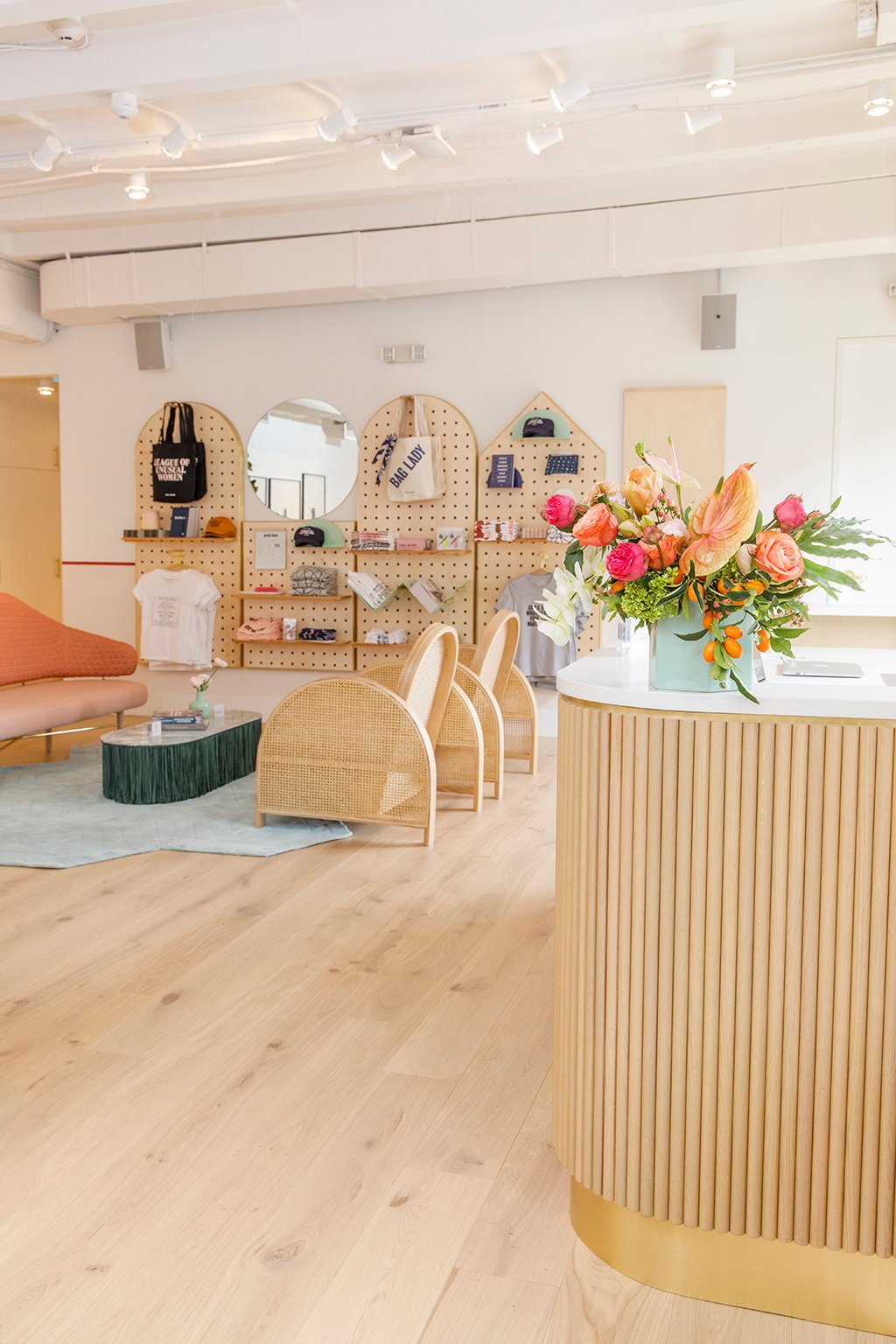 Members are greeted with an open reception and lounge area, complete with a swag corner.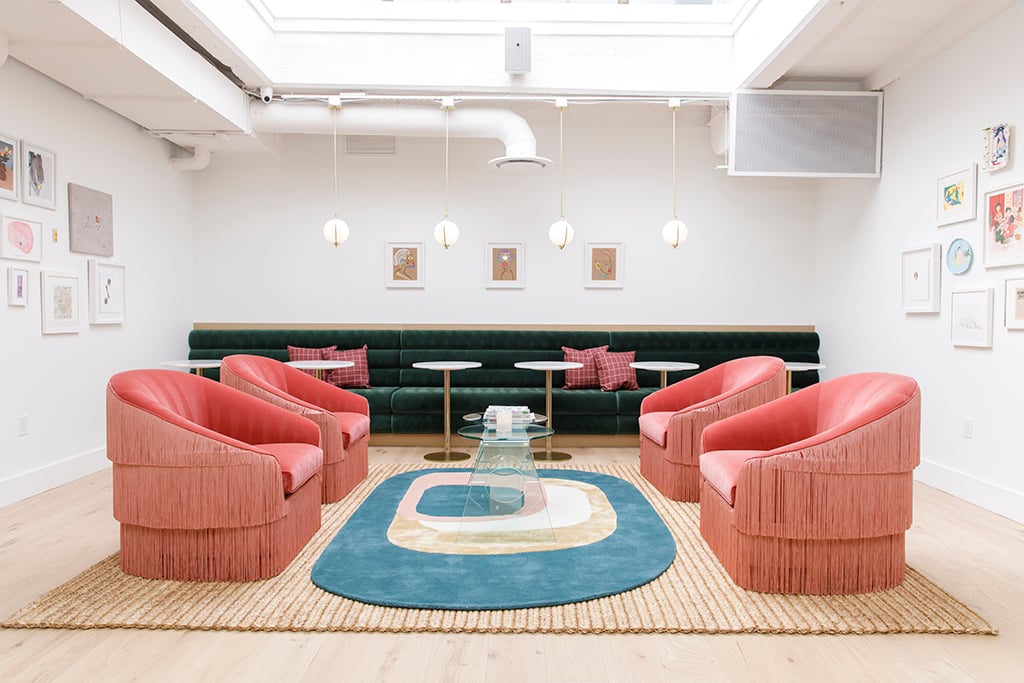 Tasseled velvet chairs create a cozy retreat beneath a sprawling skylight.
A central corridor opens up to rooms of varying sizes, dotted with a range of seating options.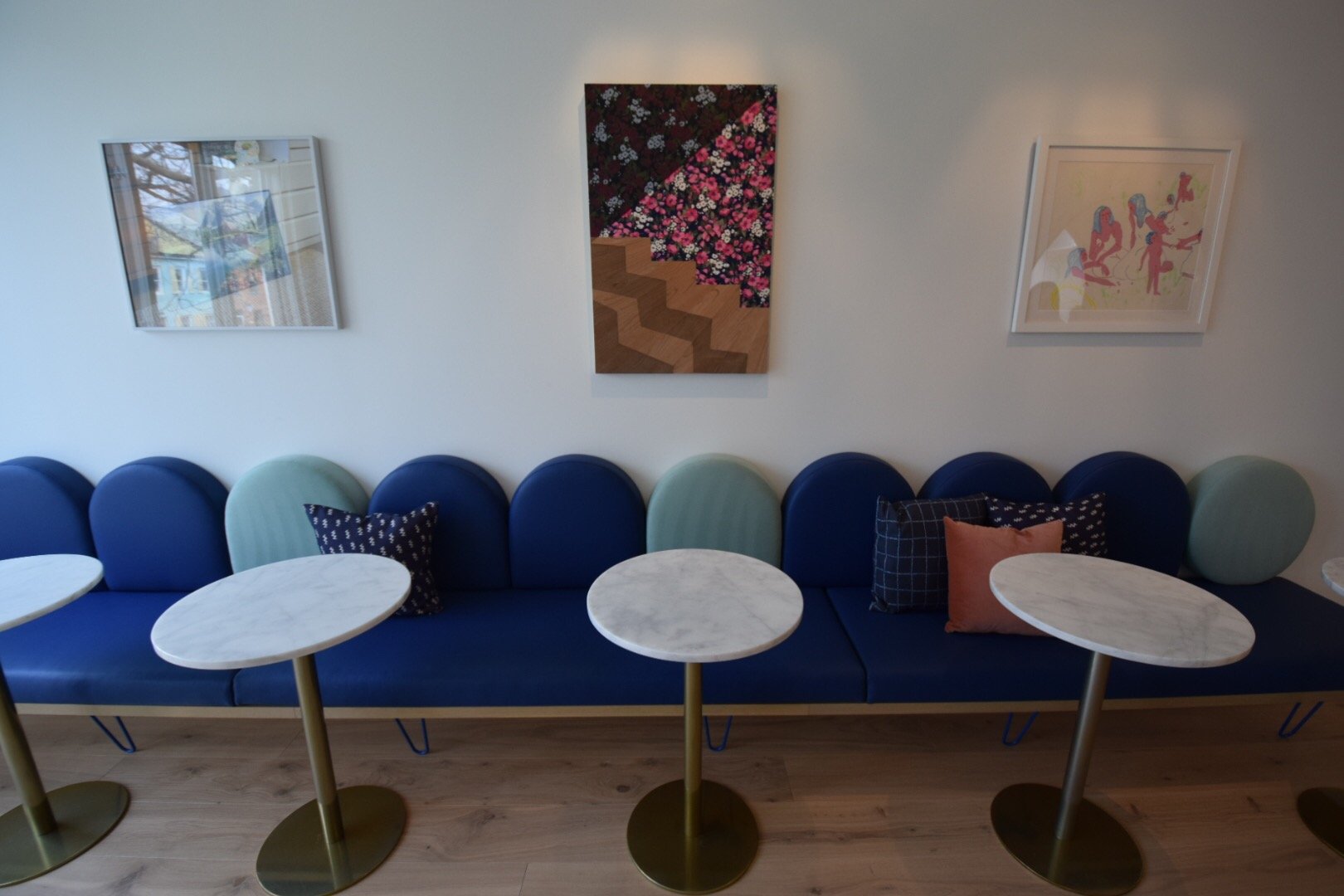 Bistro style tables line a wall in a tucked-away corner. Curated by Lolita Cros, the salon walls showcase over 90 different pieces of art by 37 prominent female artists.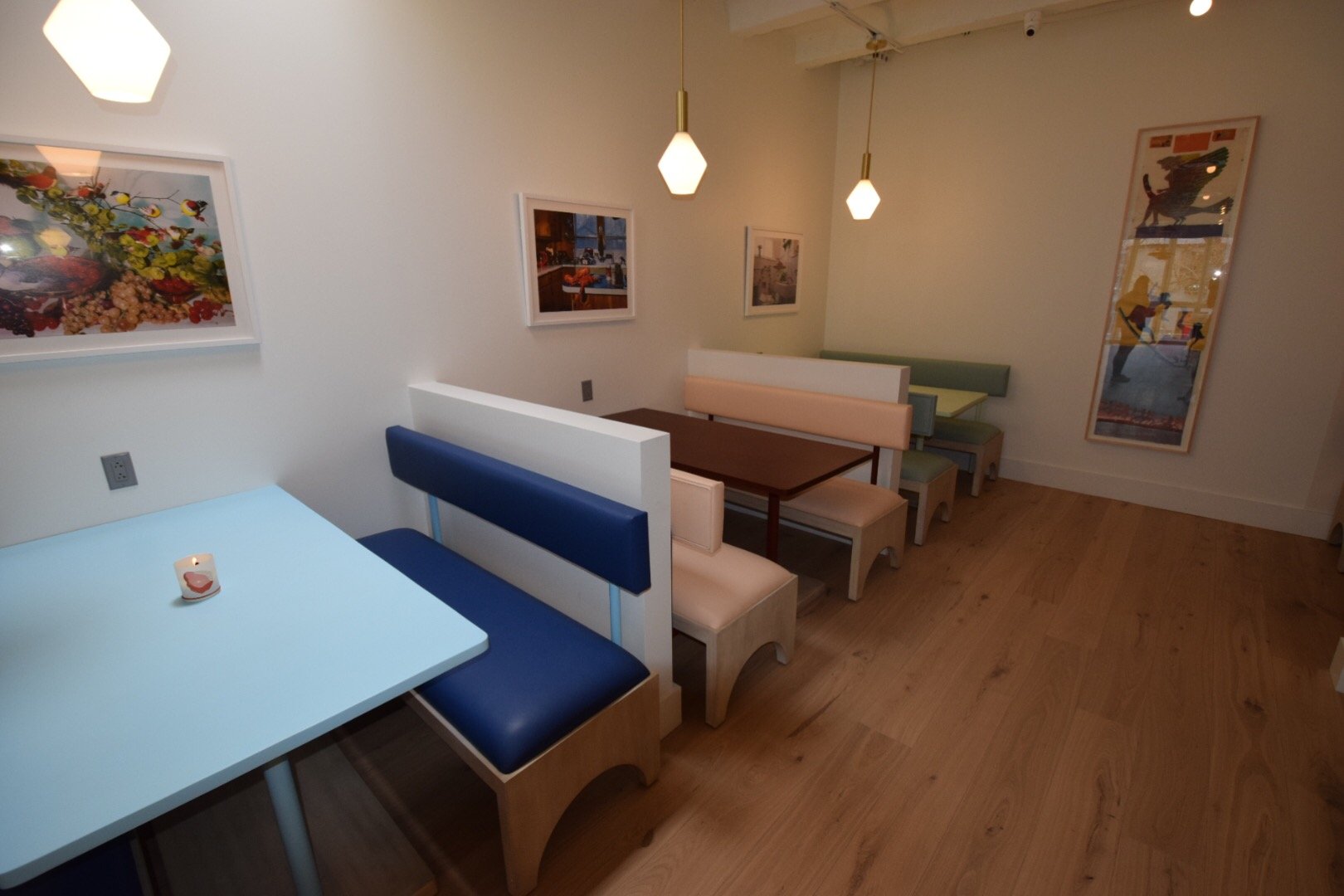 In another quiet corner, cozy booths beckon.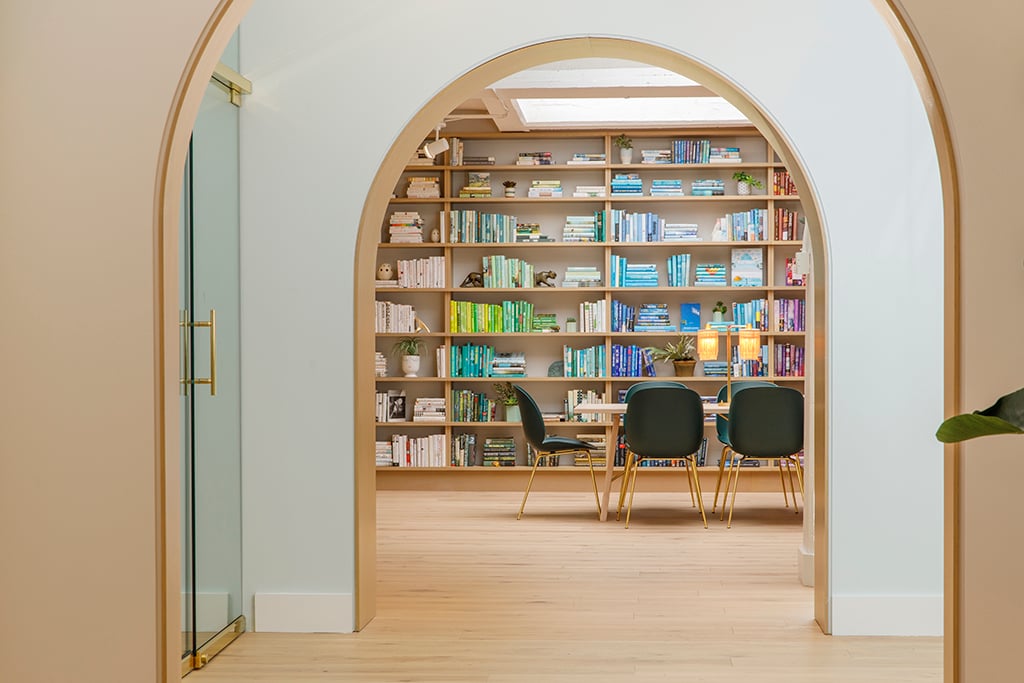 A central corridor runs through the first few rooms. Visible to the left, a glass-enclosed conference room for private meetings.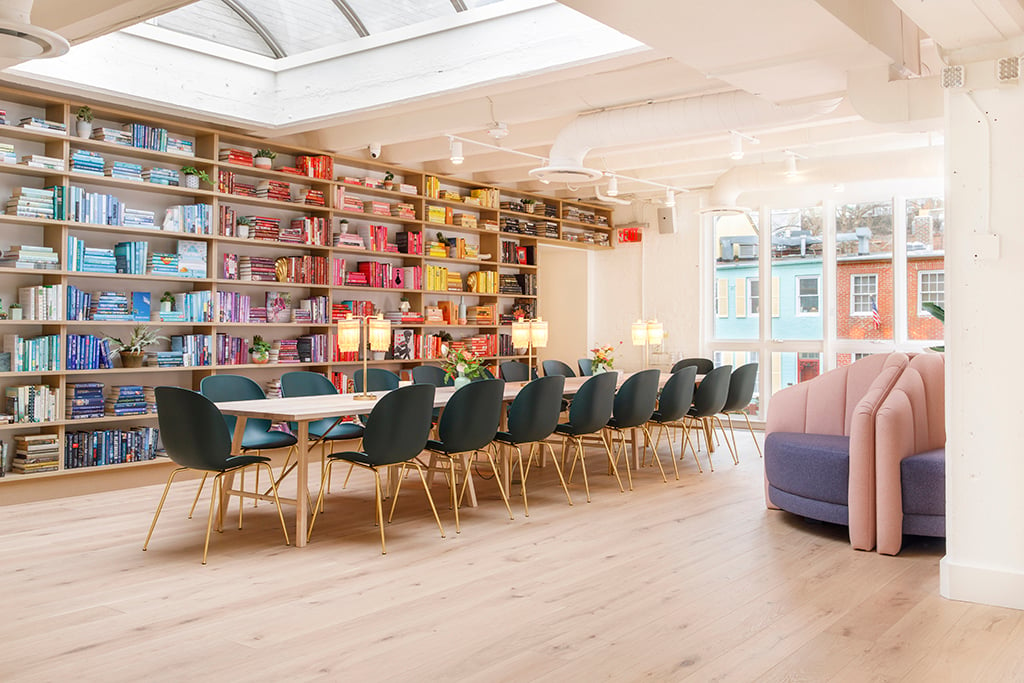 A community table is set against a backdrop of eye-pleasing tomes. The Wing's DC lending library was developed in collaboration with Strand Book Store and includes over 2,000 titles by women—its largest library to date.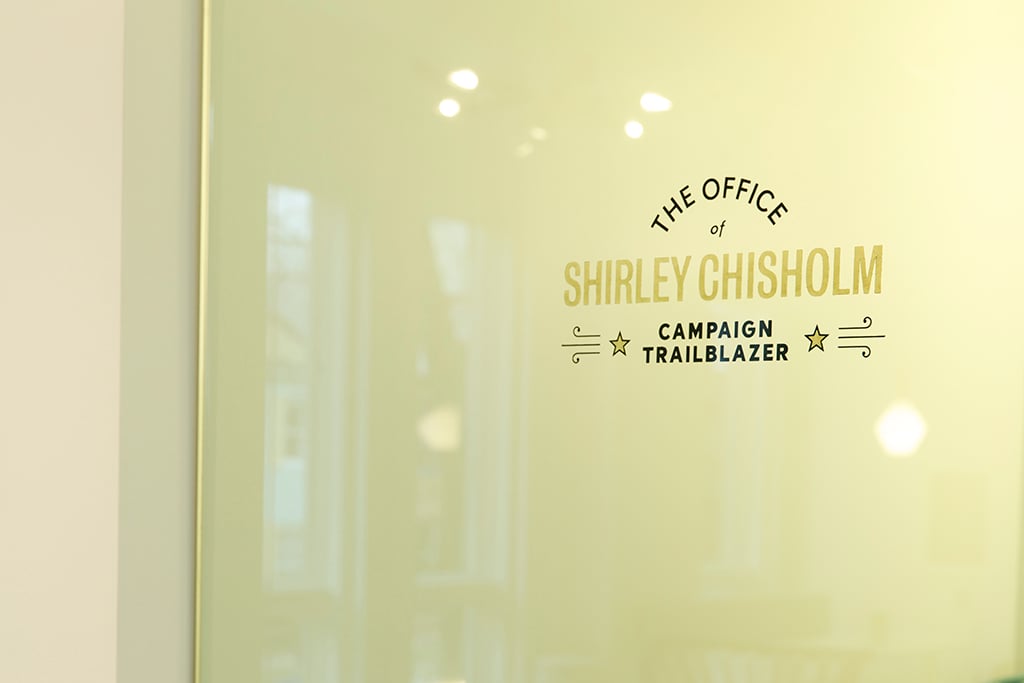 Retro-inspired phone booths offer privacy.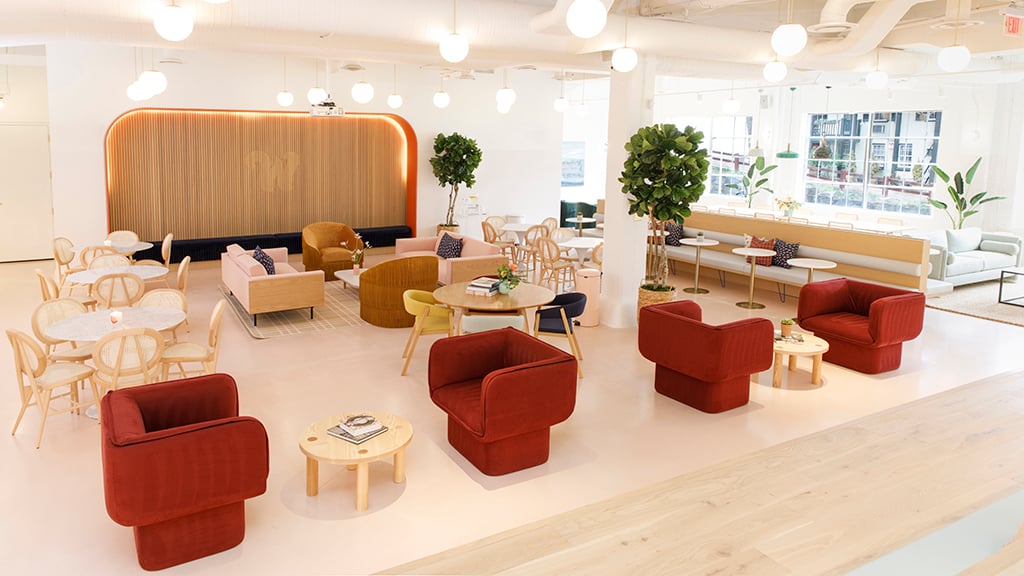 The main common room at The Wing. A drop-down projection screen towards the back allows for movie screenings.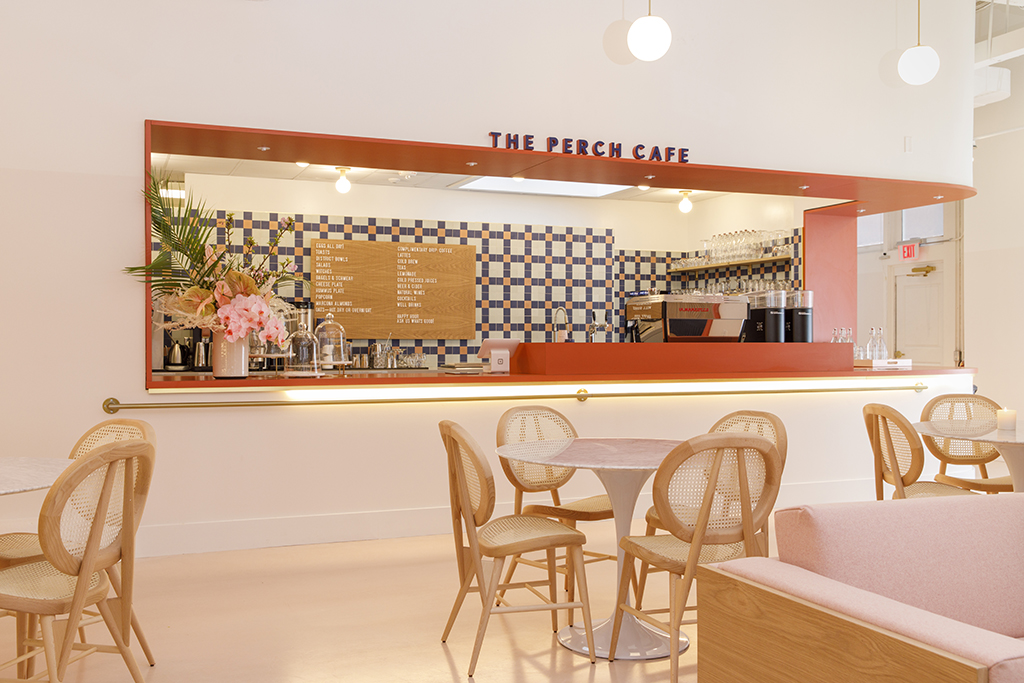 Members and their guests can reboot with coffee and snacks during the day, and a full-service bar at night at The Perch. The cafe tapped local companies such as Vaughan Cheese and Republic Restoratives to stock their pantry.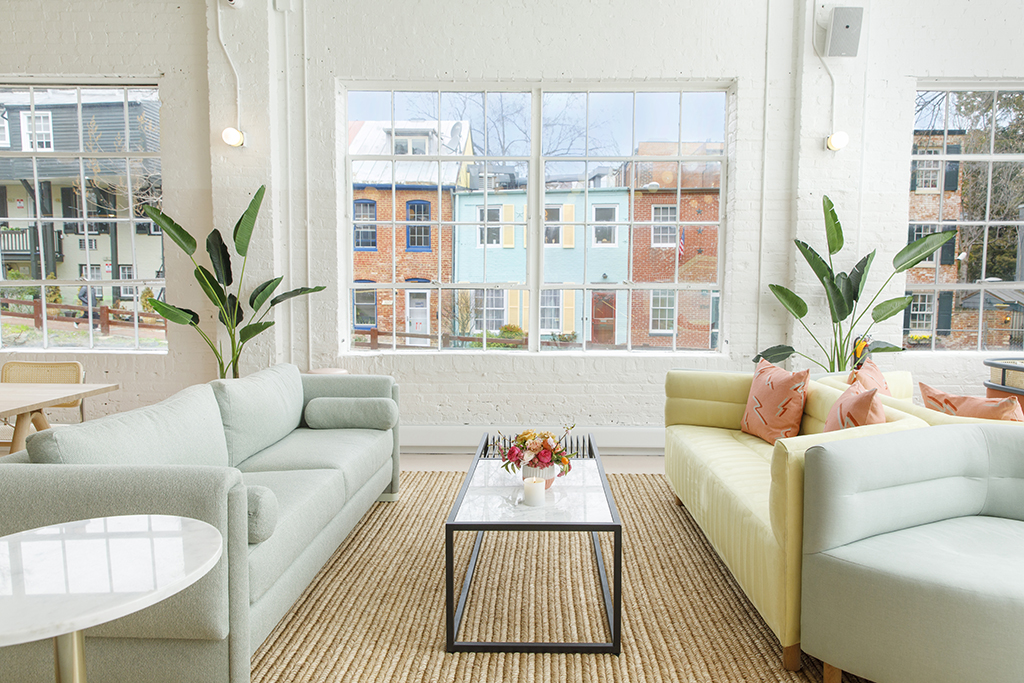 Industrial windows look out over the C&O Canal and across the way to Georgetown rowhouses.
Another view of the main room's seating options.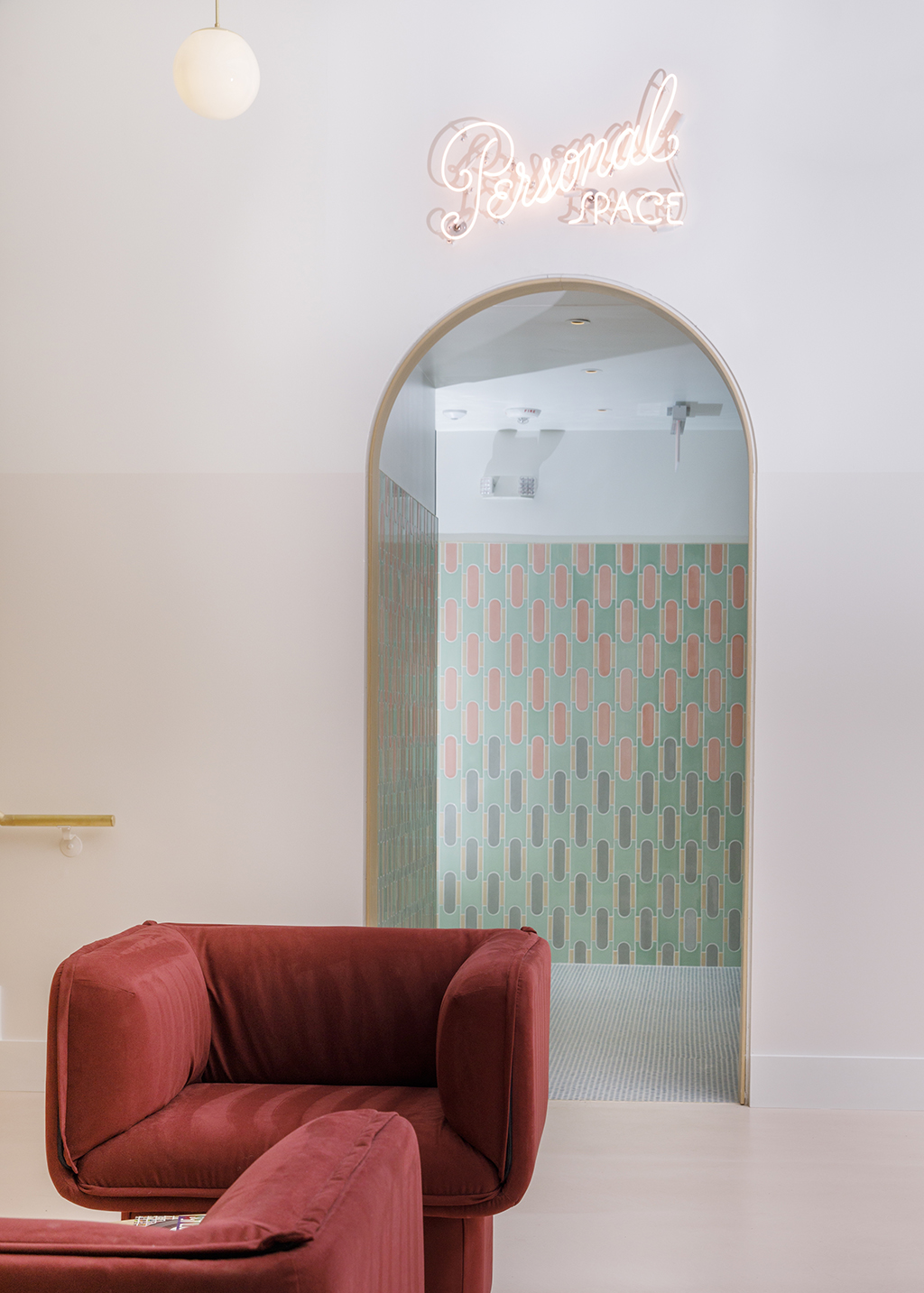 Off of the main hall is the famed "personal space" area for guests to relax and refresh.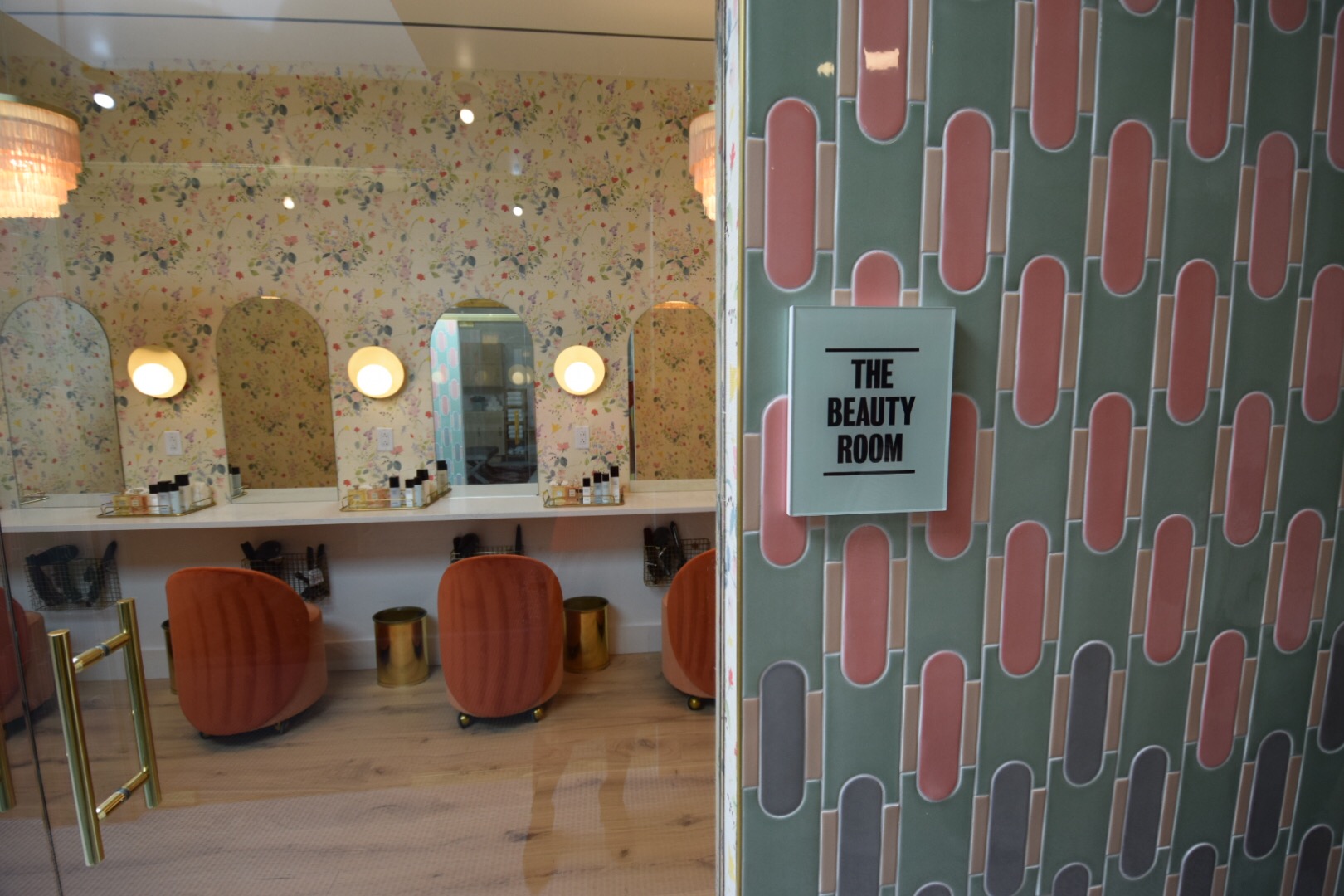 Floral wallpaper adorns the beauty room.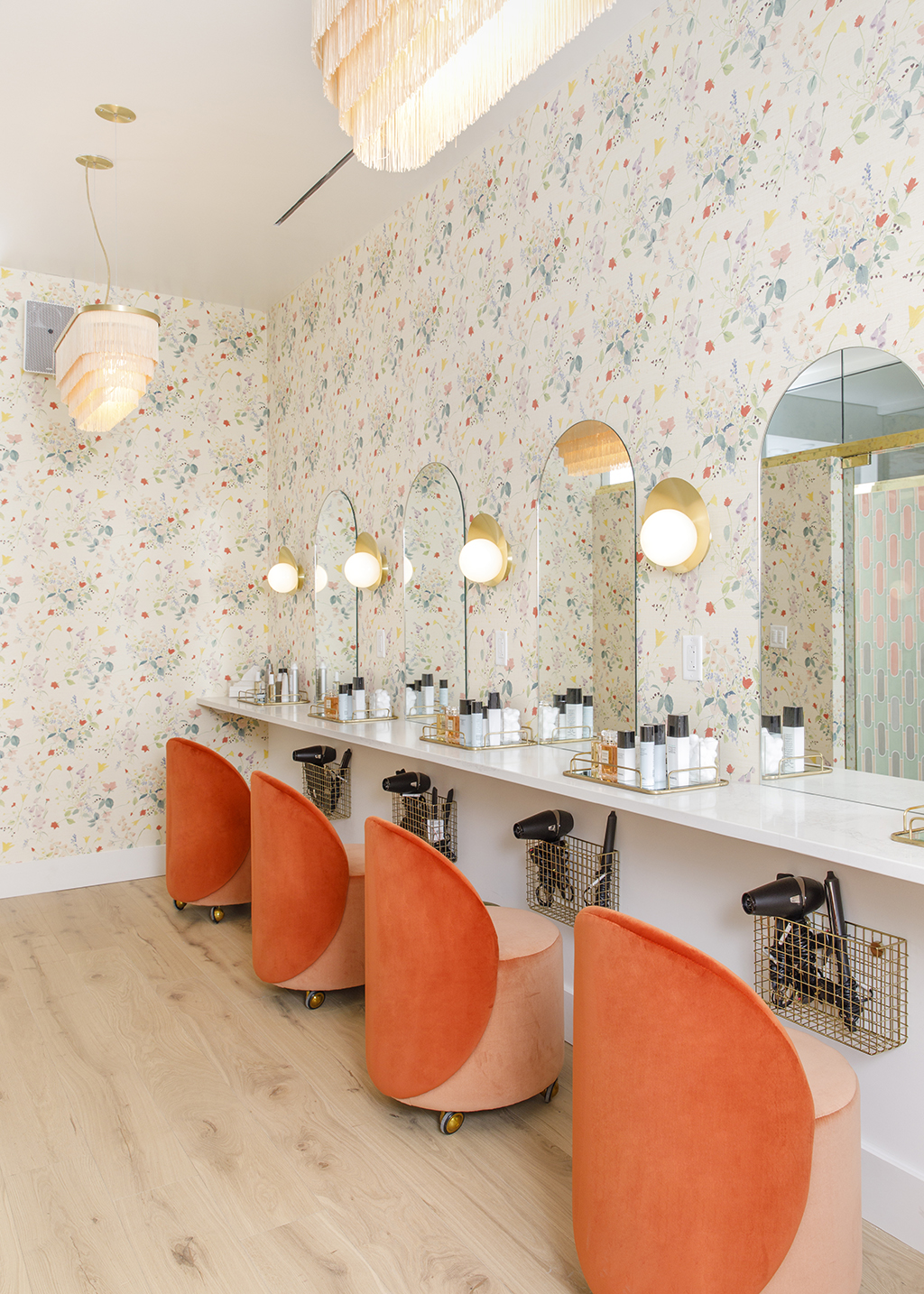 A series of vanities for Wingmembers to take their time getting ready for work or an evening out, including blow dryers, hair straighteners, styling products, and—of course—complimentary spritzes of Chanel.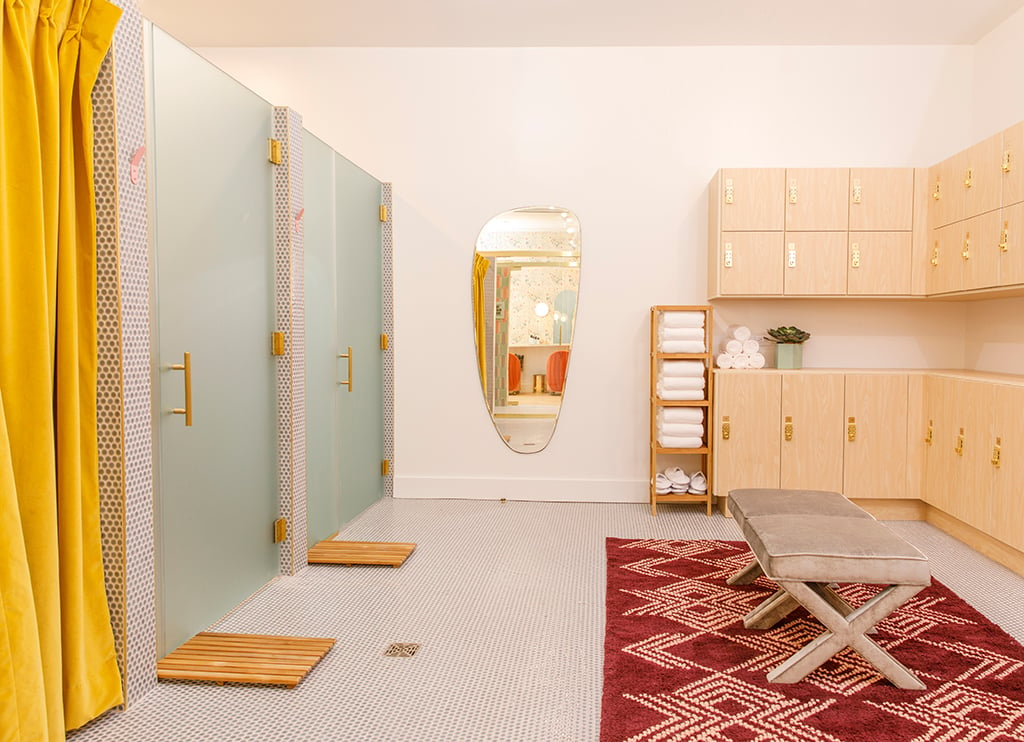 Roomy showers open up to a luxe changing room, complete with lockers and a nursing room.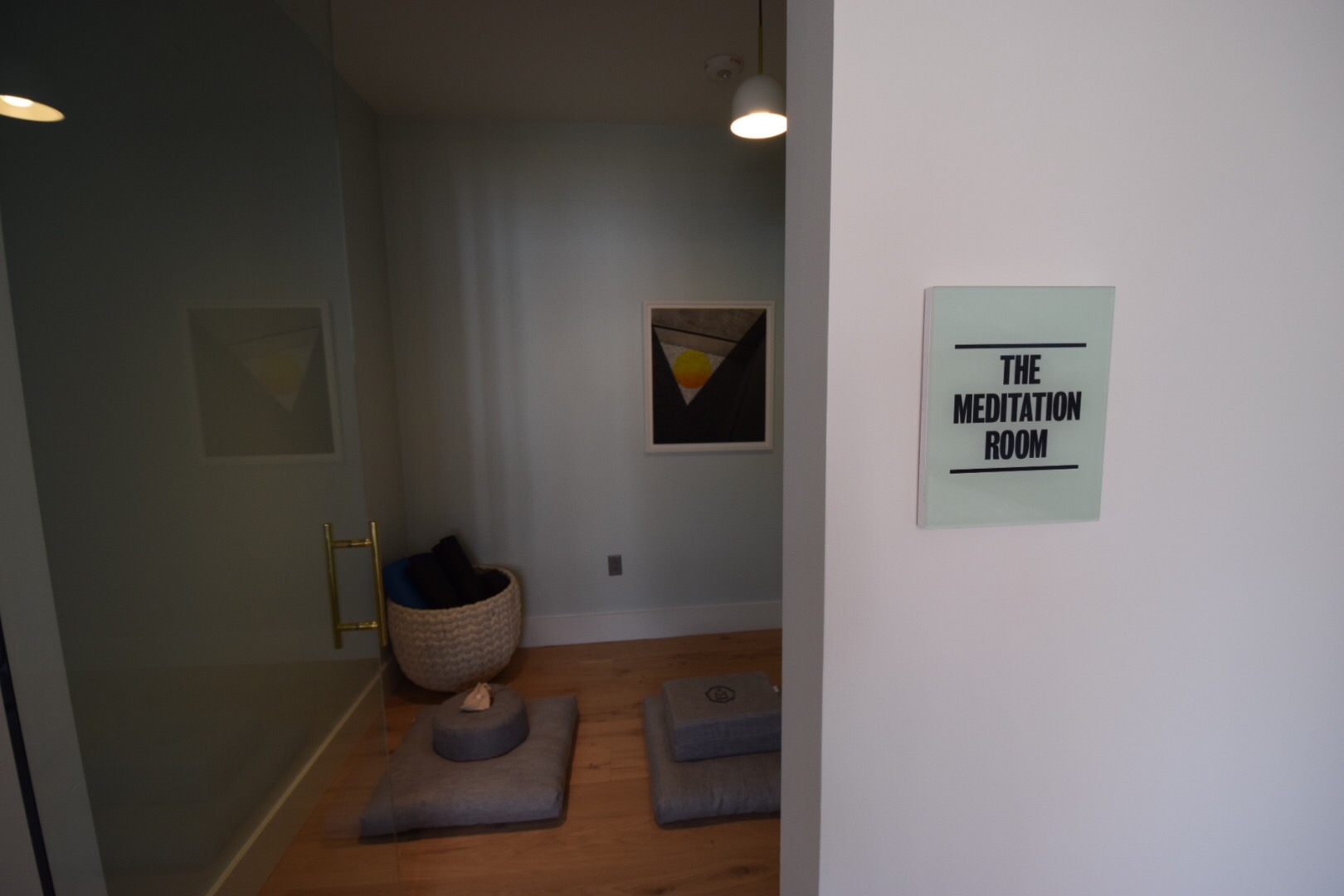 A small meditation studio.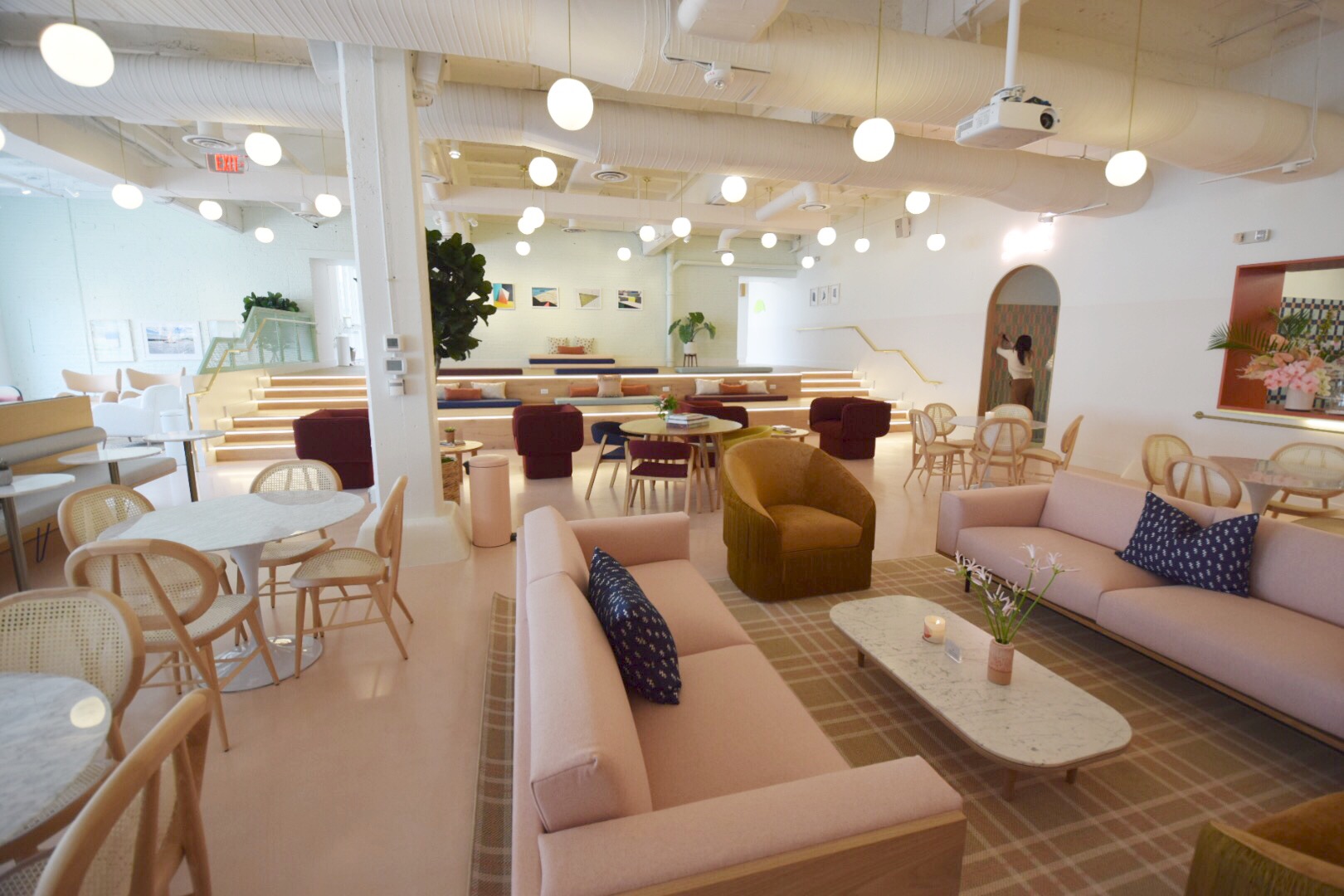 Towards the back of the main hall is bleacher-style seating, which can be used as workspace by day, and event seating by night. Already on this location's events agenda: A panel on self-healing with former NPR host Michele Norris, author Elizabeth Alexander, and poet Cleo Wade (moderated by Demetria Lucas); A night in with Alisha Ramos of Girls Night In; A sound-bathing session; A class on media training 101; An inside look at covering the White House with Annie Karni and Kristen Welker; A live viewing of the White House Correspondents Association dinner with Wing founder Audrey Gelman, and more.
The Wing will open at 1056 Thomas Jefferson St., NW on Thursday, April 12.