When Anheuser-Busch bought bought the Virginia brewery Devils Backbone in 2016, many beer fans feared the transaction would take the "local" out of what was then considered a craft brewery. Those qualms may have abated as time passed. The biggest effect, from your average beer enthusiast's point of view, anyway, was that it got easier to find Devils Backbone beers at the supermarket.
Starting last month, those customers may have finally noticed a change to the company's products: Now they show off more of their home state. The old packaging grew organically in the company's first decade in business, says Marisa Black, Devils Backbone's director of marketing. While most products hewed to Devils Backbone's distinctive illustration style, things could get a bit eclectic. "When you put it all on the shelf together, it looked like packaging from six different breweries," she says. 
There was another problem: The Mid-Atlantic provenance of the beer wasn't always clear. The packaging for its seasonal Danzig porter, for instance, showed a wind-battered town on the Baltic Sea; the art on its popular Vienna Lager didn't necessarily evoke Virginia's beauty. "We wanted to tell less a story of Vienna in Austria and more of a story of where we're from," Black says. 
So Devils Backbone engaged Charlottesville design firm Okay Yellow and Richmond agency Familiar Creatures to rethink its packaging. The result recalls travel posters from the 1930s and '40s, all showing scenes from Virginia. "There isn't that nationally known culture of Virginia that people can say, 'Oh this is what's in Virginia,'" Black says, adding that the company is hoping to help change that.
If you are familiar with the Old Dominion, you may notice a bias toward the brewery's Blue Ridge origins. Now, Vienna Lager shows the company's massive Basecamp Brewpub & Meadows complex off Route 151 in Nelson County, about 150 miles from DC. (Vienna, Virginia, apparently didn't quite make the cut this time around.)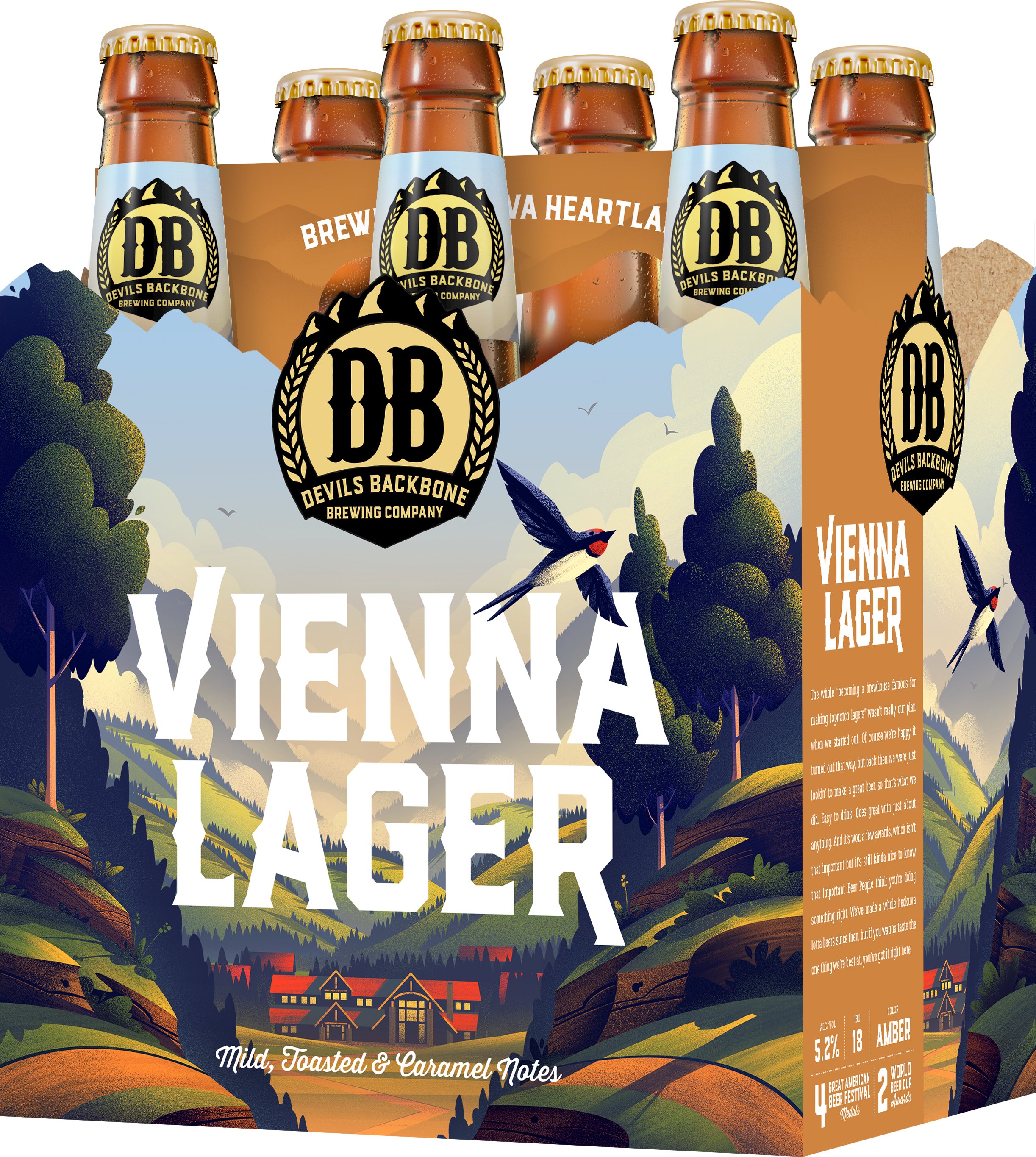 Mile 842, a hoppy lager, now shows hikers exulting on a stony overlook. Basecamp is close to that mile-marker on the Appalachian Trail. The company will pick up through-hikers and shuttle them down to the Basecamp, where they can camp for free, buy a burger or a reasonably priced breakfast, and try to shake the "Virginia blues."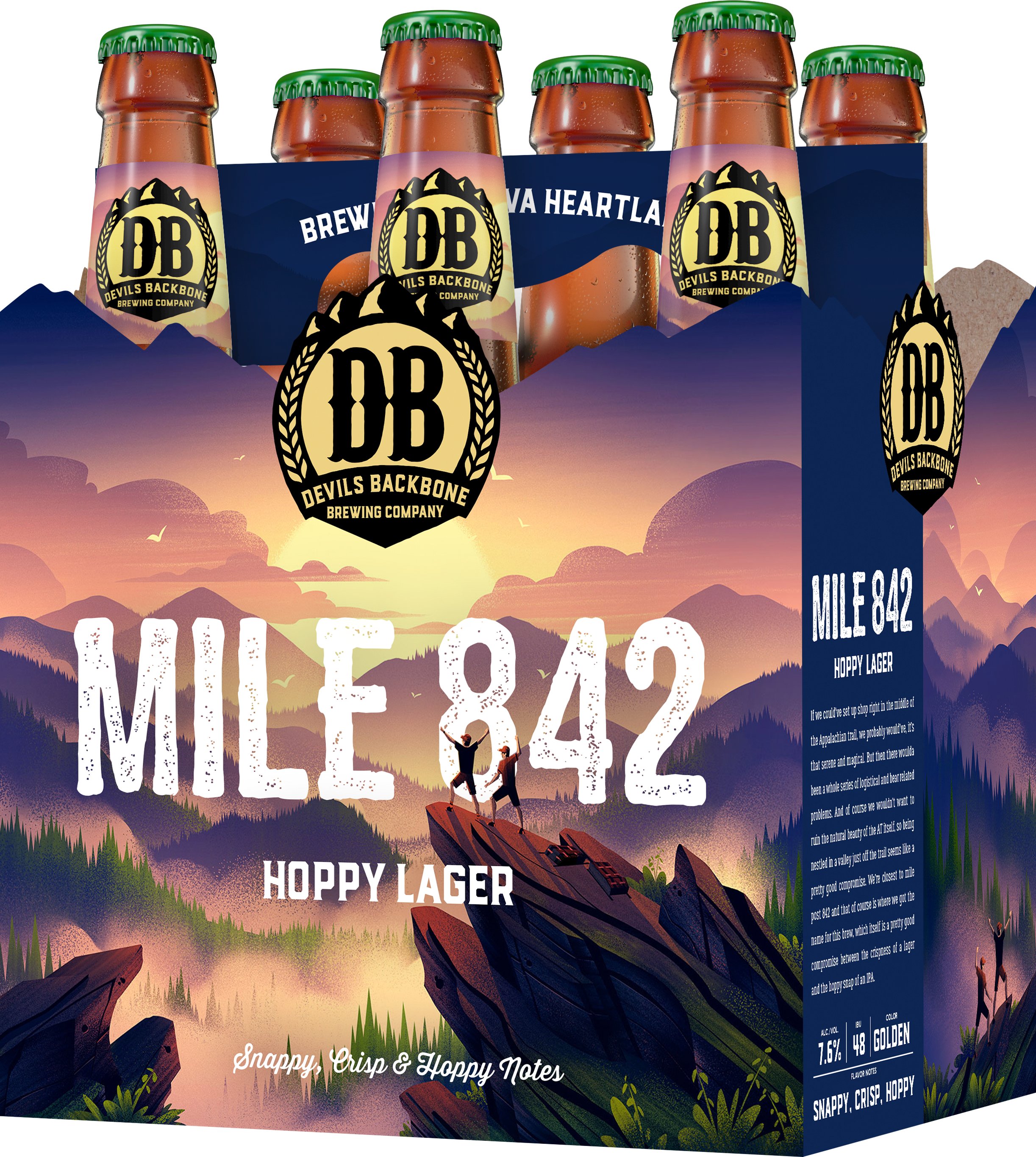 "Hopefully everyone can relate to that moment of being really happy after a long journey," Black says. 
All Devils Backbone's six-pack carriers now display a die-cut of the mountains you can see from Basecamp's meadow. The new packaging also draws inspiration from further afield: Striped Bass pale ale now shows a Chesapeake scene, complete with oysters–Devils Backbone donates a buck to the Chesapeake Bay Foundation for each case it sells–and a heron.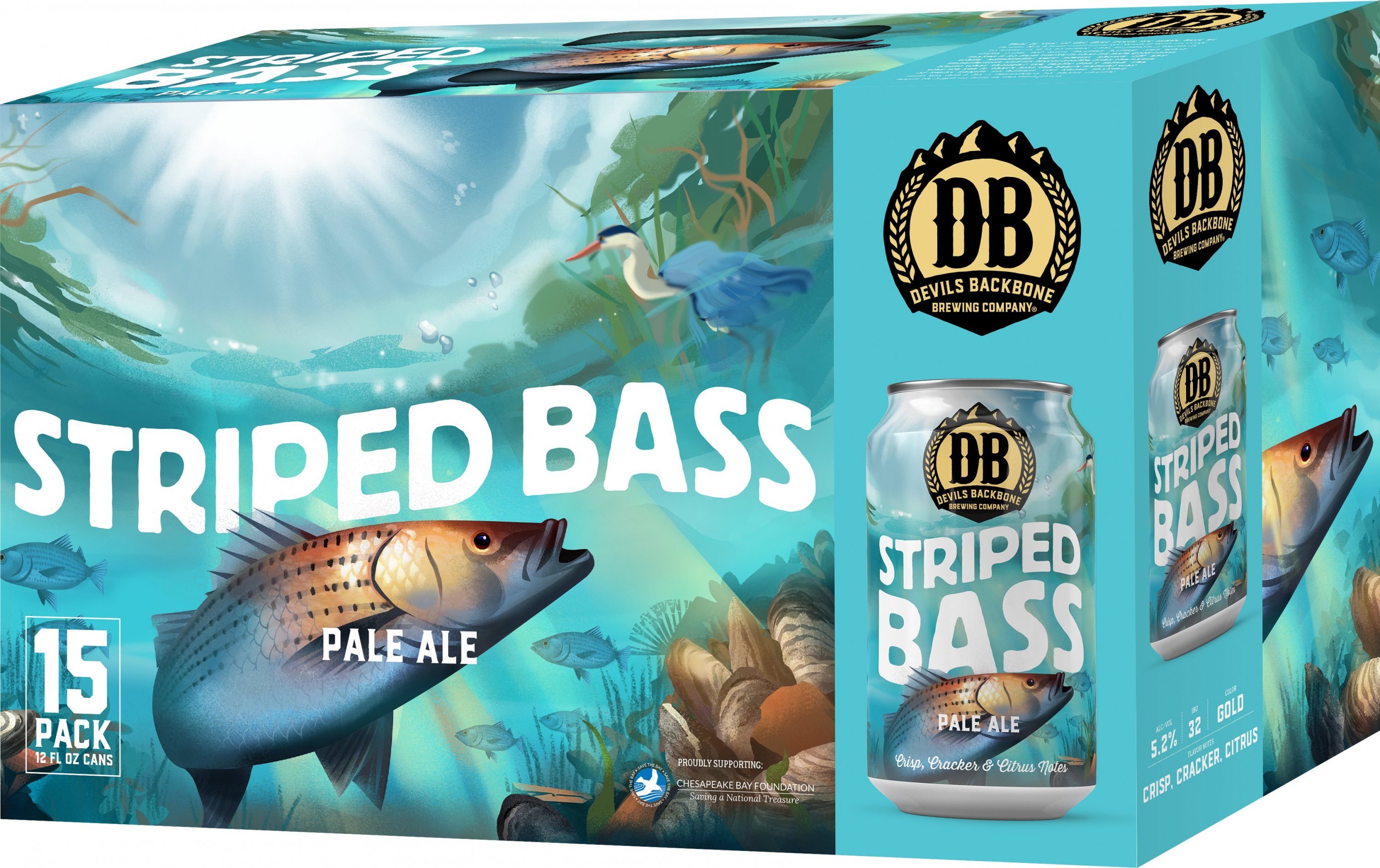 Closer to DC, the beers Devils Backbone has brewed with the Redskins already exhibit a more graphic, reserved design (there aren't yet plans to totally overhaul the Nats-adjacent Earned Run Ale). And then there's Danzig, which now shows wild ponies emerging from the surf, a nod to Assateague and Chincoteague islands.
I shared with Black my opinion that, name aside, Danzig's packaging is the most metal of the company's new offerings. "We had many conversations on how metal to make the horses," Black says. What they settled on, she believes, is "just metal enough."