The Purcellville, Virginia-based Adroit Theory Brewing Company may have found a way to get noticed in the increasingly crowded marketplace for craft beer: Its labels convey that it is, as owner Mark Osborne says, "a very dark brand, a little heavy-metal-inspired, a bit ominous."
Adroit Theory, whose head brewer is Bryan Younger, is also a bit unusual among craft brewers in that it doesn't stick to a few popular styles and experiment around the margins of its core business. Since the brewery opened three years ago, Osborne reckons it has produced 600 beers, each of which is identified with a "Ghost" number. The tracking system is a nod to Nine Inch Nails, but also a way to identify Adroit Theory's beers as potential collector's items, similar to the way Factory Records used an elaborate numbering system to delight and confound fans.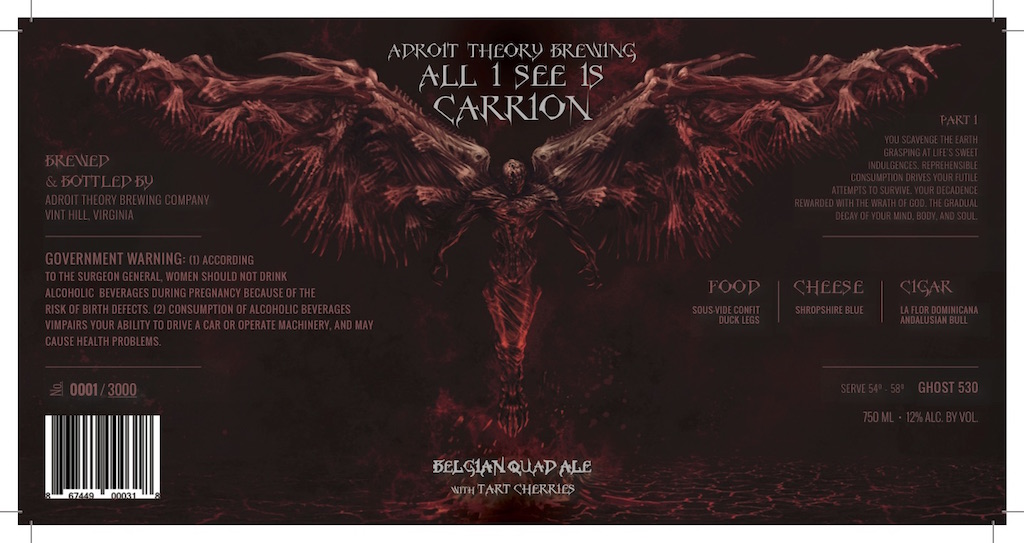 Adroit can brew so nimbly because it's very small. At its headquarters, it can "crank out a whopping two kegs of beer at a time," Osborne says, so it contracts with other brewers to make some of its more popular beverages. Beers routinely get reimagined; when I mentioned to Osborne that I enjoyed a Belgian Quad-style beer called All I See Is Carrion, he suggested I head out to the tap room, where they're pouring a new version aged in bourbon barrels.
"When we started, we recognized that being from Virginia, there were a lot of breweries making really excellent beer," Osborne says, "but nobody was pushing the envelope in terms of aggressive beers, really experimental beers."
Adroit Theory distributes its beer in Virginia through Monarch Distribution, which Osborne's wife Christina Osborne runs. In Maryland it sells directly to retailers. DC retailers have to come directly to the brewery; Osborne says they'll often put draft beer in a disposable keg so retailers don't have to make a return trip. Perhaps the best way to experience the beer, at least from a metalhead perspective, is through its 22-ounce bottles.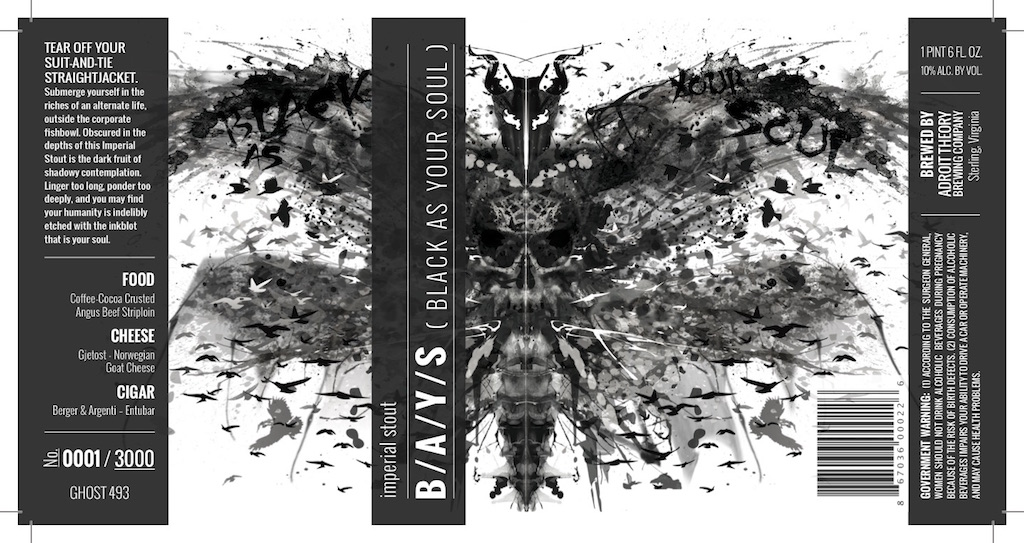 Those bottles are packaged with arresting labels. "I should confess my mother's not really happy about what we're doing," Mark Osborne says, adding that the brewery's target drinker is a 38-year-old man. He works with five different artists to arrive at a look for each beer, drawing on a mood board he keeps of goth-adjacent imagery and a list of 100 potential beer names. Both must fit the beer style, he says: "You can't make some crazy name and some crazy artwork." Adroit Theory knows the next two beers it will brew, he says, but he has no idea what they're going to do in June.
The labels suggest food, cheese, and cigar pairings for the beers. "Since we make small batch prototypes prior to brewing larger batches, we have time to do trial and error tastings," Osborne says. "I've done enough cooking over the years, and attended enough beer dinners that I have a pretty good idea of what I want to do with both the food and cheese." The cigar pairings often "require more adjustments," he says. His father-in-law imparted a love of stogies to him, "so I do my research to whittle down the list to three cigars with the taste profile I'm looking for. We smoke all three, and then make a decision."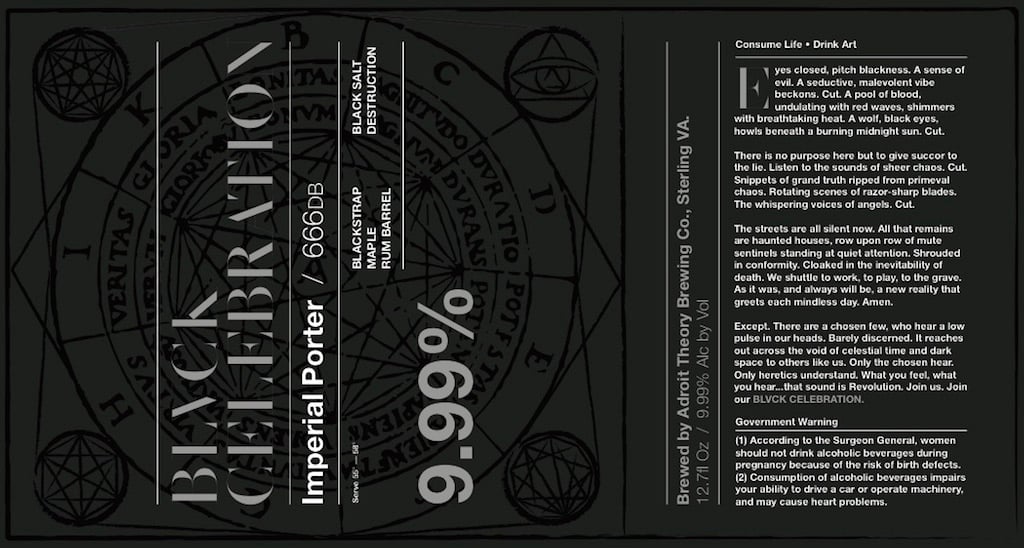 So how can a determinedly small brewery like Adroit grow in a way that doesn't change its spirit? Osborne says it would be more likely to replicate its tasting room in another beer town like Asheville, North Carolina, than to try to scale up like other brewers. Though, he says, "When I started I said there's no way we'll ever be in a grocery store, and here we are, we're in Wegmans."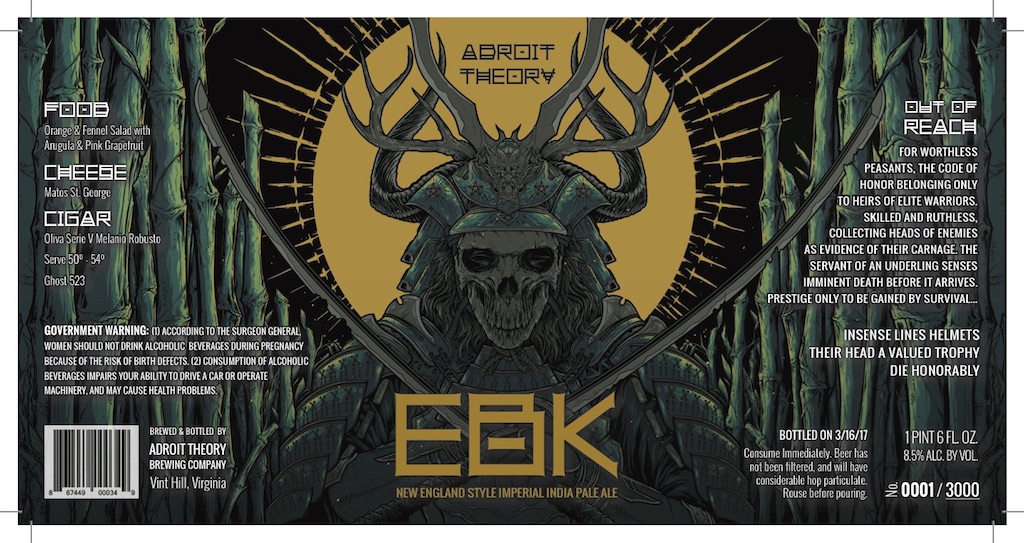 You can try two of Adroit Theory's beers Thursday, April 13, at Meridian Pint's IPA Fest. Its tasting room, located at 404 Browning Court. Unit C, Purcellville, Virginia, is open Wednesdays through Sundays from noon to 8 p.m.