Starbucks' first US "signing store," embracing the deaf and hard of hearing community, opens this morning on the H Street corridor, just blocks away from Gallaudet University. This store, which employees say has been a dream since at least 2009, follows the coffee chain's first signing location ever which opened in Malaysia two years ago.
The store, located in an existing Starbucks, includes lower counter tops and more lighting to facilitate visual communication. The outpost also features tablets where customers can write their orders as well as screens to alert them when their drinks are ready. Other original touches include "Starbucks" written in sign on aprons and in the window, a mural meant to encapsulate and celebrate deaf culture, and mugs designed by a deaf artist.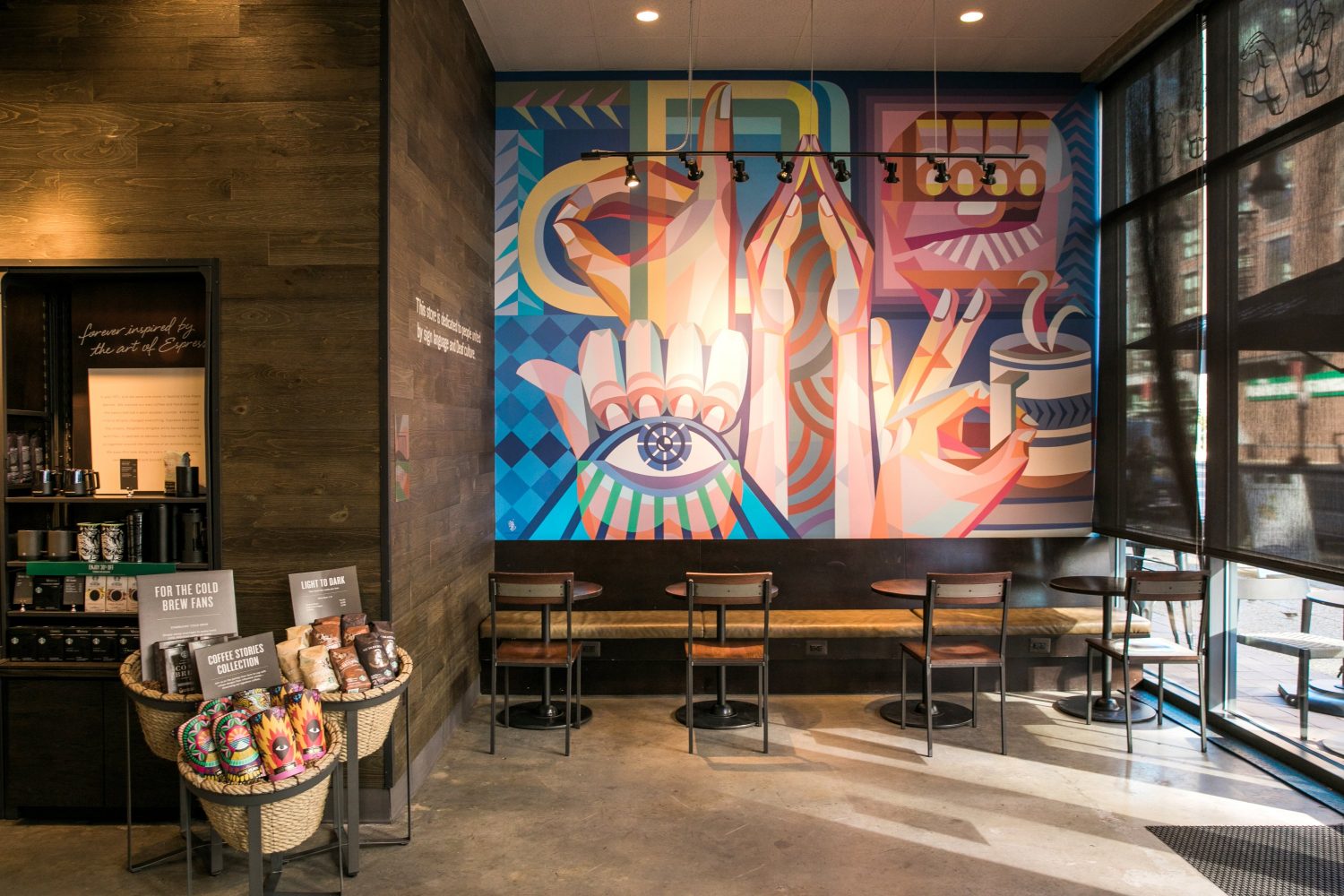 Starbucks chose DC for its first signing location because of its place as both an international hub and a national deaf hub, says Adam Novsam, a partner in Starbuck's corporate office who helped develop the store. As for H Street in particular, there are "a lot of deaf things going on on this street," he says, citing its proximity to Gallaudet, a top university for the deaf and hard of hearing. "We thought this would be the place to start."
Of the location's 25 employees, 19 of them are deaf. The remaining six are either hearing and proficient in American Sign Language or "coda," the term for children of deaf parents whose first language is ASL. Several Gallaudet students are among the employees. In an emailed statement, the university's president Roberta J. Cordano says she hopes Starbucks will use its leverage to set an example for other coffee shops, restaurants, and entertainment venues.
Store manager Matthew Gilsbach, who is deaf and a Gallaudet alum, says that the current students he has talked to love the ability to get off campus and still feel a part of the deaf community.
"We often talk about being the third place. We are your third place, you have your home, you have your work, and then you come here for a break between those two things to enjoy your day and your coffee," says Gilsbach. "So too does the deaf and hard of hearing community. And now they have direct access to other options for their third place. They don't have to feel isolated. Deaf and hard of hearing people have a place to come to call their own."
Want to know how to sign your Starbucks order? Although Gilsbach says pointing works just fine, here are a couple helpful signs:
Pumpkin Spice: Make a fist with your left hand and hold it horizontally. Thump your middle finger against the back of the fist. Then gesture as if you're shaking contents from one jar into another.
Coffee: With both hands as fists, place your non-dominant hand below your dominant one, then make a grinding motion with your dominant hand.
Thank you: Place your open hand on your chin and make an outward gesture.
Please: Place your open hand on your chest and make a circular motion.
Tall, Grande, Venti: just gesture the sizes.
Starbucks, 625 H St., NE. Open Monday through Friday from 5:30 AM to 9 PM, Saturday from 6:30 AM to 8 PM, and Sunday 6:30 AM to 7 PM.