Whether you're driving, riding a bike, Metro-ing, or on foot, getting around DC can be an adventure. Now comes word of yet another new wrinkle in the DC-transportation landscape. On Monday, Muriel Bowser announced a partnership with Ford to begin testing driverless cars in the District as early as next year. But what does that actually mean? Will you soon be able to summon a robot ride that zips you around the city without a driver? We checked in with Andrew Trueblood, chief of staff for the Office of the Deputy Mayor of Planning and Economic Development (DMPED), who has been the point person for DC's Autonomous Vehicles Working Group.
What can we expect next year? 
In the short term, Ford's self-driving cars will be seen but not hailed. You might notice (non-autonomous) Argo AI mapping cars driving around town—an important first step that will allow the autonomous cars to get around. Starting next year, testing will begin of actual driverless cars (although they're currently required to have an engineer at the wheel just in case). So can you try one out? Not for some time. At first, it will be "in a noncommercial environment," says Trueblood. "Just with the driver and the engineer and the car driving around the city testing and learning, basically." The plan is to introduce commercial operations in 2021: "transportation and mobility services, delivery services."
Where will the cars go?
Everywhere—eventually. Though Via, for example, got in hot water for not serving the whole city, Trueblood says the goal is to reach all of DC. "When we first met with Ford, we told them that not only did the service have to eventually be in all eight wards, but as they test, they should really make an effort to touch all the wards. There are obviously logistical realities about how quickly they can test different parts of the city, but we want to make sure that the city is served equitably."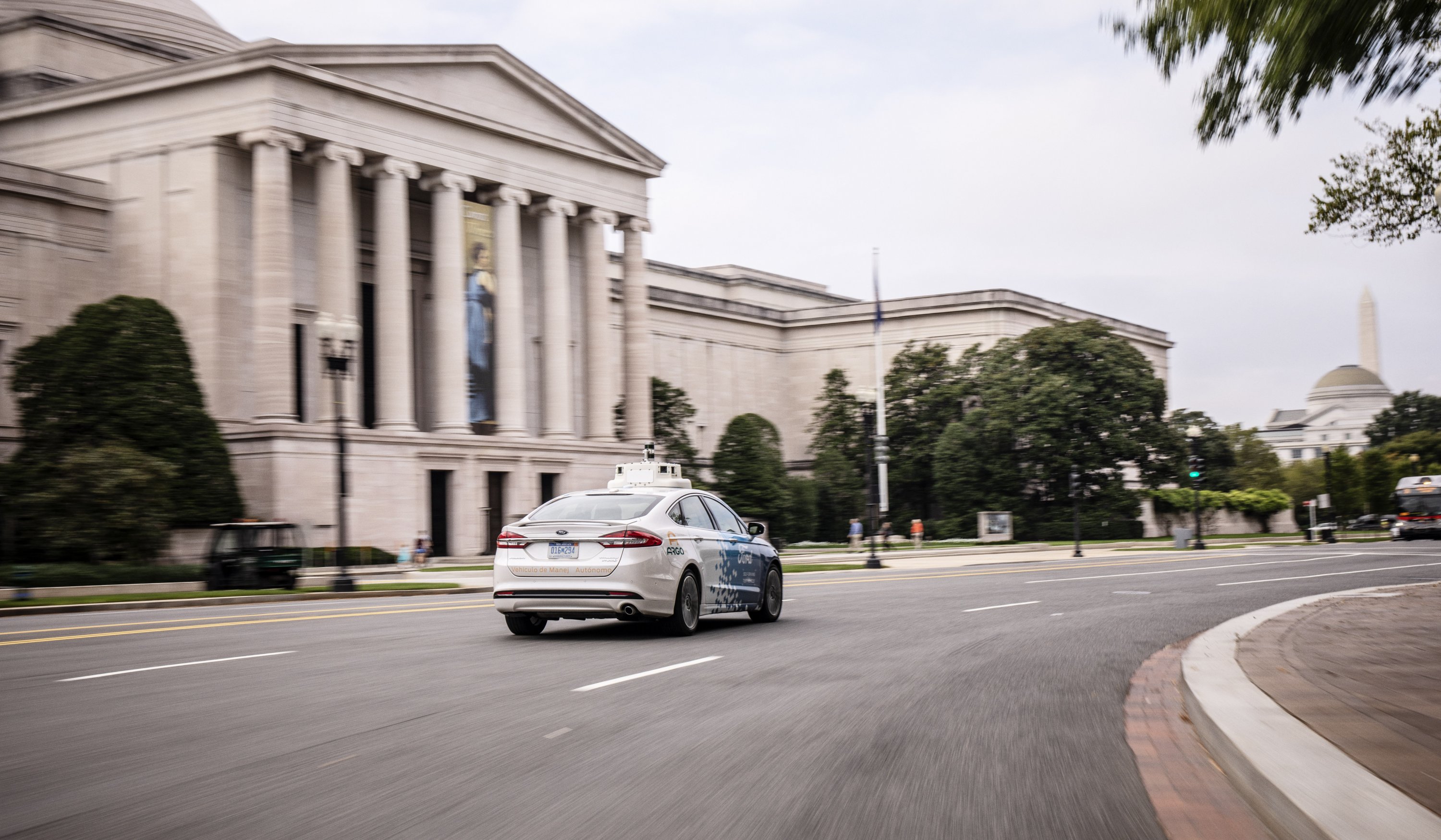 But is it safe?
Some critics have pointed to the relatively relaxed federal policies around driverless cars, and there was a fatal accident in Arizona in March involving a self-driving Uber car. It's no surprise that some locals are nervous about the idea. "The working group came out with a set of guiding principles, and safety is No. 1," Trueblood says. "It is the top priority. Equity is another one, as well as mobility and sustainability. We want to make sure this is safe from day one. In the long run, we all are believers that autonomous vehicles will reduce accidents and crashes and fatalities, but the question is how we get from here to there. We're excited about the partnership with Ford because we are convinced that they believe that, too. They have a reputation of over 100 years that they can't throw away. They've met with some of our public safety agencies and will be making sure we're all on the same page on safety."
So how can we get into one of these things?
Well, you could get a job working for the program. Ford and the District are teaming up to train both operators and vehicle maintenance workers. "One way that the public can get involved is through our infrastructure academy," says Trueblood. "We were focused from day one—from our first meeting with Ford—on thinking about how can this benefit District residents."