At the White House briefing room, the first-row seats facing press secretary Sarah Huckabee Sanders are a legacy network alphabet soup, with reporters from NBC, FOX, CBS, ABC and CNN—well, at least until yesterday—sitting side-by-side. Immediately behind them are more representatives from mainstream outlets (NPR, the New York Times, the Washington Post). But to find if not the most interesting, then certainly the most exotic section of the seating chart, you'll have to keep going a little ways back. And then you'll see it, curiously sandwiched between MSNBC and the Washington Times. The foreign pool.
To some extent, the reporters in the foreign pool have the trickier job of the lot, having to report on the same news as everyone else but also to provide context for their various international audiences. They're also busier than ever, with the media phenomenon surrounding President Trump generating unprecedented interest in American politics overseas.
"Many Germans are fascinated by the Trump administration. It's like a car accident that you can't look away from," says Christoph Scheuermann, Washington bureau chief for German magazine Der Spiegel. (For context, just 10 percent of Germans have confidence in Trump).
Scheuermann has been based in DC—he lives in Mount Pleasant—for almost two years. In addition to his work in the city, he's supplemented Der Spiegel's 2018 midterms coverage with reporting trips to Michigan, Kentucky, and Arizona, among other places. He thinks this year marks his magazine's most extensive midterms coverage ever, a feeling that other foreign journalists in the District are quick to echo.
But there are challenges to meeting foreign readers' growing appetite for news out of DC. Resources are a significant issue, with most foreign bureaus in the city having staff in the single digits.
"You cannot compete with the Washington Post or the New York Times," says Philippe Gelie, Washington correspondent for French newspaper Le Figaro. He has only three other colleagues in the US. "Just as in Paris, the New York Times doesn't have 550 journalists like we do. So you cannot go into detail as much as domestic media."
Access, or lack thereof, can also be an obstacle.
"As a foreign correspondent here you have to fight quite a bit to become a small dot on the radar screen of a lot of powerful people," says Gelie, who does have permanent press access to the White House and Congress. "If you call a congressman from Texas, you're not very high on his priority list. You have to figure out how to bring some added value to your readers."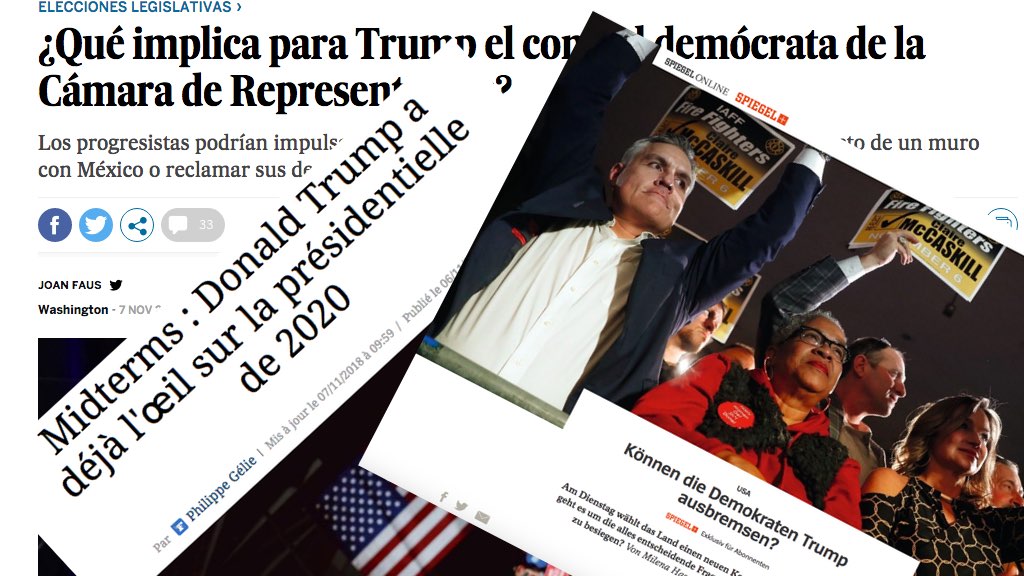 Bringing added value to international readers means narrowing in on the specific storylines that resonate the most with them. For Spanish newspaper El Pais, that's immigration, an issue that happened to claim center stage during the midterms.
"We have a lot of readers that are in the US, but we also have a lot of readers that are in Latin America," says Joan Faus, Washington-based correspondent for El Pais. "Anything related to immigration normally gets a lot of attention."
Michigan's 11th Congressional district might be a curious place for a German journalist to report from, but that's exactly where Scheuermann found himself in the months leading up to yesterday's election. He thought stories from the Rust Belt could drive traffic in Germany.
"We went [there] because some of our readers can relate to the crisis of the auto industry there," he says. "Germany has a very big automobile industry as well. There's a shared understanding."
Reporting in the US also means joining the ranks of a press corps that's frequently come under fire from the administration and its supporters. Some Washington correspondents say they've experienced more palpable press antagonism in other parts of the world—the Middle East and Africa are mentioned—but Trump's ongoing media feud can be hard to ignore, even for them.
"It's such a physical feeling if you are in one of [Trump's] rallies and the whole room turns around and boos you and shouts at you and you are suddenly part of this, as a foreign correspondent. You are part of the 'fake news media,'" says Scheuermann. "But everybody is still free to write and broadcast whatever they think is fit."
According to Gelie, from Le Figaro, foreign correspondents might be even more free to write whatever they think is fit than the local press.
"I think the media here in the US is pretty aligned to a political camp. I mean, it's pretty obvious that the mainstream media and the liberal media don't like Trump. It's a secret for no one and you don't find much pieces in the American press where they would acknowledge that he has succeeded on the economy, for instance. I feel that we have less at stake, so we are less shy to call it the way we see it," he says.
All in all, the Washington correspondent job remains a career highlight for foreign journalists.
"It's one of the best postings in the world," says Scheuermann. "It's a job many journalists dream about when they start their career. And I mean, frankly it's such a fascinating time to be here." 
Gelie, a Georgetown resident, is here on his second DC correspondent stint. His first started in the early 2000s. He's seen the stature of the job change in the Trump era.
"As far as I know, [the job] has always been coveted. If anything, it might be more scary than it used to be," he laughs. "Because it was considered to be a very interesting, very visible position, but also, I would say, somewhat comfortable. Now it has become so heavy, the work. It's really heavy."