Silent Night tells the story of the famous "Christmas Truce" of 1914, when soldiers in various spots along the Western Front stopped fighting for a few hours to exchange gifts, have drinks, and in at least one case play soccer in No Man's Land. Washington National Opera is presenting Kevin Puts's Pulitzer Prize-winning opera based on these events through November 25.
The bass-baritone Kenneth Kellogg plays a Scottish clergyman in the work, which tells the story of the truce from the perspective of German, French, and British trenches in the troops' respective languages. Kellogg grew up in Brightwood Park, attended the Duke Ellington School of the Arts, and graduated from the WNO's Domingo-Cafritz Young Artist program. Now he lives in California and performs all over the US and Europe but still treasures his trips home: "My heart, my roots are always always here in DC," he says. We talked about the futility of war, the mysteries of Scottish accents, and how you can't get Maryland blue crab on the West Coast.
Tell me about your role in Silent Night.
So I play Father Palmer. In the beginning of the opera we see him in the church spending more preparing for a sermon and he notices the young tenor Jonathan has painted the eyes of a statue two different colors. He asks why, and Jonathan gives a really whimsical answer that shows his youth. He's immediately interrupted by the announcement by his older brother that war has been declared, and they both are going to eagerly sign up.
Palmer hasn't seen war himself but he knows, from his studies, the perils of war. So he signs up with this very altruistic attitude of wanting to bring the best to the worst situation, and as he is there and he sees the atrocities of men and the capabilities of the worst of man, he begins to question his own faith, so he goes from this very powerful conviction to this question: if God is really there, how can he allow this to happen?  
That was a question a lot of people asked after that war.
It's the first time you have the capability of killing so many–you know, the industrial revolution and ability to just kill en masse. 
And the military tactics hadn't caught up with that capability. That's why they were stuck in the trenches.
The idea of the young characters Jonathan and William who are both Scottish, there's this youthful and naive feeling of going into battle for glory. What glory really is there in battle? 
Is Father Palmer a Scot as well?
He is, yes. 
So are you singing in a Scots accent?
[
Laughs
] Yes. [
In a pretty good accent
] We are working on our Scottish accents.
Tell me about that.
It's a lot harder than it seems. I mean, working in Italian or German or French, the sounds are so foreign from your natural speech that your ear can easily adjust. When you're singing in English, your tongue and your mouth just want to go to American English. Our diction coaches say as long as you roll your Rs you'll give some semblance. It's really tough, though. When you're in it you're just so emotional you kind of go on autopilot; American English creeps in there quite often. 
You have to say Mass, right?
Yes. In Latin. I kind of abandon my Scottish accent then.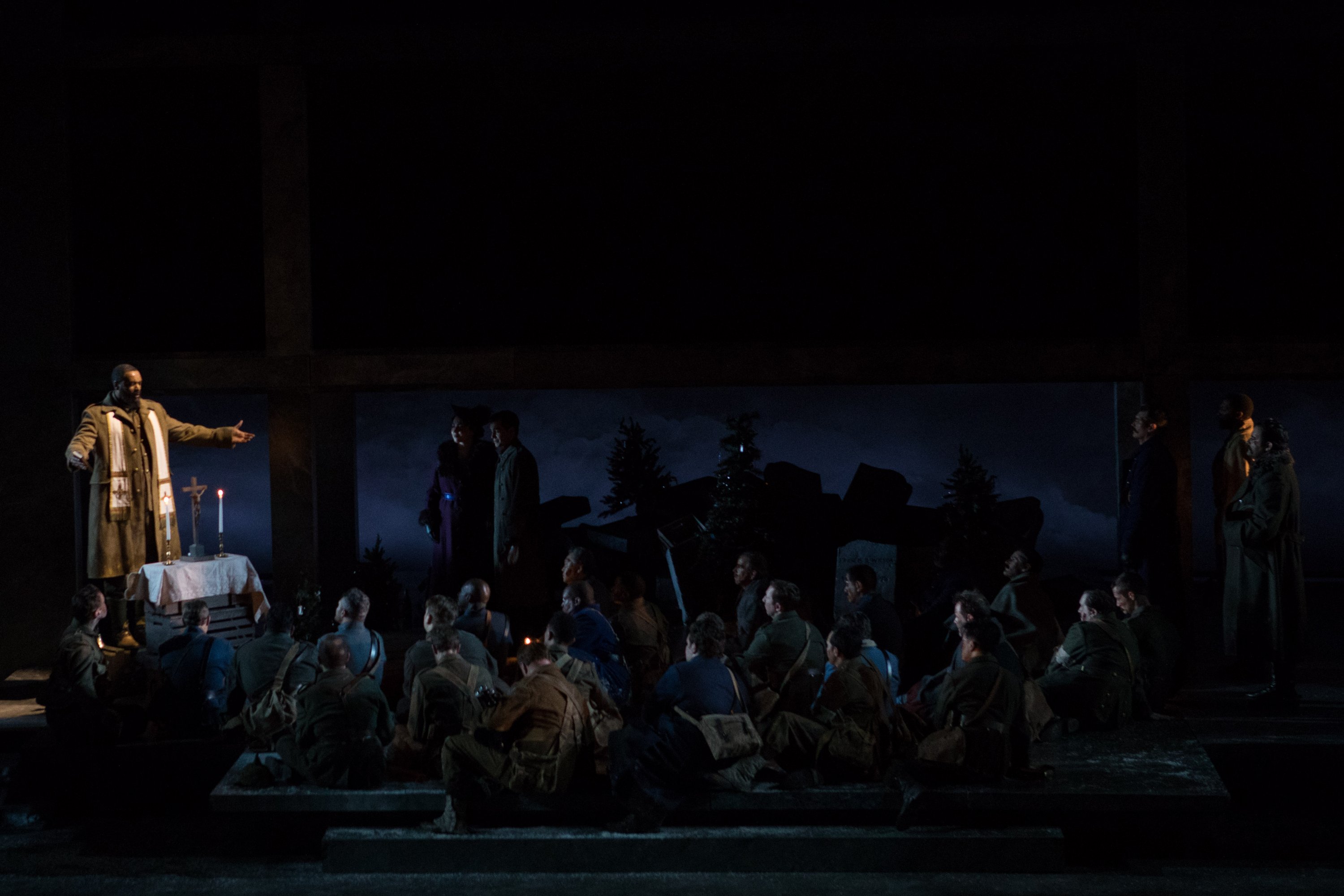 How else have you prepared for this role?
Whenever I prepare for a role I try to find something that I connect with personally and individually. Imagine being a religious figure, you're trying to follow this righteous way of life and going into literally the bowels of hell. The only reason I go to sign up for war is to protect Jonathan and William. I've got friends who signed up for service, not for the glory of battle but for reasons, and, you know, there is a worry that you may never see them again. I had no idea what it's like to be in World War I, but I can tap into the feelings of being in war and fearing never coming home. 
These performances are happening around the time of the hundredth anniversary of the armistice that ended World War I. What do you hope that audiences take away from this work?
I think it's easy to attack someone you don't know, someone you have no personal connection with. I think about Muhammad Ali, who didn't want to go to Vietnam; he still had a level of empathy for another human being. I think when we lack that empathy we can shrug and we can kill and we can abuse power without conscience. This opera shows the awkwardness of getting to know your enemy and learning to respect your enemy. This is a point in the opera where, at the beginning of the opera, everyone's shooting, we don't care who we're shooting. But after we have this moment of truce and the general comes in and just says, "There's one of them. Shoot him."
The generals in World War I hated those impromptu truces because they worried the soldiers would realize they had a lot in common.
The general wasn't there for the sharing of coffee. He's coming from another battlefield where he doesn't know his enemy. So when he gets there he's so regimented, he's so stuck. And all he cares about is law and order. These people in the trenches have discovered each other's hearts, they've discovered each other's individual humanity. And it becomes really difficult to hurt your fellow man.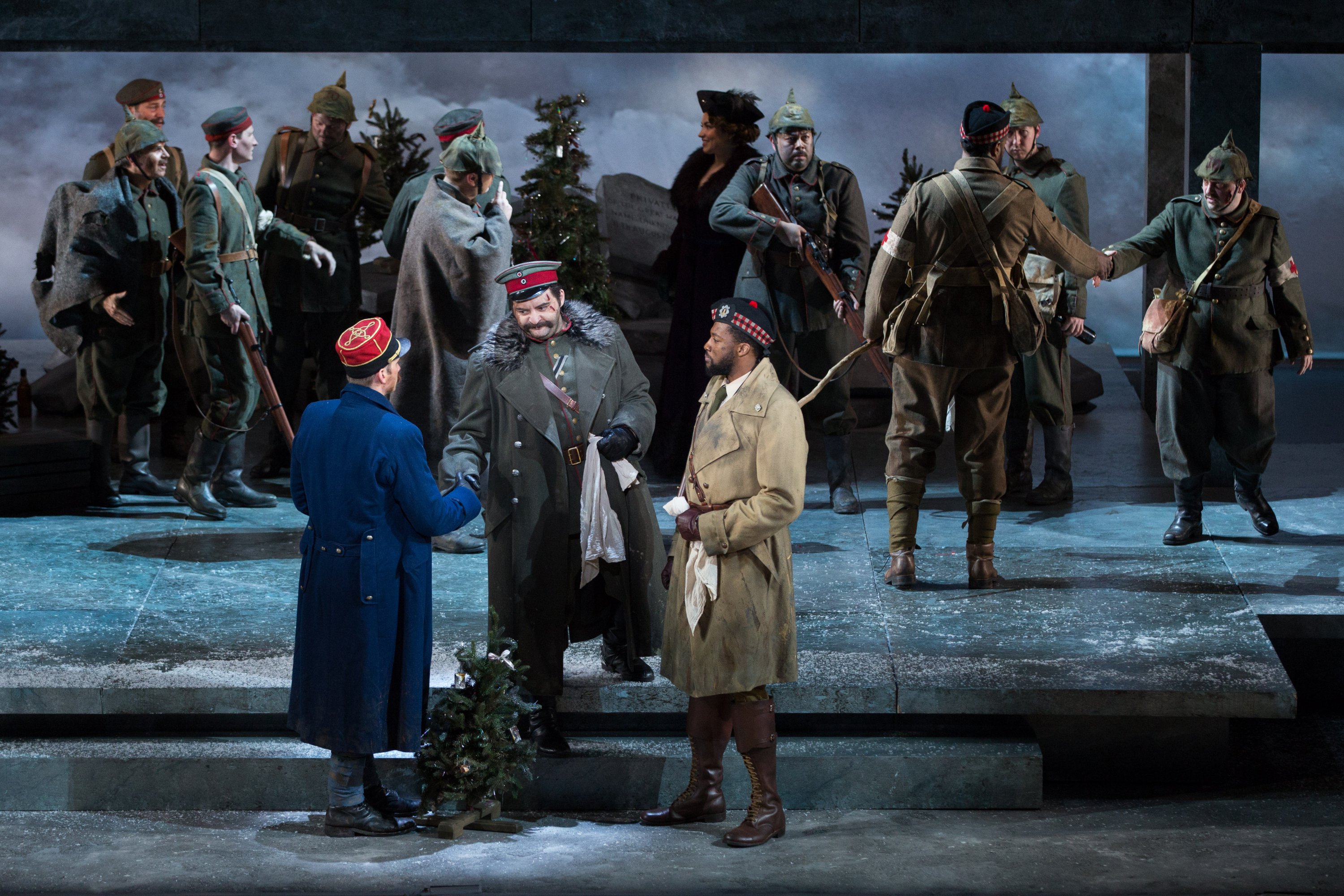 Silent Night runs through November 25 at the Kennedy Center.