No one will judge that your Thanksgiving pie isn't homemade with these options from renowned bakers and beloved restaurants. Try these take-home versions of classics and unorthodox desserts to surprise the table.
Osteria Morini
301 Water St.,  SE
Throughout the holiday season (until Dec. 24!), pastry chef Tova Hillman is hosting a pop-up pasticceria at the Navy Yard Italian restaurant. Look for pies and desserts, including a vanilla-crust chocolate pecan pie or brown butter apple. Order pies online at least 48 hours in advance. If you want to try crafting one yourself, attend Hillman's Nov. 17 pie-making class to learn the techniques, followed by a three-course lunch. Tickets, $95, are available here. 
Alex Levin's 4th Annual Thanksgiving Pop-Up Bakeshop
Casolare, 505 Wisconsin Ave., NW; Alta Strada (DC), 465 K St. NW; Alta Strada (Mosaic District), 2911 District Ave, Fairfax
Schlow Restaurant Group pastry chef Alex Levin is offering pies at three different locations. Ditch the basic pumpkin pie for a buttery honey pecan or an caramelized apple pie with oat-streusel. Not a fan of pie? Consider the chocolate sea salt toffee or caramelized banana bread cake. Best of all, a portion of proceeds go to LGBTQ youth organization SMYAL. Order online by Nov. 19.
Buzz Bakeshop
818 N Quincy St., Arlington; 901 Slaters Lane, Alexandria
The neighborhood bakery is serving up four pies (among other sides and desserts), including a silky chocolate mousse pie or a traditional pumpkin topped with candied pumpkin seeds and dollops of fresh whipped cream. Order online by Nov. 19.
Ellē
3221 Mt Pleasant St., NW
In addition to full Thanksgiving dinner take out, the Mount Pleasant bakery and restaurant has pies available a la carte. Impress with a honey goat cheesecake with cranberry-rosemary sauce or a dark chocolate and bourbon pecan pie. Order in-store or email orders@eatatelle.com by Nov. 16.
Colada Shop
1405 T St., NW; 21430 Epicerie Plaza, Sterling, Va.
This cafe puts a Cuban twist on Thanksgiving desserts. Try the coffee pecan pie or an island-inspired coconut lime-rum cake. Pies are available until Nov. 22 and can be pre-ordered online.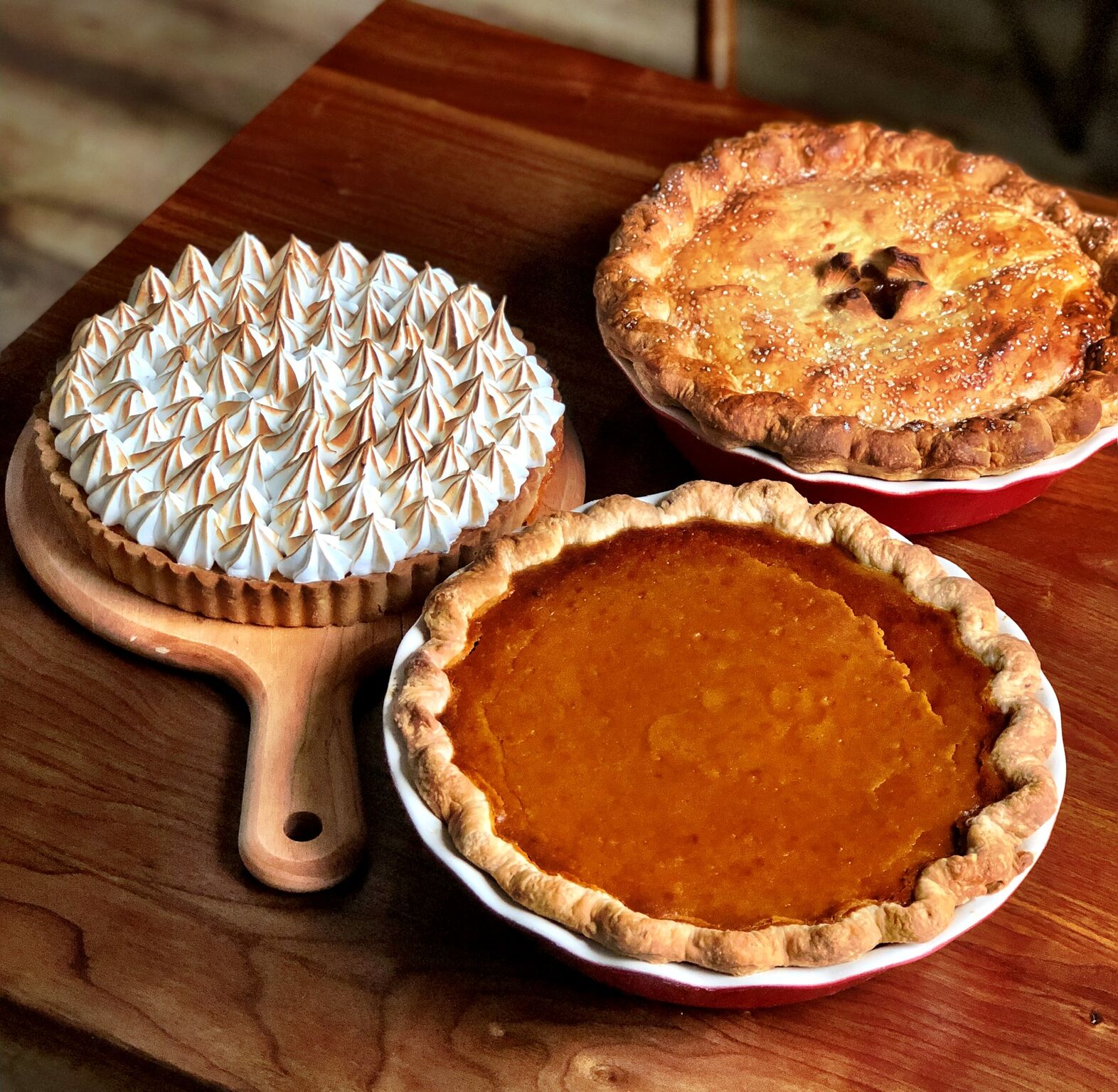 Cork Wine Bar
1805 14th St., NW
Try before you buy with pie flights at the market bar, including traditional apple, pumpkin, or grapefruit meringue pies. If you wish you could have more, take home all three whole pies for $99, or starting at $32 each. Order at least 48 hours in advance at orders@corkdc.com for pick up.
Bayou Bakery, Coffee Bar and Eatery
1515 N. Courthouse Road, Arlington
Thanksgiving is Southern-style at David Guas' bakery with sides, appetizers, and desserts available for takeout. The pies range from classic (apple cinnamon crunch) to adventurous (bacon-cayenne-pecan). Order in-store or over the phone by Nov. 19.
Rare Steakhouse & Tavern
1595 I St., NW
With pies available for pick up for $19 each, the steakhouse has one of the more affordable options for chef-made desserts. Flavors include blood-orange pecan garnished with rosemary; lemon chess; a cinnamon-sugar dusted apple; and chocolate silk. Order online at least 72 hours in advance.
Buttercream Bakeshop
1250 Ninth St., NW
Luxuriously rich pies are on the menu at Tiffany MacIsaac's Shaw bakery, including an Oreo-crust Nutella fudge icebox pie or chocolate-whiskey-pecan pie topped with swirls of chocolate cream. Gluten-free sweet tooths, rejoice: Buttercream also offers a gluten-free layered pumpkin cheesecake. Order online for pick up on Nov. 19, 20, or 21.
Little Red Fox
5035 Connecticut Ave., NW
This locally minded cafe, bakery, and market has three essential pie flavors available: double-crusted apple, pumpkin, and pecan. The pies can be customized with decorative crusts. Order online for pick up on Nov. 20 and 21.