After hosting the heavy metal Gwar bar and bloody "Death Becomes Us" bar, Drink Company is turning toward a pop-up theme with a little less darkness and a lot more fuzz. Miracle on Seventh Street, better known as "the Christmas bar," returns to Shaw from November 23 to December 31 for another year of festive cocktails and, now, panda-monium.
"We love the zoo, and we love that we have these famous residents in Washington, DC, so I think for a while we wanted to do something with pandas," says Derek Brown, Drink Company's president. "It just sort of struck us that the pandas make us happy, and the holidays make us happy, so why not combine the two?"
Panda joy certainly decks these halls. Scenes of the fur balls frolicking in snow pay homage to viral videos of Bei Bei rolling in the flurries. In a graffiti-style mural by local artist Andrew Funk, the pandas are noshing on jelly doughnuts, a traditional Hanukkah treat. Guests can gush over the grinning bears while sipping on the "Santa Bei Bei," a tequila and vanilla agave soda cocktail served in a panda mug.
According to Brown, the pop-up looks as if "we threw up Christmas," brimming with the requisite ribbon and ornaments. A jingle bell canopy adorns most of the ceiling of one of the bars, conjuring the joyful twinkling of Christmas music and ringing Salvation Army bells on street corners. Guests can reach up and ding a bell alongside whatever holiday tune is blaring over the speakers. Immortalize the holiday season in the mistletoe photo booth or celebrate the festival of lights with a giant menorah under a constellation of Star of David chandeliers.
For those who are ready to wave goodbye to 2018, you can stand inside the giant, sparkling replica of the New Years ball. While it's easy to get lost in the large wow-factor installations, Brown recommends keeping an eye out for the smaller details, like the tiny ice skating vignette behind one of the bars. As in years past, you may have a chance to rub elbows with Santa Claus himself—after all, his sleigh is already parked at the bar.
"That's the cool part of the holidays and that's the cool part of Miracle on Seventh Street is that you get to kind of be a big kid," Brown says.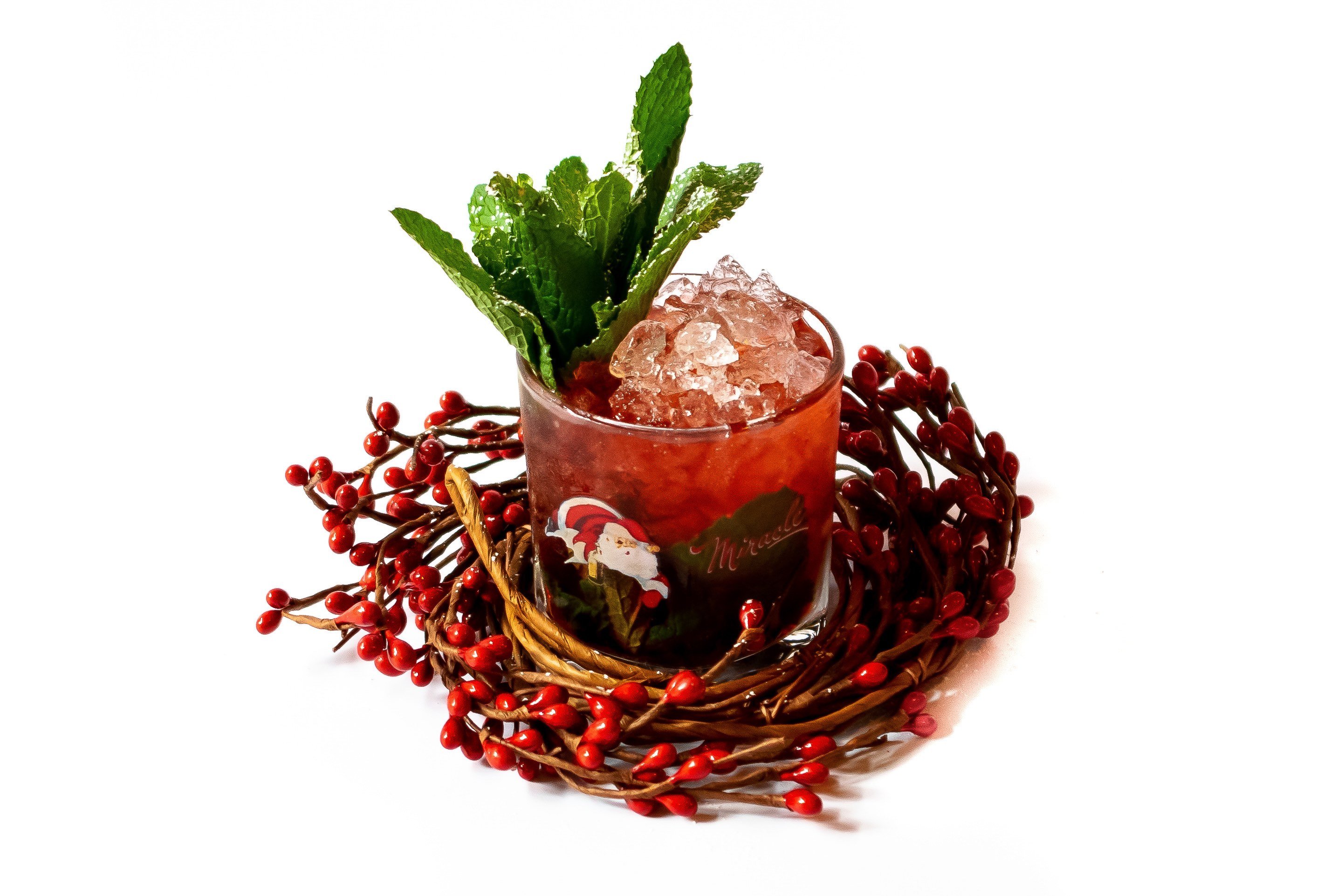 Despite nods and winks to the childlike wonder of the holidays, the pop-up does retain an important adult-only component: a drink menu overflowing with holiday puns. Brown's favorite cocktail is the "Santa Bei Bei" but panda fans can also toast the bears with a "Bamboo Shoot," a minty shot of creme de menthe and Irish whiskey.
Some drinks are for the naughty (Santa's S#!t list, a Scotch-spiked Nutella hot chocolate), while others are for the nice ("Snow Angels, Ice Skating, Cookie Dough, and Snuggles"). The latter is a returning favorite, an Elf reference with butter-washed vodka, coffee liqueur, and cream that will satisfy at least one of the four elf food groups: "candy, candy canes, candy corns, and syrup."
While traditional holiday motifs abound, the cocktail themes also delve into some more obscure references. Bourbon, sweet vermouth, and allspice amaro meld together in "Welcome to the Party Pal," a convincing defense of Die Hard as a Christmas movie. A YouTube video of a guy in an elf outfit rapping about his John Cena-themed Christmas wishlist inspired a rum drink dubbed "A John Cena Christmas."
"2018 was a difficult year for many people, and I think that we want to just help alleviate some of that stress and let people have a great time," Brown says.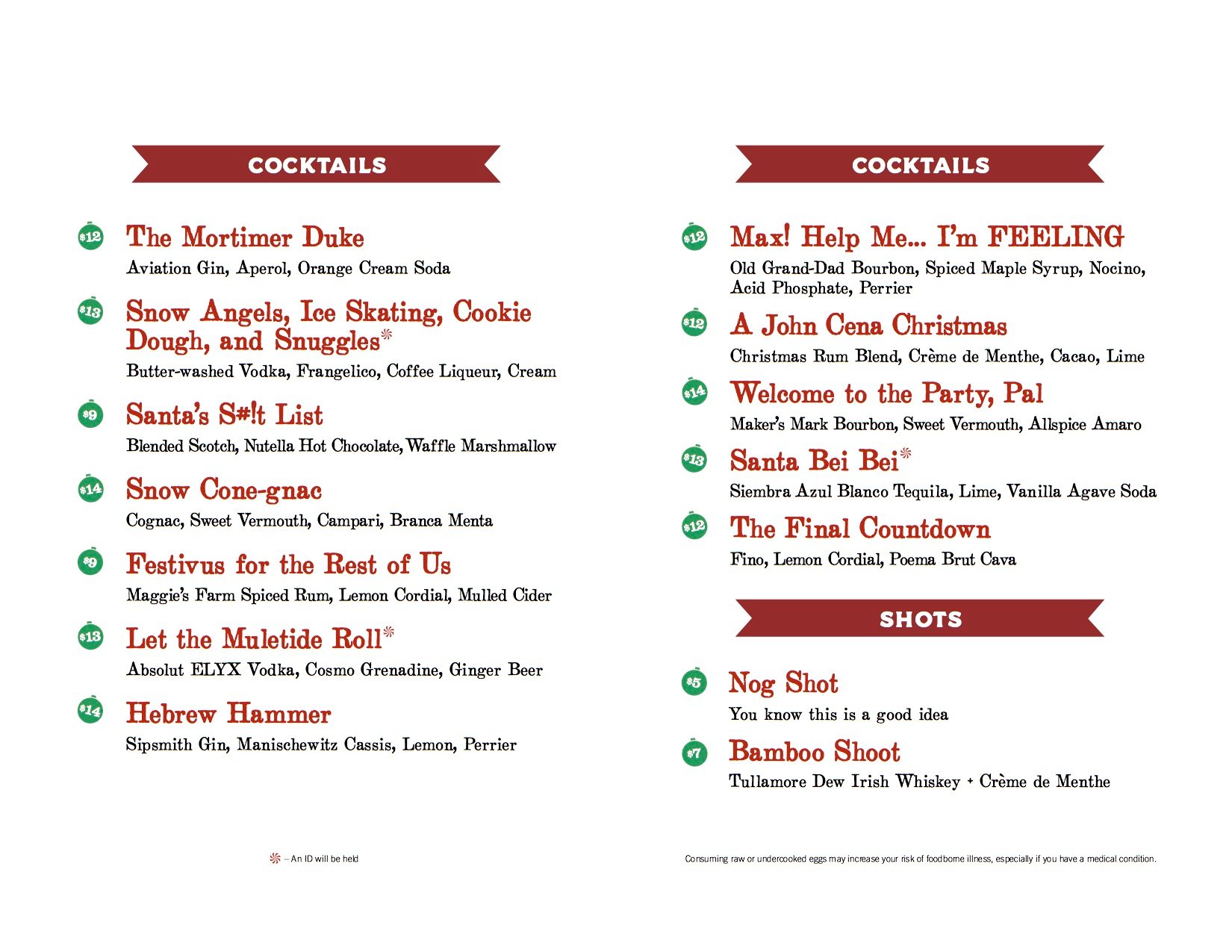 Miracle on Seventh Street. 1843 7th St., NW.