Plan Ahead.
Don't wait until the last minute. When you begin searching for the perfect venue, caterer and photographer, you should also seek an experienced expert to customize a treatment plan to fit your aesthetic goals and budget for your big day.
"I like to meet with my brides and grooms as soon as possible to begin planning for their wedding day. I find that starting early and having a comprehensive plan in place for their cosmetic treatments not only ensures that they achieve the look they want, but reduces stress and permits the associated costs to be included the wedding budget. In years past, the focus was only on the face, but now we outline goals for the hair, neck, décolleté, hands and body," says Dr. Tina Alster of the Washington Institute of Dermatologic Laser Surgery.
Prime the Canvas (Clear Your Complexion).
Many brides and grooms have spent considerable time baking in the sun and have paid the price with freckles and larger patches of pigmentation. Others struggle with acne, scars or rosacea.  Various lasers and light treatments such as Intense Pulse Light (IPL) Fraxel Clear and Brilliant or V-Beam lasers can be used to target these skin discolorations. It is extremely important for a board-certified dermatologist to review the bride and groom's skincare routines to ensure that products are working synergistically to achieve the goal of fresh, clear, glowing skin on their special day.
Chillax.
Botox injections can smooth the skin, especially around the forehead, eyes, and between the eyebrows – hiding evidence of stress and making the face appear relaxed.
"If Botox has never been received in the past and there is sufficient time before the wedding, I recommend that a trial run be performed 6 months before the ceremony in order to determine the optimal dosing and longevity of clinical effect. The injections then can be repeated 3- 4 weeks before the wedding so as to appear stress-free on the big day." says Dr. Alster.
Optimize Facial Contours.
Dermal fillers like
Juvederm
 or
Restylane
 plump hollow areas where collagen has been lost and restore volume to the face for a more youthful look. They can be used to shape the face- producing more prominent cheekbones or fuller lips. Fillers can also be injected to improve the appearance of the nose, strengthen the jawline, correct acne (or other) scars, or create a prominent chin. The effects of filler are seen immediately, but Dr. Alster recommends taking it slow and going with a more natural look. Less is more, and additional filler can always be added closer to the wedding day. Giving filler a try several months in advance of the wedding gives time for adjustments to be made for the best clinical outcome.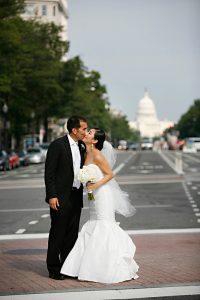 Remove Body Hair.
If you want to be hair-free for your wedding and honeymoon, you will want to start a series of laser hair removal treatments as soon as you can. Washington Institute of Dermatologic Laser Surgery offers laser hair removal for almost any area of the body and recommends a series of at least 3 treatments at monthly time intervals for longstanding hair reduction.
Lengthen Your Lashes.
"Many brides opt for lash extensions, but I have seen the damage that they can do to natural lashes," says Dr. Alster. "I recommend Latisse – the only FDA-approved prescription treatment for sparse eyelashes. The solution is applied like eyeliner to create longer, thicker lashes in as little as 1 month."
Grow Your Hair.
Want longer, fuller hair on your wedding day? Injections of Platelet-Rich Plasma (PRP) has become popularized by both men and women. PRP involves the use of your own white blood cells and platelets (which are rich in growth factors) to nourish the hair follicles. A series of four monthly treatments results in reduced hair loss and increased hair growth. Because it takes at least a few months to see results, initiation of treatment is recommended at least 4 months prior to the big day.
Slim Down:
CoolSculpting targets fat from the stomach and legs, while Kybella slims the jawline and eliminates a double chin. Kybella and CoolSculpting can also target other small areas such as excess bra and knee fat.
Smooth Cellulite:
Stubborn cellulite dimples can be removed with Cellfina. Treatment should be performed at least 1 month prior to the wedding in order to give ample time for the associated bruising to resolve. A series of non-invasive Velashape treatments is often recommended to further enhance and maintain results.
Tighten Muscles Without Breaking a Sweat:
When increased muscle tone of the abdomen or a buttocks is desired (and little to no fat is apparent), EmSculpt treatments are a viable option.  The non-invasive treatment causes the muscles to contract — equivalent to 20,000 (!) crunches or squats– in less than an hour. 
Firm and Lift Loose Skin:

For brides and grooms who are just starting to see the effects of gravity, Thermage RF or Ultherapy may be the answer. These non-invasive treatments are often performed in a single sitting and result in skin tightening of the face and neck as well as for contouring of the abdomen, thighs, buttocks, and upper arms.
The treatment uses either radiofrequency (Thermage) or ultrasound (Ultherapy) to heat the deeper, collagen-rich layers of the skin.  With minimal treatment discomfort and no recovery, noticeable skin tightening is evident after several weeks.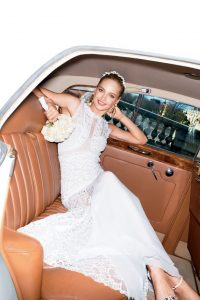 Don't Sweat It.
Worried about excessive perspiration under your arms, feet or hands? Many brides and grooms opt for Botox injections before they walk down the aisle. The injections prevent the release of a chemical that signals the sweat glands to activate. The clinical effects typically last for several months- leaving you high and dry for your wedding (and beyond).
Another option for hyperhidrosis is MiraDry- a specialized non-surgical treatment which can permanently reduce underarm sweat after 1 or 2 sessions. This treatment has the additional benefit of reducing underarm hair.
Rethink the Ink:
For those who want to erase the past or don't want their tattoos to take center stage, laser tattoo removal is possible. The Washington Institute of Dermatologic Laser Surgery has the latest picolaser technology to safely and effectively remove tattoo ink in the fewest laser sessions possible. Be aware that an early start (at least several months in advance of the wedding) is recommended to significantly fade the tattoo.
Call 202-628-8855 or visit www.skinlaser.com to find out more about body contouring and cosmetic dermatology at Washington Institute of Dermatologic Laser Surgery.
– Andrea Rodgers is a Washington D.C. writer.