Sometimes maître d' Michael Arnaud has to play bad cop. Granted, he wears a wide smile above his green bow tie and greets every customer of Joe's Seafood, Prime Steak & Stone Crab with the cheerily booming voice of a game-show host giving away a brand-new jet ski. But as a gatekeeper at a bustling restaurant on the same block as the White House, Arnaud must enforce certain rules. Namely, you can't sit until your entire party has arrived. No matter how much he'd love to, unfortunately, he's terribly sorry but he doesn't have a choice.
Unless, you know, you happen to be the Nats big shot who needs a last-minute table on this particular evening.
"Tonight at 7:30. 3 people. Can you handle?" one of the owners of the baseball team texts Arnaud's colleague, fellow maître d' Billy Carter.
"Yes. All set," Carter texts back.
For regulars like this, a different rule book applies. And were Arnaud or Carter ever to forget, the sports exec's profile in the restaurant's reservation system is explicit about the particulars: "Seat partial party. Do Not Make Wait."
Or maybe you're a senior staffer for Steve Scalise, the second-ranking Republican in the House. The aide usually pings his usual server for one of his usual perches: table 10 in the main dining room. It's the corner booth with a privacy curtain—the "rock-star table," ever since Bono sat there. Only tonight he'd prefer a booth in the bar area. Trouble is it's packed.
Not to worry. "A maître d' always has a table in his back pocket," Arnaud says. He adds the Hill staffer to the reservation system, and a bar booth with a reserved placard is his.
For these diners and the other VIPs on the books this evening—a congressman from Kentucky, a former media exec, a concierge from the W Hotel, a smattering of cherished regulars—the restaurant is extra-accommodating. Its maître d's spot their special customers instantly, greet them by name, and immediately whisk them to their tables. Good cop, good cop.
"Sometimes they will shake our hands," Arnaud says, which is really code for sometimes they will slip some cash, which, to be clear, isn't necessarily a tip for a wannabe muckety-muck looking to buy himself some sway. These days, a little greasing of the palm tends to work less as a bribe on the way in and more as a thank-you for stellar service on the way out.
That every person is treated the same is the great lie all restaurants tell. Everyone might get attentive service and an excellent meal, sure. But for a select group of dining heavies around town, a whole other world of special perks and suck-uppery awaits. Right this way—you'll see.
---
First, the hierarchy. Because this is Washington, many restaurants naturally have a pecking order for their top clientele. All VIPs of Le Diplomate, the French brasserie in Logan Circle, are dubbed "PPX"—personnes particulièrement extraordinaires—and tracked in real time on a kitchen whiteboard as they dine. But some, such as a neighborhood regular, are classified as "TTA," for Try to Accommodate. Others are "MA," for Must Accommodate, including Jill Biden; Gérard Araud, the outgoing French ambassador; and Jim Abdo, the developer who basically rebuilt 14th Street. An MA commands a table, stat.
At Rare Steakhouse in downtown DC, former managing director Justin Abad categorized semiregular VIPs as "soigné," French for "handled with care," and those who came in three to five times a week or held multiple functions at the restaurant throughout the year as "super soigné." The lower tier would often be treated to a complimentary Prosecco, while those handled with extra care—select media figures and lawyers, for instance—might be given a free shellfish platter on occasion.
Because this is Washington, many restaurants naturally have a pecking order for their top clientele.
José Andrés's restaurants deploy a simple color-coded system for its "PGs," or preferred guests. Your hue gets you one of five levels of perks, from a free round of drinks (for Reds), to a full comp and maybe a black-car ride home from Minibar (for "José Golds," or special friends of the owner). "We joked that it was like a threat assessment," says a manager who worked for Andrés during the Obama years. The restaurateur, he says, was keen to cultivate relationships with 44's administration, meaning that members of the Obama White House warranted high alert. Sam Kass, the chef for the First Family who became semi-famous while heading Michelle Obama's "Let's Move!" campaign, was a top regular and VIP. "If Sam Kass needed something," the source says, "we did it no matter what."
Because of ethics rules, politicians themselves aren't generally feted with freebies, but as the de facto celebrities in town, they are (generally) coveted and (often) catered to. Privacy is the one perk they're most likely to be offered—think amenities such as a secret back door (RPM Italian in Mount Vernon Square) or tables with curtains (Marcel's in Foggy Bottom).
Still, if you're a famous face out at a hot spot, sometimes staff can only do so much. One night early in the Trump administration when Ivanka Trump and Jared Kushner dined at Masseria, Trump got up to use the restroom and some other women in the dining room followed her, a former employee says: "These women got out their phones and were holding them in front of them, waiting for the door to open to take a photo of her. She walks out of the bathroom and immediately there's flashes. They didn't even turn their f—ing flash off." The staff was just about to swoop in and extract Trump from the situation, but she put up her palm to stop the intervention. She then did a curtsy for the women, threw her arm around one for a couple of selfies, and walked back to her table as if it were no big deal.
By that point, the First Daughter had already ingratiated herself to staff: The ex-employee says that when her server was explaining the menu to Trump's table, the other guests wouldn't stop talking and Ivanka shushed them. "She wanted to hear what all the dishes were," the source says. "She basically called the people at her table out for being rude to the staff."
Restaurant staff make it their business to remember details about the demeanor and preferences of their celeb VIPs, particularly when the preferences skew from the ordinary. Bartender Zac Hoffman, who has worked at other favorites of the Playbook set—Mirabelle, by the White House, and the Riggsby, tucked into the Carlyle Hotel in Dupont—recalls how 2020 hopeful Kamala Harris asked for a cup of ice so she could drop cubes into her white wine. At Kith and Kin in the Wharf's InterContinental hotel, he says, former presidential candidate Herman Cain dropped by the bar several times over the course of his stay, ordering rounds of Crown Royal doubles. "It got to be impressive. We actually started to have a betting pool of how much he could drink," Hoffman recalls. "He wasn't belligerent. He wasn't an asshole. He wasn't making a fool of himself. He just really likes Crown Royal, and he handles it like a champion." ("Mr. Cain has nothing to add for your story," his assistant said.)
Once, Hoffman says, former Secretary of State Rex Tillerson came into Mirabelle with a group who tried to order a round of Louis XIII cognac—a high-end brandy that can go for $400 a pour. (Unfortunately for everyone, the restaurant didn't carry it.) John Kerry's thing was pricey wines. At the St. Regis downtown, says former beverage director Brent Kroll, Kerry was in with Tony Blair one night and ordered a highbrow French red (LaLa, by Guigal) that went for about $900 a bottle. "When they came in together, they always tended to drink stuff like that . . ." says Kroll, "whereas Newt Gingrich would go for the cheapest Italian white we had and Barack Obama wouldn't go really expensive. He wanted domestic."
---
Before triple-checking the liquor stash or offering a special basket of gougères to partisans (French cheese puffs meet the congressional no-gifts-above-$50 rule), restaurants have to sort out the fraught matter of where to seat them. One evening earlier this year at Joe's, Congressman Scalise had a reservation at his usual booth when in walked former Obama senior adviser Valerie Jarrett. Someone was about to get Jarrett settled at the booth right next to Scalise when the maître d's intervened to reroute her to the opposite end of the dining room.
The two might not have had any issue—but as Arnaud explains, "If you can avoid those situations, I think it's just better."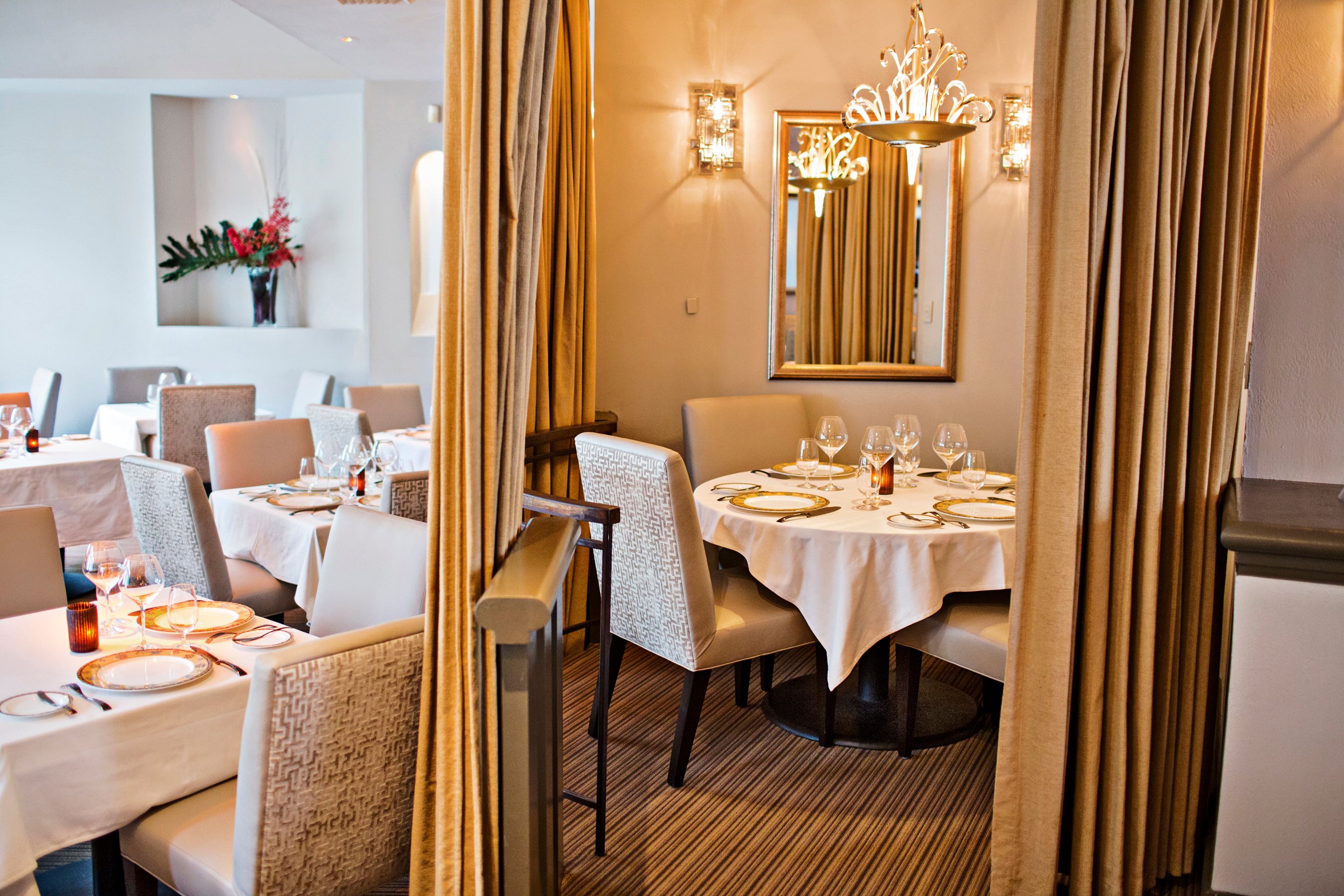 On a separate occasion, another prominent Democrat and Republican had reservations on the same night, and their favorite tables happened to be right next to each other. Paul Reosti, another Joe's maître d', tried to get the Republican to agree to another spot.
"No, I want my usual table," the Republican said.
"Well, just to let you know, this gentleman has made a reservation, too, and his favorite table is the one right next to yours," Reosti told him.
"Okay, where else can we go?" the Republican said before he quickly thought better of it and added, "Well, where else can you put him?"
Reosti went for the ultimate Washington sleight of hand. "I could try to talk him into doing it, but you're a lot more diplomatic, a lot less stubborn than this gentleman is." The sycophancy worked.
---
One DC restaurateur who has hosted polarizing insiders including Education Secretary Betsy DeVos and White House senior adviser Stephen Miller—architect of the President's hard line on immigration—says he prefers to seat Trump officials in a private back corner away from the sidewalk-facing windows. Secret Service like the proximity to the back door, but the restaurateur sees an added perk to hiding controversial figures who might spark a confrontation. "The only thing I wish is that nobody walks by my window and realizes she's dining with us," he says of DeVos.
There was a hitch with Miller, though: He always insisted on sitting in the middle of the dining room, "so we have no choice—we do it."
Miller visited the restaurant for the first time with his parents. The restaurateur says they called him over to the table and he told Miller's dad, "Your son gets more TV time than the President—he must be doing something right."
As a business owner who doesn't discriminate based on politics, the restaurateur wanted them to feel welcome. But the next day, he heard from an anti-Trump customer who had seen the interaction, was enraged that Miller had been treated warmly, and threatened to boycott the restaurant.
On subsequent visits, Miller continued to greet the restaurateur like a friend. Then last summer, Miller visited around the time when family separations at the Mexican border hit the news. This time, the restaurateur decided to broach politics: "I told him that I was worried that his policy, the speech that he was writing for the President, would hurt small businesses, especially my restaurant, in the future. My restaurant wouldn't be open if we didn't have immigrants."
Miller listened politely. "He smiled and said, 'You are entitled to your opinions.' " He hasn't been back since.
The obvious safe space for a Trump loyalist is the President's hotel. According to former server Badger Russell, who worked at its steakhouse for nearly a year, through February 2018, any high-level people connected with the White House were waited on by the hotel restaurant's most experienced servers and fussed over by managers. As soon as a Trump VIP sat down, staff protocol called for delivery of a complimentary glass of bubbly. The kitchen would prioritize that table's food orders ahead of everyone else's, so they'd never wait too long for a tuna tartare—no matter how busy the restaurant might be.
That every person is treated the same is the great lie all restaurants tell.
"There was a certain level of stress that was put on you based on management," Russell says. "It was a higher level than just a standard guest. It was like 'Don't eff up. Make sure everything's on point.' "
Russell says Eric Trump liked to sit along the mezzanine rail with a view of the lobby below, while Donald Trump Jr. typically held court in the hotel lounge. Rudy Giuliani often entertained a group in a private dining room—starting with whiskey and moving on to bottles of wine—but was happy to schmooze with anyone who approached him. Kellyanne Conway, on the other hand, preferred to retreat to a more private table. The President's adviser was "one of the more finicky customers," Russell says. "She was more demanding than any of the others. She was the one who wanted to be treated like she was special."
Anytime the VIP-in-chief showed up, he was greeted by a standing ovation from the crowd. The President always sat at the same round booth next to the mezzanine stairwell—a see-and-be-seen table with service-entrance proximity for Secret Service. Russell says even when Trump wasn't there, his table was off limits except to a few people in his inner circle (Ivanka, Treasury Secretary Steve Mnuchin).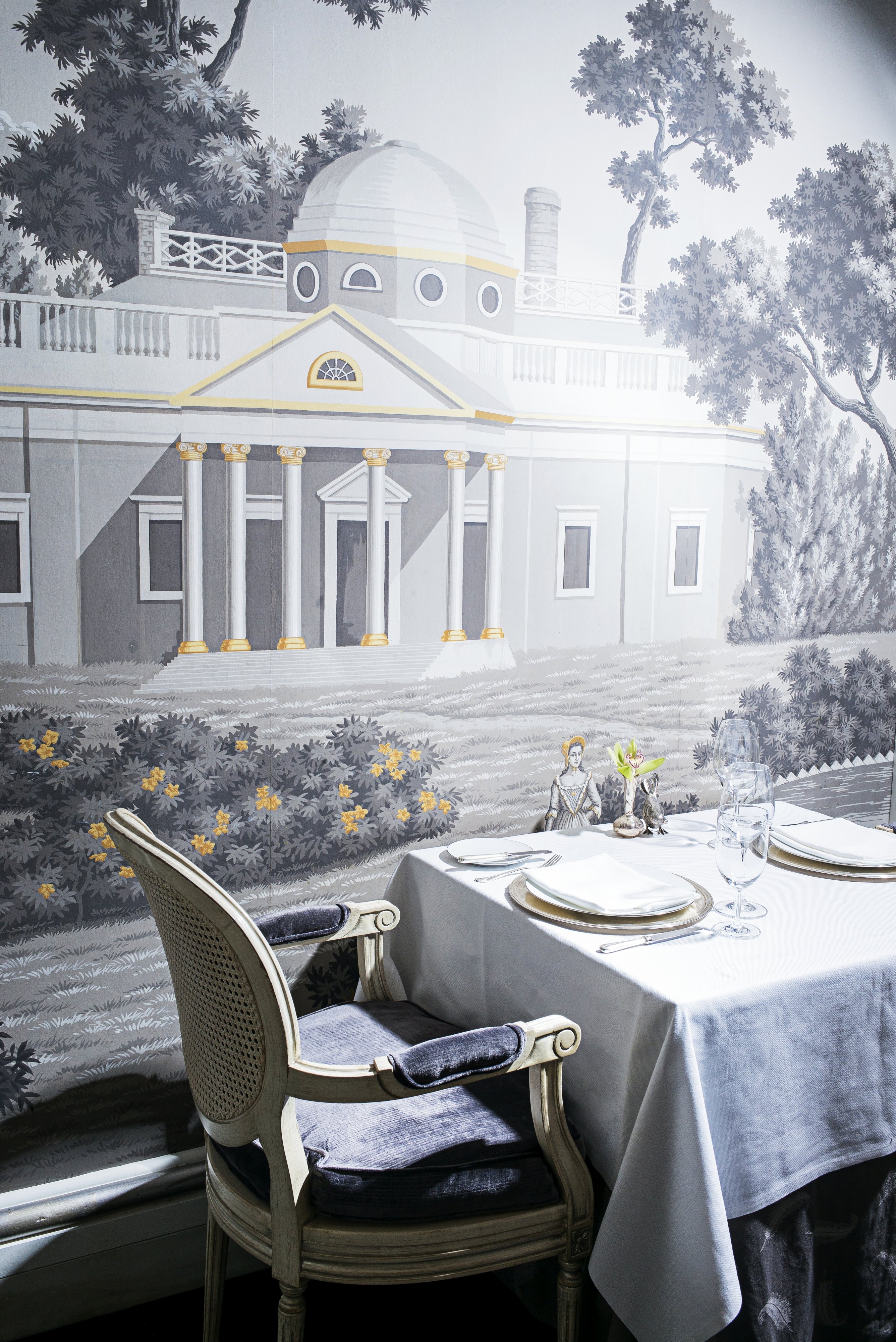 The President was the one person managers waited on personally. He pretty much ordered the same thing every time: a shrimp cocktail to start, followed by a boneless New York strip with fries. Russell says all the talk about Trump eating his well-done steak with ketchup has been overblown. As far as he could tell, the condiment was for his fries.
On his way out, the President liked to hand out $5 or $10 bills to employees. "I do recall one time he pulled out his money clip and he didn't have any small bills, and he was hurting when he gave out a $50 bill," Russell says. "Everybody was looking, so he still gave it out."
Everywhere else, it seems, the Obamas are still Washington's ultimate VIPs. Ask just about anyone who's anyone in the dining scene which big shot they'd most want in their establishments and Michelle Obama's name comes up almost every time. She's known for being gracious and easygoing and seems to know a thing or two about wine. Oh, yeah, and the buzz.
"Every guest gets wanded, so that's huge because then everybody wants to know who's here," says Carter, one of the Joe's maître d's. "We don't say at first, but finally it all gets out, so all those people are going to say, 'I was at Joe's when Michelle was there.' It's such great word-of-mouth advertising."
The perk of being the Obamas is, well, being the Obamas. While their Secret Service detail chooses their table and limits staff interactions (surprises are a no-no), they are Must Accommodates anywhere, anytime.
---
Another category of VIPs exists, of course: the regulars. In some ways, they're the most important VIPs of all. A restaurateur may hope that the hype generated by a celebrity visitor translates into future business, but a frequent visitor's contribution to the bottom line is already known. So the gratis chocolate cake a friendly server might set before Joe and Jane Date Night at a birthday dinner is only where it begins.
"Sometimes it will be like, 'I've never seen that before. That looks awesome! Where's that been?' " says Hoffman, the bartender, of the elaborate off-menu treats he's seen come out of the kitchen for certain guests. "Just pulling caviar out of nowhere, chef? Okay, cool."
Kroll, the sommelier—who now owns Maxwell Park, a vanguardy wine bar in Shaw—says he has one regular who loves steak. So on her birthday, he surprised her with a special rib eye cooked on a charcoal grill (the only steak the wine bar has ever served). Other times for regulars' birthdays, Kroll picks up special desserts from a nearby bakery, or he'll let them saber a bottle of Champagne.
One thing even the most treasured regulars would be unlikely to score is a full comped meal. That rare treat is typically reserved for a personal friend of the owner, say, or an influencer—someone who might pimp the restaurant in a big way. One former manager of the now-closed Friendship Heights restaurant Range says actor Neil Patrick Harris was treated to a dinner before the place officially debuted, with the entire team attending to him and his dining companion. "The idea was he had a million Twitter followers or something, and apparently he had a reputation for live-tweeting his food," the manager says.
The perks that play best to Washington types—both the actually powerful and the frequent customers—are ones that play to the egos of our lesser brand of celebrity. It's knowing their names when they walk in. Customizing their experiences. Making them feel like they own this town.
Kelly Clancy, RPM Italian's director of operations, who oversees the DC and Chicago locations, gives out her personal cell-phone number to VIPs and fields an average of five to ten reservation requests a day that way. The restaurant will also make sure the kitchen stays open late for certain VIPs, such as Wizards players coming in after a game goes into overtime.
Kellyanne Conway was "one of the more finicky customers. She wanted to be treated like she was special."
Regulars of Minibar, José Andrés's avant-garde tasting room in Penn Quarter, have their own personalized steak knives, engraved with their names, to use each time they dine at the restaurant.
At Marcel's, staff will sometimes make sure a regular's favorite flowers are on the table when he or she arrives. The restaurant has its own Ford SUV with a chauffeur to take diners to and from the Kennedy Center, but if you're a regular who lives in the vicinity, the driver will also drive you home. When whole white truffles were special-ordered for a regular who wanted to use them at home, maître d' Adnane Kebaier personally delivered them on Christmas Eve.
Cafe Milano owner Franco Nuschese will create personalized itineraries for some regulars when they visit Venice or Rome and will connect them with friends in his native Italy. When summering on the Amalfi Coast, he has extended invitations to certain regulars to tour it with him on a yacht.
For one loyal patron of Joe's, a bottle of Don Julio 1942 tequila is on hand—just for him. Another gets a particular Pinot Grigio to himself. "If he comes in and orders and we don't have that, he goes, 'How come you don't have that?' " Carter says.
When Carter worked at the Prime Rib, one of his usual customers pulled up to the valet in a Ferrari, and the battery died. So during dinner, Carter had some employees procure a new one. By the time the guy finished his meal, the Ferrari was running again.
"If you're a good regular," he says, "we'll do anything."
---
A restaurant's pampering is sometimes only as good as its intel, though. A former manager at Oyamel recalls a regular who liked to sit at the bar but went unrecognized for a while. Finally, the staff took note of his lapel pin, then pulled his credit card so they could Google him: It was Republican senator Bob Corker. (Plenty of restaurants will do some web reconnaissance in real time if a diner they don't recognize is talking loudly about food culture or spending stupid money.)
Before service starts at RPM Italian, a manager will scour Facebook, LinkedIn, or Google for info on that night's potential VIPs and tick off the boldface names at the 3 pm all-staff meeting. The restaurant keeps profiles of at least 100 customers—senators, athletes, and, in the words of the operations director, other "people you should know," full stop—in a white office binder at the host stand.
At Rare Steakhouse, Abad says his "bible" for "soigné" guests was a plastic binder dubbed the Red Book. Whenever the staff had downtime, they'd flip through and try to memorize its pages. And anytime there were new members of Congress or a White House shakeup, the Rare staff would familiarize themselves with the fresh faces who might walk in.
But the real mother lode of personal data is often in the online reservation systems. If you printed out the entire history of notes for some regulars at high-end places, it might be pages long. Allergies and aversions; favorite tables, servers, or wines; names of spouse and kids; minutiae such as "don't ever put a straw in their drink"—it's all there. The latest software goes even further, allowing restaurants to pull in social-media profiles and point-of-sale data to see how people have spent over time.
For real VIPs, it all means extra-stellar service. For everyone else, well, it's just becoming that much harder to play the "don't you know who I am?" card. Which, yeah, is kind of a thing in Washington. When Steve Uhr was director of operations at Michael Schlow's restaurant group—Tico, the Riggsby, Alta Strada—he coined a code for these types, too, the ones who are a little too demanding: It's "VS," for Very Special. Or, you know, not very special at all.
This article appears in the May 2019 issue of Washingtonian.