For decades, Washingtonian has released its authoritative list of the region's 100 Best Restaurants each winter. But a ranked list of the area's top dining spots just didn't feel right while the pandemic raged in 2020 (instead, we paid homage to the neighborhood restaurants that sustained us). And, given the staffing shortages, temporary closures, pandemic restrictions, and supply-chain woes of 2021, we decided to take a different tack this year, too. Here, we spotlight our 100 favorite things about the DC food scene: inspiring people, knockout bakeries and delis, trends (Bring on the swank cocktail bars!), and of course, restaurants. You'll find, among other things, fish and chips worth traveling for, dreamy natural wines, four-star chocolate bonbons, and sandwiches we craved for days.
We hope we'll get back to our regular 100 Best programming next year; in the meantime, dig into the region's top 25 new restaurants, a collection of our favorite classic spots, and much more.
-Ann Limpert, executive food editor/restaurant critic
All opened during (or just before) the pandemic.
Back to Top
Planning a special occasion?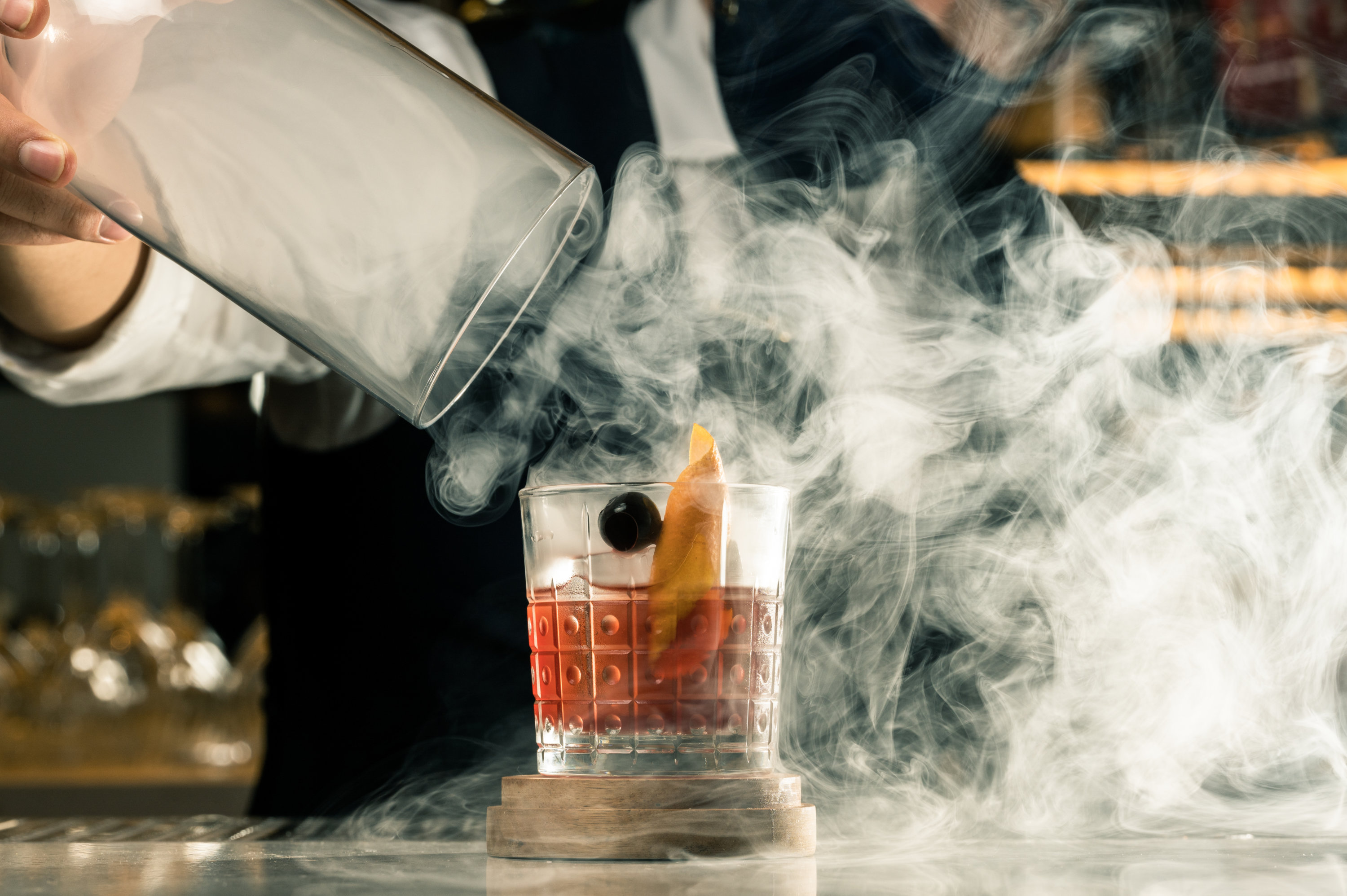 Back to Top
All have been open for a decade or more.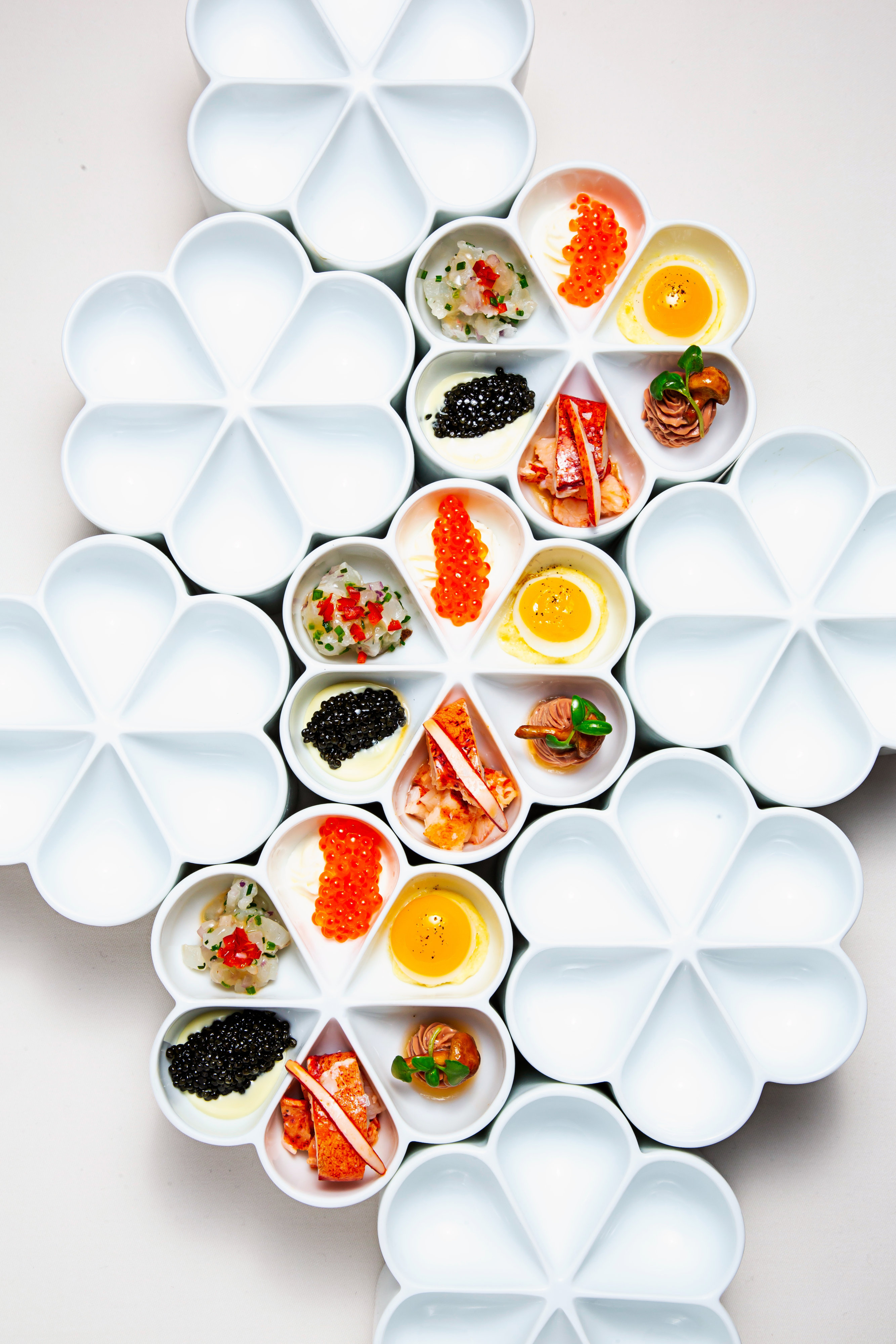 Back to Top
And, in No Particular Order, Some of Our Favorite Trends, Places, and People
A Talent-Magnet Food Hall
The Neighborhood Restaurant Group has always aimed to offer something for everyone, whether messy burgers from Red Apron or Mediterranean fine dining at Iron Gate. Now it's brought nearly a dozen top-talent concepts under one roof at sleek Capitol Hill food hall the Roost (1401 Pennsylvania Ave., SE). Want pork wontons, spicy tuna rolls, crispy avocado tacos, a New York–style slice? The place has it all with easy mix-and-match ordering plus payment via QR code throughout the meandering indoor/outdoor space.
A Food Hall Showcasing Latin American Makers
There's something wonderfully transportive about Latin America–themed La Cosecha (1280 Fourth St., SE). The creators of Union Market envisioned a "culinary embassy," though the sprawling food hall doesn't feel formal. Still, you'll likely spot plenty of expats craving a taste of home—Mexico, Venezuela, Colombia, and beyond—plus activities like salsa classes. Snack on La Casita's terrific pupusas, overstuffed Mosaico arepas, or Peruvian Brothers spiced rotisserie chicken, or just grab a pisco sour and shop Brazilian fashion at Nova Bossa or high-end home goods at ZonaE.
Work-of-Art Menus
In this age of QR-code menus, we get more excited than usual at the sight of an actual paper version. Particularly ones like the specials roster at Izakaya Seki (1117 V St., NW), where co-owner Cizuka Seki doodles such whimsies as dancing cats, pensive bunnies, and smiling squid. (She also sells T-shirts—$21—featuring the artwork). At Dupont Circle Szechuan restaurant/cocktail hangout Astoria (1521 17th St., NW) and sister bar Copycat Co. (1110 H St., NE), drawings of fire-breathing cats signal each dish's heat level, and parts of the drink list look cribbed from a graphic novel.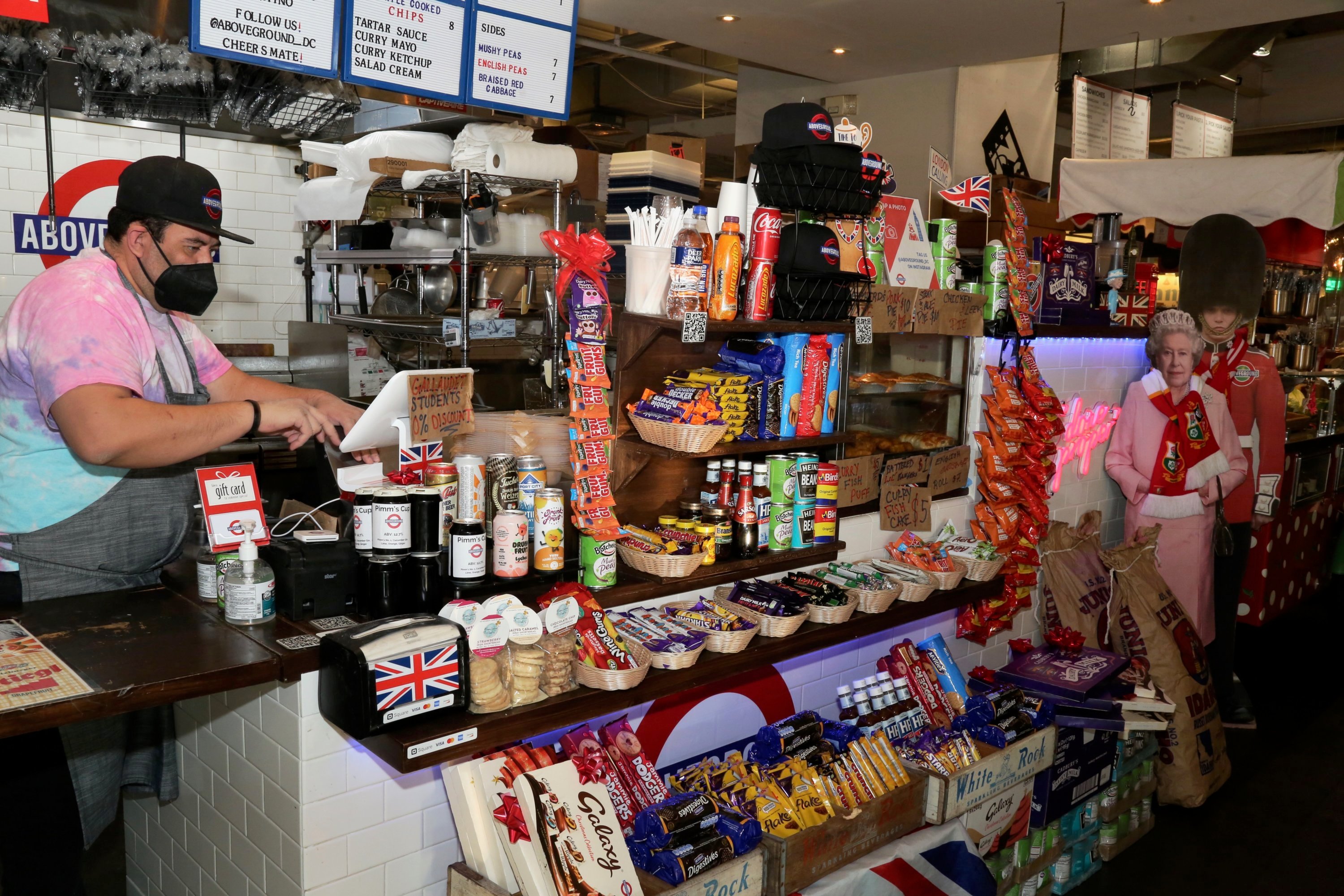 Fish and Chips That Tastes Straight Out of a London Pub
Nicholas Martino isn't a Brit—but he did spend lots of time studying under star London chef Marco Pierre White. Proof that the tutelage paid off: Above­ground, Martino's Anglophile Union Market stall (1309 Fifth St., NE), which opened this summer. The menu board features only a few items, including pastry-wrapped bangers and chicken tikka masala, and the one you need to know about is his fish and chips, with beer-battered hunks of haddock; fat, triple-cooked fries; and pickly tartar sauce.
Stunning Pastries From a Closet-Size Cafe
Maybe you don't think you're a scones person. We sure didn't. Until we checked out teeny-tiny Little Food Studio (849 Upshur St., NW) in Petworth, which opened in March. Owner Danielle Harris and pastry chef Chinnell Watson make morning magic, filling the small cases with plump scones dotted with, say, balsamic-marinated sour cherries or pecorino and herbs. We're also fans of the brown-sugary palmiers, flaky sausage rolls, and lattes and lemonades flavored with seasonally appropriate syrups. Next up for Harris: Big Drip Coffee (801 Southern Ave., Oxon Hill), a cafe with a bigger menu and, as she deserves, "ten times the space."
Sexy Bathrooms
Steamy bathroom selfies are back, thanks to a flashy new crop of restaurant and bar stalls. The Roost food hall (1401 Pennsylvania Ave., SE) in Capitol Hill features a tasteful backdrop of leggy cancan-style wallpaper, while Logan Circle cocktail bar Jane Jane (1705 14th St., NW) puts the female anatomy on full display with body-positive watercolors. (Bonus Instagram fodder: The bar's embroidered "Please Don't Do Coke in the Bathroom" sign.) Meanwhile, the loo at Shaw "speakeasy" Never Looked Better (130 Blagden Alley, NW) gets explicit in neon: "Send Nudes."
Back to Top
Seven female leaders of family-run restaurants who have shaped the way Washington eats.
These Comebacks!
Bethesda: What was once an easy-to-knock dining scene—heavy on wealthy consumers and restaurant density, low on innovation and excitement—is suddenly . . . cool? Last year, José Andrés flipped his longtime Woodmont Triangle location of Jaleo into a branch of his buzzy New York spot, Spanish Diner (7271 Woodmont Ave.), and chic hummus cafe Little Sesame (7118 Bethesda Ln.) is setting up shop in Bethesda Row. Offshoots of DC restaurants the Salt Line and All-Purpose are on the way.
Ann Cashion and Johnny Fulchino: The longtime business partners—she's got an arsenal of stellar Mid-Atlantic/Southern recipes, he keeps spirits high in the dining room—were the folks behind the late Cashion's Eat Place and Johnny's Half Shell. (The latter was one of the pandemic's most heartbreaking closures.) Now they're back with a tasty taco-and-margarita spot in the Adams Morgan space that housed those previous places. Aptly, it's called Los Compañeros (1819 Columbia Rd., NW), which translates to "the partnership." Our early favorites: pork tamales and shrimp quesadillas.
Happy hour: DC's favorite pastime—besides brunch (don't @ us)—crept back to life this summer, and a few $5 rum-and-Cokes in the sun offered a glimmer of normalcy. Things feel different this winter, but a round of, say, discounted wine and croquettes on the patio at Jackie (79 Potomac Ave., SE) or $7 glasses of Cava at a fire-pit table at riverside Barca (2 Pioneer Way, Alexandria) are still a balm.
Green Almond Pantry: Cagla Onal Urel's studio-apartment-size Mediterranean/Turkish market/cafe in Shaw was a treasure—until a kitchen fire shut it down in late 2020. In May, the James Beard–nominated chef's fabulous focaccia, dips, and salads returned to a new Georgetown space (3210 Grace St., NW) with a bigger menu.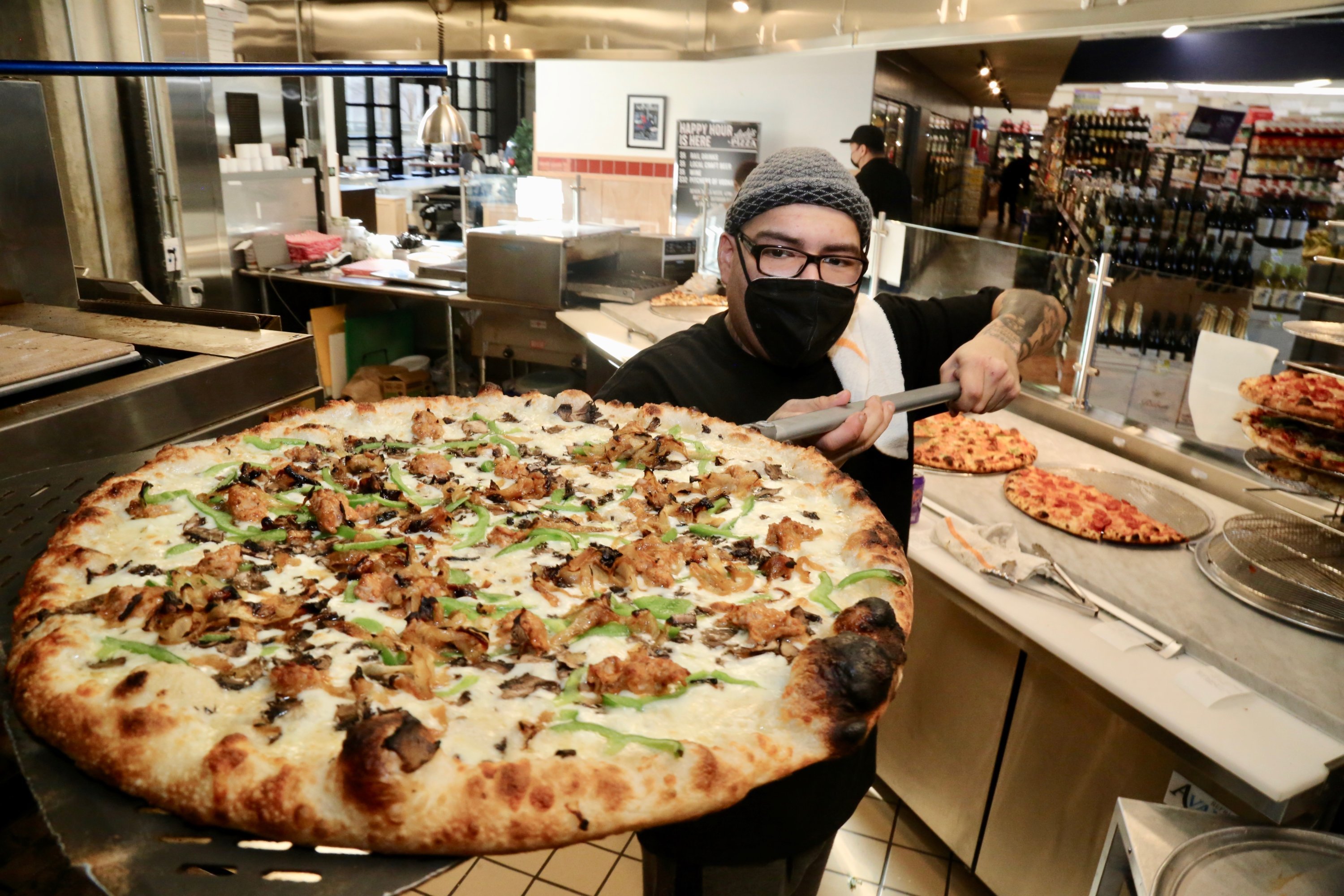 New York Pizza You Can't Argue With
Dominant pizza styles tend to come in waves in Washington (see: Neapolitan, Detroit). And while we're not a floppy-slice mecca—yet—some worthy New York pies are elbowing their way forward. Delivery/pickup–only Della Barba (1369 New York Ave., NE) offers thin-crust pies topped with whole-milk mozzarella and red sauce, finished with a little pecorino and garlicky olive oil. In Sterling, small, mostly carryout Rai's Pizza (21430 Cedar Dr.) slings giant slices and pies loaded with everything from cheeseburger and bacon to spicy sausage, jalapeño, and sriracha. If there's a better white pizza in town than the one at Andy's Pizza (Shaw, NoMa, Navy Yard, Alexandria, McLean), we haven't found it. And of course, Wiseguy (multiple DC and Virginia locations) and Arlington's Italian Store (3123 Lee Hwy.; 5837 Washington Blvd.) have been churning out winning slices for years.
Home Goods From a Luxe DC Restaurant
Eric Ziebold and Celia Laurent—owners of Kinship and Métier (1015 Seventh St., NW) in Shaw—have always been exacting when it comes to details. Ziebold has been known to commission ceramic bowls for specific dishes at the French/American dining rooms, and even the soaps in the bathroom at tasting salon Métier are memorable. So a pandemic-born line of home and kitchen goods, the Kinship Collection, wasn't such a stretch. The lineup, including bone-white dinnerware, gray linen aprons, and floral candles—go for the Spring Awakening scent—feels much like the restaurants themselves: sophisticated, restrained, and chic.
A 21st-Century Bodega (With Killer Sandwiches)
Nicole Jones has long been known for the buttermilk biscuits she makes at Stomping Ground in Del Ray. Now she's given herself some lunchtime competition in nearby Old Town. In June, she opened Mae's Market (277 S. Washington St., Alexandria), a bodega/gourmet shop that sells both Kraft mac and cheese and high-end charcuterie, along with coffee drinks and take-home meals. The best part: the deli in the back featuring an eclectic lineup of sandwiches on housemade breads and croissants. Grab an Italian grinder—a crackly baguette stuffed with soppressata, capicola, and hot peppers—or a roast-beef riff on a bánh mì. And this spring, look for Virginia's Darling, Jones's wine bar in the adjoining space.
Natural Wines From Virginia
Middleburg's Chrysalis Vineyards is best known for wines produced from the country's oldest native grape, the Norton, which was first cultivated in Virginia. Now winemakers Jennifer McCloud and Jake Blodinger have a side label, Fluture, that puts out four natural wines, including a skin-contact Viognier ("the butterfly") and, our favorite, a rosé piquette ("the gecko"). The latter is juicy, insanely drinkable, and relatively low-alcohol, at 7 percent (most wines hover around 11 or 12). In other words, a day-drinker's dream. Available at Wagshals (4855 Massachusetts Ave., NW) and select DC and Virginia Whole Foods stores.
The Return of Political Restaurant Sightings
The news has been grim, so allow us the tiny, candy-­like pleasure of the presidential restaurant sighting. Dems—especially the Clintons and Obamas—naturally hit the town in blue-friendly DC far more than Republican leaders have. No, Biden ain't much of a foodie. (He likes pasta with . . . wait for it . . . red sauce.) But after four years of nothing but the Trump hotel, it's been fun to see him pop up with Jill at Fiola Mare in Georgetown or throw a dinner at Imperfecto in downtown DC. VP Kamala Harris, however, is into food and wine—and she and Second Gentleman Doug Emhoff have been more interesting to track. They've hit the Dabney in Shaw for a birthday dinner and grabbed takeout from Floriana in Dupont. Meanwhile, the internet exploded when Emhoff joined another half of a power couple—Chasten Buttigieg—for refreshments at Wine and Butter on Capitol Hill.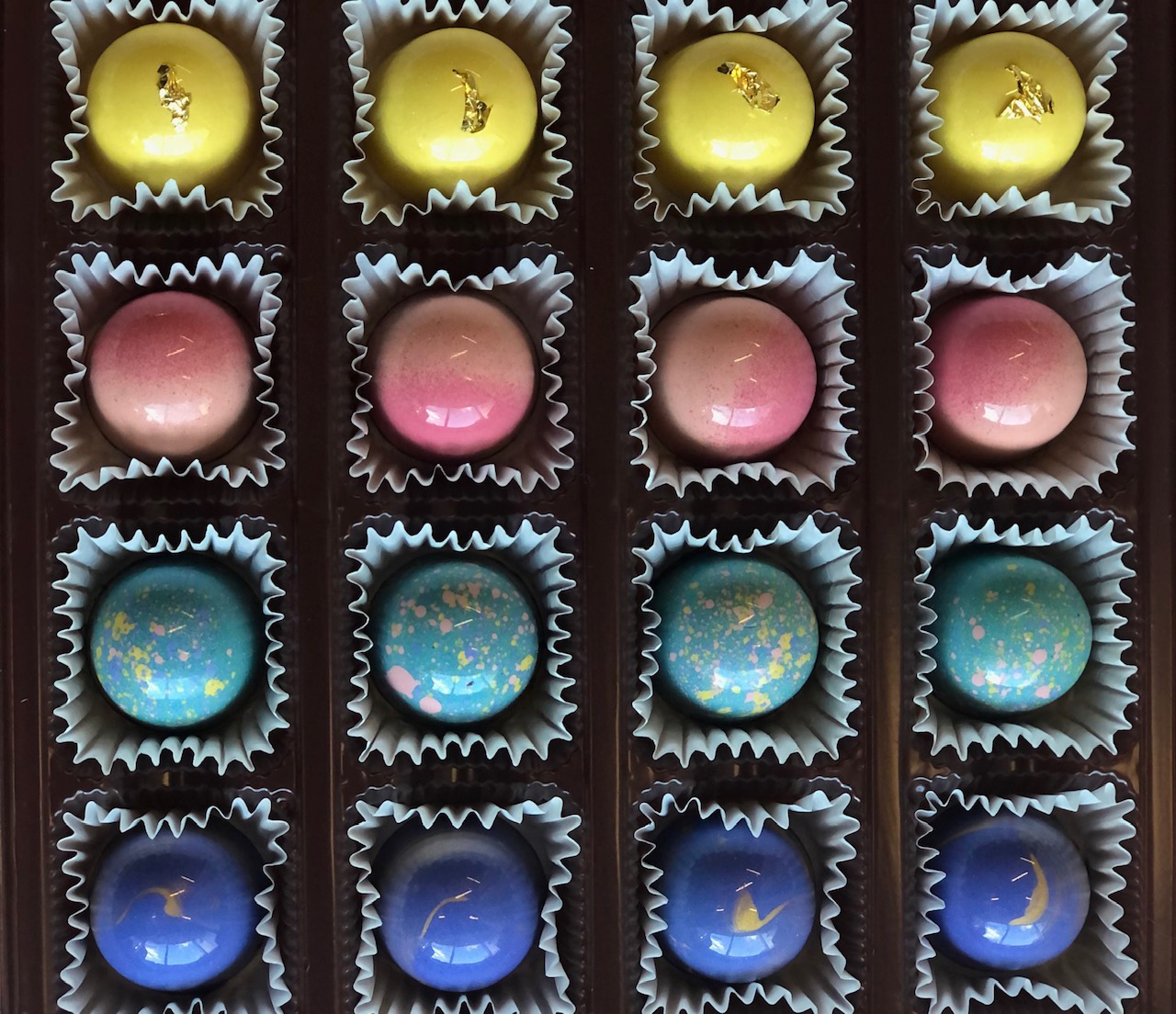 A Dreamy Georgetown Sweets Shop
Ashleigh Pearson isn't afraid of a challenge. The 32-year-old once walked into Foggy Bottom fine-dining restaurant Marcel's—with no formal training—for a kitchen job: "I just got an A in organic chemistry, so I'm pretty sure I can make anything if you give me a recipe," she recalls saying. She then took on the role of head chocolatier, without much experience making chocolates, at three-Michelin-­star Per Se in New York. Now Pearson has opened a place of her own—Petite Soeur (1332 Wisconsin Ave., NW). There, her French pastry skills meet a bold, modern aesthetic in colorful hand-painted chocolates and gold-flecked bars. The best part: You can give a box as a gift ($50) or treat yourself to a single, exquisite bonbon ($3.25).
A Burger Pop-Up That's Here to Stay
A lot can happen in a year. Last February, Markos Panas, Noelie Rickey, and Doug Abedje—the folks behind two Bread and Water Company bakeries, which make some of the area's top loaves and sandwiches—unveiled Bun Papa, an on-the-fly nighttime burger pop-up inside their Alexandria flagship (1512 Belle View Blvd.). The terrific double patties on housemade brioche buns, plus fried-chicken sandwiches and Chicago dogs, went about as viral as Bernie Sanders's mittens. A kiosk in Capital One Arena opened in October, and this spring the burgers will be available at Beeliner Diner (3648 King St., Alexandria), the trio's first sit-down restaurant and virtual food hall.
Instagram-Bait Patios
Picturesque patios are the new designer dining rooms. Residents Cafe & Bar in Dupont (1306 18th St., NW) transforms with the seasons—a canopy of pine branches in winter, cherry blossoms in spring—while Lulu's Winegarden in Shaw (1940 11th St., NW) channels Southwestern vibes with desert hues, hanging plants, and wood-burning chimineas in chilly weather. Meanwhile, Lena's Wood-Fired Pizza & Tap in Alexandria (401 E. Braddock Rd.) more overtly attracts Instagrammers with an illuminated "Ciao Bella" selfie backdrop in its spacious "oasis."
Mind-Changing Nonalcoholic Cocktails
While zero-proof cocktails have become increasingly available over the past few years, it's still tough to find something that's not a glorified lemonade. Leave it to drinks destination Columbia Room (124 Blagden Alley, NW)—now transformed into pop-up Disco Mary (editor's note: both Columbia Room and Disco Mary closed after our issue went to press)—to make spirit-free beverages a worthy main attraction. "Immaculate concoctions" employ adaptogenic mushrooms, superfruits, and a new generation of nonalcoholic artisanal spirits for something buzz-worthy without the buzz. And if you really want to add booze, you can do that, too.
Back to Top
They're influential, inspiring, and make Washington a better place to eat.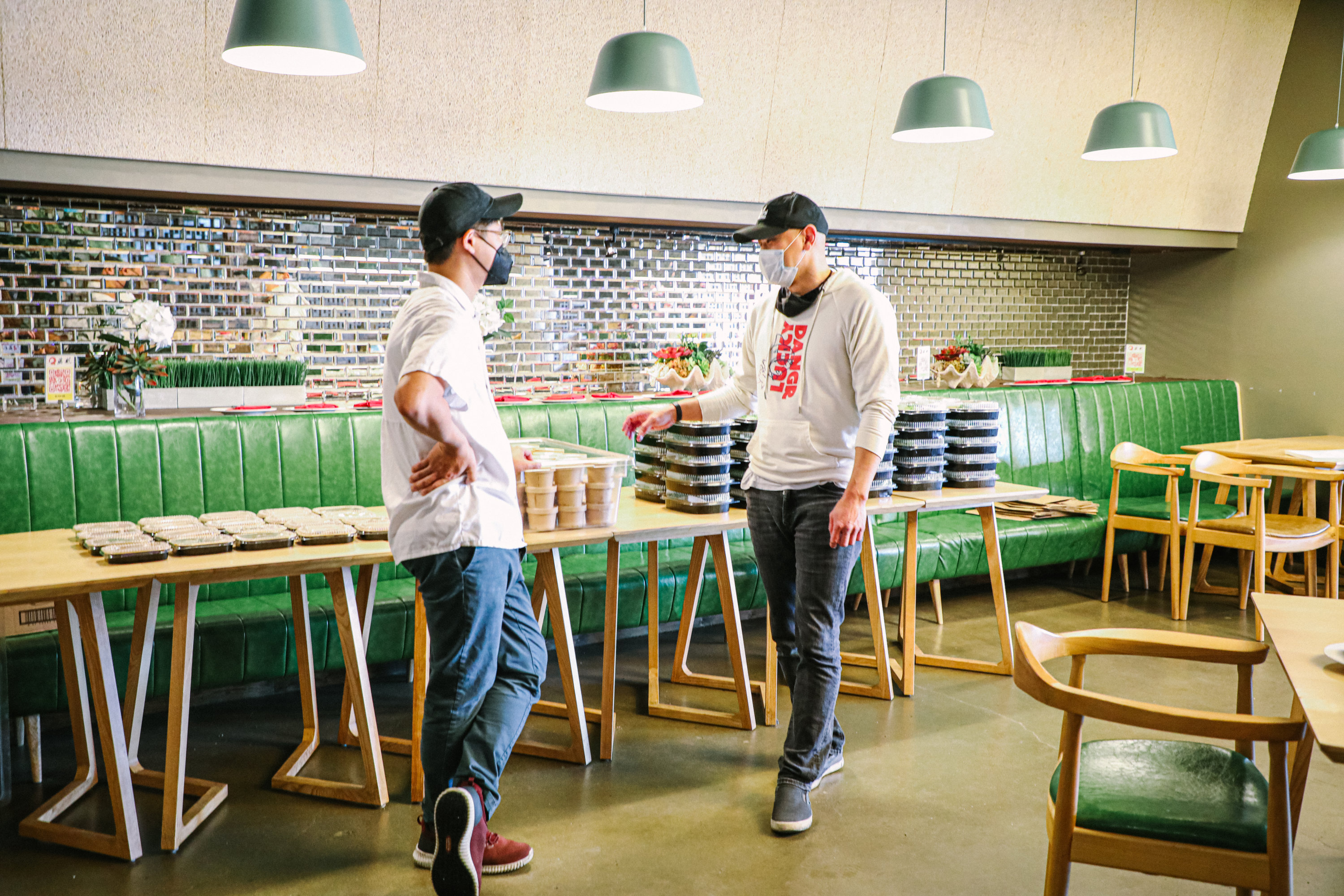 Back to Top
Chefs are getting creative with loaves and spreads.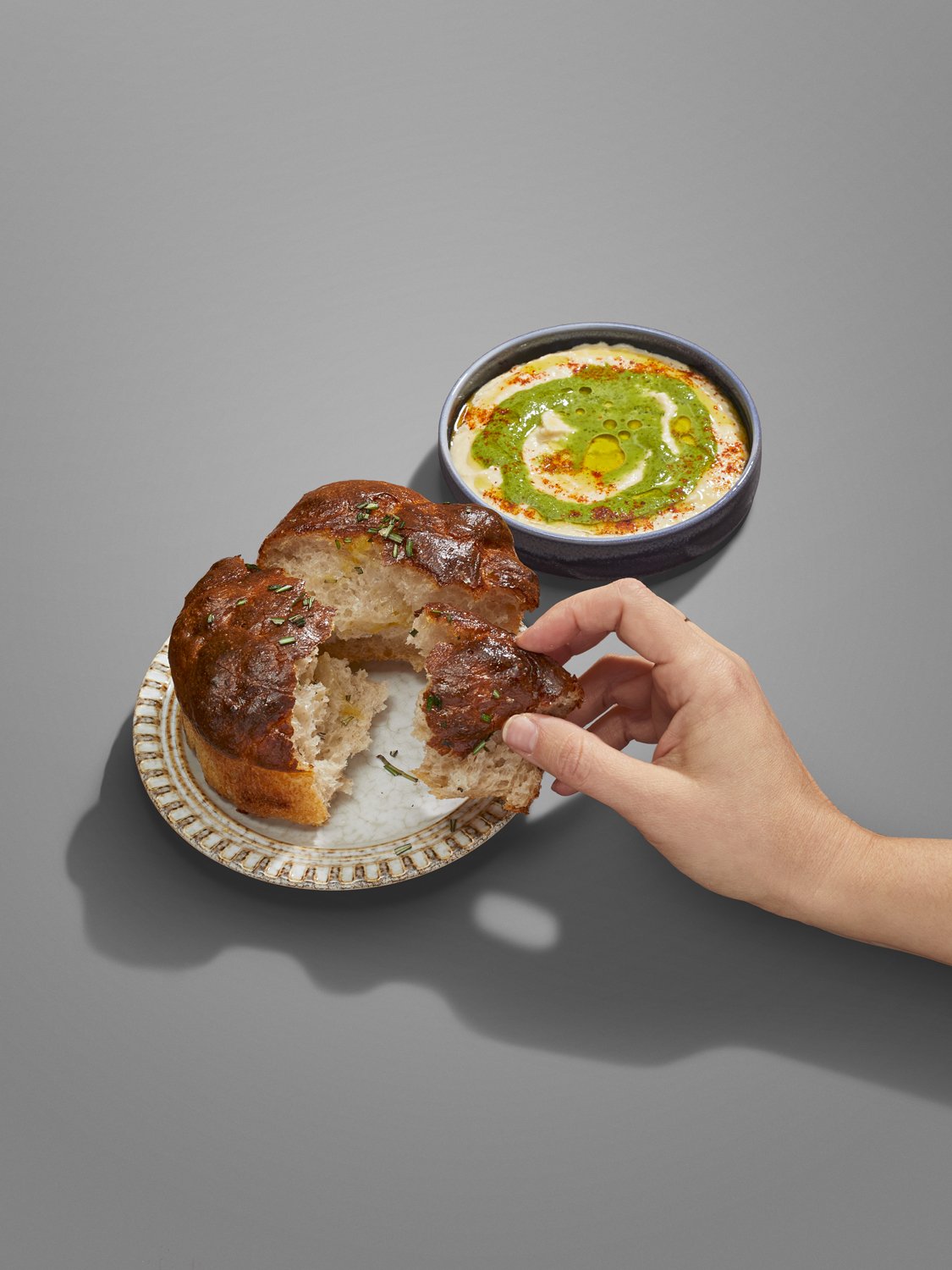 Back to Top
Where to find swank Sazeracs, crisp martinis, and more.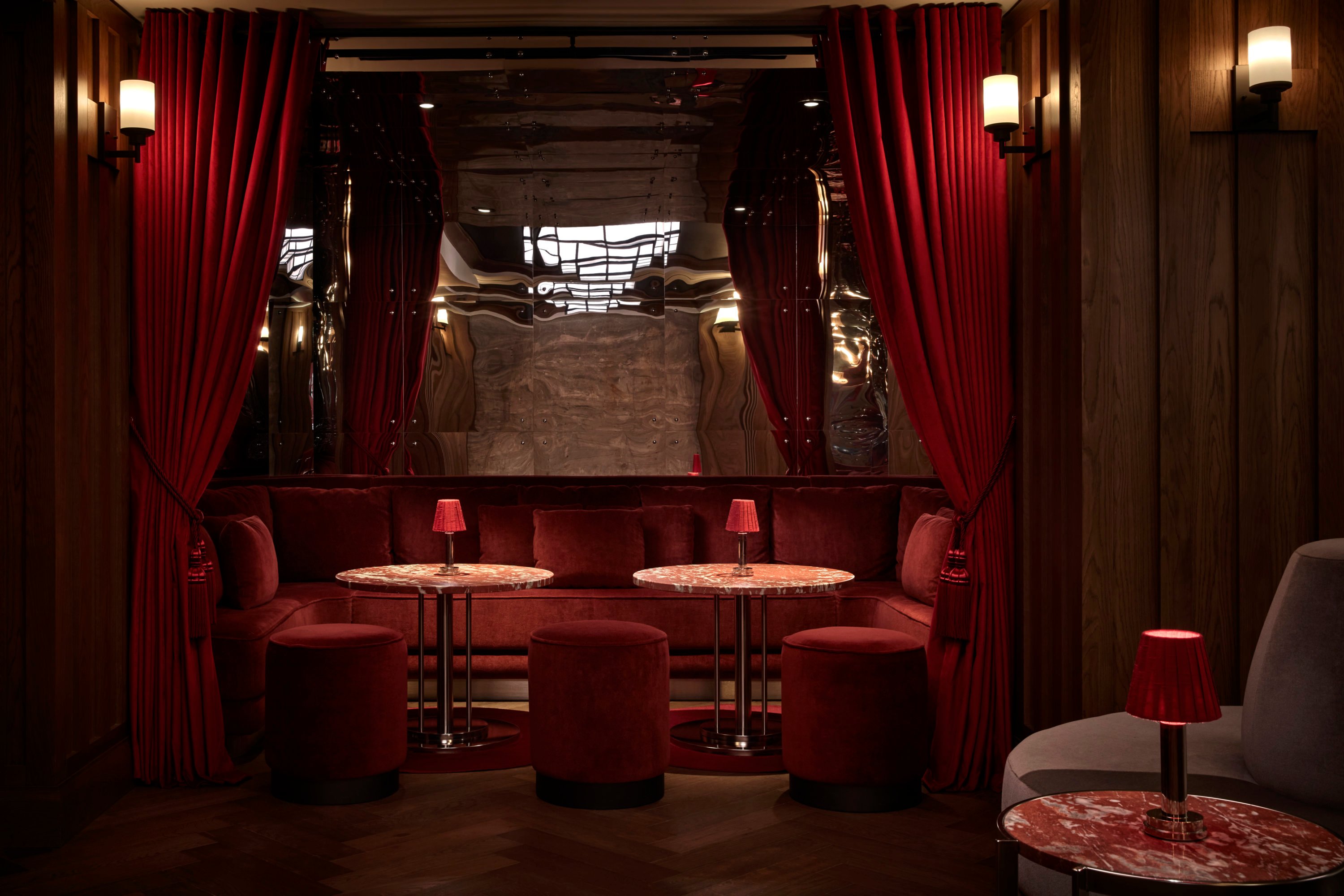 Back to Top
How to make chef Opie Crooks's terrific condiment at home.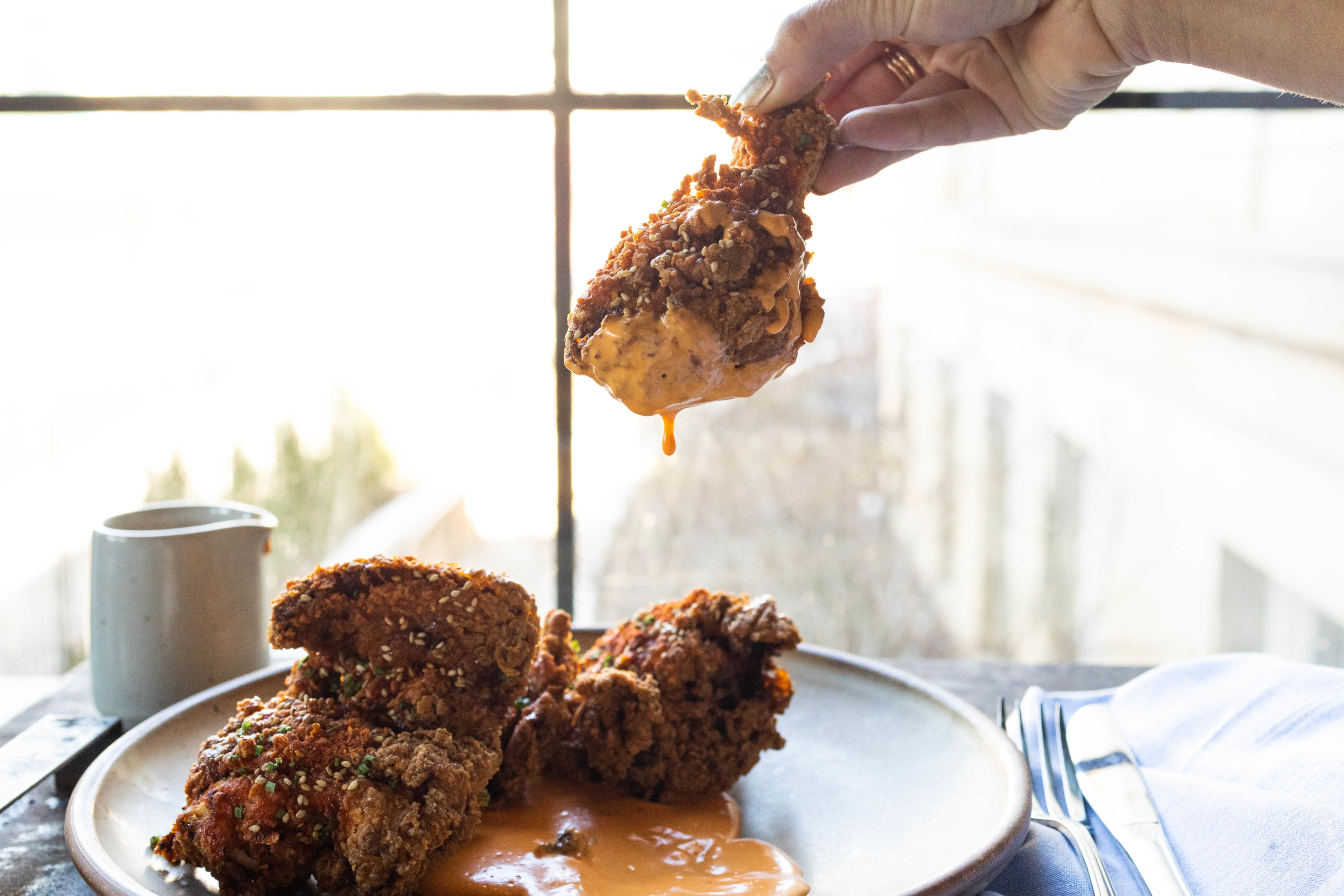 Back to Top
You'll find Julia Turshen—and Julia Child—on Clementine Thomas's personal shelf.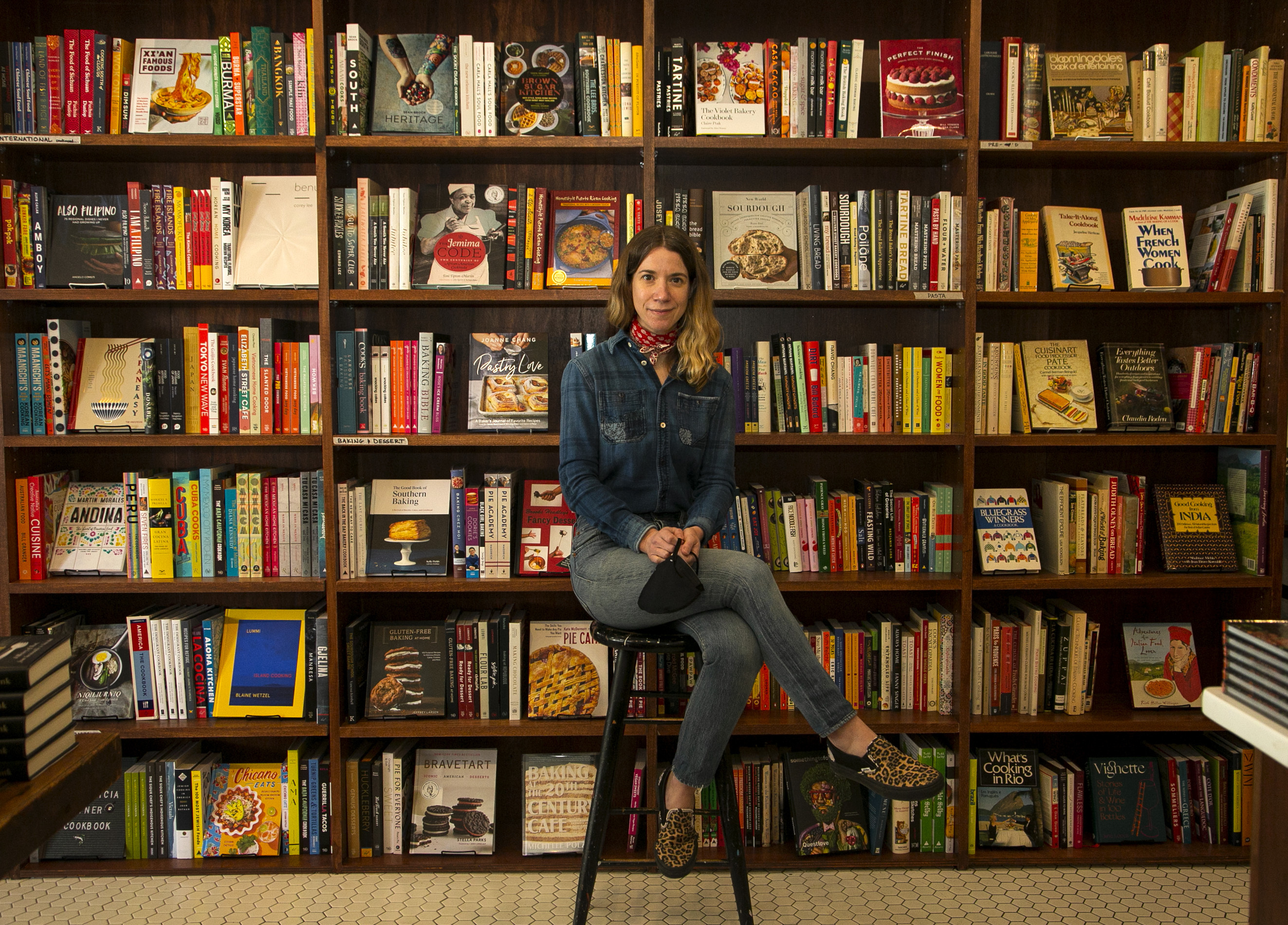 Back to Top
Celebrate with omakase—or a multi-course feast—at home.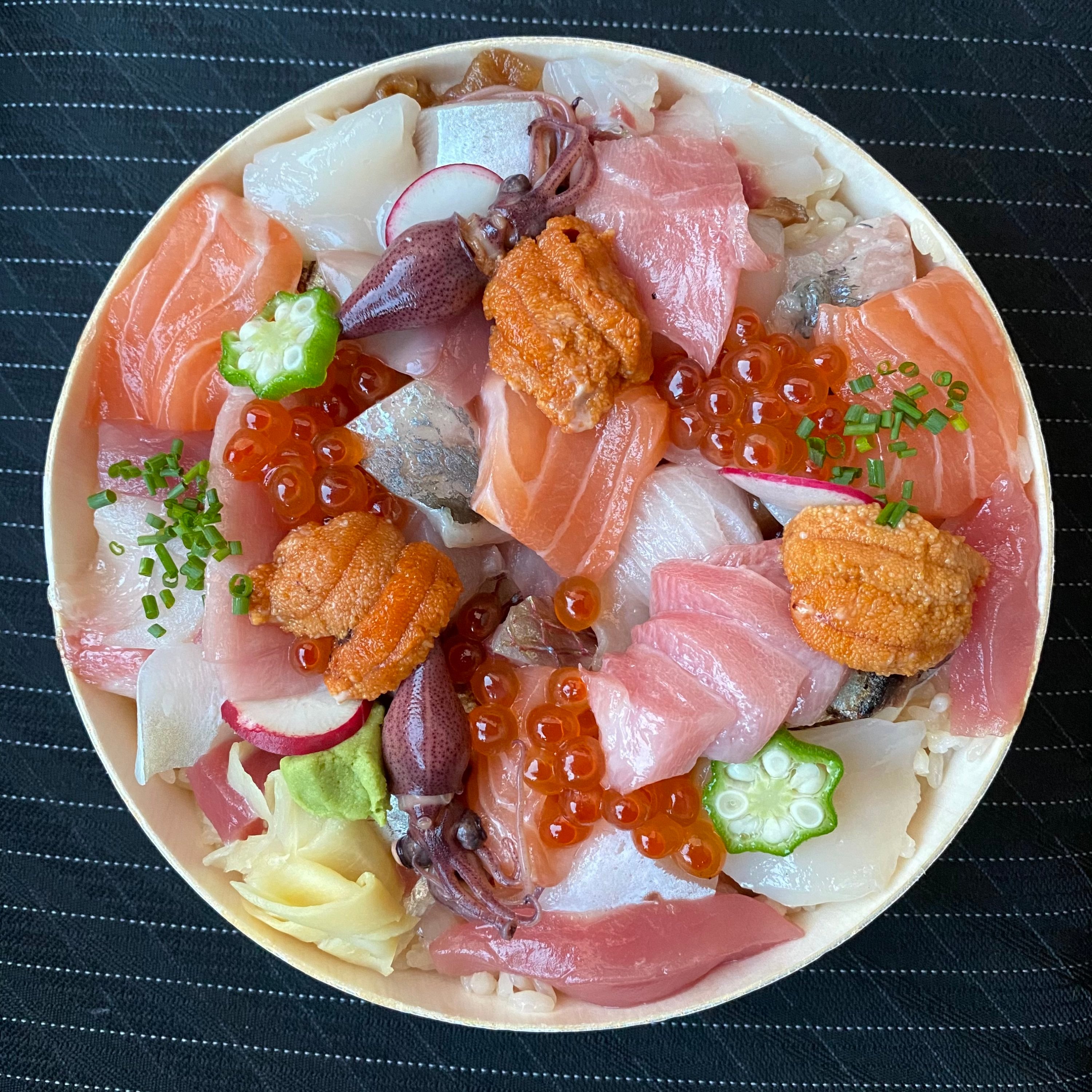 This article appears in the February 2022 issue of Washingtonian.