It's midafternoon on a Thursday when I arrive at Crabtowne USA, a downmarket, '70s-era crab house on the side of a six-lane highway behind BWI. At 3:30, people are already bibbed out and hammering at crab shells with wooden mallets, a soft percussive clatter beneath the Goo Goo Dolls song that ricochets off the walls.
Crabtowne isn't a destination—you won't find it in a Beltway crab roundup, Guy Fieri doesn't drop by—so everyone here is local. There's an older white couple in corporate fleeces, a couple of Black guys watching the Nats, a woman with missing teeth, a woman in cat-eye glasses and a Dolly Parton shirt, and her child, who runs over requesting more quarters for the pinball arcade out back.
It's a diverse crowd, but what they share—literally down to the person—is a fanatical love of Old Bay. I know because I asked them. I circled the dining room, which is lined with glossy photos of Atlantic blue crabs, to inquire about the beloved regional spice. A representative response came from a guy presiding over a pile of 24 desiccated crab carcasses. "I feel like I was born with Old Bay in my veins," he said. "Like, I came out cracking crabs."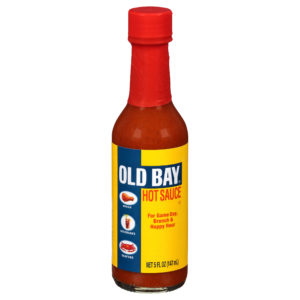 Marylanders have loved Old Bay for generations, but lately things have escalated. In the past few years, everyone in the blast radius of the Chesapeake has been bombarded with Old Bay content: Old Bay hot sauce, Old Bay beer, Old Bay bikinis and socks and Christmas sweaters, the Old Bay mascot dancing on TikTok—the list goes on.
So how did Old Bay migrate from the back of the pantry to the top of everyone's feed? Well, the seasoning began to appear in other products—in vodka or on Goldfish crackers—and it melted Maryland's mind. This cross-promotional blitz has solved a nettlesome marketing problem: While beloved, Old Bay hasn't always been easy to sell. It's hyperlocal and a bit esoteric—its regional quirks don't translate to national mass-media campaigns.
Old Bay Goldfish had more than a billion impressions within 48 hours of its launch—equivalent to one-eighth of the human population scrolling by.  
Old Bay sells best by word of mouth, and lately everyone is talking about it. The story of the Old Bay brand renaissance is one part ingenious viral marketing and many parts people like Kyle, the youngish white guy sitting next to me at the Crabtowne bar. He's wearing an O's cap and drinking a pitcher of beer by himself, and when I ask if he loves Old Bay, he gives me the side-eye. Slowly, in the tone of a man who's been body-snatched, he replies, "Well, we all love Old Bay."
"I mean, honestly," he adds, "it feels so stupid saying it because I have no stake in Old Bay, so why am I advertising this seasoning to you? But it's delicious. It's such an intrinsic part of being a Marylander, it's like it's always been in my brain."
Kyle has sold it well, so when my server wanders by, I ask which menu items have Old Bay. The cream-of-crab soup? The Chesapeake wings? She looks a little sheepish. "Those things have crab spice," she replies. My friends, I've made a rookie mistake: Crabtowne uses J.O.
---
J.O. is the rival seasoning, a seafood blend that has many of the same ingredients but apparently sticks better to crabs. It was invented around the same time as Old Bay, and it's also Baltimore-based. So why have some Marylanders never heard of J.O., while Old Bay has spawned a cult?
An obvious answer is that J.O. markets to restaurants, while Old Bay courts home consumers. But that fails to acknowledge the absurd power of the Old Bay brand. Marylanders love Old Bay for its sweet and salty heat, the can's handsome midcentury design, and its vibe of summertime pleasure, of crab feasts and trips to the shore. Its origin story is also the stuff of legend: In 1938, a German Jewish man fled the Nazis, boarding a steamship with his spice grinder in tow. Soon after landing in Baltimore, he created a regional jewel.
What's in Old Bay is a little mysterious—its parent company, McCormick, is coy about the recipe, stating that it's a "proprietary blend of 18 herbs and spices." Today's can lists only celery salt, red pepper, black pepper, and paprika, but a pre-McCormick can at the Baltimore Museum of Industry also lists mustard seed, pimento, cloves, bay leaves, mace, cardamom, ginger, and cinnamon.
That's only 12 of the 18 herbs and spices, but the recipe is beside the point. "Whenever you have a signature seasoning, people will try to reverse-engineer it," explains Jill Pratt, chief marketing officer at McCormick. "But even if they got close, what they're missing is the brand impact—it comes from the flavor, but it goes beyond the flavor. It's the feeling and the connection that people have with the brand."
In the Mid-­Atlantic, we have Old Bay weddings and Halloween costumes. People knit Old Bay afghans and fly Old Bay flags. There's a guy in Annapolis whose front door is painted like the Old Bay can. And then there are the tattoos. "I mean, the number of images that we have in our repository of different Old Bay tattoos is shocking," Pratt says.
Aesthetically, these tattoos are all about the can, a Campbell's-soup-meets-Mondrian design that dates to the 1950s. "It's the can that's iconic to people," Pratt says—although from time to time, a new hire at McCormick will look at it and say, "You know what we should do? That looks dated, and we should redesign it." Whenever that happens, Pratt jokes, "that person immediately does not get to work on Old Bay anymore. They get moved to a different brand."
The can is synonymous with Old Bay, the engine of its nostalgic charm. Its design evokes Maryland's salad days: abundant fisheries, sky-high industrial production, a thriving middle class. And for some, the design is an heirloom—the same style of can they grew up with, the one their parents and grandparents had. Even more than the recipe, the can embodies Old Bay's history, which is central to the seasoning's appeal.
---
Given Old Bay's historical bent, you'd think McCormick would get its dates right. But the can says the seasoning launched in 1939, while the son of Old Bay's creator claims it was created in 1941.
In the collection of the Jewish Museum of Maryland are a 1980 oral-history interview with Old Bay's creator, Gustav Brunn, plus the memoirs of Brunn's son, Ralph. According to them, Gustav Brunn started his career in Germany by selling animal hides, then moved to sausage casings, then to wholesale spices. Eventually, he created a line of seasoning blends for sausage makers, which became the centerpiece of his firm.
But in the 1930s, Hitler's ascent upended the Brunns' lives: During Kristallnacht, Nazis terrorized their Frankfurt neighborhood, and the very next day, police arrested Brunn and took him to Buchenwald. According to Ralph, the family knew of a lawyer who could extract a prisoner from the camps for an extravagant fee. They paid, and after 16 days, Brunn returned home. The terrified family packed their belongings—including Brunn's spice grinder—and set sail for the United States.
In late 1938, they landed in Baltimore, and after a few months of searching for work, Brunn got a job developing sausage seasonings for McCormick. He was fired after two or three days—Brunn says for his poor English, while Ralph insists the firing was anti-Semitic. Finally, in September 1939, Brunn struck out on his own. In a small room by the Inner Harbor, he set up the Baltimore Spice Company, initially selling pickling spices, sausage blends, and wholesale spices. Among his clients were seafood merchants who made their own seasoning blends for crabs.
"It's not that African Americans necessarily invented it," Michael W. Twitty says of Old Bay. "But without us, the story is impossible."
The flavor of these crab blends dates back to Colonial America, when a popular all-purpose seasoning was kitchen pepper—a blend that commonly included nutmeg, cloves, cinnamon, cardamom, allspice, ginger, black pepper, and mace. Culinary historian Michael W. Twitty says enslaved West Africans were probably the first to start putting kitchen pepper on shellfish. In his travels on the western coast of Africa, Twitty saw that "there's always a peppery, salty kind of thing that you eat crustaceans with. It's always with a hot condiment—it's never just plain."
Twitty believes that generations of cooking shellfish with kitchen pepper evolved into the crab-spice blends common in the Chesapeake when Gustav Brunn came on the scene. "It's not that African Americans necessarily invented it," he says of Old Bay. "But without us, the story is impossible."
---
Initially, Gustav Brunn's creation was not a commercial success; everyone in the Baltimore crab scene already had a seasoning recipe they thought was the best in town, so nobody bought Old Bay. (It was then called the "Delicious Brand Shrimp and Crab Seasoning," a mouthful of a name that Brunn later changed in homage to a Chesapeake steamship.) Eventually, Brunn unloaded a few pounds of Old Bay on a seafood wholesaler around the corner. From there, word spread.
Eighty years later, Old Bay's marketing hasn't fundamentally changed. "We don't spend much money on advertising," Pratt says. "Old Bay is really a word-of-mouth brand." She clarifies that this is strategic—McCormick is "not being lazy." The media loves to cover Old Bay, and fans love to post about it. "So that's how Old Bay grows naturally," she says, "because people love to talk about the brand."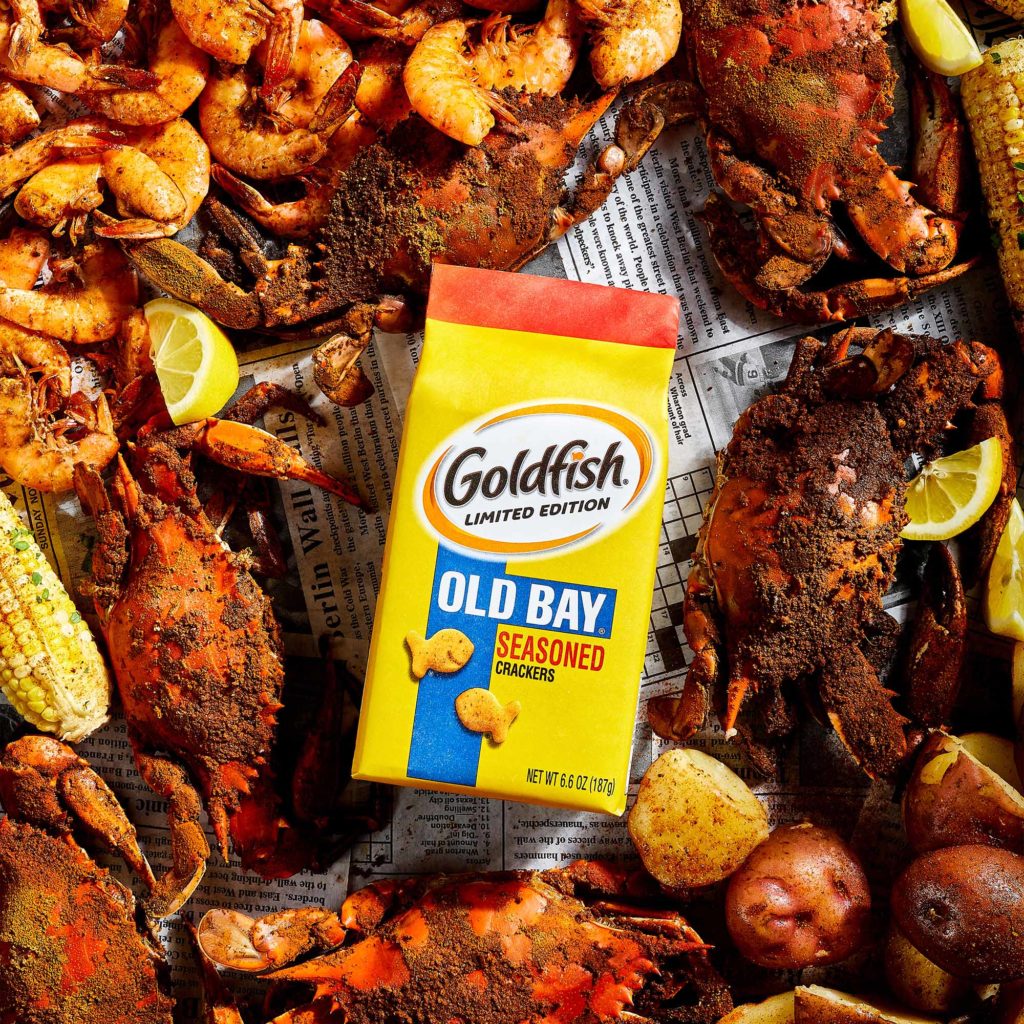 Even offline, this seems true: At Crabtowne, everyone is chattering about the Goldfish, which debuted just three days before. Kyle heard about them from his dad, and Derrick heard from a coworker, a waterman on the Eastern Shore. A group of nurses scrolled past the Goldfish online. "Everything they put Old Bay on, you have to try it," one of them says.
Old Bay Goldfish weren't even McCormick's idea—according to Pratt, it came from their social channels: "People were saying, 'If I was an executive at Pepperidge Farm, I would take Old Bay and put it all over Goldfish and I'd earn billions of dollars.' " The drumbeat in the comments grew, and then came a Change.org petition, so McCormick made the astute business decision to cave.
"You have to find a way to delight people every once in a while, and you can do that with unexpected partnerships," Pratt explains. "It expands the reach of the brand to new folks, and it also actually makes the superfans even more superfans—it gives them another way to share what they love."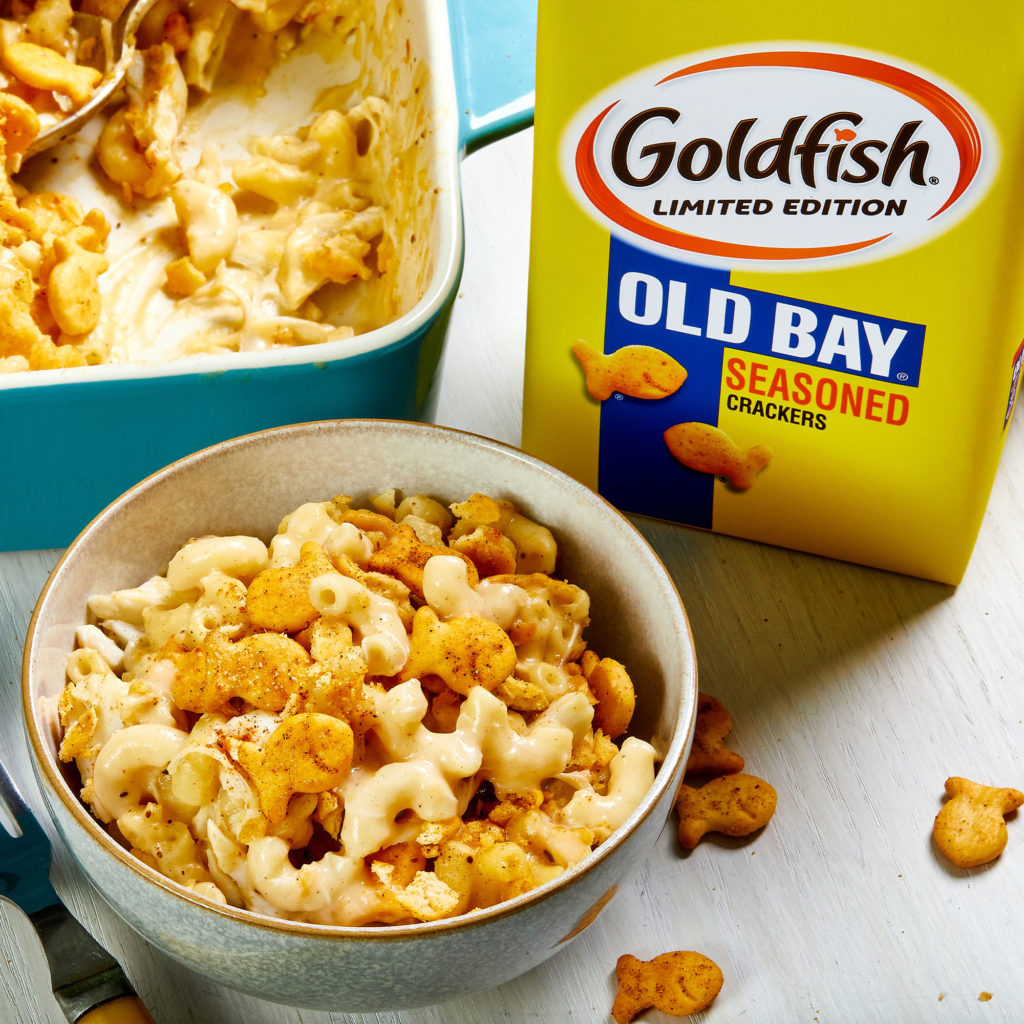 By "share what they love," she means posting incessantly about Old Bay online, which people are definitely doing. Old Bay Goldfish had more than a billion social- and traditional-media impressions within 48 hours of its launch, Pratt says—roughly equivalent to one-eighth of the human population scrolling by. "Even if the Old Bay social account stopped right now," says David Wassell, chief creative officer at the Baltimore ad agency MGH, "you would still have a shitload of Old Bay content out there, just because people love the brand."
Strategically, this is a godsend for Old Bay, which is an unusually tricky brand to market. "You go into any home in the greater Baltimore area and there's got to be an Old Bay can in a cupboard somewhere," is how Wassell describes the brand's Achilles' heel. These people aren't buying Old Bay, because they already have it—and if they're using it only, say, for steaming their own crabs, then they're probably not using much at all.
Ten years ago, in the predawn of the Old Bay brand renaissance, "there was actually a big debate as far as what is the right way to grow Old Bay," Pratt recalls. "Was it to have people in the region that already loved it buy more? Or was it better to aggressively push to other regions?"
They began with Baltimore, tapping MGH to spearhead the 2012 "Summer of Baytriotism" campaign. MGH ran a contest in the Baltimore Sun, looking for the "voice of Baltimore." Baltimoreans submitted clips of their accents, and the winner was Marianne Handlir, a stay-at-home mom from Highlandtown who spoke quintessential "Bawlmerese." As her prize, she voiced a series of Old Bay radio spots highlighting the city's quirky linguistic terroir: "Like you, Old Bay is proud to call Bawlmer home," Handlir said with her peppy, awkward vowels.
These ads for the Baltimore market—quirky, hyperlocal, surprising, fun—felt true to the brand, but they were hardly expanding its reach. So in 2016, McCormick pitched Old Bay to farther-flung markets. To be intelligible in Raleigh or Virginia Beach, madcap "Bawlmerese" became the staid "Excite Your Seafood." At the campaign's center was a fleet of food trucks that traversed the Eastern Seaboard, passing out samples and swag and educating new consumers on the merits of Mid-Atlantic crab spice.
"Excite Your Seafood" did expand Old Bay's audience, but it struck Pratt that, "as you start to water down the message to make it feel appropriate in Atlanta, the brand starts to lose some of its specialness." The temptation with a beloved brand like Old Bay, she says, is "How can we scale it as fast as possible? Like, let's advertise the hell out of it and make it as big as we can this year." But that's a precarious path.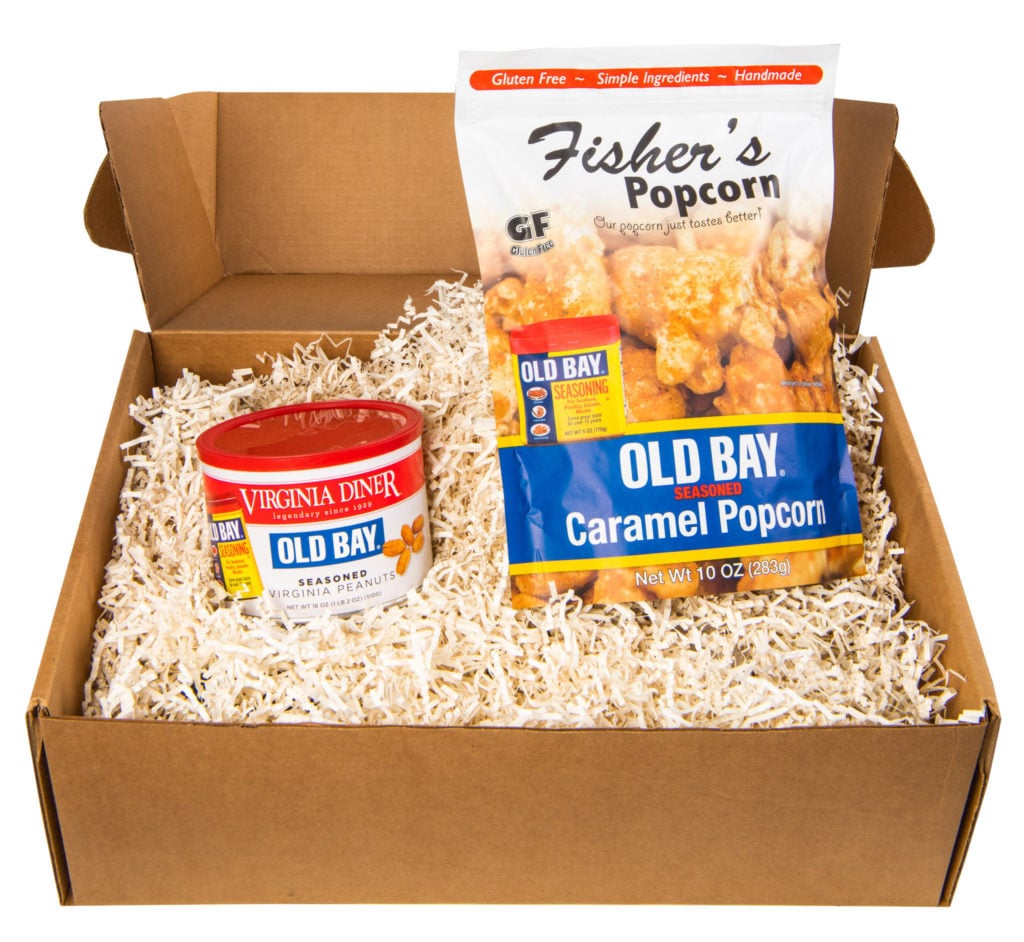 Kyle from Crabtowne puts it best: "When something is specifically regional, people key in to that. It's a secret weirdo thing that only they know about, because it's only from there." The most passionate Old Bay fans feel like they know a secret, and you don't learn secrets from billboards on I-95.
Amid this marketing morass, McCormick bumped into an unconventional idea: An employee at Flying Dog Brewery pitched an Old Bay beer. To Pratt, this "just made sense." Flying Dog was an ideal collaborator—a cool, young Maryland brand—and the mix of Old Bay and beer was kismet: All that's missing is crabs. Flying Dog named the ale Dead Rise for the type of crabbing boat that most Chesapeake watermen use.
Dead Rise rolled out in 2014, as part of Old Bay's 75th-anniversary celebration, and it stole the show. The beer was a "viral sensation that made it difficult to keep store shelves stocked," recalls Ben Savage, chief marketing officer at Flying Dog. That's when it clicked for McCormick: A good brand partnership can have global reach without the overeager corporate vibe of a traditional ad campaign. Partnerships are the ducks of marketing: Underwater, they're furiously propelling the brand, but on the surface, they appear not to be marketing at all.
"I keep Old Bay with the salt and pepper on the table," one woman tells me. "I put it on everything," says almost everyone else.
Dead Rise had an additional salubrious effect: It helped people see Old Bay as more than just a crab spice. Elliot Spaisman, cofounder of DC's Astro Doughnuts & Fried Chicken, remembers the summer that Dead Rise appeared. "People were running around looking for that everywhere," he says, which inspired him to launch a new menu item: a fried-chicken sandwich on an Old Bay–flavored doughnut. When Astro launched it, Spaisman couldn't believe "the lines and the craziness"—it was "cuckoo," he says.
Putting Old Bay in beer made the seasoning seem more versatile—as Pratt puts it, Dead Rise "expanded the flavor potential of the brand." Partnerships could show people that Old Bay goes on everything, rather than simply telling them. And people who put Old Bay on everything buy more cans.
---
Let me describe the moment when I realized the limitlessness of brand partnerships. It's early afternoon at Jimmy's Famous Seafood, a storied crab haunt in industrial Baltimore, and I'm trying not to get drunk. In front of me, I have an Old Bay Vodka Bloody Mary, a Bay Crush, some kind of Old Bay grapefruit drink, and a small glass of Old Bay Vodka, served neat.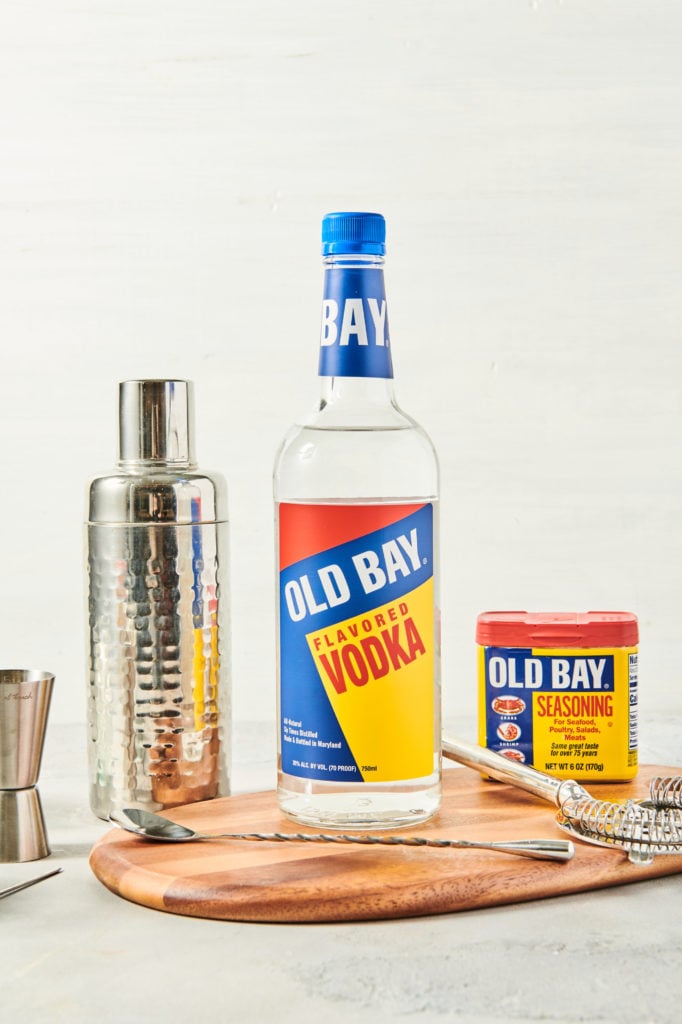 I'm with Greg David and Theda Backis, two of the makers of Old Bay Vodka. Greg is a former wrestler, an absolute brick of a man whose engorged biceps look like snakes swallowing multiple rodents at once. "We wanted to have the quintessential Old Bay tastes," he says of the vodka, "but it had to be subtle, something you could sip at room temperature without being like, ugh."
As he's explaining the vodka, Tony Minadakis, the owner of Jimmy's Famous Seafood, wanders over to our table. He slaps Greg's hand, and they small-talk a minute. Then, out of nowhere, Tony asks, "Hey, you want to take an Old Bay Vodka Sauce to retail?"
Delirious, Greg blubbers, "So hold on, man—vodka sauce? Old Bay Vodka Sauce? Done. I'll call Rob up after this meeting." He clarifies that Rob is the licensing guy at McCormick, then he role-plays their conversation: " 'Rob, we're doing Old Bay Vodka Sauce.' 'Okay, Greg, I love it.' "
Tony summons shots of Old Bay Vodka from the bar, which makes me think that this is an actual deal—they're already discussing putting the vodka sauce on gnocchi. And as the Old Bay Vodka hits my throat (it starts with celery and finishes with pepper, a zesty, botanical feel), I begin to understand what has happened: Old Bay Vodka is made with Old Bay, while Old Bay Vodka Sauce would be made with Old Bay Vodka. It's brand partnerships all the way down.
---
So is the future of Old Bay an infinity mirror of brand partnerships? That's not what McCormick envisions. Its ambitions are nakedly immodest: "Ideally, we would like Old Bay to be the all-purpose seasoning on everybody's table that replaces spices, salt, and pepper," Pratt says.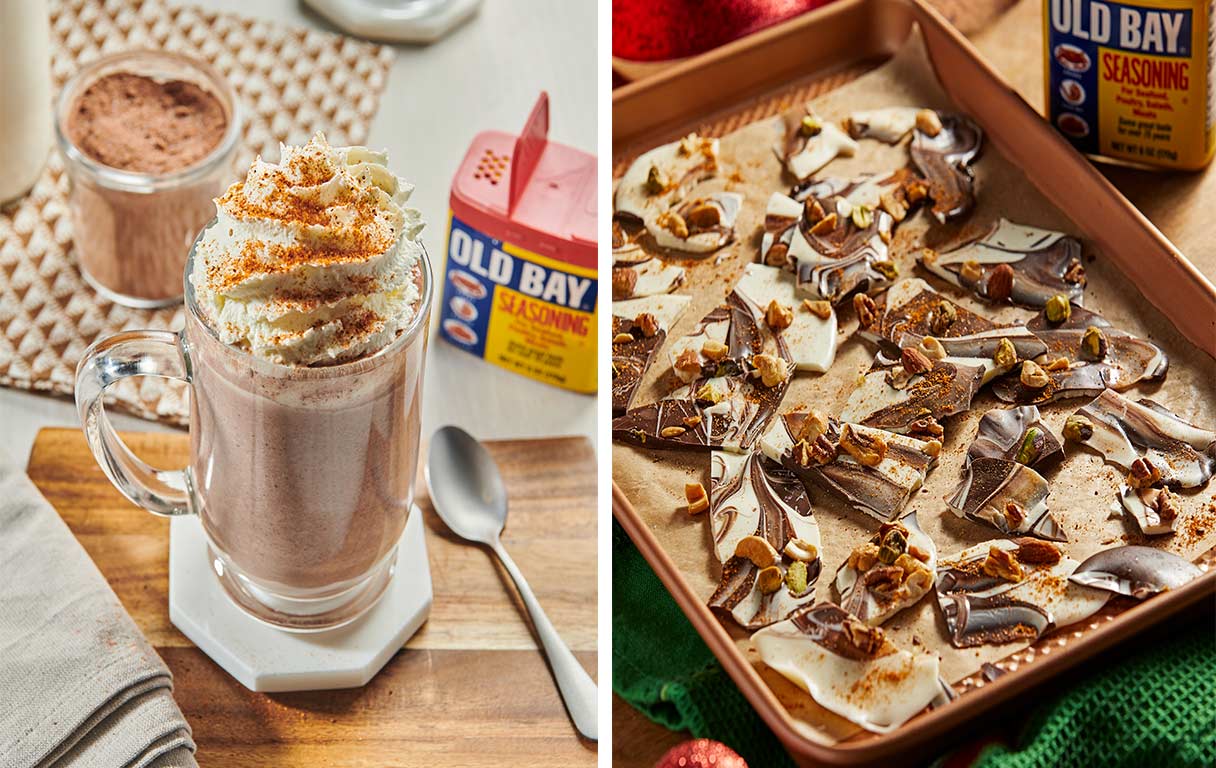 For the patrons of Crabtowne, this seems to have already happened. "I keep Old Bay right with the salt and pepper on the table," one woman tells me. "I put it on everything," says almost everyone else.
To Pratt, it's obvious why. "Who doesn't want great-tasting food?" she says. "And we make it easier to get the flavors you're looking for, because we've already done the work of blending the 18 herbs and spices."
While this may seem like a lowbrow hack, at least one Michelin-starred chef agrees: Eric Ziebold, head chef at DC's Kinship and Métier, considers Old Bay a desert-island food. "I throw it into everything," he says. "It's something that I always have at my house." Asked if Old Bay also appears on his restaurant menus, he replies, "We use it pretty extensively. How much time do you have?"
Ziebold has enlisted Old Bay in some real haute cuisine: a green-tomato gazpacho with a savory Old Bay sorbet, for instance. But his favorite Old Bay dish is a steak rub. He wheeled it out while competing on a special episode of Iron Chef Japan in 2013. "I did what I call the 'Eastern Shore Barbecue,' " he explains. "I took a rib eye, dusted it with Old Bay, and grilled it, then served it with succotash, corn velouté, and smoked-tomato jam. It's based on having a summer grill-out on the Eastern Shore."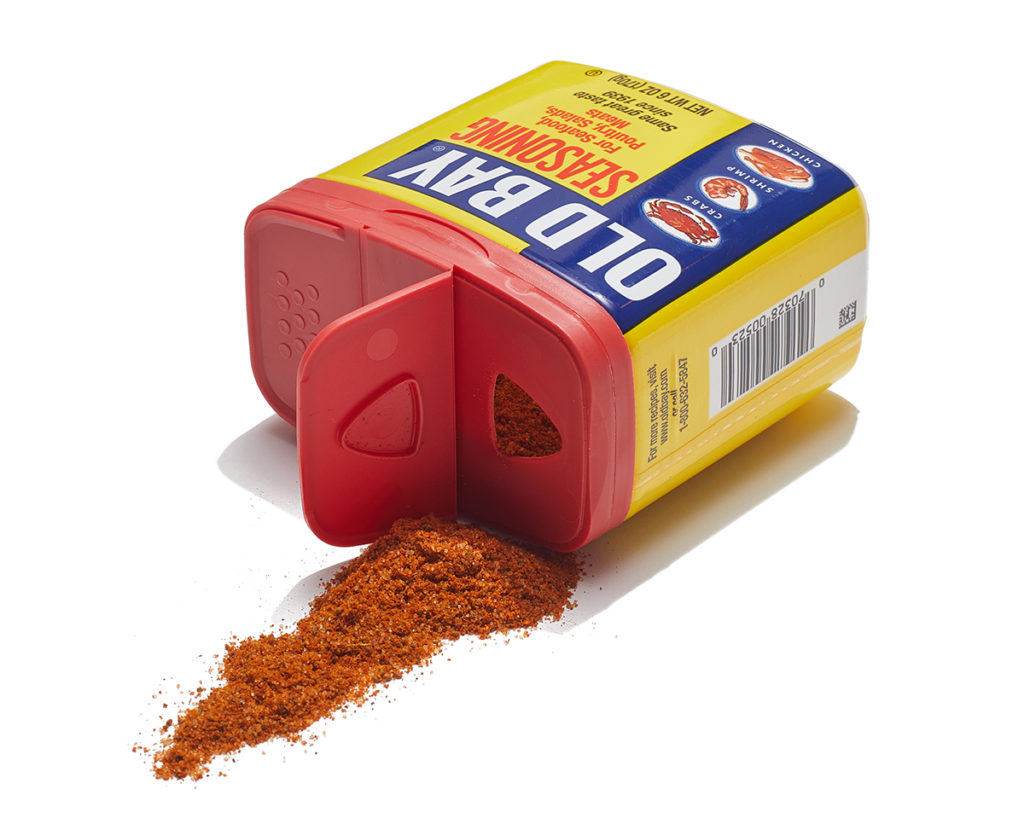 To Ziebold, Old Bay's power comes from both its accessible flavor profile and its emotional appeal. "Old Bay just screams summer, water, Chesapeake Bay," he says. The seasoning has actually become his anchor to the region—though he's lived in DC for many years, he grew up in Iowa. "I think having a sense of place is important. Old Bay makes me feel like I'm a Mid-Atlantic person at heart."
At Jimmy's Famous Seafood, I ask Greg David what Old Bay means to him, and he tells me a story. "I was listening to the radio in Ocean City the other day, and they asked, 'What is the sense that makes you remember something the most?' Well, it's what you smell." For him, Old Bay is Maryland's Proustian madeleine: "It's been generationally in the cupboard forever. If you're cooking with Old Bay, you smell it when you walk in the door. It reminds people of home."
While Greg is waxing philosophical, Theda's phone dings. It's her twin sister, who has just invented the "Frozen Old Bay Pineapple Sour." By now, I know unconventional marketing when I see it—this is a play for the tiki demographic, the folks who won't touch a Bloody Mary. But Theda hands me her phone, and the tension in my shoulders dissolves. I'd order this drink: In the picture, it looks like blended sunshine—like summer sliding in, like a pile of crabs at the shore.
This article appears in the July 2022 issue of Washingtonian.