A guide to the newest places to eat and drink.
Imagine, if you will, a mythical eternal being named Alonzo Bronze who began traveling the globe 700 years ago, trading spices and learning cooking techniques. He and the Bronze people eventually settle on a lush island in modern-day Caribbean, where they live alongside wild cranes, their spirit animals. In this world, it's not race that matters, but what you have, whether goats or bronze.
That's the story DC native Keem Hughley dreamed up in the depths of the pandemic. It's the inspiration for Bronze, a first-of-its-kind Afrofuturism restaurant on H Street Northeast that reimagines the culinary legacy of the African diaspora with a sci-fi history twist.
Hughley—a partner in Maketto and chef Erik Bruner-Yang's Foreign National restaurant group—had been looking to fill a void in the Afro-luxury dining market. But as he started to come up with a restaurant concept, "it was very difficult for me to be truly creative in my idea, just based on the social conditions of the past 500 years," he says. "Every time I tried to do something different, something innate in me kept putting me back into a box."
Then he read Ytasha Womack's book Afrofuturism about the world of Black sci-fi and fantasy culture found in music, art, and literature. So he wrote his own story with a protagonist that "social conditions have not let exist." He used that as the basis for an eclectic menu drawing ingredients from around the world, and a three-level space with an other-worldly feel.
"One of the biggest inspirations was creating legacy stories, which we haven't really been afforded, because we haven't had 500 years of freedom to where you have a Dom Perignon, you have a Louis Vuitton. Any of the big luxury houses in the world are typically legacy characters that have compounded over hundreds of years. Since we can't have compound success, we have to kind of use Afrofuturism, use sci-fi to create the compounding success, to age our story a little bit," Hughley explains.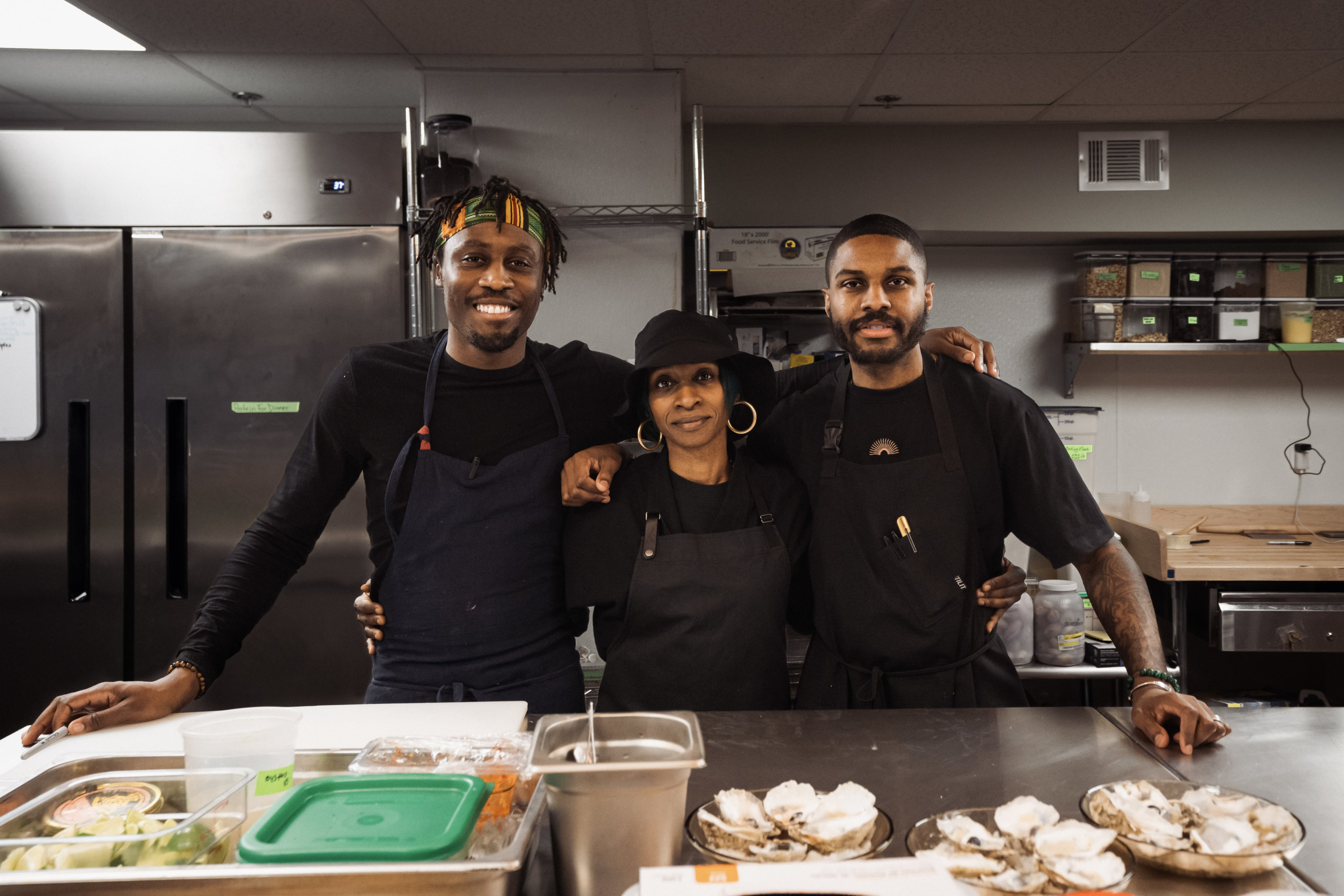 Helming the "afro-futuristic" kitchen is fashion editor turned chef Toya Henry, who previously hosted private events and supper clubs in New York, worked at Brooklyn's Michelin-starred Oxalis, and counts herself as a mentee of Bruner-Yang. (Bruner-Yang is a minority partner in the restaurant.) She's joined by executive sous chef Martel Stone, who previously worked at Caribbean hotspot Kith and Kin and has built a following competing on TV cooking shows.
The family-style menu draws from Henry's Caribbean heritage (her dad is from Jamaica, her mom from Barbados), her world travels from Asia to the Caribbean, and even conversations about food with Uber drivers hailing from all over the world.
"I would say, 'Well, what is your national dish? Or what is your favorite dish? Then they'll give me like a full breakdown. And then I'll go from there and research that," Henry says. From those conversations, spice and fish were common themes she's tried to highlight on the menu.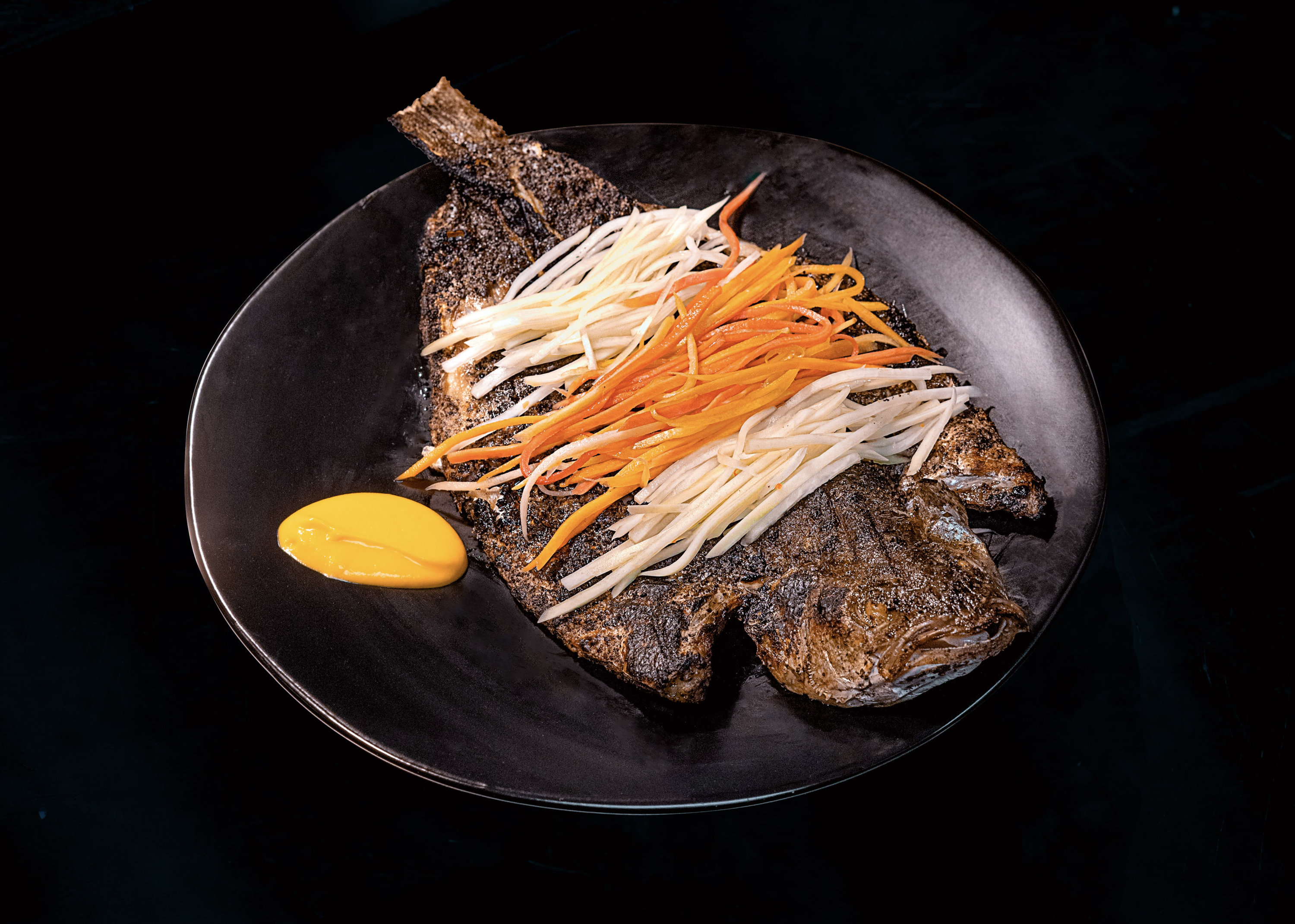 Torched oysters, an early favorite, are dressed with Japanese kyrui cucumber, flying fish roe, and chili. Grilled butterflied sea bass is seasoned with a house spice blend of pimento berries and black peppercorn, and then topped with Scotch bonnet-pickled carrots and and green papaya. House-made pappardelle comes with an earthy sauce of oxtails braised in Darjeeling tea with lima and butter beans.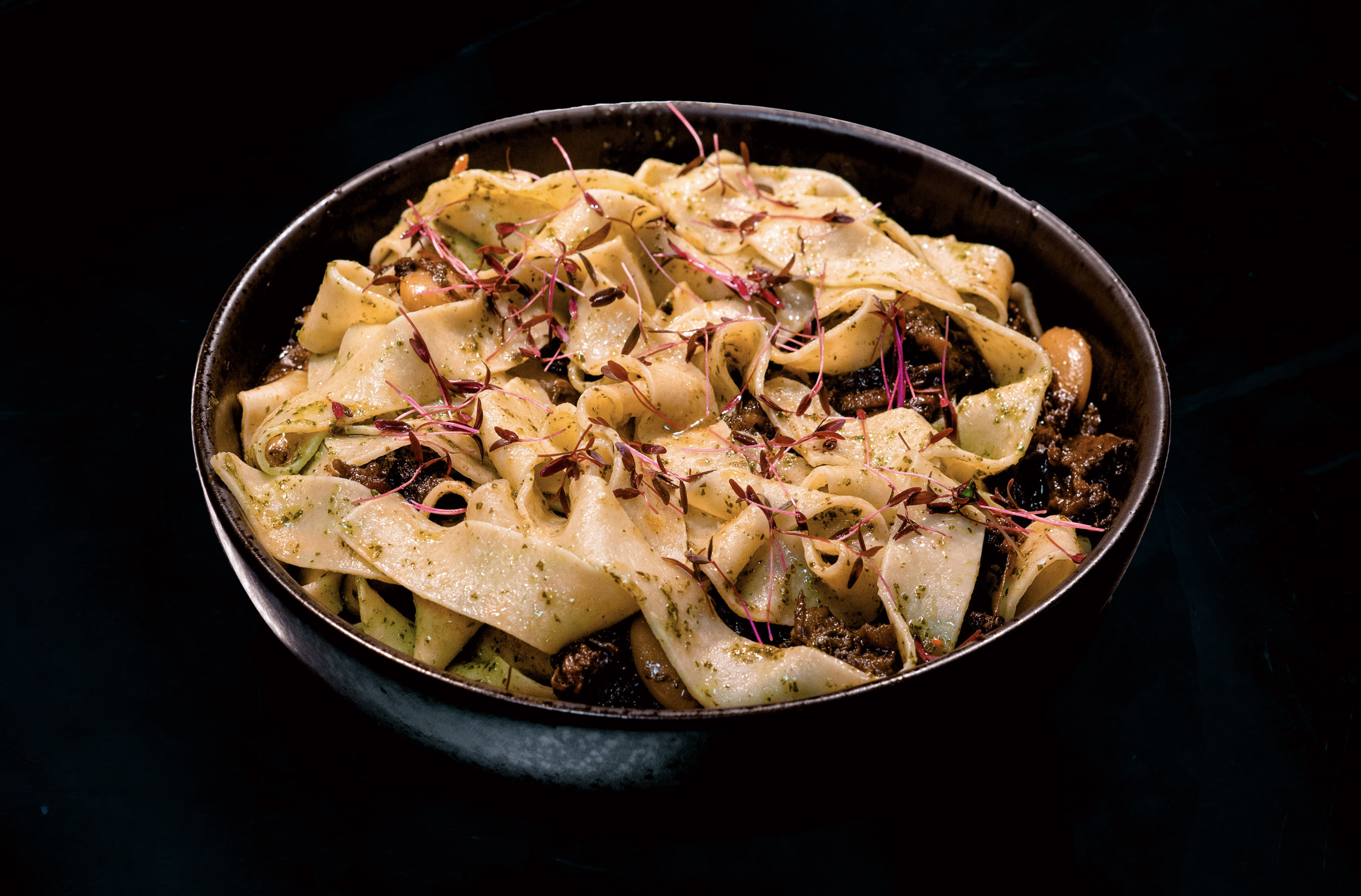 One diner, out of the blue, told Hughley that a charred yuzu squid dish with herb pesto tasted like someone from Africa went to Spain or Portugal, then came back and reinvented a squid dish they'd tried from their own perspective. That's exactly the point.
"When we first started making the menu, I was like, 'Chef, you've got to listen to me: Use any ingredient, use any cooking technique. You have access to everything,'" Hughley says. "People of the diasporic communities are not known for using certain ingredients… Just like how anybody else can use any other ingredient, we could do that as well."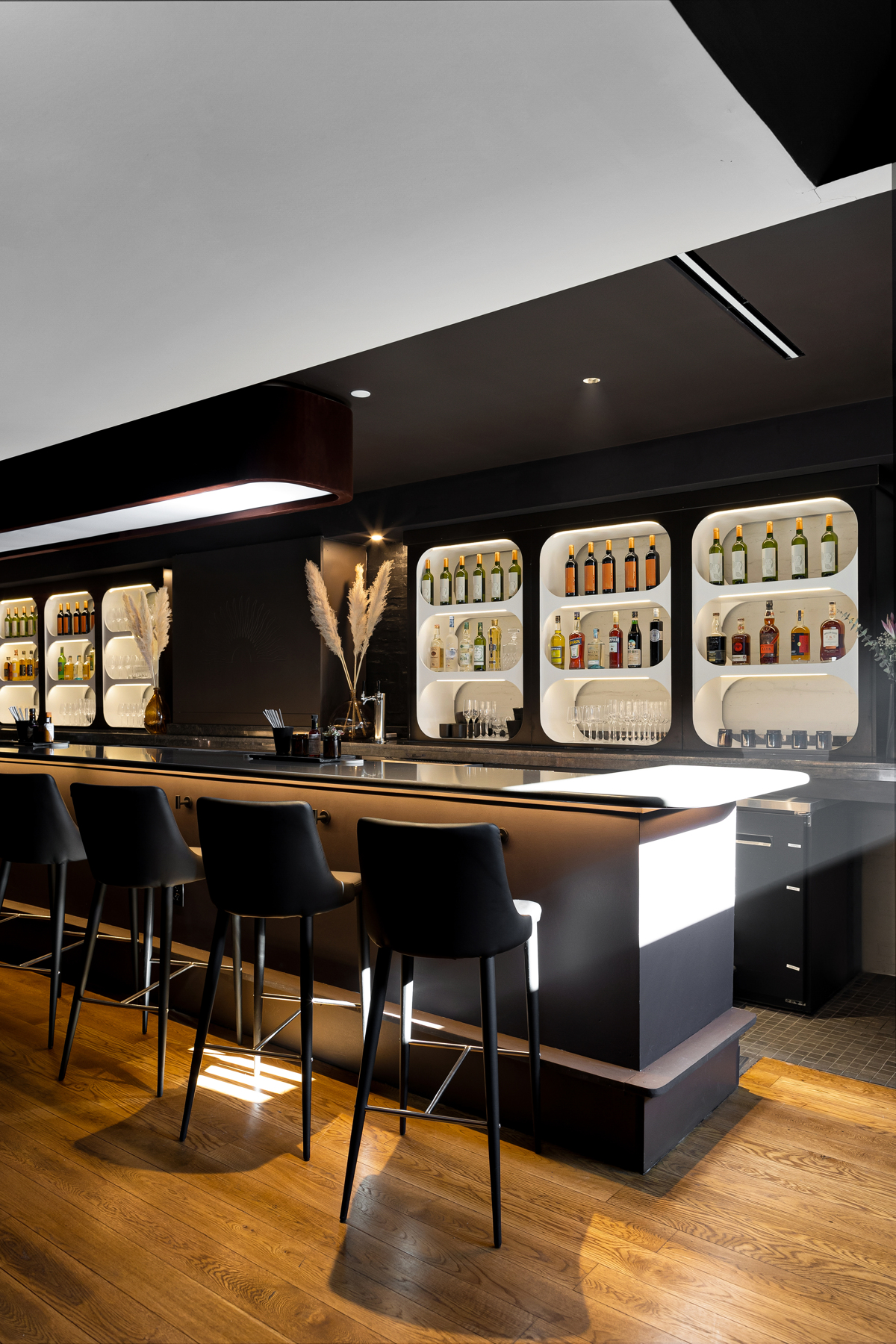 The same approach applies to the bar, where Alonzo Bronze's namesake cocktail incorporates spirits and ingredients from around the world—pisco, cachaca, gin, lemon, yuzu, sesame oil.
Beyond that, barman Al Thompson, whose resume includes Barmini and the Gibson, has created a cocktail list inspired by "rhythmic sounds" from jazz composers and musicians John Coltrane and Sun Ra. "We literally listened to a song like Lush Life, which is a Coltrane song, and then we tried to pull the characteristics of that song out," Hughley says. Lush Life, the cocktail, has a "luscious" feel with bourbon, amontillado sherry, and a pineapple-cinnamon syrup. Meanwhile, star sommelier Nadine Brown has curated an international wine list highlighting African American and South African winemakers.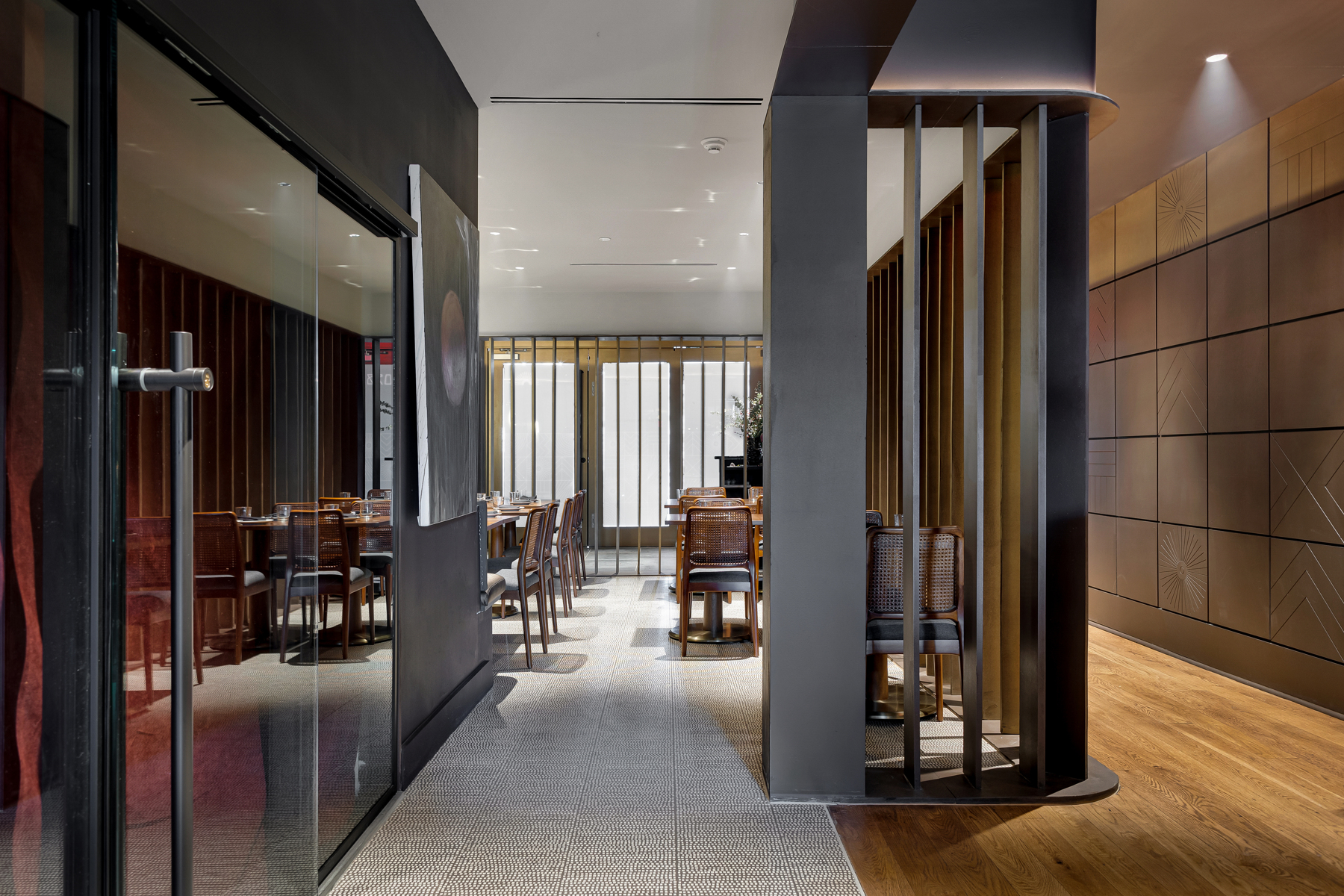 The space, previously home to Smith Commons, takes diners on a journey through different worlds, thanks to Black-owned architecture firm Drummond Projects. The moody first-floor dining room and bar is what Hughley calls "pre-earth" with wood tones, curved custom millwork, leopard-print booths, and art from a number of Black artists. The main dining floor on the second floor—"earth"—has a brighter look with greenery and portraits of Alonzo Bronze's "associates" by a Nigerian artist named Alibi.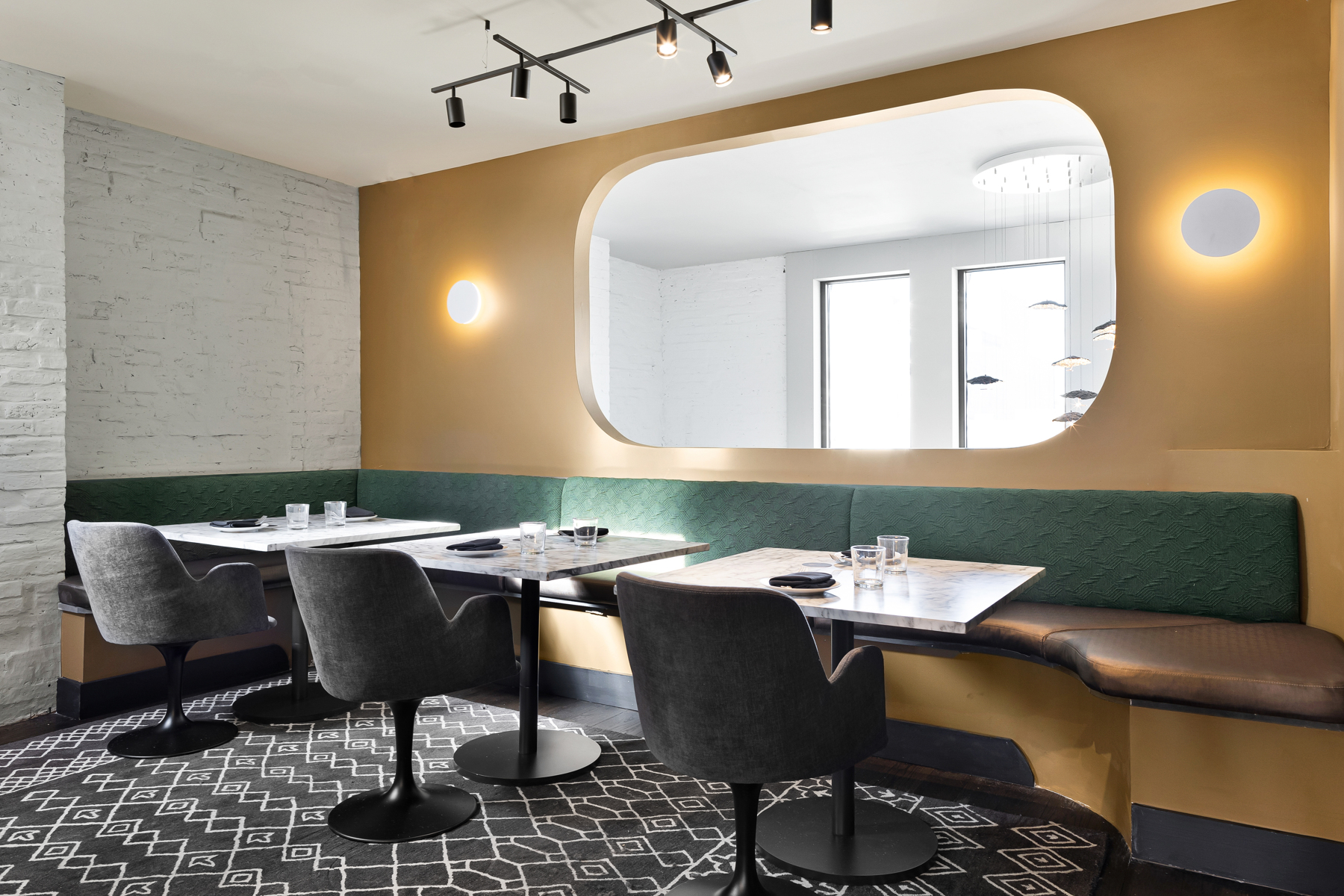 From there, diners ascend to the "celestial" cocktail bar, or Crane Room ,on the top floor (it's wrapped in golden crane wallpaper). The top bar will offer a separate menu of mostly raw bar dishes and more elaborate drinks. It's slated to open  this spring, along with two enclosed patios.
Other further-off future plans include a book that can flesh out the legend of Alonzo Bronze.
"You have to understand this is a pandemic idea. So being a pandemic idea, we have to understand that the dining seats can be taken away from us, which nobody ever thought would be possible," Hughley says. "This is not guaranteed. But the idea, the story of it, has to live further."
Bronze. 1245 H Street, NE.