A guide to the newest places to eat and drink.
Chef Damian Brown is known for his outrageously over-the-top cooking. At his District Heights restaurant the Uncaged Chefs, he amassed a big following and became an Instagram sensation with dishes like Cinnamon Toast Crunch fried chicken and waffles and jerk chicken/ mac-and-cheese tacos. Now, he's taking the same more-is-more attitude to his new all-day brunch spot, Uncaged Mimosas, which just opened in Truxton Circle at 300 Florida Ave., NW.
Brown's career has spanned from fine-dining restaurants like Blue Duck Tavern and (now closed) Vidalia to the private kitchens of NBA athletes. But when he was working for other people, he felt his culinary creativity was caged in. So in 2019, he launch the Uncaged Chefs as a pop-up, where his motto became "no rules, just good food." It sold out every day. From there, he moved to Savor food hall (now called Mixt) in Brentwood, then into his own space in District Heights with a bakery next door called Uncaged Desserts. Both of those concepts are temporarily closed as Brown rebrands them as taco and ice cream joints over the coming months.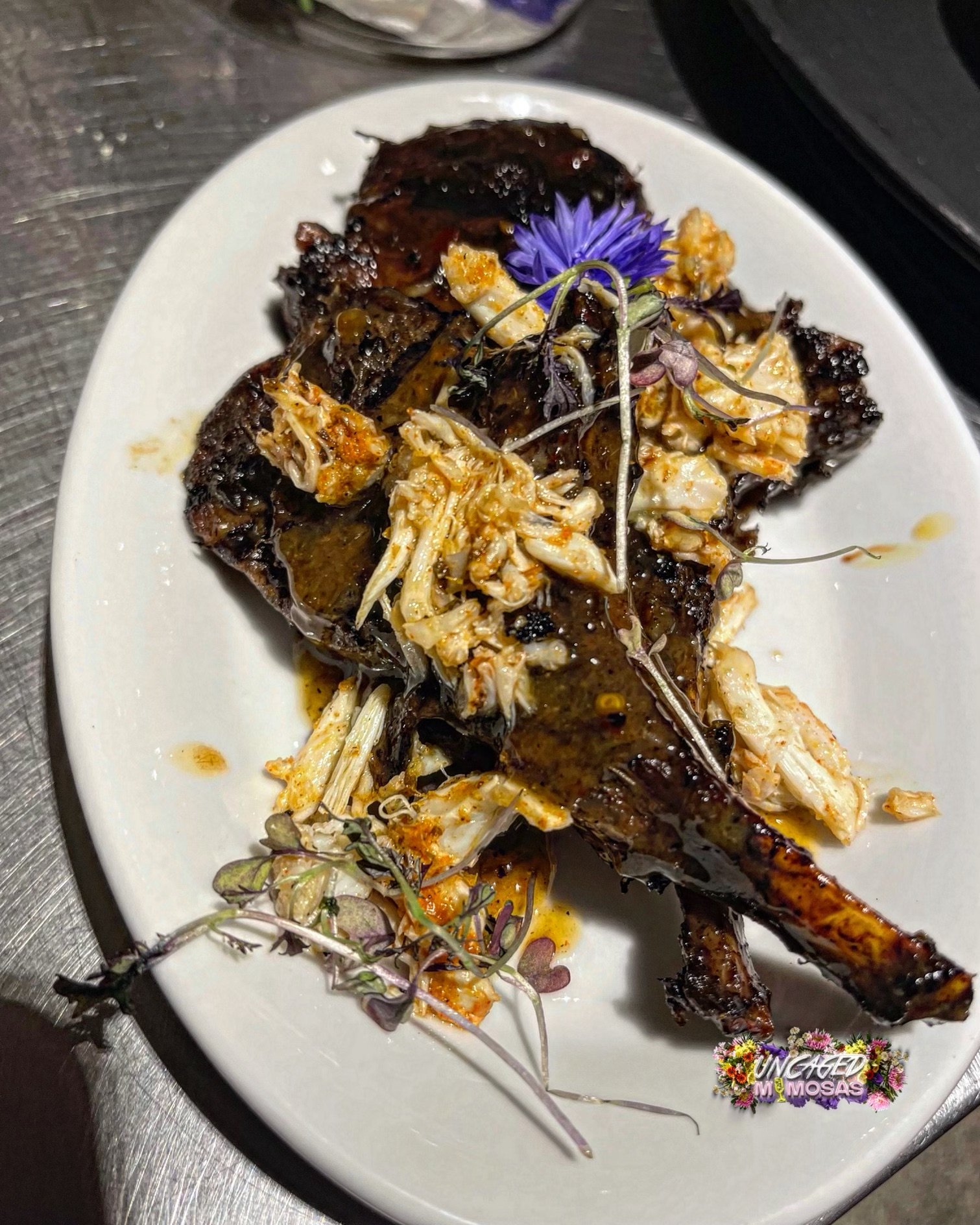 Brown says Uncaged Mimosas aims to be the upscale version of the Uncaged Chefs. The current "soft opening" menu includes appetizers like duck-fat tater tots and Cajun crab fries. Among the entrees: jerk lamb chops topped with crab, a candied-turkey-bacon cheeseburger, and red velvet pancakes with whipped cream-cheese icing.  An expanded menu will debut with the restaurant's grand opening on Monday, January 30.
Of course, there are plenty of mimosas, too—25 different kinds. The flavors include peach, strawberry, guava, and—Brown's favorite—lavender lemonade. (Bottomless options are coming soon.) You'll also find other cocktails like "the Pink" with rosemary-infused gin, grapefruit juice, lime, and soda.
Still to come this spring: a four-seat chef's table with a daily changing tasting menu prepared right in front of diners. "I might just reach out and find up-and-coming chefs and have them come in and they can do their thing," Brown says. The restaurant also has a huge patio in the works, while the indoor dining room and bar will eventually be open daily from 11 AM to 2 AM with DJs and other live entertainment.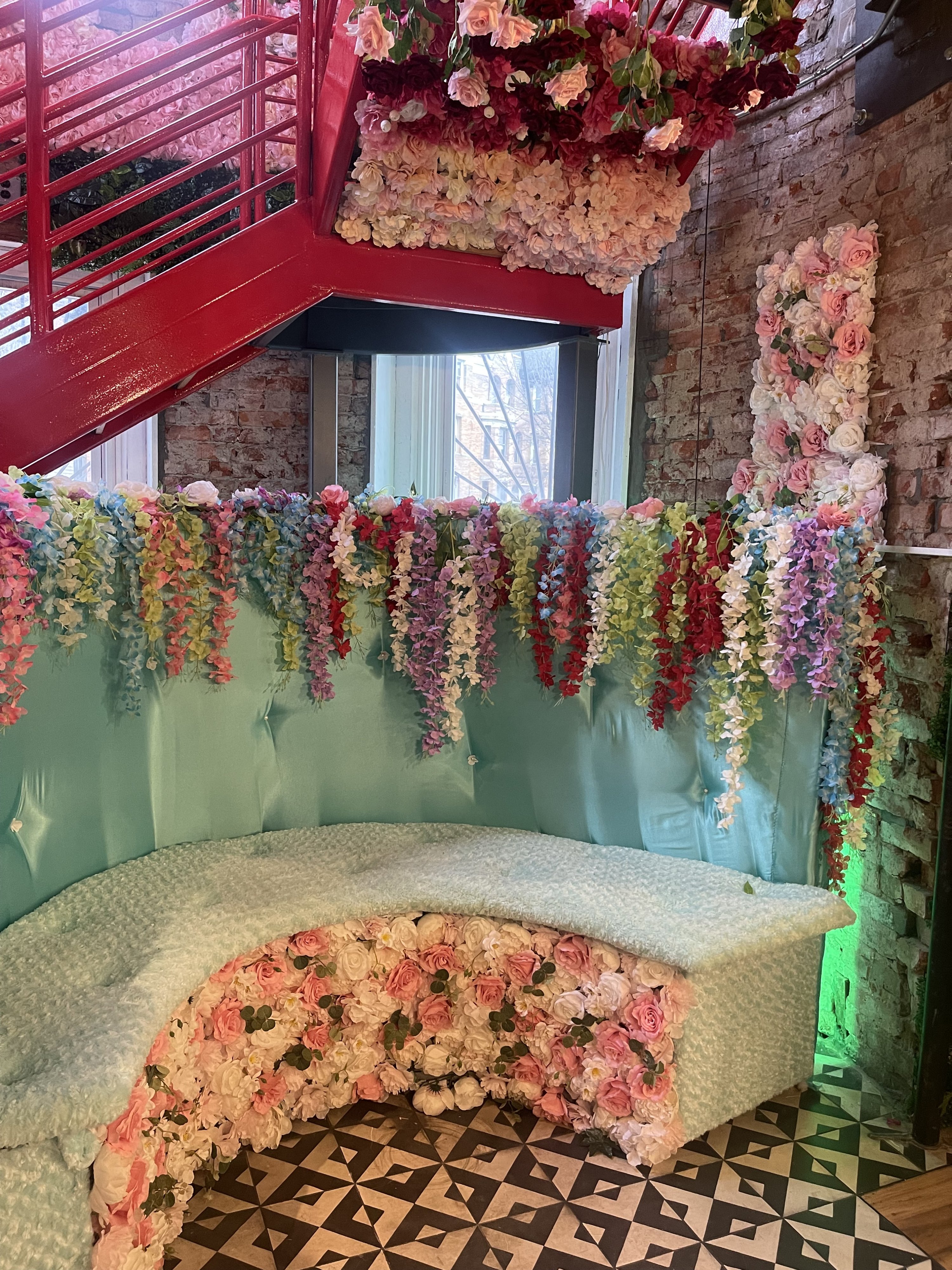 The two-story Truxton Circle space was previously home to Anxo Cidery, which closed in 2021. Brown has transformed it into an explosion of color, thanks to $20,000 worth of fake flowers. Neon signs read "You're like really pretty," "This must be the place," and "live nudes" (with an arrow toward the kitchen). There's also art depicting a tatted-up Obama.
"My goal was to create basically a showroom. Every angle is a good picture to take no matter where you're sitting or standing," Brown says. "As for the food, I want it to look like art."
Uncaged Mimosas. 300 Florida Ave., NW.