You Bacon Me Crazy at I Egg You
423 Eighth St., SE
Scott Drewno and Danny Lee's egg-sandwich pop-up, currently run out of sister restaurant Chiko on Barracks Row, will soon have its own permanent home serving daily breakfast. But for now, you'll have to snag this deliciously drippy bacon-egg-and-fontina sandwich—served on buttery griddled milk bread—on weekends.
Find it on: Caviar, Uber Eats.
Reuben at Bullfrog Bagels
4810 Wisconsin Ave., NW; 2000 Pennsylvania Ave., NW; 1341 H St., NE; 2800 10th St., NE; 317 Seventh St., SE

Jeremiah Cohen's nine year-old operation, which just opened a location inside Foggy Bottom's Western Market, makes my favorite bagels in the city right now. And while some deli Reubens are as big as apple pies, this relatively compact (but still decadent) version—piled with thick-sliced corned beef, housemade sauerkraut, and a big slather of Russian dressing—is easy to polish off in one sitting. Another hangover buster: the salt bagel with jalapeño cream cheese (or, if you're feeling extra-shaky, butter).
Find it on: DoorDash, Caviar, Uber Eats, Grubhub.
Pauli Cicero at Cracked Eggery
3420 Connecticut Ave., NW; 1921 Eighth St., NW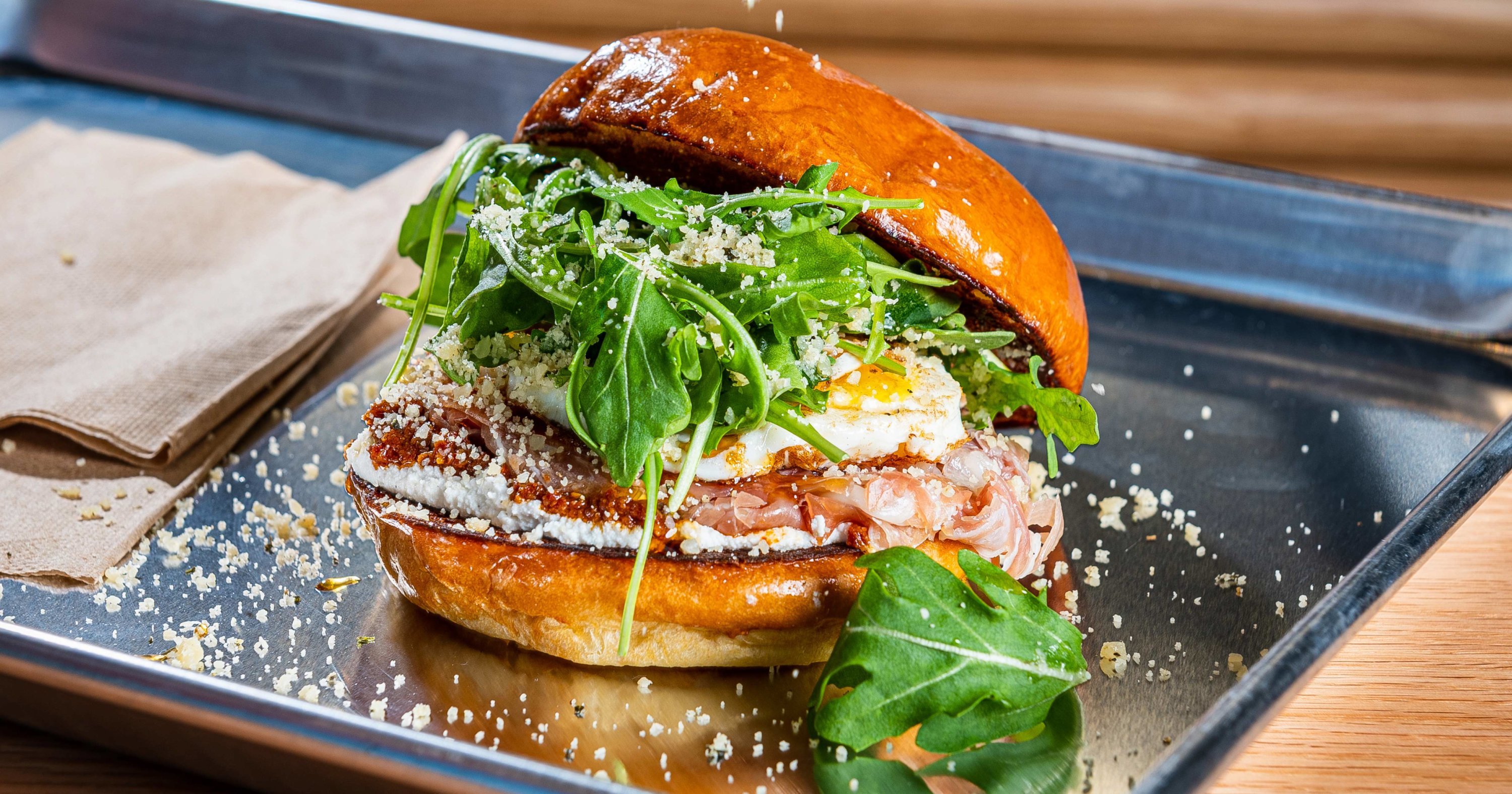 This pair of all-day breakfast-sandwich spots in Shaw and Cleveland Park put a Goodfellas spin on a ham, egg, and cheese. The sweetness of its ricotta and spicy honey is balanced with tangy sun-dried tomato, arugula, a fried egg, and chopped prosciutto. "We hate when you take a bite of prosciutto and pull the entire piece out of a sandwich," says cofounder Mike Tabb.
Find it on: DoorDash, Caviar, Uber Eats, Grubhub.
Rude Girl at Buffalo and Bergen
1309 Fifth St., NE; 240 Massachusetts Ave., NE
View this post on Instagram
Hit up Gina Chersevani's breakfast standbys in Union Market and on the Hill for a bacon fix sans the egg. Her Rude Girl pairs strips with a bagel and jalapeño cream cheese instead (the Rude Socialist, which switches in maple-syrup/pecan cream cheese, is good for a salty-sweet craving). Go gentle with a plain or egg bagel, or try the Old Bay/black sesame round.
Find it on: Uber Eats, DoorDash. 
Any Egg Sandwich at Meats and Foods
247 Florida Ave., NW
Looking for a nothing-fancy, bodega-style breakfast sandwich? This beloved Bloomingdale sausage shop has what you're looking for. Here, a squishy potato roll is laden with eggs, cheddar, and a choice of ham, sausage, veggie sausage, or crispy potatoes. Pro-tip: Add in some pickled jalapeños, and don't forget the housemade hot sauce (or the Mexican Coke).
Find it on: Meats and Foods.
The Sun City at Call Your Mother
Eight locations in DC and Maryland
View this post on Instagram
The bagel behemoth upgrades the classic BEC in a few ways: there's a mix of sharp cheddar and melty American cheeses, a hint of spicy honey, easy-to-eat/transport bodega-style eggs, and a super-seasoned everything bagel. I like it with pastrami, but the bacon version—and the Thunderbird, with chicken sausage—is tasty, too. Grab an order of latkes with sour cream and apple sauce on the side.
Find it on: Uber Eats.
Nova Lox Bagel at Bread Furst
4434 Connecticut Ave., NW
Mark Furstenberg's Van Ness bread bakery/market low-key puts out some of DC's best bagels (and glazed doughnuts). They're Montreal-style—smallish, slightly sweet, and seeded all over—and fantastic with cream cheese, and, if you can stomach it, pickled onion, arugula, and salmon that was cured in-house.
Find it on: Caviar, DoorDash, Uber Eats. 
PSB at Ruthie's All Day
3411 Fifth St. S., Arlington
View this post on Instagram
The glossy milk buns you find on the dinnertime barbecue plates here do double duty with the morning menu's breakfast sandwiches. This hefty creation has scrambled eggs, pimiento cheese, bacon, arugula, and pickled onion.
Find it on: Uber Eats, Toast.