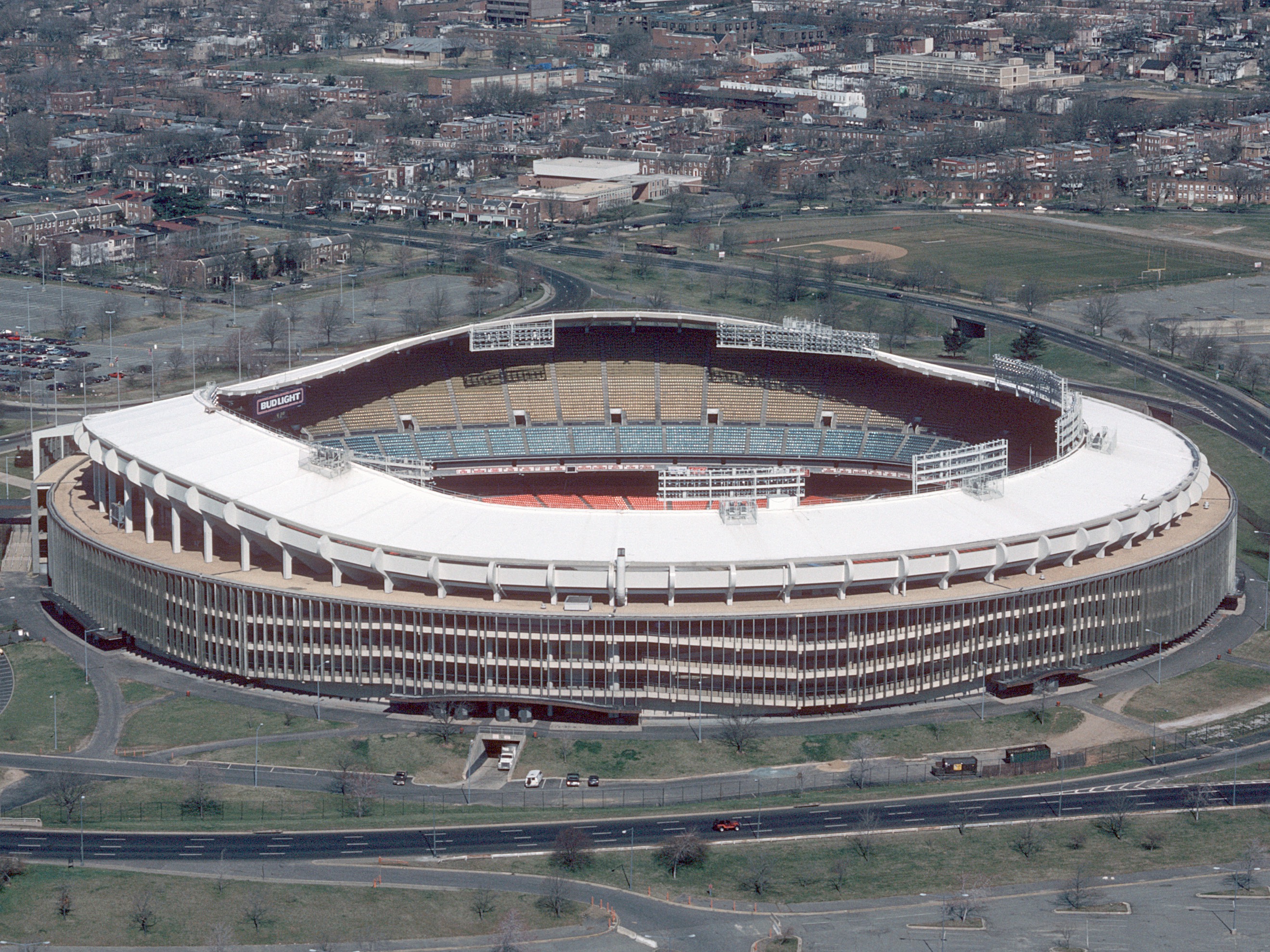 For 62 years, RFK was where Washingtonians came together. We celebrate and remember its history and legacy.
When the HFStival moved to RFK Stadium in 1993, it represented more than a chance to see Belly play "Feed the Tree" on the same field where Joe Gibbs and company dominated so many NFL opponents—it was a declaration that alternative rock had arrived. The annual multi-band concert put on by local alt-rock station WHFS began as a polite event at Lake Fairfax Park for a few thousand fans, but two years after Nirvana's era-defining Nevermind, the festival became a cultural communion for tens of thousands of Gen-Xers. "It was a wonderful time with everything sort of coming together," says Robert Benjamin, the station's program director at the time.
Local band Velocity Girl opened the 1993 event. "I was crazy nervous," says Jim Spellman, the group's drummer. "I was so amped up about what it would be like to play in front of all these people in the place where the Washington football team played." The station worked hard to nurture a good vibe for fans and artists—the goal, multiple people from WHFS say, was to have people leave saying they'd had the best day of their lives.
WHFS tried to keep ticket prices to $1 per band for the first few years, and it wooed artists by taking their performance contracts very seriously. "Artists would f— around and request things, just to see if we would get it for them," says Bob Waugh, the station's assistant program director. "I think it was Everclear, one year, said, 'We would like a small dog.' And we made it happen."
While the Burgundy and Gold split for Prince George's County in 1996, the festival soldiered on at RFK. SoundScan, the then-new tech that revolutionized hit charts by showing what people actually bought in stores, consistently found that after artists played the stadium, "their record sales went through the roof in DC," Waugh says.
Highlights are plentiful. There was the time Courtney Love played an unannounced set and dove into the crowd. The time Tony Bennett "walked out, grabbed the microphone like a pro, and the crowd went completely reverent," Benjamin says. The time actress Winona Ryder, then dating Soul Asylum singer Dave Pirner, confronted Primus backstage about their single "Wynona's Big Brown Beaver," which she felt was about her, despite the different spelling. "She had her say and split," Waugh says. "I never saw her again that day."
In 2000, the festival was held at FedEx Field, where Waugh says the vibe was decidedly less chill, thanks in part to the football team's owner. "When Dan Snyder came to the show, everything had to stop; the tunnel had to be cleared," Waugh says. "We were told, 'Don't look at Mr. Snyder.' " WHFS's corporate owners wanted more festivals and bigger names, and "what started out as a labor of love just kind of became this huge, pressure-filled responsibility," Waugh says. The last HFStival at RFK took place in 2004. Only four more shows—one in Baltimore, three at Merriweather Post Pavilion—were held after that.
During the festival's heyday, Waugh and Benjamin had a tradition of ending each night by commandeering a golf cart, driving to RFK's highest point, and having a beer while watching the final band. In 1995, that was the Ramones, who dedicated "Blitzkrieg Bop" to Waugh. "It was kind of a moment, because they were our heroes," Benjamin says. Waugh agrees: "That's seriously the highlight of my career."
This article appears in the April 2023 issue of Washingtonian.