A guide to the newest places to eat and drink.
Hi/Fi Tex-Mex BBQ. 2000 Mt. Vernon Ave., Alexandria.
Evening Star Cafe, the Alexandria eatery that kickstarted Neighborhood Restaurant Group, will get a boisterous new Texan sibling in its backyard. Hi/Fi Tex-Mex BBQ, opening Wednesday, June 7 for dinner in the Del Ray neighborhood, transforms the 26-year-old bistro's former parking lot into a shaded beer garden where you can order up trays of smoked brisket and ribs, snack on American-style tacos, and knock back craft lager or ice-cold wine. 
"We always had this idea that we wanted to do a barbecue concept," says beverage director Greg Engert. "The backyard made sense for it because we have a space you want to eat barbecue in, and drink a bunch of beers, cold wines, and frozen cocktails."
Hi/Fi chef Nate Anda, who's been with the restaurant group since 2004 and runs Red Apron Butchery, first introduced a Hi/Fi Taco stand in Capitol Hill's the Roost food hall, which planted the seed for a spinoff barbecue joint. Anda's new menu nods to the fusion of American and Mexican cooking found at outdoor eateries and food trucks around cities like Austin and San Antonio. 
You can start off a meal with smoked elote, brisket jalapeño poppers, or a house queso dip with smoked crema and tortilla chips. The tacos, which come in orders of two on house-made flour tortillas, are filled with non-traditional combinations like orange soda-braised carnitas with American cheese or tempura-fried avocado with black beans. 
Anda's slow-smoked brisket, spare ribs, turkey, and chopped pork come on a "Tex-Mex platter" with flour tortillas, chips and salsas—or as a "BBQ platter" with two sides. Fittingly for the DC area, Salvadoran-style curtido and plantains make appearances. Everything can be garnished with pickled onions, smoked crema, and various salsas and barbecue sauces.
"All the garnishes that are with the barbecue platters are also incorporated into the tacos, so it's kind of fun," Anda says. "It's the way that I like to eat barbecue, and the way that I actually like to eat at home."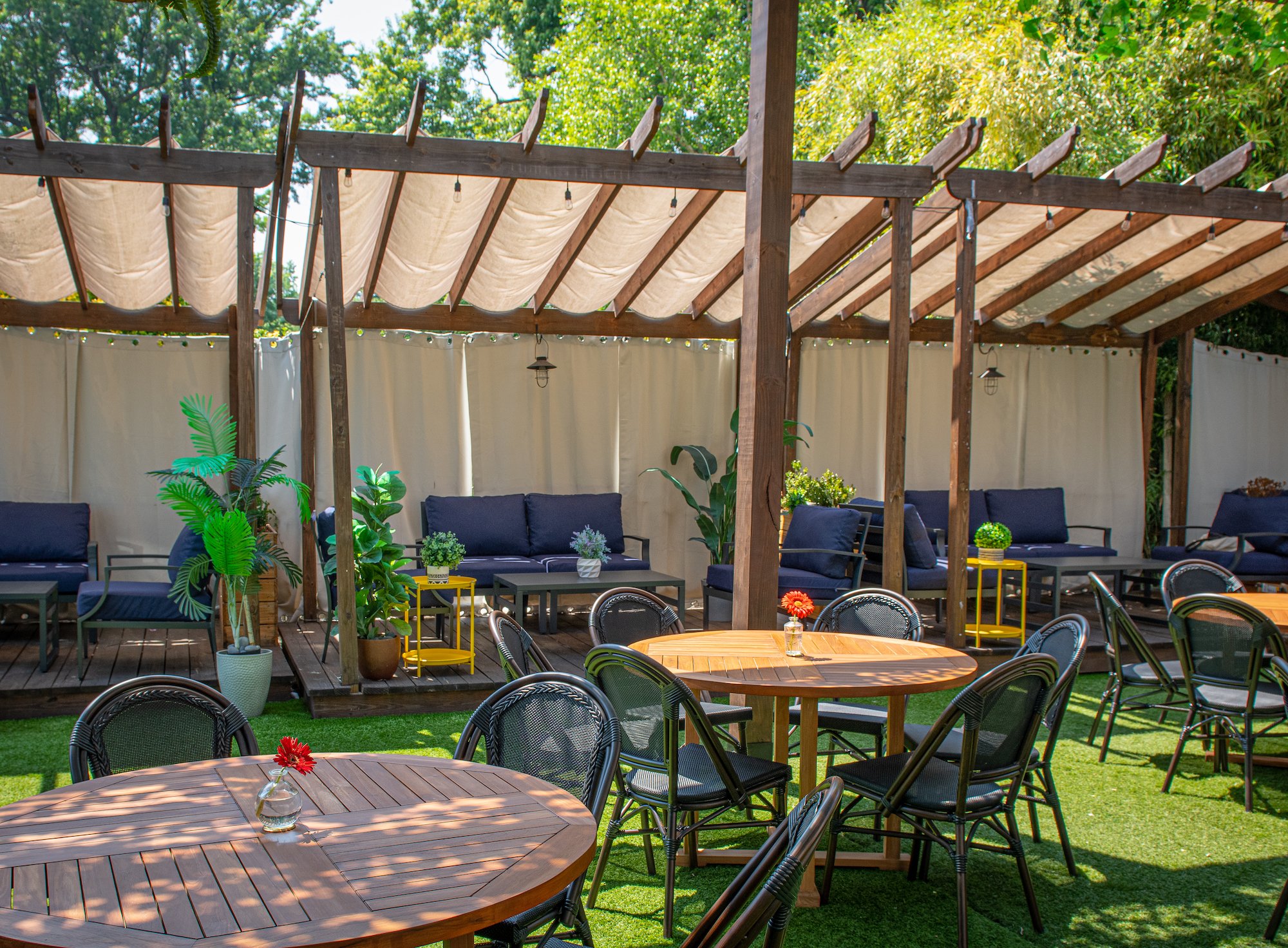 More than two dozen beers are on tap, from crushable kölsch and pilsners to heady sours and hazy IPAs. Pre-mixed cocktails like margaritas and a white negroni are also on draft. Engert says the summery beverage menu is specifically catered to fit the vibe of Hi/Fi's covered cabanas and long outdoor bar. 
Evening Star, an archetypal neighborhood restaurant opened in 1997 by Michael Babin, is now among 20 restaurants and food purveyors operated by the restaurateur's sprawling Neighborhood Restaurant Group, including The Roost, Iron Gate in Dupont Circle, and Caruso's Grocery, which opened its second location in North Bethesda last year. 
During the pandemic, Evening Star reclaimed its parking lot as an outdoor dining area, but searched for a way to repurpose the space as an independent concept. Hi/Fi will join the Majestic Lounge and the Front Porch, two bars attached to Evening Star, and Planet Wine, the sister wine shop next door. Like at Evening Star, diners at Hi/Fi will be able to buy bottles at Planet Wine and open them over dinner for a $10 corkage fee.
Hi/Fi will be open for dinner Wednesday through Sunday, and lunch on Saturdays and Sundays. Because the restaurant will start smoking meat in the morning, barbecue items won't be available until 5 PM.