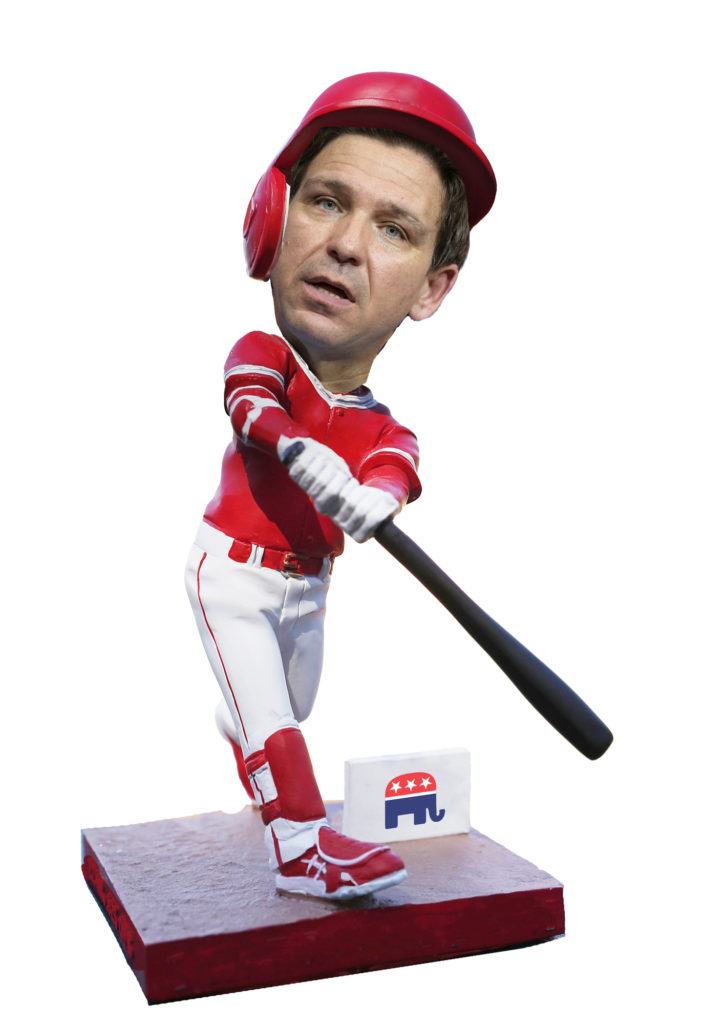 Forgive us if this sounds familiar: The Democrats were confident, coming off a victory and looking for a repeat behind a powerful incumbent. But the Republicans had a potential equalizer, a newcomer from the state of Florida whose formidable résumé and big, early swings were turning heads. Nobody knew exactly how Ron DeSantis would perform under the bright lights, but his GOP peers believed he was ready to step up to the plate, hit hard, and deliver a much-needed win.
Long before DeSantis entered the 2024 presidential race, he was hyped as a player to watch in another heated contest between the parties: the annual Congressional Baseball Game. Played most years since 1909, the event features members of Congress (predominantly) and senators (less often, due to most being, well, too old). They don caps and jerseys, grab gloves and bats, and try to beat one another on the diamond without getting seriously injured. (A 1996 collision between Democratic representatives Tim Holden and Bill Jefferson sent Holden to the hospital and left deep cuts in Jefferson's forehead.)
As he aims to knock off GOP front-runner Donald Trump and President Biden en route to the Oval Office, DeSantis has been leaning into his baseball background—first as a player in the 1991 Little League World Series and later as captain of Yale University's team. His framed college jersey reportedly hangs in the governor's office in Florida. Earlier this year, he played catch with a Fox News personality while conducting an interview on his hometown baseball field in a Tampa suburb. Meanwhile, a PAC supporting DeSantis is planning to mail baseball cards picturing DeSantis at bat and listing his political accomplishments to Republican voters in primary states.
Baseball, in other words, is a big part of the DeSantis brand. So when the then–Florida representative signed up for the Republican team in the 2013 Congressional Baseball Game, his teammates were thrilled. "Ron was our stud superstar," says another ex-Florida congressman, Dennis Ross. "We had high hopes with him. Very high hopes."
---
---
---
The congressional game is first and foremost a charitable event: This year's, held at Nationals Park in June, sold more than 20,000 tickets and raised $1.8 million for area charities. For members, it's also a chance to build rapport and relationships away from the contentiousness of Capitol Hill. "It's a way to engage each other without our suits and without TV cameras and mics, and get to know people in a different, less formal way," says former Pennsylvania representative Mike Doyle. "In Congress, five minutes after the last vote, everyone is running to the airport. There's not a lot of opportunity to get together like you can in the game."
That camaraderie doesn't mean legislators aren't serious about winning. Partisan bragging rights (and an actual trophy) are at stake—and sometimes more than that. "If you're on the team that wins, it gives you status in your [party] conference," says former Texas representative Joe Barton. "If you're the star pitcher or catcher, it can help you get meetings and move your agenda."
In the months leading up to the game, Democrats and Republicans alike go to early-morning practices at area ballfields, shagging flies and grooving their swings before starting their workdays. "You'd be out there in the outfield at 6:30 AM with [Republican senator] Rand Paul, and he'd be talking about running for President," Ross says. "But truly, nothing else mattered. It was very competitive. It was about playing baseball—even though it was just old, fat men playing baseball in slow motion."
During his 28 years in the House, Doyle was twice named the game's Most Valuable Player. He also managed the Democratic team for more than a decade. "The pay sucks," he says with a laugh. "You don't get anything. And you can't miss a practice, because you have all the equipment, which you have to schlep to the field every morning."
Doyle realized just how important the game was during his first day on Capitol Hill, when he was standing in line in the Speaker's Lobby to receive his voting card. "I was a freshman [congressman] and I was in awe of the place," he says. "This older guy comes up and says, 'Can you throw?' " Doyle was perplexed. Par­don me? The older guy was former Minnesota representative Martin Sabo, then coach of the Democrats. "He says, 'Can you throw a baseball? I want to know if you can play.' I called my wife that night: 'Hey Susie, guess what's the first thing they want to know when you come to Congress?' "
---
When DeSantis arrived here in 2013 to represent Florida's 6th Congressional District, the 34-year-old seemed like a standard anti-tax, pro-small­-government conservative lawmaker. However, his baseball past stood out: DeSantis had been a four-year starter at Yale and, as a 12-year-old, a key player on a Little League team that featured four future Major League Baseball draftees.
After he joined the Republican baseball squad, DeSantis confessed to Roll Call that he hadn't "really picked up a ball or bat in 10 years," but he also proclaimed his swing ready for the 2013 congressional matchup. "When you play the game from the time you were 3, that muscle memory is still there," he said.
DeSantis looked like a star in practice. He hit multiple home runs—one of them a 320-foot blast—and impressed teammates like South Carolina congressman Jeff Duncan, who suggested playing Darth Vader's theme music when DeSantis came up to bat. "Ron wasn't very talkative," Ross says. "He would keep to himself, warming up with one of his staffers. But he was a heck of a third baseman." On DeSantis's first day with the GOP team, Ross watched him take batting practice. "Probably on the second pitch, he put one out of the park," Ross says. "We really needed that."
Did they ever. In the aughts, the Republicans won eight consecutive games, powered by what Barton, the team's longtime manager, calls "a bunch of young, flat-bellied" members. But everything changed in 2011, when Democrat Cedric Richmond began representing Louisiana in Congress. "After that, it was lights out for the Democrats," Barton says. "For the next ten years."
---
"It was the worst defeat I had ever been involved in personally, at any level. They kicked our butts."
---
Doyle remembers recruiting Richmond, then in his late thirties, in the Speaker's Lobby—the same way Sabo had once recruited him. "He was trim," Doyle says. "He looked athletic. I introduced myself." Richmond told Doyle he had played baseball for Morehouse College in Atlanta. "I said, 'What committee would you like to be on?' " Doyle jokes.
Over the decades, a handful of pros-turned-pols have played in the congressional game, including Hall of Fame pitcher Jim Bunning and former National Football League wide receiver Steve Largent. None dominated like Richmond, who could throw a curveball, a knuckleball, and a fastball that sometimes exceeded 80 mph. "There have been former pros who played in the game, but they were nowhere near their physical prime," Barton says. "Cedric was still in shape. He was consistently throwing 75 to 80 mph. That's not quite Major League level—but it's a lot faster than what you usually see [from a Congress member]."
In Richmond's 2011 debut, the player the New York Times once called "the Babe Ruth of Congress" lived up to the comparison, allowing a single hit while amassing 13 strikeouts in a Democratic victory. Republicans "had just come off the 2010 Tea Party [electoral] wave, we're taking over everything, we show up for the baseball game—and man, we got humbled," Ross says. "Cedric smoked us." The next year, after the Republicans spent the off-season practicing against a pitching machine obtained by Barton that threw 85-mph fastballs, Richmond led the Democrats to an 18–5 rout. "I remember telling Joe [Barton], 'Cedric is in a heavily Democratic seat in Louisiana, so there's no way you can beat him [in an election],' " Doyle says. " 'Get used to this.' "
---
---
---
For the GOP, DeSantis represented hope. Heading into the 2013 game, his looming showdown with Richmond was the talk of Capitol Hill. The Florida congressman's baseball bona fides "put him four steps ahead of anyone else" on the GOP team, says Nathan Gonzales, who covered DeSantis for Roll Call and is now editor and publisher of Inside Elections. "There was legitimate excitement and hype around him."
Former Pennsylvania representative Bill Shuster dubbed DeSantis "the Cedric Slayer," while DeSantis told National Journal he was "pretty sure whoever they put out there I'll be able to hit." The same article hinted at off-field animosity: At a recent Judiciary Committee hearing, DeSantis had blasted then–attorney general Eric Holder while Richmond called for more decorum, leaving Richmond to joke that he might tell DeSantis, "Hey, Ron, this one's for the AG," while on the mound.
The game was played on a muggy June evening. A hush fell over Nationals Park as DeSantis came up to bat in the top of the first inning. Richmond threw a curveball for a strike; DeSantis popped up his next pitch high into foul territory, where Richmond caught it for an out. It was a sign of things to come: DeSantis went 0-for-3 for the game and failed to hit the ball out of the infield, while Richmond gave up only three hits and batted 4-for-4—just missing on a home run—in a 22–0 Democratic blowout. California representative Eric Swalwell and former Texas representative Beto O'Rourke were among the many Democrats who outhit DeSantis. "It was the worst defeat that I had ever been involved in personally, at any level," Barton says. "They kicked our butts."
---
"Baseball is like a chess game—you're always thinking ahead. Ron's of that mindset. I wouldn't count him out."
---
The Republicans' losing streak would continue until 2016, when an uncharacteristically shaky Richmond gave up six runs in an 8–7 defeat. (The Democrats, Ross recalls, were coming off an almost 26-hour sit-in on the House floor to support two gun-­control measures.) DeSantis, meanwhile, played in only one more congressional game after 2013, getting a pair of hits in 2017 before leaving Capitol Hill. Rumor has it that he missed the previous games because of a shoulder injury suffered during a Republican practice. (The DeSantis campaign did not respond to a Washingtonian interview request.) Richmond, who was elected to the Congressional Baseball Hall of Fame in 2021—yes, such a thing exists—exited Congress that year to work for the Biden administration. "Ron never had the kind of 'wow' game that we thought he would," says Barton (who did not seek reelection in 2018 following a sex scandal). "He wasn't bad. It's just that Cedric was that good."
Now, a decade after that 2013 game, DeSantis is facing another formidable opponent as he makes a pitch to be the Republican presidential nominee. To win, he'll have to defeat Trump, who has himself claimed to have been a talented baseball player in high school. Does DeSantis have the stuff to overpower the GOP's cleanup hitter at the polls?
Ross, the former GOP congressman, sees hopeful similarities between DeSantis as an athlete and candidate. "Baseball is like a moving chess game—you're always thinking ahead, doing certain things in order to advance," he says. "Ron's of that mindset. He's very calculating politically, and when I look at what he's done in Florida and how he has built up his presidential campaign, I wouldn't count him out." But Gonzales, the elections reporter, cautions that the sports/politics parallels can cut the other way, citing DeSantis's congressional-game fizzle as evidence. "Whether it's sports or politics, you ultimately have to translate the hype into performance," he says. "Your reputation before the game—or the race—doesn't matter as much as the final result."
This article appears in the August 2023 issue of Washingtonian.