John Cecchi, 31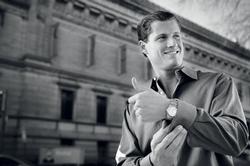 Real-estate developer Single
Where do you hang out? One of my best friends owns Maté, a sushi restaurant and lounge in Georgetown. I eat with him several times a week to catch up.
Describe your perfect day off. In the summer, it would be driving out to Middleburg and doing things in the country, like going to a polo match or the horseraces. Then I'd come back to the city and have a good meal with a bunch of friends at Cafe Milano.
Have you ever been approached by a modeling scout? I was asked to be on The Bachelor and The Apprentice, but I turned them down.
If a movie were made about you, who would star? Well, there's the Vince Vaughn side of me when I joke around. But I would say Christian Bale, the guy from Batman Begins and American Psycho. I always get called out on that.
What's your best feature? My smile.