Torun Walker, 37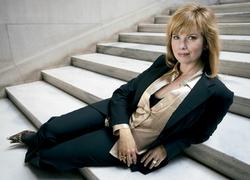 Owner of Romance for the Senses, a lingerie and gift shop in Old Town Married to an attorney; mother of a four-year-old daughter
What's your dream job? I'm doing it. I'm not saving the world by getting people in the right bra, but people walk out of the store happy.
What do you get most compliments on? My makeup. I'm always trying whatever lines we get in. My latest thing is Lip Fusion. It's a lip puffer.
Your favorite item in your closet? A pair of brown suede platform boots by Gucci that I got in Italy. I have the matching handbag, too.
What's on your iPod? My favorite band of all time is Squeeze. I'm an '80s girl—Depeche Mode, U2.
Do you get hit on often? I do—because of working around lingerie, I think people make assumptions about you and your sexuality.
What's the craziest thing you've ever done? Skinny-dipping in Portugal with my husband.