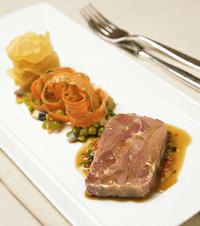 The ham hock is one of the lowliest cuts of a pig. The section between a pig's foot and thigh, it's most commonly found on grocery-store sale shelves and used as a toss-in to flavor stews. The last thing you expect to see it turn up in is a dish with a name like Terrine de Potage St. Germain.
The story of how such a humble cut made its way onto Eric Ziebold's menu at CityZen, in the Mandarin Oriental hotel, and inspired an homage to Escoffier's version of split-pea soup begins where most stories of scrap meat begin: with necessity.
Last year Ziebold discovered that Pennsylvania's Path Valley Farm was selling shoat—25- to 40-pound baby pigs that are around six weeks old. "I was enthralled," says the Iowa native of the quality of the meat. "It was the best I'd had outside the Midwest." But the tiny pigs are sold only whole, and he didn't want to waste any part of them. The rack and saddle went on the menu, and Ziebold fashioned the ears and tail into canapes and made tête de cochon for his cooks. But he couldn't figure out what to do with the legs.
Last summer he started curing the miniature hams into mock prosciutto. In January, they emerged rosy and dry—perfect, it occurred to him one day, for a terrine.
Ziebold starts by smoking the cured hocks over the stove in a makeshift woodchip smoker. He braises the meat, letting it cool in its liquid so it soaks up more flavor. He lays the shredded meat—eight pigs' worth—in a ceramic terrine mold and binds it with a consommé made from the hock's braising liquid that's thickened with agar-agar. The rest of the braising liquid gets reduced into a sauce with sherry vinegar, white wine, and sugar.
Serving the terrine on its own would "kill the palate," says Ziebold. So he balances its richness with a sherry-vinegar-spiked split-pea salad. Fried-to-order potato chips add crunch.
It might sound like trendy haute comfort food, but deliciousness never goes out of style. And it sure beats pea soup.