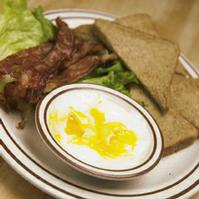 Poached eggs aren't just for breakfast anymore—they're turning up all over town in all sorts of bigtime roles, the catalytic ingredient in earthy, dramatic dishes that unite the humble and the haute.
You can still find a poached egg in all the usual places. And prepared in all the usual ways. As short-order cooks and bigtime chefs know, few things speak to the weary soul more than a soft-poached egg.
Woodside Deli. A couple of poached eggs, a couple of slices of toast. What could be more satisfying, or more soothing, for breakfast than this classic combo?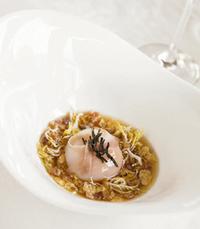 Colorado Kitchen. Chef Gillian Clark makes one of the area's best eggs Benedict for her Saturday brunch, the extra squeeze of lemon juice in the hollandaise sauce leavening the richness of the plump, well-poached eggs.
Circle Bistro. A poached egg helps fuse the elements of chef Brendan Cox's frisée salad, the yolk blending with the vinegar-sprinkled greens and the sautéed mushrooms to create a dressing that's all at once creamy, sharp, and earthy.
Poste. Chef Robert Weland deploys a red-wine-poached egg to great effect, introducing a needed shot of creaminess and a blast of vivid color to a crisp-skinned square of sea bass.
Palena. Chef Frank Ruta's meatless pot-au-feu reveals its charms gradually. Only when the egg—which has been coddled in a foie gras broth—is pricked does this tomato-and-cauliflower stew hit its high note, the juice thickening the tomato broth and turning a delicate taste into something lush and rustic.
Inn at Little Washington. You'll never find an egg poached more perfectly than chef Patrick O'Connell's, with its delicate, almost membranous albumen. The juicy yolk spills into the oxtail consommé, making for a bowl of almost unctuous richness. A shaving of truffle, along with some thin slices of country ham, heightens the effect of earthy sumptuousness.