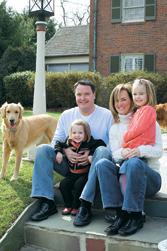 Because of its proximity to DC, Arlington always has been a sought-after place to live. Even as prices rise—sales of single-family houses last year averaged more than $750,000—buyers seeking friendly neighborhoods and easy access to public transportation are willing to pay a premium. Residents can take walks along tree-lined streets, play with their kids in a park, and still enjoy the conveniences of the city.
In North Arlington's Waverly Hills, about a mile from Ballston Metro, neighbors get together for everything from coffee socials to cookie and beer exchanges.
"When we moved in, our neighbors had a margarita party and invited everyone over to get to know us," says Anne Cronin Hay, who bought a 70-year-old Tudor-style Colonial three years ago.
The cozy neighborhood includes brick Colonials, split-levels, ramblers, Cape Cods, and Arts and Crafts houses. Prices range from $600,000 to more than $1.5 million; there are also condos, townhouses, and apartments. Residents tend to stay; Elizabeth Young, 95, has lived in her bungalow since 1932.
Location helped lure Hay to the neighborhood. Her husband, Phill, can drive to work at the World Bank in 20 minutes. She enjoys walking to Lee Heights, a strip of shops that includes a bakery, florist, wine store, and Parisian restaurant. "It's a really quaint, beautiful neighborhood but it feels like city living," she says.
The active Waverly Hills Civic Association has helped make commuting easier. An Arlington Transit bus, which residents can flag down, now runs to the Ballston Metro every 30 minutes; a Metrobus route goes directly to downtown DC. The group of more than 750 residents successfully rallied for improved traffic patterns, sidewalks, and lighting.
Residents ride bikes on a trail along the edge of the neighborhood. Kids play basketball and go sledding at Woodstock Park or gather at the playground of the newly renovated Glebe Elementary School.
Says Hay, "If people are having their kitchen ripped apart, other people will have them over for dinner."
When Bridget Romness moved from Waverly Hills to nearby Country Club Hills in 2003, it took time to adjust—she missed her old neighbors who had become her friends. Now she wants them to move, too.
The North Arlington neighborhood of more than 500 homes, including Colonials, ramblers, and Tudors, is about a 15-minute drive from downtown DC, about double that in rush hour. Houses have large tree-filled lots; some back to woods. The Gulf Branch Nature Center, which has trails that lead to the Potomac River, sits at the northeast end of the neighborhood. Country Club Hills is part of the Yorktown High School district, a draw for parents.
Sales typically range from $800,000 to $1.7 million. Sheila Johnson, cofounder of Black Entertainment Television, has a five-bedroom home with four fireplaces, which sold last year for more than $3 million.
Bridget and her husband, Paul, a lobbyist, bought their four-bedroom Colonial, built in 1941, from the original owners. "It reminds me of houses in New England," says Bridget, a student at Georgetown University.
The Romnesses enjoy walking to the nearby Washington Golf & Country Club, where Paul went as a child. They take their daughters, Bergen and Hayden, to the neighborhood's Walker Chapel preschool.
In bad weather, one neighbor often hosts a snow party. "We walk over to their house, bring whatever we have in the house, and put together a meal," says 17-year resident Barbara Roberts.
Arlington's popular Clarendon neighborhood offers more than quick commutes, shopping, and nightlife. "Go three blocks and you're in a wonderful neighborhood with big trees," says agent Julia Kriss.
The area is booming. Prices in Clarendon rose about 20 percent in 2005. Single-family houses, which include plenty of older Cape Cods and bungalows, start in the $600,000s. A 72-year-old renovated cottage in nearby Lyon Village sold last year for more than $1 million. Newer townhouses start at $700,000; two-bedroom condos start in the mid-$300,000s.
Attorney Hill Wellford moved to Clarendon partly because he could walk every­where—a grocery store, dry cleaner, his gym. His favorite restaurant, the Delhi Club, is a few blocks from his five-story townhouse. He and his wife have short Metro rides to their DC offices. "I often don't use my car at all during the week," he says.
Community activities include a weekly farmers market, art festivals, bicycle races, and the annual Clarendon Day street party. The Iota Club & Café attracts crowds for live bands. Runners gather once a week near the Metro. Dog walkers meet at a park a few blocks off Wilson Boulevard.
Clarendon's civic association monitors development and historic preservation and works to keep small, independent retailers in business. "When I moved here I was excited that there were three coffee shops that weren't Starbucks," says association president Chris Keever, who describes Clarendon as an "urban village."
"There's a true diversity you don't get in many places in Washington," says Wellford. "There's a place for everything from stressed-out college students going to George Mason law school to empty-nesters moving into a townhouse to be closer to their grandkids."
HOUSE PRICES
CLARENDON
3 BEDROOMS
$699,900
WAVERLY HILLS
3 BEDROOMS
$758,500
COUNTRY CLUB HILLS
4 BEDROOMS
$1,520,000
Where Prices Have Climbed the Most in Arlington
| Neighborhood | Zip Code | Avg Price 2005 | Avg Price 2004 | % Change | 2005 Sales | 2004 Sales |
| --- | --- | --- | --- | --- | --- | --- |
| West Arlington | 22213 | $674,514 | $532,994 | 27% | 65 | 66 |
| South Arlington | 22204 | $427,054 | $344,022 | 24% | 723 | 909 |
| Shirlington | 22206 | $412,442 | $342,536 | 20% | 440 | 586 |
| Ballston | 22203 | $480,929 | $402,453 | 20% | 412 | 604 |
| North Arlington | 22207 | $819,639 | $701,804 | 17% | 574 | 714 |