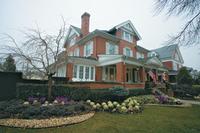 Job growth and relatively low home prices have drawn lots of people to Frederick County in recent years. New developments are popular, but Frederick also has a historic downtown and quaint country towns.
White lights decorate the trees of downtown Frederick and horses clomp through the streets pulling carriages. Couples gather for concerts and fireworks in the park, and kids eat funnel cake at the county fair. The once-neglected little city now boasts ethnic restaurants, art galleries, independent boutiques, festivals, and lots of green space.
Ashley Mancinelli moved to Frederick from Delaware in 2004 to become legal director for the Heartly House, a domestic-violence program. She'd never heard of Frederick before interviewing and was pleasantly surprised. "There's so much to do," she says. The shopping downtown is so good that she went six months without driving to a mall.
Many older homes in downtown Frederick and neighboring Baker Park have been renovated. Last year, the city won a historic-preservation award. A new park and commercial and residential buildings—inspired in part by San Antonio's River Walk—are under way along Carroll Creek (now floodproof). The historic district's rowhouses range from $250,000 to just under $1 million; Baker Park's single-family houses cost $600,000 to $1,500,000. A MARC train and commuter buses connect Frederick to DC.
When Amy and Bob Baird moved to Middletown from the Fairfax area in 2002, the country village ten miles northwest of Frederick seemed like the middle of nowhere. The couple found a close-knit community with activities for their four kids, book clubs, a moms group, dinner parties, and more. "I have five times more friends in this little town than I did in Fairfax," Amy says.
Mountain views, good schools, and historic homes are other draws. "You have breathing space and privacy," says Kim Brenengen, who moved to Middletown from nearby Frederick with her husband, Robert, six years ago. They live with their three children on an old farm with a pond. "Where else can your kids just walk down to a pond and go fishing?" she says.
The town's main street is lined with stately Victorians and a handful of businesses, including a diner, bookshop, and tearoom. A new coffee shop is in the works. Middletown has two good golf clubs: Hollow Creek and Maryland National. House prices run from $300,000 to more than $1 million, with an average around $400,000.
John and Stacey Yaglenski were living in Germantown in 2000 when they discovered the Villages of Urbana, a large development off I-270 about five miles from the Montgomery County border. "We drove by it and said 'Boy, that's actually affordable,' " says John, an IT manager. Prices have since risen—condos and townhouses cost between $300,000 and $500,000, and single-family houses cost $400,000 to $1 million—but remain lower than prices for similar new homes in Montgomery.
When finished, its town center will resemble Gaithersburg's Kentlands, with a nostalgic, small-town atmosphere and a pedestrian-friendly center that mixes retail, office, and residential spaces. Neotraditional houses near the town center feature front porches and picket fences; larger Colonials rest on quiet culs-de-sac. Between 60 and 80 restaurants, shops, and services will cater to residents.
About half of the 3,000 homes are finished, as is a community center with two swimming pools and courts for basketball and tennis. The regional library is under construction. A Giant supermarket and other businesses could be completed by the end of the year.
HOUSE PRICES
FREDERICK
3 BEDROOMS
$397,000
MIDDLETOWN
3 BEDROOMS
$439,000
URBANA
5 BEDROOMS $745,000
Where Prices Have Climbed the Most in Frederick County
| Neighborhood | Zip Code | Avg Price 2005 | Avg Price 2004 | % Change | 2005 Sales | 2004 Sales |
| --- | --- | --- | --- | --- | --- | --- |
| Libertytown | 21762 | $402,518 | $199,385 | 102% | 11 | 13 |
| Middletown | 21769 | $486,543 | $383,597 | 27% | 163 | 212 |
| Walkersville | 21793 | $304,289 | $240,828 | 26% | 203 | 254 |
| Monrovia | 21770 | $493,374 | $392,928 | 26% | 65 | 82 |
| Frederick | 21703 | $298,638 | $244,667 | 22% | 986 | 1,130 |