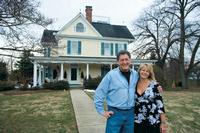 In Loudoun County, small towns are where the action is. They are attracting new residents at a fast rate while retaining their quaint appeal.
Because of its proximity to the Redskins practice facility in Ashburn, the town of Purcellville has become home to a few of the team's players including center Cory Raymer and tackle Jon Jansen. Football players aren't the only ones moving in: Purcellville's population has quadrupled in the past six years, with new developments sprouting up. It now has nearly 6,000 residents.
Jennifer Christie and her husband moved to a newer subdivision in Purcellville in 2001 for its affordability. They paid about $300,000 for a four-bedroom house on one-third of an acre. The parents of a three-year-old boy love the town's welcoming atmosphere. "I really feel that this neighborhood has a wonderful spirit about it," says the stay-at-home mom.
There's a Heritage Day, which celebrates the town, a breakfast with Santa at Christmastime, picnics in the summer, and classes at the local community center.
Larry Ferrigno moved to town in 2001, then moved again last year to a fixer-upper near his previous house. He works at Dulles International Airport, an easy drive. But lots of Purcellville residents brave the hourlong commute to DC in exchange for small-town living.
In town, there are two elementary schools, a middle school, a secondary school, and a high school. Purcellville's Fireman's Field has played host to the Babe Ruth World Series, the championship for Little Leaguers.
While many residents make the ten-minute drive to Leesburg for shopping, there's still a lot within walking distance, including a Food Lion, farmers market, and Really Great Finds, a popular home-decor flea market open a few days every month. Magnolia's at the Mill, a new restaurant, is a popular spot for parents' night out.
For those looking for an even smaller town, Hamilton, population 700, is less than three miles down Route 7 from Purcellville. Nearly everything is within walking distance, and many of the buildings in the town date back to the 18th and 19th centuries, including lots of Victorian houses.
Cyclists and hikers love being near the Washington & Old Dominion trail. There's a Hamilton Day parade in June and a tree-lighting ceremony in December. Hamilton Elementary is right off Main Street.
Single-family homes in both Hamilton and Purcellville range from about $325,000 for a fixer-upper to more than $1 million for larger homes. Townhouses in the newer communities usually range from $300,000 to $450,000. Middleburg in southern Loudoun has received some fame recently thanks to resident Wendy Pepper, the "villain" of the Bravo reality show Project Runway.
Clearly, things have changed a lot in this town of 641, more typically known for its Hunt Country culture than its fashion designers. Fox hunting and riding are still the most popular activities, but there is more business and development in town and a variety of home styles: old farmhouses with barns, ramblers, and more modern estate-style homes. Prices for most range from $550,000 to $1.5 million.
Even as retail has flourished here in recent years, many of the shops in the center of town are still mom-and-pop operations that have been in business for decades. Nancy Allen's family has owned the Fun Shop, an upscale gift shop, for 50 years.
Some residents commute to DC, about an hour away, but many work in McLean or the Tysons Corner area. South Riding is a planned community in eastern Loudoun where construction is scheduled through 2010. With its variety of home styles and sizes, it's been attracting mostly younger families with children.
Laura Smidt moved to town with her husband and two children in summer 2000. She's originally from a small town in North Carolina and says South Riding has a similar feel: "This community is, in fact, a community. It's not just a neighborhood or a housing area. It's almost like being home again."
There's a lake, well-kept grounds, a town hall and monthly magazine, and an interactive Web site, Southriding.net.
There are three community pools and so many kids that the town had to form three swim teams. Other events for children include an Easter-egg hunt and a Dive-In Movie event with movies shown at the pool. On South Riding Day, a carnival comes to town. "I feel like I'm in a movie with the town-fair scene," Smidt says of the picturesque event.
Last fall, Freedom High School opened its doors. A third elementary school is being built.
Condos in South Riding start at just over $200,000, and townhouses are in the $500,000 range. Single-family houses can top $1 million, with the average price for a four-bedroom with a two-car garage about $700,000.
HOUSE PRICES
SOUTH RIDING
3 BEDROOMS
$505,000
HAMILTON
5 BEDROOMS
$775,000
PURCELLVILLE
5 BEDROOMS $590,000
Where Prices Climbed the Most in Loudoun County
| Neighborhood | Zip Code | Avg Price 2005 | Avg Price 2004 | % Change | 2005 Sales | 2004 Sales |
| --- | --- | --- | --- | --- | --- | --- |
| Hamilton | 20158 | $745,812 | $512,100 | 46% | 85 | 104 |
| Sterling | 20166 | $510,644 | $386,671 | 32% | 294 | 328 |
| Chantilly | 20152 | $632,443 | $502,977 | 26% | 921 | 1,026 |
| Leesburg | 20176 | $591,634 | $476,568 | 24% | 1,608 | 1,826 |
| Sterling | 20164 | $401,506 | $323,613 | 24% | 1,273 | 1,572 |