September 2006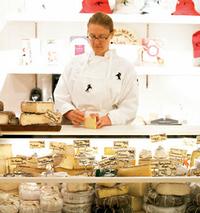 Walk into this cheese shop in DC's Penn Quarter and you might feel you've entered a library—or maybe a lab. It's pristinely organized and painted a stark white. While ponytailed women in white coats—they look more like doctors than fromagers—tend to wedges from France, Spain, Wisconsin, and Vermont, customers mill about in speculative quiet.
It's a place that takes its cheese seriously. Owners Sue Conley and Peggy Smith, both DC-area natives, began making and selling artisan cheese from their Point Reyes fromagerie in the mid-'90s and quickly became darlings of the Northern California foodie scene and the Slow Food movement. They've opened their first East Coast outpost here. So what makes it special?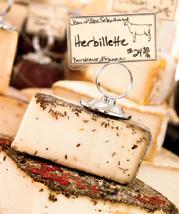 Mostly it's the 80 varieties of cheese, many previously available only on restaurant trolleys or at Del Ray's Cheesetique. But it's also the well-trained staff, which encourages you to taste as much as you want and is always eager to help you find something new. Know you like brie? They might steer you to try Fougerous, a cow's-milk cheese scented with fern. Even devotees of Kraft singles will enjoy a hunk of the Creamery's mild but marvelous signature cheese, Mt. Tam. We also liked the gooey Red Hawk, which you can smell from six feet away, and the buttery St. Pat, with its light, herbal perfume of nettles.
Cheese is the thing, but you'll also find Californian McEvoy olive oil, a favorite of chefs; boutique butters; and myriad jams and confitures—especially delicious are the pots of Meyer-lemon marmalade from June Taylor.
The serene air of the place seems to stifle yelps of wonder and joy, but a shop this good is cause for celebration.
Cowgirl Creamery, 919 F St., NW; 202-393-6880; cowgirlcreamery.com. Open Tuesday through Saturday.