This article is from 2006's Men With Style package. To see 2007's Men With Style package, click here.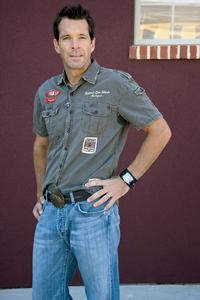 Brian Bolter, 36
News anchor on WTTG Fox 5
How would you describe your style? When I'm not on the air, I would classify my style as "wannabe rock star."
Favorite designers? I like a lot of European brands. I shop on ASOS.com, and I like Ben Sherman, Sweet & Toxic, Sailor Jerry, and Steady. They have a bit of attitude. And they fit just right: not too tight but form-fitting enough to make the gym membership pay some dividends.
Biggest splurge? I saw these Neil Barrett boots in Esquire and came to learn that they shoot a lot of pieces that aren't available retail. I asked about them while shopping at Relish, and the owner contacted the company and ordered me a pair. They were $425.
Dream item? I would love to go to Italy and have a custom suit made. Probably Zegna.
Favorite thing in your closet? I really like this huge silver belt buckle shaped like a flower that everyone says is too big. I guess it's a little ostentatious.