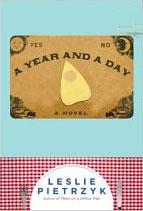 In movies of the 1930s and '40s, calendar pages flip by to show the passage of time—shorthand for the stuff we don't need to see, the mundane between weddings and crises, romance and crimes. In Alexandria writer Leslie Pietrzyk's second novel, the pages go by, but at the speed of life. Each chapter represents a month in the year following the suicide of 15-year-old Alice's mother in Shelby, Iowa, in 1975. These calendar pages are the story.
Alice and her older brother, Will, are left orphaned with their mother's scattered Aunt Aggy. (Are you still an orphan when you may have a father but don't know who or where he is?) Will—the "perfect brother" and high-school baseball star—disappears to Boston during the World Series, then returns, more distant. Alice loses her virginity to his sexy but slippery buddy and befriends one of the town's bad girls, who turns out to be not so bad. All the while, Alice hears her dead mother's voice. They have frequent chats amid the events of the novel.
Naturally, Alice wants answers. She finds in her mother's drawer "a tangle of silk scarves, sunglasses with a scratch across one lens, a Timex wristwatch . . . . No piece of paper that started out, 'Here's why I killed myself.' Nothing that was the thing we were looking for—without any of us actually saying we were looking for it, without us knowing exactly what it was."
Pietrzyk is extraordinarily skilled at duplicating the sight and sound of life's details—"the ch-ch-ch of Mama's knife chopping celery and onions; the ping of cranberries dropping into the colander to be rinsed." She's equally good at exploring the heart's rippled waters, often finding in them the clarity of insight: "But some things were hard to say," Alice notes, "which must be why people chose silence, not understanding that silence turned out to be harder in the end."
The book's serious subject matter is offset by Alice's wry sense of humor. "Don't worry," her mother reassures her in their first postdeath conversation. "You're not crazy." Alice thinks: "Like hearing her say that would make me feel less worried or less crazy."
In death, her mother's words frustrate Alice the teenager, but they offer deeper meaning for the young adult: "The simple truth is," she tells Alice, "not every choice gets the luxury of being exactly right or wrong."
This precisely observed and quietly moving novel makes such ambiguity feel luxurious.
Author:
Leslie Pietrzyk
Publisher:
William Morrow
Price:
$23.95