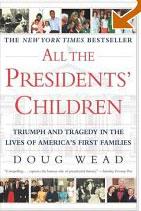 In 1988, Doug Wead did a study on presidential children for his boss, George W. Bush, at the time a member of the senior Bush's presidential campaign. What began as a half-serious attempt to give a soon-to-be presidential child insight into his future evolved into a 400-page study of all presidential children's fates.
In Wead's view, the White House has been filled over the years with tormented offspring destined to become alcoholics, risk-takers, serial divorcés, and early casualties. He tries to squeeze each into a category supporting his theory: Being the child of a president spells ruin. Any exception proves the rule.
The author devotes much space to "the curse of the heirs apparent," plaguing firstborn sons or those who bear their fathers' names: Andrew Jackson Jr. died in a hunting accident, Calvin Coolidge Jr. of blood poisoning at 16, the first Franklin Roosevelt Jr. as an infant. While most would consider Theodore Roosevelt Jr. a hero for landing with the D-Day troops in Normandy even though he was a handicapped general, Wead implies that a death wish motivated him.
The book has a soporific effect. I wondered why until I reached the final section, a vivid and intimate account of George W. Bush's success in overcoming the curse. I'd stumbled upon the ghost of the book Wead should have written: Rather than his overly ambitious project of categorizing all presidential offspring, he should have stuck to what he knew—the relationship between the current president and his father. No one could tell the story better than Wead. Although he admires George W. to the point of not seeing the humor in his statement, "I would run through a brick wall for my dad," Wead also has an insider's perspective of the relationship that would motivate Bush to attempt such a superhuman feat.
Instead, Wead has left us with the results of 15 years' research: a poorly written, reductive catalog of lifeless facts.
Author:
Doug Wead
Publisher:
Atria Books
Price:
$26