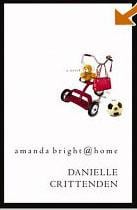 In her debut novel, DC journalist Danielle Crittenden explores the tension mothers face between staying home with children and going to an office. (Crittenden, a mother herself, is married to former White House speechwriter David Frum, author of The Right Man: The Surprise Presidency of George W. Bush.)
Amanda Bright has given up a career at the National Endowment for the Arts while her husband works as a Justice Department attorney. But she isn't a "homemaker." She's "at home" to care for her two children, not to "make a home"—a distinction that sums up her philosophy.
Amanda is besieged by trips to the grocery store, dinner preparations, and her children's unacceptable behavior—her son has "acute social anxiety," and her daughter likes to run around naked. Amanda spends much of her time envying the lives of more well-off friends—Christine with her facelifts and nannies, Susie with her billionnaire boyfriends.
"As a married woman," Crittenden writes, "she no longer radiated sexual possibility. Without that whiff of promise, she felt like a rose stripped of its scent, and men simply drifted away. At least when Amanda held a job, men listened to what she had to say. Now . . . who was she in the eyes of men but a house elf, a drone, a low-status person they had to endure only if she were seated next to them at a dinner party?"
Although the book—originally serialized in the Wall Street Journal—is well written and sometimes quite witty, I couldn't sympathize with Amanda. Her constant complaints and desire to re-enter the work force don't sound a feminist charge—they reflect a woman preoccupied with titles and bogged down by low self-esteem. Her dilemma is well-traveled territory, and Crittenden doesn't bring anything new to it. In the end, I empathized more with Amanda's children and their problems than with her childish demands.
Author:
Danielle Crittenden
Publisher:
Warner Books
Price:
$23.95