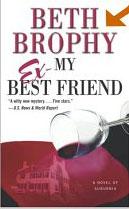 From the title, you might think Brophy's debut novel is your average chick lit. But it's a murder mystery.
Claire Newman—hard-working Washington journalist, devoted mother, and wife—doesn't understand why her best friend of 23 years, Lydia Finelli, phased her out five years earlier. When Lydia contacts Claire because she's in trouble, Claire decides to stop by her old friend's house to hear her out. Except she never gets to—Lydia is dead in her bedroom.
The police are convinced it's suicide, but the reporter in Claire isn't sure. Why was there no suicide note? Why did Lydia send Claire her financial records only days before her death? The more Claire snoops, the more she suspects Lydia was murdered.
Brophy, a Chevy Chase journalist who has written for The Washingtonian, believably portrays a career-driven supermom. Her dialogue is witty, and the themes of friendship and family add a human touch often absent from mysteries—although not everything in Claire's life needs to be an analogy: "My neck and shoulder muscles were tighter than my prepregnancy jeans"; "My stomach lurches and my heart rate rises to the level of forty-five minutes on the elliptical machine"; "I narrate events to myself, play by play, as if I'm a sports commentator."
Despite a somewhat saccharine and hard-to-buy conclusion with several loose ends, My Ex-Best Friend is still a good book to throw into a beach bag.
Author:
Beth Brophy
Publisher:
Simon & Schuster
Price:
$23