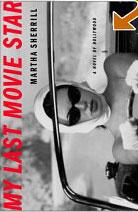 Former Washington Post writer Martha Sherrill's extensive experience in celebrity profiling shines through in this novel.
Clementine James is a jaded journalist doing her last piece for Flame magazine—think Vanity Fair—before starting a new life on a Virginia farm. It's a profile of Hollywood's latest "it" girl, Allegra Coleman, an ephemeral beauty with a zest for life and an unassuming nature. Clementine joins Allegra on a road trip to California, but the trip takes a bad turn when the actress crashes the car and flees, leaving Clementine injured.
While Clementine recovers—she's lost an eye—the media frenzy and search for Allegra begin. Clementine soon becomes a celebrity herself by association. As Allegra's father tells her, "The longer she's gone, the more famous we become."
As Clementine gets caught up in tabloid reports, glamorous parties, and extravagant gifts, her old life recedes. Meanwhile, her editor is determined to produce an all-Allegra issue at the demand of readers, who are holding vigils hoping the actress will return.
Throughout, Clementine is visited by movie stars of the past—Natalie Wood, Myrna Loy, Gloria Swanson, Loretta Young. A sample of Loy's wisdom: "[Y]ou're not really famous until you have to bag your own trash. . . . If you leave your dirty dental floss around . . . or napkins and nail clippings in the hotel trash can, the maids will paw through everything and sell the relics."
The author's knowledge of movies is cleverly woven in, including a great filmography at the end describing such classics as Casablanca, L'Avventura, and Valley of the Dolls. The result is a book that could have been another trite look at celebrity but instead is a riveting dissection of the mystique and power of Hollywood.
Author:
Martha Sherrill
Publisher:
Random House
Price:
$23.95