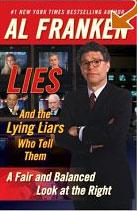 Al Franken is like a fifth-grader spitting at neighborhood bullies: gutsy but childish. Provocative (read: gross). Bent on escalating scuffles into battles royal.
His bullies are many, and he targets each with gusto: Sean Hannity—"angry, Irish ape-man." Ann Coulter—"nutcase." Bill "O'Lie-lly."
Franken's recounting of a trip to ultraconservative Bob Jones University, where he posed as the haplessly curious parent of a prospective student, is priceless: "I don't begrudge them their religion. Hell, I admire it. No, I don't. But it's their right to have it. Just as it's my inherent right to invade their privacy under false pretenses."
His "No Child Left Behind Standardized Test" is irreverent but well researched: "In the [NCLB] Act, Congress authorized a $5.6 billion increase in Title One spending. . . . However, President Bush budgeted only $1 billion for Title One. If Title One calls for $2,800 per poverty-level student, how many children are left behind?"
And "Operation Chickenhawk," Franken's pulp novella starring the Republican Party's resident draft dodgers—Newt Gingrich, Tom DeLay, Dick Cheney, George W. Bush, et al.—is a vulgar delight. With an energetic voice saturated with irony and obscenity, Franken the comedian is fantastic.
Masquerading as a policy wonk, however, he's an embarrassment. Iraq, tax cuts, the environment—Franken wrestles with some substantive subject matter. But despite enlisting 14 Harvard research assistants to bring "to a new level the politics of personal destruction," he fails to tame, even for a single chapter, his impulse to nitpick his "friends on the right." By parading their "calculated dishonesty," he hopes to "expose them for what they are. Stupid bastards."
Bingo. Humor trumps analysis, and as a result, the book reads like a 379-page loogie.
Author:
Al Franken
Publisher:
Dutton
Price:
$24.95