As anyone who read Azar Nafisi's popular 2003 memoir, Reading Lolita in Tehran, knows, her genius is examining a life through literature. In that book, it was Nabokov who helped Nafisi navigate the Iranian revolution of 1979.
In her newest, The Republic of Imagination: America in Three Books, Nafisi—who lives in Washington and teaches at Johns Hopkins—reprises her formula in Lolita by capturing what it is to be an exile through close readings of three indelibly American novels: Mark Twain's The Adventures of Huckleberry Finn, Sinclair Lewis's Babbitt, and Carson McCullers's The Heart Is a Lonely Hunter.
Each contains a different experience of being an outsider. In Huck, Twain foreshadows "the destinies . . . of so many other fictional American characters who either leave home, never to return, or long to do so," writes Nafisi, who says she'll always hold Iran in her heart. George Babbitt demonstrates "an anti-Huck who craves status and acceptance"; McCullers portrays a "lonely band of listless misfits . . . helpless in a world built on longing but not its fulfillment."
Blending textual analysis with personal history, Nafisi likens Huck's hatred of superficiality to the traits of a friend, Farah, whose politics morph as the Iranian Revolution succeeds, then again following her husband's murder by Islamists. Having fled to the West after his imprisonment, Farah later remarries, then is diagnosed with cancer. At the end of her life, she rejects false optimism and supposed safe havens that shelter injustice; she wants only truth and compassion.
The Babbitt and Lonely Hunter sections are less compelling, in part because Nafisi's writing flags but also because neither Lewis's alienated hero nor McCullers's eternal adolescent, Mick Kelly, can match Farah's fierce drive for life. Political exiles know, Nafisi writes, "that to negate and betray that inner self," as these characters do, "was not just a surrender to the tyrant's will but a sort of self-inflicted death."
In her epilogue, Nafisi says she could have included a fourth writer, James Baldwin, whom she calls, in an interview with Washingtonian, "the true progeny of Twain. Baldwin understands that the truest American experience is that of what Twain called 'the exquisite mongrel.' "
That's a concept Nafisi and Farah can appreciate. Marooned between two languages, they come to occupy the Republic of Imagination. "The only requirements for entry," Nafisi writes, "are an open mind, a restless desire to know and an indefinable urge to escape the mundane."
This article appears in the October 2014 issue of Washingtonian.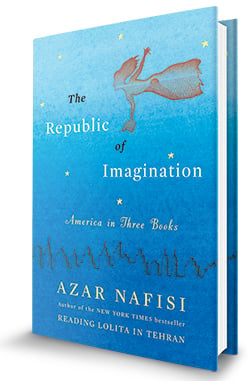 Publisher:
Viking Adult
Price:
$20.99