This article is from 2006's Best Dressed Women package. To see 2007's Best Dressed Women package, click here.
Wife, mother, grandmother, and party hostess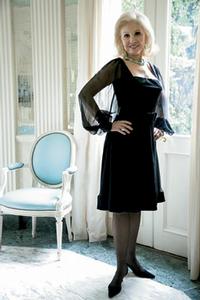 How would you describe your style? Classic with a twist of glamour. I'm known for running around in pants and a cowboy hat.
Favorite designers? My favorite is Galanos. No one made clothes like him. I wear a lot of Oscar, Valentino, Carolina Herrera. All of those designers bring youth and vitality to their designs by being timeless.
Ever experienced a fashion disaster? I did this year. When I was in Florence, Italy, I went into this one store. I thought, "Oh, I'm going to be like an Italian." All the people at the store were going "Bellissima!" for everything I tried on. When I got home I realized I'd bought ugly clothes.