This article is from 2006's Best Dressed Women package. To see 2007's Best Dressed Women package, click here.
Lobbyist at the Washington Group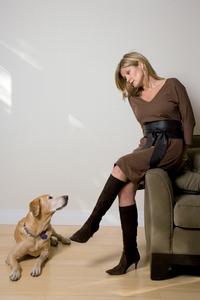 Where do you shop? I prefer independent boutiques like Muleh in DC and Periwinkle in Alexandria. I also like All About Jane in Arlington, Urban Chic in Georgetown, Unsung Designers in Adams Morgan, Annie Creamcheese, Neiman's, and Saks.
Biggest splurge? A Louis Vuitton travel case that I found at a vintage store. I've bought some vintage Missoni, too.
Your worst fashion disaster? Polo shirts from the '80s. They're not very attractive on girls. I was also really into Flashdance. I was a total '80s girl.