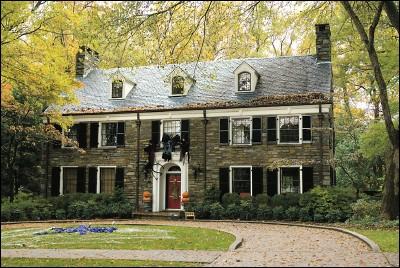 TV talker Tucker Carlson and his wife, Susan, bought this six-bedroom, eight-bathroom Colonial (pictured above) in DC's Kent neighborhood for $3.78 million. The house has six fireplaces, a heated pool, and an in-law suite. Carlson hosts MSNBC's Tucker and has hosted other news shows, including CNN's now-defunct Crossfire.
In DC: Journalists Guy Gugliotta and Carla Ann Robbins sold a six-bedroom, five-bathroom brick Colonial with an in-law suite on Cathedral Avenue in Woodley Park for $1.75 million. The house has a view of the National Cathedral. Gugliotta, a former science writer for The Washington Post, is a freelance writer; Robbins, a former reporter for the Wall Street Journal, is assistant editorial page editor for the New York Times.
Television-news anchor Tracey Neale sold a 100-year-old, three-bedroom brick townhouse on 33rd Street in Georgetown for its list price of $1 million. Neale co-anchors the 5, 6, and 11 o'clock news on Channel 9.
Democratic activists Cecile Richards and Kirk Adams sold a four-bedroom, four-bathroom Colonial on Utah Avenue in Chevy Chase for $852,000. Richards is president of Planned Parenthood Federation of America and daughter of the late Ann Richards, who was governor of Texas in the 1990s. Adams is chief of staff for the Service Employees International Union.
Conservative legal scholar Viet Dinh and his wife, lawyer Jennifer Ashworth Dinh, sold a six-bedroom, five-bathroom townhouse on R Street near Dupont Circle for $2.12 million. The house has an embassy-size dining room and an in-law suite. Dinh, a Georgetown University law professor, clerked for Supreme Court justice Sandra Day O'Connor, served as an assistant attorney general from 2001 to 2003, and is one of the authors of the Patriot Act. He is also founder of Bancroft Associates, a DC law and consulting firm where his wife also works.
Lawyer Michael Fitzpatrick and his wife, Miriam Gonzales, bought a five-bedroom, five-bathroom Colonial on Albemarle Street in American University Park for $1.28 million. The house, which listed for $1,195,000, has a two-car garage and a gourmet kitchen. Fitzpatrick is a partner at Akin Gump law firm; Gonzales is an education-policy consultant.
In Virginia: Former Redskins quarterback Patrick Ramsey and his wife, Virginia, sold a four-bedroom, four-bathroom Colonial on Nixon Road in Purcellville's Wheatland Estates neighborhood for $850,000. The house sits on more than three acres and has a library, gourmet kitchen, and three-car garage. The Redskins' first-round draft pick in 2002, Ramsey was a starting quarterback in 2004 but was traded to the New York Jets after the 2005 season.