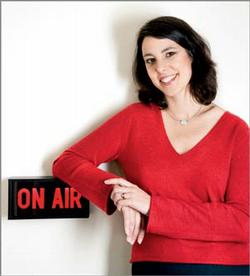 Rebecca Roberts took the long way home. The daughter of journalists Cokie and Steve Roberts had no plans to be in journalism or to be in Washington.
At Princeton she studied politics, then produced political radio ads in Philadelphia. She soured on politics but fell in love with radio. "Still," she thought, "there were already enough journalists in the family."
In 1996, Roberts and her new husband, investment banker Dan Hartman, moved to San Francisco. His company had an office by the bay, and they both liked being across the continent from their East Coast roots.
She landed a producing job at the public-radio station, and her career and family were moving along nicely when WETA radio called from Washington.
Roberts, 36, is now host of a daily talk show, The Intersection. She's back home, living on the third floor of her parents' Bethesda house with her husband and their three boys while the house they bought in DC's Glover Park is renovated.
She says Washington isn't the city she left after graduating from Walt Whitman High. "It's hipper, with better food and better style," she says. While her parents frequent Pines of Rome, her favorite restaurant is Mon Ami Gabi, a French-bistro-style eatery in Bethesda.
Roberts is getting to know Washington again through her listeners. "Cab drivers," she says, "are often public-radio junkies."
Another advantage of being back: grandparents. Grandpa Steve Roberts drives the five-year-old twins to school every day. "They even have their own secret theme song," she says.